Whatever else you may think of the Chicago Cubs -- lovable losers, pathetic chokers, a good excuse to drink beer on a weekday afternoon -- you'd probably agree that they're easy on the eyes. Good-looking uniforms, right? Plus the Cubbies' uni set feels right, because it's very much in keeping with the franchise's traditionalist approach. The effortlessly classic uniforms are the visual equivalent of an ivy-covered outfield wall or Harry Caray singing during the seventh-inning stretch.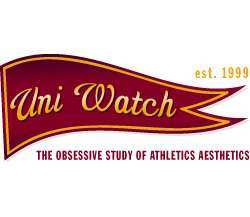 Or at least that's how it appears at first glance. Look a little closer, though, and it turns out that the Cubs' uniforms are studded with anomalies. And if you dig a bit deeper into their history, you'll find that this supposedly timeless-looking team has actually been responsible for a surprising number of innovations over the years -- some for better, some for worse. True, other teams have looked
wackier
, and the team
just across town
has had its share of, um,
groundbreaking designs
. Surprisingly enough, though, when you tally up all the scorecards on uniform eccentricities, it's the Baby Bears who take the Uni Watch cake. Cubs win! Cubs win!!
If this sounds familiar, it's because Uni Watch profiled a similar team last fall: the Dallas Cowboys, whose seemingly straightforward uniforms are actually a hotbed of aberrations. The more research Uni Watch did, the more it seemed the Cubs were cut from the same idiosyncratic uniform cloth.
But the Cowboys are one of the NFL's most successful franchises, while the Cubs are, well, you know. So when running down the Cubbies' uni-related quirks, it's worth assessing which of them might have contributed -- and, in some cases, might still be contributing -- to the team's fabled World Series curse.
Here, then, is a guided tour of the Cubs' past and present uniform oddities, along with an evaluation of how big a role they've played in the team's championship drought, as rated on a scale of 1 to 10 billy goats (a reference, of course, to the team's hircine hex). Ready? Here goes:
1. Thick in the Head
Every MLB team (and, Uni Watch is fairly certain, every minor league, college, high school and Little League team as well) wears a flat logo decal on the front of its batting helmet. Every team, that is, except the Cubs, who've always used an embroidered felt appliqué. It "pops" a bit more than a decal, plus it adds a bit of depth (although it's more susceptible to falling off).
Uniqueness Factor: Very high. No other team wears anything like this.
Curse Quotient: Negligible. If anything, this cool little detail should have given the Cubs several championships by now.


2. Thigh-High
What's that little mark on the upper-left thigh of the Cubs' road pants? A closer look reveals that it's the team's circular logo (additional views here and here).
Uniqueness Factor: High. No other MLB team has ever worn its logo on its pants. In fact, only two MLB teams have worn any graphics on their pant legs: the 1975-79 Astros and the 1982-88 White Sox.
Curse Quotient: Uni Watch won't go so far as to blame the Cubbies' entire century-long string of futility on this little logo (especially since it's been on the pants only since 1997), but it's probably contributed its share of negative karma. Baseball pants should be logo-free, period.








3. Cubs Pull Off Big Trade(mark)
It's not exactly news that the major sports leagues are obsessed with trademarks and other intellectual property issues. Fortunately, the annoying "TM" and "®" symbols that infest so much licensed merchandise are absent from the uniforms worn on the field. Well, except for Wrigley, where the Cubs' logo chest patch has had an ® symbol just under the "S" since at least the early 1980s. Why do they do this when no other team does it? Uni Watch asked the Cubs that question several years back and got nowhere, but a trademark attorney of Uni Watch's acquaintance recently helped sort out the situation.
Uniqueness Factor: Huge. No other MLB team -- or, for that matter, any NFL, NBA or NHL team -- wears a trademark symbol.
Curse Quotient: If this isn't the reason for the curse, it should be.











4. Patch Job
Quick, what does the National League logo look like? Even the geekiest baseball fan probably has no idea -- except, that is, for Cubs fans, because the Cubbies wear the NL logo on the right sleeve of their blue alternate jersey.
Uniqueness Factor: High. To Uni Watch's knowledge, no other team has ever worn the Senior Circuit's logo. For that matter, Uni Watch isn't aware of the American League logo ever having shown up on a uniform either, at least not on its own (although the AL mark was incorporated into two league centennial patches -- one for charter league members and one for more recent franchises -- that AL teams wore in 2001).
Curse Quotient: You'd think wearing your league logo on your sleeve might earn you some bonus points in terms of getting to represent that league in the World Series. But why wear it on only one of your three jerseys? And why wear such a traditional-looking logo on your least traditional jersey?




5. "C" Section
If your team is going to have a captain, and if that captain is going to wear a little "C" on his jersey, you basically have two options: Put the "C" on the left side of the chest or on the right side of the chest. Unless, that is, you're the Cubs. When skipper Don Baylor named four co-captains in 2000, they wore the captain's designation on the right sleeve of their home and road jerseys and, just to keep things interesting, on the left sleeve of the blue alternates. This inconsistency was no doubt lost on the many fans who mistakenly thought the sleeve letter just stood for "Chicago" or "Cubs."
Uniqueness Factor: High. Uni Watch is unaware of any other MLB team that's used a sleeve-borne captain's designation.
Curse Quotient: Y'know, "C" is also the first letter in "curse."







6. Dead Center
In most sports, there's nothing unusual about wearing your uniform number in the center of your chest -- it's standard-issue in basketball, football and even some recent hockey jerseys. Baseball jerseys, however, have traditionally had buttons down the center, so teams with uni numbers on the front have worn them off to one side (usually on the left, but occasionally on the right). But when the Cubs switched from button-fronts to pullovers in 1972, they figured they could move their front uni numbers on their road jersey to the middle (additional views here, here and here). The experiment lasted only one year, as the numbers moved back off-center the following season. (Incidentally, the whole concept of putting uni numbers on the front of a baseball jersey was pioneered in 1951 by a Cubs farm team.)
Uniqueness Factor: High. Although the concept of a centered number seems simple enough, Uni Watch believes the '72 Cubs are the only MLB team ever to have gone this route.
Curse Quotient: Certain things shouldn't be messed with, even if they don't make much sense. Putting offset uni numbers on a baseball jersey is one of them.









7. Check Your Head
When an equipment staff is deciding how to label the team's batting helmets, there are five primary approaches to take: You can put player names on the brim or on the back, or put uni numbers on the brim, on the back or on both. Only one team has taken the highly creative approach of inscribing the player's number into the center of the helmet logo: Guess who. This protocol, which the Cubbies used from the late 1960s through the early '70s, is unlike anything else Uni Watch has ever seen.
Uniqueness Factor: Off the scale.
Curse Quotient: Tough call. On the one hand, there's something endearingly organic about the little handwritten numerals. But there's also something unseemly about scrawling graffiti right in the middle of your helmet logo. Call it a wash.





8. Too Much Information
Simple rule: You can put your team name or your city name on your jersey, but not both. But in 1957 the Cubs decided that was just another rule for them to ignore. And no, that's not a jacket -- it's their road jersey.
Uniqueness Factor: To be fair, the '57 Cubs aren't the only team to have done this -- there's also the 1917 Cubs. (If you want to be picky -- something Uni Watch would never ever ever ever do -- there are two other examples, but they both come with asterisks: The 1967-75 White Sox had their team name in fine print, and the 1978 Padres chose to soft-pedal the city name. Only the Cubs gave the city and team equal billing.)
Curse Quotient: Let's face it, anything as dorky-looking as this deserved to be barred from the World Series.










9. Five-Year Plan
During a five-season span beginning in 1937, Cubs owner Philip K. Wrigley and his art director, Otis Shepard (who sometimes designed programs for the team but was better known for his ad campaigns for Wrigley's gum products), embarked on the most ambitious series of uniform innovations the sport had ever seen. They began in 1937 with the first zippered jersey. Three years later came baseball's first vest and -- get this -- the first pleated pants (further details here, and additional photos here, here and here). The finishing touch came the following season: the game's first powder blue uniform (documented to hilarious effect in this old Sporting News article -- highly recommended reading).
Uniqueness Factor: Except for the pants, which were just a two-year experiment, all of these measures were later copied by other teams (and two of them -- vests and powder blues -- are still around today). So give the Cubbies some major pioneer points.
Curse Quotient: How do you spell curse? P-l-e-a-t-e-d-p-a-n-t-s.











10. Stripe Tease
What do you do when everyone copies your idea for powder blue uniforms? You up the ante by becoming the first team ever to wear pinstriped powder blues. The Cubs wore this design on the road from 1978 through 1981.
Uniqueness Factor: Let's just say this was one idea that nobody was in a hurry to copy.
Curse Quotient: A pinstriped blue suit can look good like this, but not like this.









Honorable Mention: Hey, Can I Borrow That?
Although not strictly uni-related, it's worth noting that the Cubs' logo is at least partially derived from the logo of the Chicago Athletic Association, which over the years has put the familiar red "C" on everything from athletic wear and gym floors to stained glass (here's another example). The connection between the CAA and the Cubs is William Wrigley, who was a longtime CAA member before he bought the team. At some point he "borrowed" the CAA logo design and incorporated it into the team's graphics, although it's not clear exactly when or under what terms. For more info on this, look here.
Uniqueness Factor: It's not unheard of for a logo to be derived from another logo. But how many logos of any kind do you see rendered in stained glass?
Curse Quotient: According to CAA historian Ron White, Wrigley basically got a free pass on using the assocation's logo: "No one ever questioned it, because he was part of the club." No licensing fee, no royalties -- did Wrigley even say, "Please" or "Thank you"? You've gotta wonder if this appropriation might be the curse's real source.










(Special thanks to Steve Dewing and Rick Pearson for sharing their rare archival photos.)
Button-Up Follow-Up
Several interesting follow-ups to last month's survey of baseball jersey buttons. First, reader Hank Siarczynski sent along a photo of this 1940s Marine Corps jersey. Note how the second button is red, to match the lettering -- never seen that before.
If your top button pops off, Uni Watch strongly recommends not doing what Walter Johnson did (with thanks to Jared Wheeler for the photo).
And finally, Pedro Martinez appears to have come up with a new button style. For details, look here.
Paul Lukas never ever ever ever wears pleated pants . His Uni Watch blog, which is updated daily, is here, his answers to Frequently Asked Questions are here, and his Page 2 archive is here. Want to learn about his Uni Watch membership program, be added to his mailing list so you'll always know when a new column has been posted, or just ask him a question? Contact him here.