The MLB All-Star Game will take place tonight at Yankee Stadium. And if it's anything like the last time the Midsummer Classic took place in that hallowed ballpark 31 years ago, we should be in for some serious uniform shenanigans.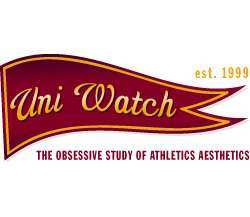 In case you don't remember the 1977 All-Star Game, allow Uni Watch to refresh your memory: The Pirates, who were in the first season of their bumblebee outfits, had all three of their All-Star representatives wear solid black for the occasion. One of them, Dave Parker, forgot to bring his batting helmet to the game, so he wore a Padres helmet for his first two at-bats and later stepped up to the plate in a Reds helmet, all while wearing white cleats.
Meanwhile, over on the American League side, the Indians' two All-Stars, Jim Kern and Dennis Eckersley, wore mismatched jerseys. And Seattle's Ruppert Jones achieved a bizarre dual distinction: When he pinch hit in the third inning, he became the first Mariner ever to appear in an All-Star Game. But he was wearing a Blue Jays helmet, so he also became the first player ever to wear Blue Jays gear in an All-Star Game (Toronto's lone representative on the AL roster, Ron Fairly, didn't appear until four innings later).
These details are all part of Uni Watch's substantial archive of notable uniform moments in All-Star Game history -- a history teeming with uni-related oddities. While other leagues come up with new All-Star uni designs each year (ranging from the generic to the bizarre), baseball just lets its players wear their regular game unis, making for a pleasant jumble of caps and insignia colors -- and also providing ample opportunity for wayward jerseys, mismatched caps and other problems that can occur when you no longer have your team's equipment manager looking after everyone's gear.
The potential for All-Star uni foibles was apparent way back in 1911 -- 22 years before the first official All-Star Game was even played -- when a group of top players gathered to play a benefit game for Cleveland pitcher Addie Joss' widow. Among those participating was Tigers great Ty Cobb, whose trunk got lost in transit, forcing him to wear a Cleveland uniform (that's him in the front row, third from the right).
Nearly a century later, All-Star history is now dotted with similar curiosities and points of interest, as you can see in the following timeline:
1933: Baseball's first All-Star Game is played at Comiskey Park in Chicago. The American League players wear their usual home uniforms, but the National Leaguers don special NL jerseys (with an amazing number font on the back) and caps. The new attire doesn't help, as the American League wins 4-2, so the Nationals switch to their regular uniforms the following year.
1934: In a very odd development, the American Leaguers wear their uni numbers on separate fabric panels pinned to their backs. (Uni Watch has explored this incident in depth -- for further details, look here.)
1964: Johnny Callison of the Phillies wins the game for the National League by hitting a ninth-inning homer -- while wearing a Mets helmet.
1972: The game is played in Atlanta, which means the National League is the home team, but Nate Colbert accidentally brings along his road uniform, with "San Diego" on the front. Meanwhile, Carlton Fisk makes his first All-Star Game appearance -- and his first appearance of any sort in a Brewers helmet.
1973: Willie Davis of the Dodgers pinch hits in the sixth inning and hits a home run while wearing a Braves helmet.
1974: Angels manager Dick Williams skippers the American League team, as is customary for the league's reigning pennant-winning manager. The odd thing is that Williams had won the '73 pennant with the A's and then resigned after the season before being hired by the Angels in June of 1974. So he achieves the odd distinction of managing an All-Star team in one uniform after having earned the right to do so in another uniform. (Dusty Baker will duplicate this feat nearly three decades later, piloting the Giants to the World Series in 2002 and then leaving to manage the Cubs, whose uniform he wears while managing the National League team in 2003.)
1975: The American League squad features seven A's players (including five starters: P Vida Blue, 1B Gene Tenace, SS Bert Campaneris, LF Joe Rudi and RF Reggie Jackson), along with A's manager Alvin Dark, which allows for lots of mixing and matching from the team's extensive wardrobe. The Oakland infielders wear yellow jerseys and white pants, the outfielders wear green jerseys and white pants, Vida Blue wears solid gold and Alvin Dark wears solid white (including the special white cap that all Oakland coaches and skippers wore during this era). The two bench players -- Rollie Fingers and Claudell Washington -- wear totally different combos. It all looks rather confusing on the field.
1976: With the National League celebrating its 100th anniversary and several NL teams marking the occasion by wearing striped pillbox-style caps during the season, the NL All-Stars arrive at Veterans Stadium in Philadelphia and find white pillbox "N" caps waiting in their lockers. The caps are worn for infield and batting practice, the NL team portrait and pregame festivities, but the National Leaguers switch to their regular team caps for the game itself.
1979: Reggie Jackson forgets to bring his Yankees uniform to Seattle. It eventually arrives in time for the All-Star Game but not in time for the American League team portrait, so Jackson ends up wearing a numberless Mariners uni (plus Rangers skipper Pat Corrales, seated in front of Reggie, wears a Cubs cap). Unbeknownst to Jackson, there's an extra Yankees uni floating around the stadium that he could have worn for the portrait: It's being worn by serial imposter Barry Bremen, who dons a Yankees uniform and shags flies for about half an hour before the game until Tommy Lasorda spots him and has him ejected. (Further details on this are available here, and additional info on Bremen's other high jinks are here and here.)
1979: For reasons that have never been explained, Pete Rose plays the All-Star Game in his Phillies batting practice jersey. With BP jerseys still unknown to most baseball fans at the time (only seven teams are using them), Rose's move gives the solid-colored shirts their first prime-time exposure and sparks a wave of interest, which results in most teams introducing their own BP designs and solid-colored alternate jerseys over the next few seasons.
1980: Ken Griffey of the Reds wins the game's MVP award and earns a Stargell Star for his efforts.
1981: Frank White of the Royals wears a Brewers helmet while pinch running in the sixth inning, which is particularly odd considering he's wearing his Royals helmet when he bats in the ninth.
1981: Blue Jays pitcher Dave Stieb thinks to himself, "American League pitchers never hit -- no need to bring a batting helmet to the All-Star Game." But when American League manager Jim Frey runs out of position players, Stieb is forced to bat in the ninth inning. He wears a Mariners helmet and strikes out.
1982: American League starter Dennis Eckersley of the Red Sox thinks to himself, "That Dave Stieb thing was a fluke -- no need to bring a helmet." Naturally, Eckersley comes up to bat in the second inning and ends up wearing an Indians helmet. He grounds out.
1984: George Brett wears a logoless No. 21 batting helmet during his first two plate appearances in the All-Star Game. The only 21 on the American League roster is Seattle's Alvin Davis (Brett, of course, wears No. 5), who pinch hits in the fifth inning, wearing his usual Mariners helmet. Is this the same helmet Brett had been using earlier in the game, with a logo decal hastily slapped on? If so, they took the decal back off, because Brett wears the blank helmet again two innings later. Weird.
1985: Lou Whitaker forgets to bring his Tigers jersey to the All-Star Game, so he obtains a replica jersey from the stadium gift shop and draws in his number with a marker but doesn't bother to handwrite his name. Since the game is being played in the Metrodome, he borrows a pair of Twins stirrups (it's hard to see, but that little mark just below his pant cuff is the Twins' "TC" logo, which the Twins were wearing on their stirrups at the time).
1985: Astros fireballer Nolan Ryan thinks to himself, "Pitchers almost never bat during All-Star Games -- no need to bring my helmet." To his surprise, he ends up hitting during the sixth inning, forcing him to wear a Padres helmet. He strikes out.
1987: Cubs reliever Lee Smith thinks to himself, "Closers never bat during the regular season, much less in All-Star Games -- no need to bring my helmet." But with the National League bench depleted in the 13th inning, Smith finds himself called upon to hit. He steps up to the plate in an Expos helmet and strikes out.
1992: Indians hurler Charles Nagy thinks to himself -- well, you get the idea. Nagy wears a Rangers helmet when batting in the eighth inning and, to everyone's surprise, reaches base on a single. He then trades in the right-earflapped Rangers helmet for a left-earflapped Rangers helmet, which he wears while running the bases and eventually scoring a run.
1993: Marquis Grissom of the Expos forgets his uniform. He borrows pants from Mark Grace, borrows a Padres jersey from Tony Gwynn, and buys a souvenir Expos cap from a concession stand.
1997: Larry Walker, ridiculed a month earlier for sitting out a game against Randy Johnson, steps in against Johnson at the All-Star Game. After the Big Unit sails an intentionally wild pitch far over his head, the lefty-hitting Walker steps into the right-handed batter's box, turns his helmet backward, and faces Johnson from the right side. He takes one pitch, then turns his helmet back around and finishes his at-bat left-handed.
1997: American League catcher Sandy Alomar Jr. enters the All-Star Game in the sixth inning, wearing his usual Indians chest protector. But after hitting a go-ahead home run in the bottom of the seventh, he switches to a Captain America design (although he's not the first or last catcher to do that), just in time to be named the game's MVP. Benign coincidence or suspiciously timed product placement? Uni Watch will let you be the judge. (Also of note: Alomar wears a camera-equipped mask for the game.)
1998: Jeff Shaw of the Reds is selected for the National League team but is traded to the Dodgers on the Saturday before the All-Star break. He can't join the Dodgers in time for Sunday's game, so he heads straight to San Diego for the All-Star Game. His new Dodgers jersey and cap arrive in time for Monday's workout but he has to borrow pants and blue spikes from his new Dodgers teammates Raul Mondesi and Gary Sheffield, along with a dark belt from the Rockies contingent. The rest of his new Dodgers gear arrives in time for Tuesday's game, where he wears his new team's uni for the first time.
1998-2000: In an effort to boost merchandising sales, MLB has each All-Star player's cap embroidered with his uni number and signature (additional views here, here and here). The marketing initiative, which even extends to managers, is scaled back in 2001, when all players wear an identical All-Star Game cap logo (no number, no signature), a practice that continues today.
2005: With no advance fanfare or warning, most of the All-Stars wear newfangled batting helmets equipped with air vents and a reptilian-looking crown. As MLB's high command later explains, this is Rawlings' new Coolflo helmet design. After its one-game All-Star test drive, the helmet disappears for the rest of the 2005 season, but it becomes standard-issue equipment for most MLB teams the following year. Meanwhile, Joe Nathan of the Twins appears with an undotted "i" on his Twins insignia. Teammate Johan Santana, who apparently tipped the seamstress better than Nathan did, has no such problems.
There's one other All-Star Game trope worth mentioning: the curious phenomenon of the white shoe. As you know, only the A's go white-shod during the regular season, but everyone likes to break out the white kicks for the All-Star Game (or, more likely, the shoe companies like to use the game to showcase new designs).
Alex Rodriguez has gone ivory-footed in the All-Star Game at least since his Rangers days. Writing in his now-defunct blog two years ago (yes, A-Rod had a blog), he explained why: "When I was a kid, I used to watch the All-Star Game on TV. I grew up a big Mets fan, as many of you know, and I always noticed that the Mets All-Stars wore white spikes for the game. For the past few years, Nike has designed white shoes and wristbands for me to wear as a tribute to my childhood heroes. Since I can't wear apparel like that during the season, it's the one day where I can be creative."
But wearing white for the big game predates those mid-'80s Mets whom A-Rod grew up watching. Expos players were doing it in 1982 (when the game was played in Montreal) and 1981, Dave Parker did it back in that 1977 game at Yankee Stadium, and Dave Kingman was doing it the year before that. (If anyone knows who started this trend, and when, please send Uni Watch a signal flare.)
But what if your team already wears white shoes? That was the question Jose Cruz faced in the 1985 All-Star Game. The Astros wore white footwear back in those days, so Cruz switched things up by going with black cleats when he entered the game in the second inning. Must not have sat well, though, because he changed back to white a few innings later.
(Special thanks to Morris Levin, Jason Bittle, Larry Wiederecht, Jim Parker, Bryan Moore, Alex Shuman, Roger Faso, Nick Trotta, and TC for their invaluable research assistance.)
Additional Uni News
The day after the All-Star Game is traditionally the slowest, most maddeningly sports-bereft day of the year, so here are a few tidbits to tide you over until baseball resumes on Thursday:
• In case you missed it last week, Uni Watch is currently running a design contest to come up with a new uniform design for the team formerly known as the Seattle SuperSonics. Full details are available here.
• Uni Watch's recent examination of White Sox uniform history included a simple question: Why don't the White Sox wear white socks? While no satisfactory answer has been forthcoming, several readers pointed out that Uni Watch wasn't the first one to pose that question.
• The White Sox column also mentioned that one other team besides the Sox had worn shorts: the 1950 Hollywood Stars. But Uni Watch has now been made aware of several other inseam-challenged minor league teams: the 1975 Sacramento Solons (who also appear to have worn the shorts in 1976; further info here), the 1950 Houston Buffaloes (who may actually have worn the shorts in 1949, depending on which reference source you believe), and the Mobile Bears (circa 1950, but Uni Watch is still confirming the exact date). And here's a shorts-related footnote: When the Hollywood Stars began wearing their shorts in 1950, they needed to get permission from the Pacific Coast League president. His name was -- wait for it -- Pants Rowland. Really.
• Speaking of the White Sox's shorts, one pair of them ended up as the centerpiece of reader Mike Steiner's impressive ChiSox uni collection.
• Mark your calendars: Four design writers, including your favorite Page 2 uniform columnist, will be presenting a series of "Sports and Design" readings on July 22 at KGB Bar in Manhattan. Topics will include stadium architecture's tendency toward nostalgia, Nike's new uniforms for the Chinese Olympic team, the odd connections between signature sneakers and cars, and the cultural history of the baseball cap. Festivities begin at 7 p.m., admission is free, and all New York-area readers are encouraged to buy Uni Watch a drink attend. For additional details, look here.
Paul Lukas was voted to his Little League all-star team in 1976 (but did not get white shoes from Nike). His Uni Watch blog, which is updated daily, is here, his answers to Frequently Asked Questions are here, and his Page 2 archive is here. Want to learn about his Uni Watch membership program, be added to his mailing list so you'll always know when a new column has been posted, or just ask him a question? Contact him here.

Also See
ESPN Top Headlines