The team formerly known as the Seattle SuperSonics has been in a nameless limbo since relocating to Oklahoma City a few weeks ago. But that identity crisis is almost over. Any minute now, the team will announce its new name, new colors and new uniform set.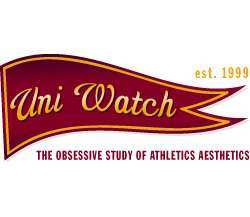 The results likely will be unremarkable, if only because basketball uniforms offer such limited design possibilities: They have no sleeves, no long pants and no caps or helmets, and most of the players don't wear high socks. When you consider the list of the all-time greatest uniforms across all sports, it's no surprise there's only
one basketball uni
even worth discussing.
So Uni Watch frankly wasn't expecting much after recently inviting readers to come up with new designs for the Oklahoma City franchise. But more than 350 of you accepted the challenge, and many of the resulting submissions were better than the official design is likely to be. Without further ado, here are Uni Watch's picks for the best designs of the batch: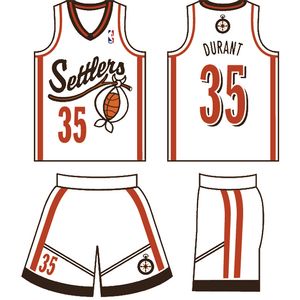 Brian Corrigan
Only a guy from Brooklyn could show the crowd from Oklahoma City how it's done.
BEST OVERALL DESIGN: Brian Corrigan, Brooklyn, N.Y.
Full disclosure: Corrigan is a Uni Watch acquaintance and neighbor (he runs the excellent
Watch Your Back
operation, whose
Kent Tekulve T-shirt
has been a longtime favorite of Uni Watch readers), but that had no effect on the judging, honest. Fact is, nobody else came up with such an appealing combination of logo, regional heritage and simple yet sharp graphics. Corrigan's
road uni
adds a nifty secondary logo, and the entire package feels classic without being overly retro. Uni Watch's highest rating.
Honorable Mention: Ben Sibley (probably the best of the many rootin'-tootin' submissions), Nick Tringale (would have been the overall winner if beavers had anything to do with Oklahoma City -- sorry, Nick, Beaver County is too far away), Kevin Callahan (simple yet contemporary -- very sharp), Christopher J. Falvey (bonus points for using graphics from the Oklahoma state flag, minus points for a team name that doesn't end in "s"), Tim Douglas (love the rope pattern, but oy, that number font), Fred DeLorey (the scissor-tailed flycatcher is the official state bird, but good luck getting a team named after that), Ross Gallentine (Uni Watch was surprised more people didn't make use of Oklahoma's unique state shape and OKC's position at the state's center) and Shane Wisniewski (interesting color blocking, although the home version feels unfinished and the team name is found only in the logo).
BEST PETROLEUM-BASED DESIGN: Fred DeLorey, Nova Scotia
Several people based their designs on Oklahoma's oil-drilling history -- maybe not the best way to go in these days of global warming and $4-a-gallon gas, but Uni Watch couldn't resist DeLorey's road uniform, with its uni number printed on a giant oil drip. If there had been an ABA franchise in Oklahoma City, its players definitely would have worn something like this.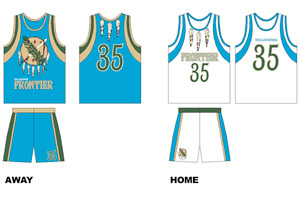 Christopher J. Falvey
The Frontier design is probably better than what Bennett & Co. will come up with.
Honorable Mention:
Adam Walter
(bonus points for the striped socks) and
Christopher Noice
(who provided only a logo, not a uniform design, but how can you not love an anthropomorphized oil globule?).
BEST TORNADIC DESIGN: Steven Little, Chicago
Dozens of readers came up with concepts related to tornadoes, cyclones and similar extreme-weather phenomena. Uni Watch suspects this might not sit well with fans who have had their homes damaged or destroyed by twisters, but it's hard not to like Little's design, which does a nice job of incorporating the funnel cloud into the team's logo typography and has a suitably sleek, streamlined look.
Honorable Mention: Casey Holzer (road version here).
BEST SOUR GRAPES DESIGN: Jeremy Zeitlin, Boulder, Colo.
More than a few readers -- several of them, not surprisingly, from Seattle -- used their designs as vehicles for some choice commentary on the subject of franchise relocation. Among those that are suitable to be shown here, Zeitlin's design gets the nod, thanks to his brilliant alternate uniform concept, which speaks for itself.
Honorable Mention: Kevin Wilkinson, Shawn Elder (here's the road version), Julian Thomas and Philip Bovenkamp ("named for D.B. Cooper, the original supersonic hijacker," he explains).
BEST LOW-TECH DESIGN: Brad Bauer, Bloomsburg, Pa.
In this digital era, in which anyone can sit down at a computer and create something that looks at least somewhat professional, Uni Watch was happy to find so many people submitting designs created with nothing but colored pencils, crayons and imagination. Is Bauer 8 years old, or does his design just look that way? Either way, there's something appealingly unpretentious about it.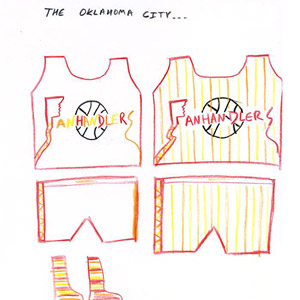 Brad Bauer
Forget all that Adobe Illustrator garbage ... three cheers for the crayon crowd!
Honorable Mention:
Josh Benton
(note the gun/holster on the shorts) and
Taylor Jobin
, plus a shout-out to the super-primitive digital submissions by
Jeff Parrotte
(bonus low-tech points for misspelling "Okies" on the
home uni
and
logo
),
Steven Kaknevicius
("I decided to call them the Jack Rabbits, because they jump super-high like basketball players, and also there are jack rabbits in Oklahoma, I think") and
this anonymous reader
.
BEST OH-SO-CLEVER CONCEPT: Jason Zimdars, Oklahoma City
"What better mascot for our new NBA team than country music star Toby Keith and his huge, meaty face," Zimdars says. "Inspired by his local restaurant, which is called Toby Keith's I Love This Bar & Grill (yes, that's really the name), I hereby present the Oklahoma City I Love This Basketball Team!" Zimdars even whipped up a fake news release. "All kidding aside," he adds, "if put to a vote, I think this would win a surprising number of votes here in OKC. Did I mention he has a huge, meaty face?"
Honorable Mention: Johnny Anderson ("Since Oklahoma only sells three-point beer") and someone who gave his name as simply DT ("Oklahoma City is known for Bricktown, so call the team the BrickMasons -- and if they're really bad, they could be the BrickLayers").
BEST DESIGN THAT SHOULD BE AN AD FOR AN OPTICIAN: Benjamin Jakeli, Columbus, Ohio
Uni Watch has no idea what Jakeli was thinking, but it's a safe bet that halftime entertainment would be provided by The Residents.
BEST DESIGN THAT LOOKS LIKE AN OREGON FOOTBALL REJECT: Dave Delisle, Vancouver
Hmmm, separated at birth? Gotta dig that robot logo, though.
One footnote to all of this: Several readers pointed out that Oklahoma City was subjected to 1,253 sonic booms in a controversial 1964 experiment and that the Sonic Drive-In fast-food chain is headquartered there, so Sonics is arguably an even more appropriate name for the team now than when the team was in Seattle (plus, imagine the concession-branding possibilities). Reader Anthony Bui took this approach even further by tossing in Sonic the Hedgehog.
Congrats to all the winners, and thanks to everyone who entered. Want to see more? Most of the submissions are gathered into a gallery here, and you can watch a slide show of them here.
Paul Lukas lives in Brooklyn, where people know a thing or two about having their team taken from them. His Uni Watch blog, which is updated daily, is here; his answers to frequently asked questions are here; and his Page 2 archive is here. Want to learn about his Uni Watch membership program, be added to his mailing list so you'll always know when a new column has been posted or just ask him a question? Contact him here.

Also See
ESPN Top Headlines