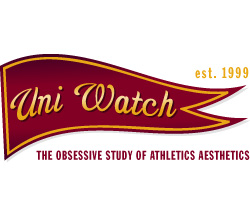 In case you've been under a rock lately, Bengals wideout Chad Johnson has a new moniker. So with the NFL season about to kick off on Thursday night and move into high gear on Sunday, the question everybody's asking Uni Watch is this: What name will Johnson -- er, Ocho Cinco -- um, the unpredictable receiver be wearing on his jersey?
He's worn "Ocho Cinco" once before, of course, but that was just a pregame stunt in 2006. Will he get to wear it for real now that it's actually his name?
As you might expect, the Bengals' PR department has been thrilled, thrilled, to have dozens of reporters asking this question mere days before the team's first game. And on Thursday afternoon they finally came up with an answer. Here's the statement they issued:
"Effective today, the Bengals begin the process of listing the former Chad Johnson as Chad Ocho Cinco for all club business, per the legal change of his surname effected in Florida. The list of appropriate changes will include Ocho Cinco wearing his new surname on the back of his jersey for Sunday's season opener at Baltimore."
So we can now add Johns -- er, Ocho Cinco -- to the list of creatively nameplated players, a list that includes guys like Ken Harrelson (the first ever to wear a nickname on his jersey, back in 1969), Andy Messersmith (who had to stop wearing "Channel 17" after commissioner Bowie Kuhn ruled that it amounted to a de facto ad for Braves owner Ted Turner's TV station), Elvin Hayes (biggest quote marks ever), and Johnny LeMaster.
Whatever you think of Ocho Cinco's antics, he's always maintained that he's just trying to liven up the boring old NFL, and there's no getting around the fact that his jersey is arguably the most interesting element in an otherwise rudimentary year for uniform changes. How slow a year is it? So slow that four of the biggest uni-related story lines involve pants, which usually go unnoticed unless they fall down. Check it out:
• ITEM!: The officials will be more zebrafied than ever this season, thanks to new pants featuring thick black piping. Looks a little too chunky for Uni Watch's liking, but presumably we'll all learn to live with it.
• ITEM!: For reasons the rest of us can only guess at (and which must surely have required multiple conference calls and endless rounds of debate among the team's higher-ups), the Jaguars have changed the striping on their white pants from turquoise outlined in black to black outlined in turquoise. Is the new look better than the old? After lengthy consideration, Uni Watch pleads indifference.
• ITEM!: That noise you heard coming from the Midwest a few weeks ago was the gasp emitted by Clevelanders when they saw their beloved Brownies wearing brown pants for a preseason game against the Giants. These pants have actually been part of the team's wardrobe for a couple of years, but they'd never been worn until now. They don't look so bad when you see just a hint of them, but the full-body view is more problematic, because they really need some stripes and would've been better off being paired with the team's striped socks (here's a Photoshop job of how that might have looked). But debating the pros and cons of the brown knickers may be moot, because according to an item in the middle of this page, about 60 percent of fans responding in an online poll gave the pants a thumbs-down, and the team's VP of communications says there are no plans to wear them again. Probably for the best.
• ITEM!: For the past three years, the Dolphins have been pairing their white jerseys with white pants. But the team's aqua pants, which had been MIA under the coaching reigns of Nick Saban and Cam Cameron, reappeared during the preseason (and so did the corresponding striped socks) -- a welcome move.
As for nonpants news, it breaks down like this:
• As you may recall from last winter, the NFL has updated its logo, so you can expect to see the new version appearing everywhere, although Uni Watch spotted the old design a few times during the preseason -- a rare crack in the NFL's legendarily comprehensive wall of brand reinforcement. In fact, a "SportsCenter" interview with NFL commish Roger Goodell the other day found the new logo being used as a backdrop for one camera angle but the old logo appearing behind Goodell. Shocking!
• New rule this year: The defense is allowed to have one radio-equipped helmet on the field. This means the annoying little green helmet dot that quarterbacks wore last season, to indicate that their lids were wired for sound, will now have a matching green dot on the other side of the ball. But hey, take a look at that last photo again -- does Antonio Pierce's green dot look a little smudgy? That's because this year the dot has been "improved" by the addition of the NFL logo. This isn't the stupidest uni-related thing the NFL has ever done, but that's only because the league tried to keep Mike Nolan from wearing a suit. Seriously, is it necessary to brand everything? Were they worried that someone might be doing a brisk trade in unlicensed black-market green dot stickers? And besides it doesn't even work on a design level, because you can't make out the logo unless you're up close. From a distance, it just looks like an indistinct Rorschach blot.
• All teams will wear a Gene Upshaw memorial patch on their jerseys. Toss in those captaincy patches (which weren't worn in the preseason but will be reappearing now that the regular season is starting), plus the teams that already wear jersey patches, plus-plus the teams that are wearing special commemorative patches this season (we'll get to those in a sec), and we're looking at a very patch-intensive season. Can't wait to see how they'll work the Super Bowl patch into the mix next February.
• The Titans are marking their 10th season in Tennessee with a jersey patch. They've also designated their sky-blue jersey their primary home color. The navy jersey will now become an alternate.
• The Rams are wearing a memorial patch in honor of Georgia Frontiere. Here's how it looks on the home jersey.
• The Lions have a new 75th-season patch.
• The Jets will honor their Super Bowl III championship team by wearing a 40th-anniversary patch on Oct. 26 against the Chiefs.
• The Bills will be wearing this logo as a jersey patch for their "home" game in Toronto on Dec. 7.
• According to the third item on this Q&A page, the Redskins will wear white jerseys for their first four home games and then wear burgundy jerseys for their last four.
• Lots of teams will be wearing throwbacks and alternate jerseys throughout the year. The dates for these promotions always seems to change, but here's what has been announced so far:
And that's it, at least for now. A pretty quiet year, all things considered. Next season should be livelier, because several teams are planning redesigns. Until then, keep your pants on (and that goes double for Mr. Ocho Cinco).
---
Back to School
As usual, Uni Watch's annual rundown of college football uniform changes had a few omissions, plus there were a few additional revisions that became apparent only once teams took the field this past weekend. Here's a round of updates and follow-ups (with thanks, as always, to everyone who contributed info and observations):
• Did you see that yellow decal on the back of Arizona's helmet last weekend? That's the logo of Fort Huachuca, the Army base where the Wildcats had training camp a few weeks ago. The decal was worn for the first game but will now be retired.
• All of Arkansas State's teams have changed their names from the Indians to the Red Wolves, so you'd think they'd have new uniforms. But the only change appears to be that they've switched from white socks to black.
• Army, which had previously worn plain gold helmets, has now added uni numbers to the headgear (plus it looks as if every player's wearing the Riddell Revolution helmet design).
• Bowling Green's home uniforms have changed from this and this to this. So the orange design scheme now matches the white road jersey -- wow, what a concept!
• Fresno State has long had a green "V" on the back of its helmets (it stands for "Valley"; for details, look here). Now, if you look closely, you can see that a second green "V" has popped up -- it's on a little dog tag being worn by the bulldog in the team's primary helmet logo. It wasn't there in previous years, but now it's appearing in all of the school's graphics.
• Idaho's new uniforms, duly noted in Uni Watch's previous column, had a, uh, unique design element that wasn't apparent until the team took the field for its first game: a butt logo. Apparently the school's fans didn't know about it beforehand either, and they were none too thrilled once they saw it (although Boise State fans were rather amused). Now, after several days of controversy, the school has just announced that the logo will be removed.
• Iowa, which had gone bare-legged in recent seasons, is now wearing NFL-style socks. Coach Kirk Ferentz even criticized RB Jewel Hampton for wearing his socks too low in the team's first game.
• Here's a better photo of Indiana's new double-striped helmet (which isn't truly new after all, since the Hoosiers also wore it in last year's Insight Bowl).
• Uni Watch had mentioned Michigan State's new green pants stripe but neglected to explain that it will be worn only at home. The road pants will continue to be solid white.
• Interesting note on North Carolina's uniforms: They're apparently using some new fabrics that respond differently to moisture. So as the players sweat, it creates a two-tone effect on the jersey's adjoining panels (additional photos here, here and here).
• Ohio State has added an "AR" helmet decal (additional view here). The two letters are for the daughter (Rebekah Gee) of OSU president E. Gordon Gee and her husband (Dr. Allan Moore), who were recently involved in a Vespa/SUV accident that killed Moore and seriously injured Gee. Meanwhile, regarding OSU's ever-changing sock colors (first they're white, then they're black, except when they're white), a source who prefers to remain nameless offers this explanation: "I worked for the equipment staff at OSU a few years back, and the sock-color issue always came up between players and staff. Players are issued the white swoosh socks, but generally they'd go out and buy their own black socks."
• Lots of small changes for Ole Miss: The chest logo script has gotten slightly larger; player names, which had been removed by coach Ed Orgeron, have now been restored; the pants have switched from silver gray with blue-red-blue piping to matte gray with blue-red piping; and the shoes have changed from black to white.
• Uni Watch had mentioned Oregon's Todd Doxey memorial decal, but it turns out that Doxey will get an additional tribute: A different OU player will wear Doxey's uni number for each game this season. Details here.
• It's tough to see, but Pitt has made a small pants adjustment. Last year, this panther-head logo appeared on the upper-left thigh (here's another view). This year, they've switched to this version of the panther head, as you can see in the background of this shot.
• Rutgers has changed its uni number typeface from this to this.
• San Jose State has changed from this to this.
• Uni Watch had reported that Tennessee's white jersey would look like this, with orange nameplate lettering and TV numbers on the sleeves. But that turned out to be wrong: As you can see, the nameplate lettering is still black, and the TV numbers are still on the shoulders. Uni culpa.
• Uni Watch had shown Vanderbilt's new gold jerseys but not any of the school's other new uni combinations. You can see those here.
• Manufacturer's logos appear to be cropping up on many officials' caps. In the SEC, the zebras have adidas cap marks, while this shot shows the Richardson logo (it's there, slightly behind the official's ear) being worn in last Saturday's Texas/FIU game. Coincidence, or the start of a widespread trend? Stay tuned.
Finally, regarding Colorado's unusual jerseys, with the raised dots on the shoulder panels (a design element that Uni Watch continues to like, by the way): Several readers pointed out that rugby teams have been using raised dots for a while now. "It looked a bit weird when they first came out, but you get used to it," writes reader Xav Cambon. "Now pretty much every manufacturer is using them. For once, rugby is a step ahead of football!"
Short-Notice Chat
If you're reading this before 3 p.m. ET on Thursday, there's still time for you to catch the start of the latest Uni Watch live Web chat. To participate, click here.
Paul Lukas is bracing for a fresh round of "What's that green dot?" e-mails this season. His Uni Watch blog, which is updated daily, is here. Want to learn about his Uni Watch membership program, be added to his mailing list so you'll always know when a new column has been posted, or just ask him a question? Contact him here.