So here's an idea: When the ponds and lakes freeze this winter, wouldn't it be cool if we could find a way to zip around on the ice and maybe invent a game with two goals and some sort of ball-ish obj--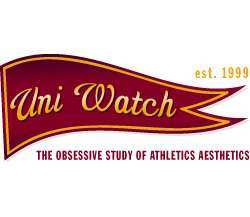 Oops, silly Uni Watch -- that game already exists. And although it's easy to forget about hockey when baseball and football are in high gear, the NHL season actually began last weekend with four regular-season games in Prague and Stockholm (sort of like MLB opening its season in Japan, only with lots of pickled herring instead of sushi), and all four teams wore commemorative patches for the occasion. The ones worn by the
Senators
and
Penguins
featured the word "Stockholm" and a
Swedish flag motif
(pretty cool, right?), while the ones worn by the
Rangers
(who, as always, positioned the patch
on their shoulder
instead of on their chest) and
Lightning
had "Prague" and a Czech flag motif.
The rest of the season kicks into high gear on Thursday. And it's a big year uni-wise, because alternate jerseys, which had been banished last season, will be reappearing in many locker rooms, plus there's the usual assortment of patches and tweaks. Uni Watch knows you want to be fully up to speed on North America's 17th-most-popular sport (or whatever it's fallen to this week), so here's a full breakdown of what's on tap:
• The Blue Jackets are wearing a "JHM" memorial patch in honor of team founder John H. McConnell. Further details and a closer look at the patch design are available here.
• Over in St. Looie, the Blues have a new alternate jersey, which looks pretty sharp (rear view here, lots of additional pics here, and more info here).
• The Bruins have a new alternate jersey, and it's a beauty.
NHL SEASON PREVIEW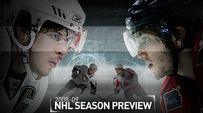 • Lots of doings in Montreal, as the Canadiens are celebrating their centennial with a series of uni-related moves. First, they've got an anniversary logo, which they're wearing as a right-shoulder patch. They're also chronicling the franchise's visual history with a series of throwback jerseys that will be worn for selected home games (specific dates and additional info are available here, and there's a photo gallery of the throwback designs here). Plus the Habs are hosting the All-Star Game, so they've got a patch for that on their left shoulder. (And if you look at the two jerseys on the left end of this conga line, you can get a peek at what the all-star jerseys will look like.)
• No photo yet, but the Canucks have announced that they'll be memorializing defenseman Luc Bourdon "with an element added to each player's helmet," which presumably means a small decal with Bourdon's initials or uniform number. Meanwhile, in a really interesting development, the Canucks named goalie Roberto Luongo as their captain. Luongo wore the captain's "C" for the team portrait, but NHL rules prohibit goalies from wearing the captaincy designation during a game (the last one to do so before this rule went into effect was Bill Durnan in 1947-48), so Luongo will go "C"-less on the ice -- at least on his jersey. But he's bent the rules a bit by adding a "C" to the base of his mask. Details here.
• Uni Watch got all excited during the preseason when the Devils started dressing a new player whose last name would look soooooooo cool on the back of a jersey. Alas, they chose to fudge it, and then he didn't make the final roster cut anyway. But if he makes it back to the big club, they've gotta put his complete moniker on his jersey. Full surname recognition for Pierre-Luc Letourneau-Leblond!
• The Ducks appear to have made their chest logo slightly larger -- compare last season to this season.
• Just when you thought the black jersey trend had finally played itself out, the Hurricanes trot out this alternate jersey (lots of photos here, and additional info here). Sigh. The black trope is such a lazy default option. C'mon, guys, there's gotta be a better prototype design than this floating around in your files somewhere.
• The Maple Leafs are reviving their throwback alternate (complete with lace-up collar), which will be worn primarily against other Original Six teams.
• The Oilers are marking their 30th anniversary of joining the NHL with a shoulder patch (here's a closer look), plus they've also unveiled an alternate throwback jersey.
• Great news out of Pittsburgh, where the Penguins will once again be wearing history's coolest hockey jersey, or at least some variation on it. The design hasn't been unveiled yet, but according to this article, the design will be "similar to what they wore during last year's Winter Classic."
• One of the most annoying aspects of last season's new Reebok Edge jersey template was that scoop-flapped hemline, which created an unfortunate diaper effect. At some point during the last season, the Rangers got around this problem by custom-tailoring their hemlines to create a traditional straight edge, which looked much better. Unfortunately, they don't appear to be doing that this year.
• Very odd new alt jersey for the Sabres. The old-school logo should appeal to purists (Uni Watch included), but it doesn't fuse well with all that new-school piping or the gray pit-stain panels. Lots of additional photos here, more info here and here, and there's an interesting video clip about the new jersey's design process here.
• Let's hear it for the Thrashers, who've set a new standard for bad design with their new alternate uniform. The massive chest number belongs in the NBA, the shoulder logo belongs on a San Diego Chargers jersey, and the socks belong back on the drawing board. Additional photos here, if you dare, and here's a schedule of when this uniform will be worn, so you can make other plans for those dates.
• Lots of goalies have new mask designs. Uni Watch hasn't been able to keep up with all of them, but the roster includes Martin Gerber, Curtis Sanford (additional info, including lots of fan-submitted designs, here), Jimmy Howard (here's another view), Rick DiPietro (additional view here), Martin Brodeur, Josh Harding, and Patrick Lalime.
• Speaking of goaltenders, Reebok has been plastering the "RBK" logo all over goalie gear in recent seasons, but that logo appears to have beaten a retreat this season, with lots of Reebok vector logos and wordmarks appearing in its place.
• In a related item, you know how the RBK mark had also been used along the boards to mark the blue lines and red line in recent years? That abbreviated wordmark is now out, and the full wordmark is in.
• The Red Wings and Blackhawks will be paired up in the annual Winter Classic outdoor game, which will take place at Wrigley Field. Both teams will be wearing a commemorative logo patch, and it's a pretty safe bet that they'll be wearing throwback uniforms as well. Nothing's been officially announced yet, but Uni Watch hears through the grapevine that the 'Hawks will probably go with their barber pole design and that Detroit will wear this.
OK, that's what we know so far. But a bunch of other teams will be unveiling alternate jerseys over the next month or two. Here's a schedule, along with some rumors from semi-reliable sources:
Alternate jersey details
Team
Scheduled debut
Unconfirmed scuttlebutt
Blackhawks
Nov. 3
Third jersey will supposedly be black.
Canucks
Nov. 15
A return to the stick/rink throwback design.
Coyotes
Nov. 28
Lots of chatter about a black jersey with this logo.
Flyers
Nov. 28
Reportedly an orange throwback.
Islanders
Nov. 1
Look for an old-school throwback.
Kings
Nov. 22
Predominantly black jersey with this logo.
Lightning
Nov. 26
Potentially revolutionary move, as word is that the team will wear a blue jersey with a nickname wordmark.
Stars
Nov. 18
White with a simple black insignia -- essentially a reverse-field version of their home jersey.
Senators
Nov. 22
According to HockeyBuzz.com's Howard Berger: "A predominantly black uniform with the word 'SENS' angled upward on the front." Yikes.
Sharks
Nov. 22
The Icethetics blog is reporting a black jersey with the team's full-body shark logo.
OK, then -- drop the puck already and let's get this season started.
Cubbie Curse, Continued
Back in June, Uni Watch provided a detailed historical survey of Cubs uniform quirks and assessed how they might have contributed to the franchise's storied championship curse. With the Cubbies having completed yet another swan dive, Uni Watch has just learned about yet another uni-related anomaly that may have jinxed Wrigley's finest: They appear to be the only MLB team ever to have celebrated a regular-season division title by wearing a sleeve patch in that same season's playoffs. For details, look here.
Shea Revisited
Shea Stadium is being dismantled as we speak, but responses to last week's Uni Stadium Watch ode to Shea continue to pour in. A few follow-up points worth mentioning:
• Turns out Mets coach Joe Pignatano wasn't MLB's only bullpen farmer. As several readers pointed out, Orioles skipper Earl Weaver and groundskeeper Pat Santarone grew tomatoes at Memorial Stadium in Baltimore (details here), and Red Sox pitching coach John Cumberland did likewise at Fenway.
• The Shea column included a link to this tattoo photo (which, of course, depicts Shea's sorely missed colored exterior panels), which had turned up in a Google search. Turns out that arm is attached to one John Cropp, who sent along a more complete photo of himself after seeing his tat featured in the column.
• In a related item, Shea's vertical cables weren't just for holding the metal planels in place. Reader Bruce Meyer explains: "The cables are key elements in Shea's cantilevered, spring-loaded design, which provided the amusing (or alarming depending on your point of view) bounce that upper-deck fans invariably experienced during exciting game moments. In other words, if they'd been removed, the whole thing would have fallen down. One way to bring the ol' place down would be to put (very) small explosive charges on each of the cable and blow 'em all at once. New York City's no-implosion law probably prohibits that, however."
• Contrary to what was stated in the column, Shea was not the first stadium that could convert from baseball to football configuration via the use of movable seating sections. That title belongs to D.C. Stadium (now RFK) in Washington, which opened in 1961. Uni culpa.
• Finally, take a look at Shea's dedication plaque. See how the lower-left bolt is missing? Reader Paul Colacino says he knows where it is: "I confess that I have it. No vandalism intended, but I was standing against the brick wall after reading the plaque one day in the summer of 2007, and then I touched the bolt and it was loose. I pulled it out of the wall, looked around like I had robbed a bank, put it back, and then thought, 'Oh what the heck, they're tearing the place down one day.' It's my piece of Shea."
Paul Lukas wishes the NHL would go back to wearing white at home. His Uni Watch blog, which is updated daily, is here. Want to learn about his Uni Watch membership program, be added to his mailing list so you'll always know when a new column has been posted, or just ask him a question? Contact him here.

Also See
ESPN Top Headlines