Just a hunch, but Uni Watch suspects you've had about enough of the presidential campaign. It's been going on for, what, about 800 years now, and there seems to be no safe haven from it -- not even the World Series. Fortunately, your favorite sports league, the NBA, is about to begin its season, so now you can immerse yourself in the pleasures of pro basketball without having to think one little bit about the final week of the campaign.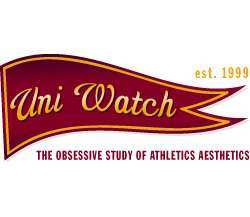 Actually: No you can't! In an unprecedented attempt to boost sneaker sales voter turnout, the NBA and its footwear partners have come up with a special program for teams playing on Election Day. When the Celtics and Rockets tip off that night, at least two players -- Kevin Garnett and Tracy McGrady -- will have their sneakers emblazoned with civic-minded messages (but ugh, doesn't anyone over there know how to style an apostrophe?), plus a little birdie tells Uni Watch that some players may use a Sharpie to do a bit of freestyle footwear electioneering.
The Election Day initiative is probably the most unusual uni-related news flash of the new season. We'll take a closer look at it in a few minutes, but first here's the rundown of all the other new developments to look for on the hardwood this season:
• When the Celtics kick off the season Tuesday night against the Cavs, they'll be wearing an O'Brien Trophy patch (customary for defending champions, although that trophy still looks like a trash can), plus they'll have gold-trimmed jerseys (here's the rear view), and players will have the option to wear gold or gold-accented sneakers (here's what Garnett will wear). This is just a one-game thing, so they'll revert to their standard uni set for the balance of the season.
• Uni Watch was originally less than impressed with the Thunder's uniforms. And yes, the team name is awful and the logo is a joke. But you know what? That home uni looks pretty dang good once it's out on the court. The colors pop, the type is sharp, and the whole thing looks crisp and clean, even from the back and sides. If this uni had already been in the league for a dozen years, we'd be praising it as a minor classic of no-nonsense design. Unfortunately, the road uni has major problems. For starters, the chest insignia is way too plain and top-heavy. Second, check out the side view and compare it to side views of the Knicks, Wizards and Bobcats. Notice a pattern? Finally, why would you use the color of a clear blue sky for a team named after stormy weather? Uni Watch suggests a hasty retreat to the drawing board.
• It's unusual for a team to wear its city name at home and team name on the road, but that's what the Kings are doing. "They really wanted the new road uniform to have a lot of black and look sort of meaner," explains Christopher Arena, the league's vice president of apparel, sporting goods and basketball partnerships. "But when we tried that with 'Sacramento,' you just couldn't read it, because it has so many letters. So we put that on the home jersey instead." Uni Watch usually doesn't care for rear-neckline logos, but the notch yoke treatment is interesting -- not bad. Even better: The league's worst alternate uni has been given the heave-ho.
• Lots of little adjustments for the Timberwolves. The chest insignia, which had been nearly illegible, has been shortened and cleaned up on the home jersey and changed to "Minnesota" on the road, and even the super-annoying uni numbers are slightly improved, because they're no longer outlined. Meanwhile, all the "tree line" trim on the collar and armholes has been scaled back, and the collar design is interesting, because it's basically a crewneck that gives the illusion of a V-neck (although Uni Watch could live without the back collar treatment). Also interesting: the side panels in the jersey and shorts, which form an M and a W -- a cool idea, except that the W is on top, which apparently signifies "Wolves Minnesota." Shouldn't it be the other way around? Textbook case of trying too hard to be clever. Finally, there's a new secondary logo, and the type and wolf's head in the primary logo have been tweaked.
• Remember how the Hornets' original uniforms had those really embarrassing pinstripes? They've veered back toward that look (here's the rear view), which sorta-kinda works at home and doesn't work at all on the road. In happier news, they've also given their logo mascot (which was cute but had some serious design problems -- compare the size of the two arms, for example) a much-needed makeover.
• Also rejoining the pinstriped ranks: the Magic. But the stripes diverge (kinda like the NFL officials' jerseys), which looks a little odd at first (especially since the stripes are straight on the back), but it seems to look fine on the court (additional info here and here).
• Small but very positive change for the Nuggets, who've changed their outline trim color from light blue to navy (or from PMS 2935 to 289, for those scoring at home). You can see the new version on the left, old on the right, here and here -- big improvement, right? Looks good on the court, too.
• The Bucks have taken their early-'70s road uniform, which was green with red trim, and inverted the colors to create a new alternate road uni. Uni Watch loves the simple striped trim, could live without the beveled typography, and doesn't care for the color scheme (somehow green with red trim works a lot better than the other way around). Oh, and there's a logo on the shorts, which brings up a question: Why does nearly every single NBA logo have to include a basketball? Like, is it a law or something? Seriously, the other sports leagues don't do this. Just sayin'.
• Black alternate uniforms are soooooo 2001, but someone forgot to tell the Raptors. And look, there's a maple leaf on the back, just in case you didn't know which country Toronto is in.
• NBA teams routinely memorialize deceased teammates with a black shoulder band, but the Trail Blazers have taken that protocol a step further: Their memorial band for Kevin Duckworth features his uniform number -- apparently an NBA first.
• The Heat have a new secondary logo.
• Several teams will be wearing anniversary patches. In each case, there's a big patch for the warm-up gear and a smaller version for game jerseys, and most of them look pretty sharp. Roll call: Sixers (here's now it looks in action), Bobcats (in action), Magic (in action), Timberwolves (they haven't been wearing it for preseason games) and Clippers (the best of the bunch, but not worn in the preseason).
• Next March the league will once again crank up its Noche Latina promotion, which mainly entails putting "Los" on the jerseys of teams in strong Hispanic markets (yes, it seems like a lazy approach, but the league insists that Hispanic fans really do refer to the Bulls as "Los Bulls," not as "Los Toros"). You've already seen them do this for the Spurs, Lakers, Bulls and Heat, and this time around those teams will be joined by the Rockets, Mavericks, Suns and Knicks (don't panic, Uni Watch has been promised that the space between the two words will be larger than what you see in that photo). All jerseys will carry this patch.
• Also back for another year: the annual St. Paddy's Day uniforms (for the Knicks, Bulls, Raptors and Celtics) and the Bobcats' January checkerboard motif (supposedly a NASCAR shout-out, although you'd think the Pacers would have first dibs on any racing-inspired design, no?).
• It's rare that you see a game with no home uniform, but that's what will happen when the Mavs face the Blazers on Christmas Day in Portland. Since the teams' alternate road jerseys are green and red, that's what they'll wear, in honor of the holiday.
• Several teams will have throwbacks, including the Cavs, Hornets, Sixers and Wizards, although Uni Watch isn't allowed to show you those designs yet. But it's fair to say that old-schoolers will probably like what they see.
• Also in the works but not yet ready for prime time: a nifty patch for teams playing on Christmas Day; a very odd uni-based promotion from the Cavs; some very interesting All-Star Game uniforms; and something else so super-secret that Uni Watch can't even give you a hint (but you may as well go through the whole anticipation/disappointment cycle now, since that's what always happens with these things).
• Six teams have new court designs: the Hornets (additional info here), Timberwolves, Raptors, Thunder, Bobcats and Heat (sorry, no photo for that one).
• The backboards, which had previously been manufactured by Gared, are now being made by Spalding. They've had a Spalding logo during the preseason, but they'll be logo-free now that the regular season is starting, so you probably won't notice any difference. And the backboard stanchions, which had been supplied by a variety of brands (Schelde, Porter, Gared, Spalding, BPI, AAI, and Hydra-Rib), have now been standardized into a single Spalding design (not the graphics on the stanchion, but the structure itself).
• In an unusual experiment, the league is relaxing its footwear rules for several special dates during the season. On Christmas Day, for example, sneakers can be accented with red, green, silver or gold, and shamrocks will be permitted on St. Patrick's Day.
All of which brings us back to Election Day, which is another one of the special footwear dates. The original idea was that players would be allowed to accent their sneakers with red, white and blue trim and star-spangled graphics, but then adidas suggested that McGrady and Garnett use their shoes to help get out the vote, and they readily agreed. In fact, adidas global basketball VP Lawrence Norman says both players "have a very clear point of view as to who they want to vote for" and wanted to express that on their sneakers, but the NBA wouldn't allow specific candidate endorsements.
And that's where that Sharpie comes in, because it's Uni Watch's understanding that some players may do a bit of impromptu handwritten electioneering on their sneakers. And even if they don't use the candidates' names, don't be surprised if you see other politically minded messages, like "Tax Breaks for Millionaire Athletes!" or "I'm Joe the Point Guard." The possibilities, dear readers, are endless.
Paul Lukas thinks that if the NBA really wants to honor its history, it should have special sneakers for Hanukkah. His Uni Watch blog, which is updated daily, is here. Want to learn about his Uni Watch membership program, be added to his mailing list so you'll always know when a new column has been posted, or just ask him a question? Contact him here.

Also See
ESPN Top Headlines