Ah, December -- the time when that big guy in the funny red suit makes his yearly appearance.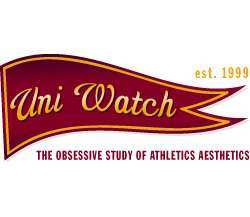 But enough about the Texans. Instead, let's talk about the holidays because it's time for Uni Watch's annual gift guide. Not all of the items listed below are strictly uni-related, but they should all appeal to that special someone on your list who's obsessed with athletics aesthetics, and whose tastes range beyond the standard jersey and cap fare.
•One-of-a-kind "Finisher Bags" by No Mas: No Mas prexy Chris Isenberg, a longtime Uni Watch favorite, has really outdone himself here. He has taken his huge collection of vintage Starter jackets -- more than 200 of them, accumulated over the past decade -- and begun turning them into gym duffels, which he's calling Finisher Bags. Total genius! "The sewing is a very tough job, because every jacket is sized differently and has different patches, appliqués and embroideries," Isenberg explains. "So we have to make it the proper shape and then move all those details into the right position." This process explains why the bags are pricey -- $300 -- but also means each one is a unique, hand-created masterpiece. The first batch of bags should be available on Dec. 15, just in time for holiday shipping. To reserve one with a 50 percent deposit, contact Isenberg here. And for those on a tighter budget, the No Mas line of sweatshirt hoodies and T-shirts is as impressive as ever. Get the full No Mas experience here.
•Classic ballpark posters by Jeff Suntala: Illustrator Jeff Suntala has an unusual specialty: He produces bird's-eye renderings of old baseball stadiums, grouped by city -- Philadelphia, Cincinnati, St. Louis and several more. They all hit that sweet spot where sports, architecture and art intersect.
•"Saving Face: The Art and History of the Goalie Mask," by Jim Hynes and Gary Smith (John Wiley & Sons): From the primitive leather, wire, Plexiglas and fiberglass masks of years past to today's modern airbrushed designs, this new book covers anything and everything you'd need to know about a goalie's most important piece of equipment. The text covers the mask's history and design evolution without sounding like a textbook, and even serious fans may be surprised by some of the rare photos, like this shot of mask engineer Ernie Higgins creating a plaster face mold. Plus there's a foreword by ol' Scarface himself, Gerry Cheevers. It's a first-rate book, and reasonably priced to boot.
•Genuine leather football helmets from Past Time Sports: Sure, the NFL will sell you a faux leather hat with your favorite team's logo on it (even if your team didn't exist in the leather helmet era, and/or if your team's modern logo looks ridiculous on an old-style hat). But if you want the genuine article, check out Past Time Sports, whose collection of vintage-styled leather headgear ranges from the primitive to the, well, slightly less primitive (not to mention bizarro historical reproductions like this helmet/mask combo) -- perfect for recalling the glory days of concussions Red Grange and Bronko Nagurski. And if football isn't your thing, Past Time has lots of other old-timey leather sporting goods, including basketballs (yes, they used to be leather) and baseball gloves.
•Limited-edition baseball screen prints from Sports Propaganda: Massachusetts-based artist Chris Speakman hand-screens each one of his gorgeous baseball prints, which are patterned after wartime propaganda posters (here's a short video clip that shows him at work). His selection is a little Bosox-heavy, but fans of other teams will also find plenty to like. Since each design is produced in a limited edition, Speakman's inventory is frequently changing -- some items go out of print while he produces new designs to replace them. To see what he's got available, look here.
•"Remember the AFL: The Ultimate Fan's Guide to the American Football League," by Dave Steidel (Clerisy Press): The NFL will be celebrating the 50th anniversary of its one-time rival and eventual merger partner next season, but you don't have to wait that long, thanks to this excellent tome, which is filled with supercool old logos, old helmet designs and archival photos (including some shots of the Broncos' infamous vertically striped socks, worn in 1960 and '61). Great little details abound -- can you believe Hank Stram actually wore a Chiefs blazer and a Chiefs necktie? Snappy text, great production values and more than 400 pages, all for less than 20 clams.
•Classic college gridiron calendars from Asgard Press and posters from Historic Football Posters: Got a relative who won't stop talking about the days when he'd root-root-root for his college's varsity squad? Here's just the thing for him -- two things, in fact: Asgard Press offers an eco-friendly product line of spectacular college football calendars, each featuring a dozen vintage souvenir program covers from back in the day. And the individual pages are perforated, so they can double as posters. Then again, if posters are your thing, you might prefer Historic Football Posters, which uses classic program covers to produce magnificent posters, plus framing is offered. Your walls will thank you! OK, no, they won't, but they'll still look a lot better than they do now.
•"Stealing Signs" paintings by Mark Penxa: A few years ago, Michigan artist Mark Penxa decided to make 10 drawings of Al Kaline and give them to his Kaline-worshipping grandfather as a birthday gift. He soon found himself doing more and more baseball artwork -- not just drawings but paintings, dozens of them. The result is "Stealing Signs," an online exhibit of 100 hauntingly beautiful watercolors depicting old-timey baseball players -- some accompanied by cryptic text, others unadorned. About half of the paintings have already been sold, but the others are available for $75 each. Start with this screen for the first 25 pieces (the ones with red dots are sold), click on the thumbnails to see larger versions, and click "Continue" to view subsequent 25-image batches. Gorgeous stuff.
Antiglare eye black from Farkas Original Eye Black: Redskins running back Andy Farkas is believed to be the first football player to have worn eye black, way back in 1942. Now his grandson (and Uni Watch reader) Brian Farkas is reviving the family heritage with Farkas Original Eye Black, which comes in a snazzy little tin. Granted, smear-on eye black isn't as conducive to making a fool of yourself writing clever messages as the peel-and-stick variety, but hey, that's the price you pay for authenticity. A perfect stocking stuffer.
College Hoops Update
OK, one last round of college basketball uniform changes: Arkansas State (home design is unchanged, but the roads have switched from this to this), Buffalo (old, new), Central Connecticut State (old, new), Clemson (it's tough to see, but that patch on the shorts marks the 75th anniversary of the school's booster club; details here), Delaware (old, new), Duke (the graphics are the same, but the jersey tailoring has changed from a V-neck tank top to Nike's broad-shouldered System of Dress), Duquesne (old, new), East Carolina (old, new), Eastern Washington (old, new), Houston (old, new), Loyola Chicago (the Ramblers will wear 1970s throwbacks on Dec. 13), Notre Dame (old, new), Oakland (old, new, and yes, they still have the subscript player names), Princeton (old, new), Rutgers (old, new), St. Joseph's (old, new), Siena (old, new), South Carolina (player names, which were missing last season, have now been added), Southern Illinois (old, new), UAB (old, new) and Vermont (new black alternates).
Paul Lukas knows who's been naughty and nice, but he's not telling. His Uni Watch blog, which is updated daily, is here. Want to learn about his Uni Watch membership program, be added to his mailing list so you'll always know when a new column has been posted, or just ask him a question? Contact him here.