Back in 1950, the Hollywood Stars -- a minor league baseball team in the Pacific Coast League -- wore shorts as part of their uniform. For years, the two most commonly seen photos of this phenomenon have been this one and this one. But now, suddenly, the Internet is teeming with photos of shorts-clad Stars players batting, pitching, sliding and just sitting there, among dozens of other shots.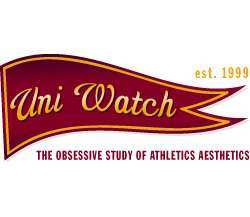 Those images all come from the Life magazine photo archives, which were made available on the Web last month
by Google
. The archive, which can be accessed via
this portal
, is brimming with
classic photography
, and it's a particularly rich gold mine for uni watching, with countless uni-notable photos -- some of them
beautiful
(that's Roger Staubach in the 1964 Cotton Bowl, with Navy wearing "Navy" nameplates), some of them just
interesting
(did you know Clemson wore sleeved basketball jerseys in 1955?), but all of them
worth checking out
(when Stan the Man retired in 1963, he wore a Boy Scouts-style neckerchief!).
So instead of a predictable "The Year in Pictures" feature, let's look at yesteryear in pictures, courtesy of a stroll through the Life archives. Here's a very small sample of what's out there, broken down by sport:
Baseball
• What team is that with all the stripes? You might think it's the Reds, but the cap and jersey style don't match up. It's actually the Cubs.
• Baseball teams frequently wear memorial black armbands, but the 1961 Reds wore something different: a black armhole band, in memory of team owner Powel Crosley. Instead of removing it the following year, they simply added a corresponding band to the other side.
• Speaking of the Reds, it's always good to see Ted Kluszewski and his cut-off sleeves.
• Man, the Phillies' uni numbers back in 1950 were enormous. Their spring training facility sure had some cool signs, though.
• Leo Durocher was known as Leo the Lip, but he apparently liked showing off other parts of his body. That shot is from spring training, 1942.
• Here's Branch Rickey tutoring a player in the Dodgers' minor league system, circa 1948. The odd jersey lettering was used by the Three Rivers Royals, a Dodgers-affiliated team in the Canadian-American League.
• Why do these kids look so sharp? Because their uniforms were ironed by Mom.
• The archive includes lots of good shots of women's baseball (to see dozens more, look here). And no, those mini-skirt uniforms weren't very good for sliding.
Football
• Can you identify all 14 NFL quarterbacks from 1961? (For the answer key, look here.)
• The Giants' current equipment director, longtime Uni Watch reader Joe Skiba, would probably die if he sent players out onto the field with inconsistent pants striping like the ones shown in this Giants/Steelers shot from the early 1960s.
• Ohio State tried some unorthodox QB training methods back in 1948.
• Before modern face masks were developed, sporting goods manufacturers tinkered with lots of other approaches. The Life archive includes a great sequence that shows these primitive Plexiglas masks being made, fitted and worn.
• Gotta love the artwork on the SMU team plane.
• Best paper route photo ever!
• How great is it that Vince Lombardi's jacket was simply embroidered with "Coaching Staff"?
• Must have been a hot afternoon for the Texas A&M/Villanova game in 1956, because the Nova players were wearing pith helmets on the sidelines. Meanwhile, over on the A&M bench, the Aggies had two young mascots with fractional uni numbers.
• Great shot here of the St. Louis Cardinals lining up against a local "Mighty Mite" youth league in 1960, the Cards' first year in St. Looie. That's the original Busch Stadium in the background.
• The archive includes several shots of women's football (although the uniforms are sometimes a bit lacking). Additional shots here, here, here and here.
Basketball
• Here's the uniform that the American basketball team wore for the 1952 Olympics in Helsinki. Dig those stripes on the shorts!
• Check out this unusual uni number placement. That's Ralph L. Vaughn of the 1939 USC hoops team.
• NCAA ref Jim Enright cut a rather unique figure in zebra stripes and high-top sneakers.
• Gorgeous shot here of Indiana versus Kansas State, circa 1953.
• The archive features half a dozen shots of the All American Redheads, a 1930s women's barnstorming team that played exclusively against men's teams. (For more info on the Redheads, look here.)
• Here's an unusual uni matchup: State versus State. That's NC State hosting Michigan State, circa 1959.
Hockey
• It's hard to imagine now, but NHL officials didn't wear zebra stripes back in the day.
• This type of headwear was very common in college hockey back in the 1950s.
• There are some tremendous photos of kids playing roller hockey, many of them featuring really sweet homemade sweaters and other makeshift gear.
• Now that's a hockey fight.
Other sports
• Muhammad Ali almost always wore Everlast trunks, but not for his 1970 bout against Oscar Bonavena.
• Great bowling shirts on display here and here.
• The most underrated sport, at least from a uniform standpoint, is probably roller derby. The Life archive features a bunch of good derby shots here.
• Man, people really used to get dressed up to play curling!
And so on. Want to see more? Go to the photo archive portal, plug in the name of your favorite team, school, sport or athlete, and see what comes up. But don't blame Uni Watch if you end up clicking through the archive all day -- as rabbit holes go, this one's almost bottomless.
---
Yankees pinstripes revisited
Lots of follow-up action to report regarding Uni Watch's recent column about CC Sabathia possibly wearing the most pinstripes in Yankees history.
First, judging by the photos from Sabathia's first appearance in a Yankees uni and the size 56 jersey he was wearing for the occasion, he appears to be on pace for about 64 pinstripes on his jersey, just as Uni Watch had projected. Based on the research presented in Uni Watch's previous column, this means CC is probably the team's all-time pinstripe king.
But readers pointed out that Uni Watch neglected to consider a few plus-sized players from Yankees history, most notably pitcher Jumbo Brown, who played for the Bronx Bombers in the 1930s and supposedly tipped the scales at 295 pounds. Unfortunately, photos of him in a Yankees uniform have been difficult to find, so for now it's impossible to know how many pinstripes he wore.
As for the other candidates readers suggested, they appear to be more pretenders than contenders (see chart at right). So even after this latest round of challenges to his crown, CC apparently stands undefeated, at least until we can find a good photo of Jumbo Brown. Or until the Yankees trade for Prince Fielder.
Paul Lukas thanks all his readers for their many contributions in 2008, and reminds everyone that New Year's Eve is for amateurs. His Uni Watch blog, which is updated daily, is here. Want to learn about his Uni Watch membership program, be added to his mailing list so you'll always know when a new column has been posted, or just ask him a question? Contact him here.