Whether you love the Mets, hate them or just laugh at them, there's no denying that the Amazins came off more like chumps than champs during the latter stages of 2008. On the field, they suffered their second consecutive late-season collapse; off the field, their new stadium's sponsor had to be rescued from bankruptcy by a federal bailout, and then that embarrassment was topped a few weeks later by the revelation that team owner Fred Wilpon was one of Bernie Madoff's prime suckers.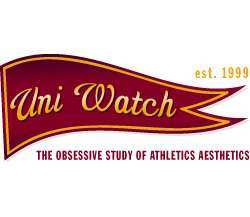 But that was all in 2008. With the turning of the calendar comes new hope, not to mention a new ballpark, a new bullpen, a new sleeve patch, a new coaching staf---
Wait a minute. What was that about a sleeve patch?
Yes, it's true: This is the "design" (Uni Watch is using the term loosely) that the Mets will be wearing as a patch on their right sleeves throughout the 2009 season, to commemorate the opening of Citi Field.
Well, at least nobody can accuse them of having overdesigned it.
Uni Watch thinks it's fair to say it takes a very special kind of tin ear, a truly rarefied strain of tone deafness, to put that patch on a big league baseball uniform. What shall we compare it to -- an elementary school computer project? A certain fast food logo? (Get the doormat, it's the Mets!) Generic clichés like "My kid could do better" or "How'd that get approved?" can't convey the scope of a design failure this monumental, and even team-specific barbs like "Who was the designer, Mr. Met?" don't capture the patch's epic shortcomings.
So let's skip the metaphors and jokes and just proceed straight to the simple, declarative truth: This is the worst sleeve patch in MLB history.
There's nothing new about MLB stadium-opening patches not including the stadium's name. Up until now, however, such patches always have included a depiction of either the entire ballpark or some of its signature architectural details, often accompanied by the team's cap logo or script. Compare any of those designs to this, and the Mets' effort comes off looking like amateur hour. Or maybe amateur minute. It looks like one of those cheapo generic marks you see in commercials or movies when the producers couldn't afford the licensing fees for the real logos.
The odd thing is that the Mets also have commissioned a much better Citi Field logo, but they are using it only on stadium-sold merchandise. Corporate brand marks aren't allowed on MLB patches, but so what? Lop off the type from the upper portion of the design and bingo, there's your sleeve patch. Why didn't they go with this approach?
"Because the uniform patch is based on the logo for Citi Field," Mets PR director Jay Horowitz said. The logo he was referring to is this one (itself no masterpiece, but at least it feels more unified and fully realized than the patch), but why does a stadium need a logo to begin with? A classic case of the tail wagging the dog, and the dog is a mutt.
As usual, the Mets don't need to look far to see how they should have handled this. All it takes is a quick glance toward the Bronx. That's the patch the Yankees will be wearing this season for their new stadium. Whether you love the Yanks or hate them (Uni Watch falls solidly in the latter category), at least they know what a sleeve patch should look like.
Fred and Jeff Wilpon, I know you've had a tough couple of months. But be honest now: Which one looks like it has to do with a baseball team, and which one looks like it's promoting the junior high drama club? For the sake of fans everywhere, please get a clue already.
Pinstripes Pinnacle, Continued
Here's the latest update on Uni Watch's continuing efforts to determine whether CC Sabathia will be wearing the most pinstripes in Yankees history. As you might recall, last time around, there was some question as to whether 295-pound Jumbo Brown might have approached Sabathia's total of roughly 64 pins, but Uni Watch had been unable to find a photo of Brown in a Yankees uni. Thanks to reader Neal Greenberg, however, that problem has been solved.
It definitely took a fair amount of flannel to create Brown's uniform. But he was saddled with the handicap of playing in an era when the Yanks' pinstripes were more widely spaced than they are today, which cut down on his stripe count. Based on this photo, his pinstripe tally probably was in the mid- to high 50s, which means Sabathia has defeated yet another challenger.
Paul Lukas, a lifelong Mets fan, hasn't been this embarrassed by his team since the Mercury Mets debacle in 1999. His Uni Watch blog, which is updated daily, is here. Want to learn about his Uni Watch membership program, be added to his mailing list so you'll always know when a new column has been posted or just ask him a question? Contact him here.