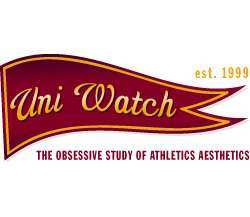 Three years ago -- wait, make that III years ago -- Ben Roethlisberger wore a glove on his throwing hand in the Super Bowl. But when Big Ben returns to the Super Bowl this Sunday, his glove affair is likely to be overshadowed by rival QB Kurt Warner, who went bare-handed back in Super Bowls XXXIV and XXXVI but now routinely wears gloves on both hands. He's poised to become the first fully gloved Super Bowl quarterback since Jim McMahon in Super Bowl XX (and the first Super Bowl passer to go fully gloved since Antwaan Randle El, who was gloved up when he threw that flanker option pass to Hines Ward in Super Bowl XL).
If you don't think any of this stuff matters, remember Uni Watch's simple rule for Super Sunday: Haberdashery is destiny. That's because the best-dressed team usually wins, or at least that's been the case 27 out of 42 times -- a tidy .643 winning percentage. True, there's your occasional miscarriage of sartorial justice, but those are still pretty good odds.
The NFC is the designated home conference this year, which means the Cardinals had their choice of which jerseys to wear. They've opted to go with red, which means the Steelers will be wearing white, just as they did in Super Bowl XL. With that in mind, here's Uni Watch's patented element-by-element comparison of the Super Bowl uniforms, with each uni component weighted to reflect its relative importance:
Helmet (4 points): Two classics -- one well-acknowledged, the other underrated. Even after the logo tweaking from a few years back, the Cardinals' helmet still has an elemental purity you rarely see on the gridiron anymore -- simple, direct, no extraneous bells and whistles. Plain gray face mask, too. And of course the Steelers' timeless lid has the distinction of being the only helmet in the league that has a logo on one side and is blank on the other (for the story behind this, look here). If Hines Ward wears this design during the game, that might tip the balance toward Pittsburgh, but otherwise this one's too close to call. Advantage: Even.
Jersey (4 points): Four or five years ago, before Arizona gave their uniforms a face-lift, this category might have been another toss-up, but not anymore. Yeah, today's ultra-short sleeve lengths have forced the Steelers' sleeve stripes to ride up too high (especially for linemen), but this jersey is still a model of clean design. By contrast, Arizona's jerseys are loaded down with gewgaws that belong in the Arena League: the useless piping on the collar, shoulders and side panels, the embarrassing armpit stripes, the team logo above the nameplate. What a mess. Advantage: Steelers.
Pants (3 points): This category is even more lopsided than the last one. C'mon, this against this? Seriously, guys, is that some seaweed on your kneecaps or what? If this was a fight, they'd stop it in the second round. Advantage: Steelers (plus we'll penalize Arizona an additional point because placekicker Neil Rackers has been wearing his pants on the baggy side -- gross).
Hosiery (2 points): Basic red versus basic black. Seems like a push, right? But for years now Pittsburgh's socks have featured some vertical ribbing, which adds a nice bit of texture that puts them over the top. Advantage: Steelers.
Footwear (1 point): Kinda odd that the white-helmeted team wears black cleats and the black-helmeted team wears white cleats, but they both seem to fit from a visual standpoint. Advantage: Even.
Patch Compatibility (1 point): The Super Bowl logo is always designed about a year before the game, which can lead to color-clash problems, depending on which teams make it to the big game. This year's logo features a lot of green (first time that color has ever been used in a Super Bowl logo), which would look great if the Eagles were playing the Jets but doesn't fit too well with either the Cards or Steelers. Advantage: Even.
Intangibles (2 points): Warner's status as the first double-gloved Super Bowl QB has to count for something. Advantage: Cardinals.
The final tally: Pittsburgh 12, Arizona 4. So there you have it, the Steelers will win quite handily on Sunday, the end.
Wait, it's not the end after all. Here are a bunch of additional notes:
• The Super Bowl logo patch is usually worn on the upper-left chest, but the Steelers already have their team logo patch in that spot, so they'll be wearing the Super Bowl patch on the other side. Won't that create a tight squeeze for Pittsburgh players wearing the captaincy "C" patches? No, because the captains' patches are optional and the Steelers have never worn them.
• There's an excellent backgrounder on the history of Super Bowl logo design here, and some proposed alternate designs here.
• And here's next year's Super Bowl logo. Should look great as a jersey patch if the Bears end up playing the Broncos.
• The Super Bowl end zones usually just show the teams' names. But the Cardinals' end zone on Sunday will include the word "Arizona." This is unusual but not unprecedented: Back in Super Bowl XL, the Seahawks' end zone included "Seattle," as you can just barely see here. (There's additional info on the design of this year's field here, video footage of the field being painted here, and the ultimate snack food field here.)
• When the Steelers beat the Ravens in the AFC Championship Game, they became the first team to beat a rival team three times in one season -- while wearing three different uniforms. See for yourself in these photos from Week 4, Week 15 and two weeks ago.
• Interesting measure of how times change: You know how lots of today's players wear their socks with almost no white showing? Back in 1985, Cardinals owner Bill Bidwill had his team wear socks with no white -- and the players protested.
• Check out the "Steelers" lettering on this old photo. Looks surprisingly dainty, almost handwritten, no? Then again, the Steelers logo has been rendered in many forms over the years, so maybe it's not so surprising after all.
• If you want to annoy enlighten people at the Super Bowl party you'll be attending, explain to them that the stars in the logo aren't actually stars -- they're hypocycloids. You'll be sure to make lots of friends!
Finally, here's something to ponder: A day of reckoning may be approaching for the Super Bowl's annual progression of Roman numerals, because the game's 50th installment is looming on the horizon. "My prediction is that it will be known as Super Bowl 50, since I can't imagine them promoting Super Bowl L," says reader David Ribar. "After that, they'll probably use regular (i.e., non-Roman) numbers, or no numbers at all." Interesting point. Knowing the NFL, though, they'll probably go with Super Bowl XXXXX instead.
Put Your Uni Where Your Mouth Is
Last week Uni Watch mentioned that the Cedarville University hoops team forgot to bring its gear to a game at Mount Vernon Nazarene and had to borrow a set of Mount Vernon's road uniforms, leading to a "Where's your jerseys?" chant from the crowd. Uni Watch suggested that this might have been history's first uni-centric chant.
But as several readers were quick to point out, there have been several other uniform-oriented chants over the years:
• From Tom Konecny: "University of Michigan students at Yost Ice Arena occasionally chant 'Ugly jerseys!' at various opposing teams (it's mentioned about two-thirds of the way down on this page). I was a grad student there in 1993 and recall it then, but I'm sure it happened even prior to that."
• From Evan Western: "The University of Wisconsin men's hockey student section frequently comes up with uniform-related cheers. Goalie helmets are the primary targets, especially when a backup goalie gets a start and plays with a blank white helmet: 'Boring helmet!' (clap, clap, clap-clap-clap)."
• From Adam Yarnevich: "Back in 1999, when I was a freshman at Kansas, our basketball team was playing Oklahoma State. During warm-ups, most of the student section had noticed that Doug Gottlieb of OSU (now of ESPN) had his shorts on backwards. Once the game started, our usual chant of 'Let's go Jayhawks!' (clap, clap, clap-clap-clap) was changed to "Shorts on backwards!' (clap, clap, clap-clap-clap). During the next timeout, he changed his shorts in the OSU huddle. Not sure if our chant helped Gottlieb or the OSU coaching staff notice the problem, but we like to think so."
Paul Lukas will be watching the Super Bowl at the home of a native Pittsburgher, but that's not why he's picking the Steelers. His Uni Watch blog, which is updated daily, is here, his answers to Frequently Asked Questions are here, and archives of his columns are available here, here, and here. Got feedback for him, or want to be added to his mailing list so you'll always know when a new column has been posted? Contact him here.