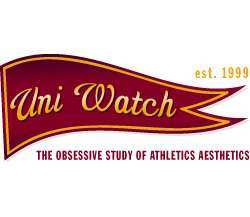 Back around 1994, when Josh Hansen was 13 years old, he liked to doodle NBA logos and uniforms. He especially enjoyed creating new logos for his favorite team, the Utah Jazz, and at some point he decided to submit those logos to the Jazz for their consideration. Not longer after that, he received a letter in response.
"It said something to the effect of, 'Thank you, but at this time we are happy with our image, blah, blah, blah,'" Hansen recalled the other day. "But as a 13-year-old kid, I was just thrilled that they responded at all."
Pro sports teams are constantly receiving unsolicited design submissions like Hansen's. Some of them are from kids, some are from professionals, and almost all are destined to go unused. Sometimes the team will respond with a rote form letter like the one Hansen got; occasionally a team might offer a more personalized response (we'll get to some of those in a minute); and there are many, many unsolicited submissions that simply result in a deafening silence.
One example from that last category is the story of a graphic artist named Darryl Swint. Back in 2003, he was concerned about his beloved St. Louis Blues. While other NHL teams had been coming up with interesting designs for third jerseys -- most of them based on black or other dark colors -- the Blues were stuck with what Swint considered an overly conservative uniform set.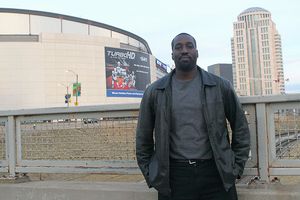 Verbin Communications
Enterprising Blues fan Darryl Swint took uni matters into his own hands.
So Swint did what any enthusiastic fan with some design skills would do. He created an
alternate logo
and
alternate uniform design
, printed them out and put them in an envelope along with
this cover letter
. Then he walked over to the Blues' offices and personally handed his design proposal to a staffer with instructions that it should be given to Blues marketing and communications VP Jim Woodcock. Swint never heard back from the Blues and never followed up with them, so he figured his design had simply been rejected and discarded.
Or at least that's what he claims. Swint readily admits he can't prove any of this, because he didn't keep a notarized copy of anything, didn't get a receipt from the Blues staffer to whom he handed the package and didn't even get that person's name.
All of which is very frustrating for Swint, because he believes the Blues' current third jersey, which was unveiled last September, is based on the design he'd submitted five years earlier.
"I was just kind of shocked when I saw it, because the main logo of my design was the blue note with the Gateway Arch behind it," said Swint, who's 39 and currently works as a multimedia journalist for the St. Louis Post-Dispatch. "I was [angry], because I never heard from them, and here were some elements that were definitely similar."
Does Swint have a legitimate gripe? If you look at the two logos side by side, they're obviously similar, although it's easy to imagine many designers arriving at a similar merging of the team's blue note and the iconic Gateway Arch. The connection between the full uniforms is less clear, at least to my eyes, although Swint maintains that the uniform's dark color palette, use of the Gateway Arch-based logo, and some other details all owe a clear debt to his design.
Closet uni designer?
Have a design or apparel that illustrates a Uni Watch point?
Share it with the world
in your profile photo gallery. Moderators frown on bare logos, but a picture of you holding it is fine.
Moreover, Swint believes he's identified the connection between the two designs: Jim Woodcock, the Blues executive to whom he'd addressed his proposal. Woodcock left the Blues in the summer of 2005 -- about a year and a half after Swint submitted his designs -- and returned to Fleishman-Hillard, a St. Louis-based PR firm where he'd worked in the 1990s. But he maintained ties to the Blues through Fleishman, which has done lots of promotional work for the team. In fact, according to several news accounts, the Blues' new alternate uniforms -- the ones Swint feels are based on his design -- were designed by Fleishman's sports marketing division, where Woodcock now serves as a senior VP.
To Swint, the chronology is obvious: Jim Woodcock received his proposal back in 2003, filed it away, took it with him to Fleishman, and then used it as the basis of the design that Fleishman eventually created for the Blues.
Woodcock, as you might expect, views the situation somewhat differently. When I called him and explained the situation to him, he said he'd never heard of Darryl Swint, so I asked if he'd be willing to look at Swint's designs and see if they jogged any memories. He said sure, so I e-mailed Swint's art files to him while we were still on the phone. His reaction was immediate: "I've never seen these before, and I have no recollection of this gentleman or his package. But you know, anytime you work for a team, you get a lot of submissions -- logo designs, tapes from people who want to be your next broadcaster, mascot ideas. There's no way I'd remember anything from 2003."
And does he see any similarities, coincidental or otherwise, between the two uniforms? "Actually, no," he said. "With all due respect, I don't think it's even close." But what about the similar Gateway Arch designs? "If you're going to use the Gateway Arch and the blue note logo together, there's only a couple of ways you can go. The fact is, [Blues owner] Dave Checketts wanted the arch on the jersey because it had never been used before on a St. Louis uniform. That's why we went with that." (That last point regarding Checketts appears to be confirmed in the middle of this article.)
The Blues had a similar response. "We worked closely with Fleishman-Hillard on the creation of the third jersey logo, which we're very proud of," said Blues spokesman Eric Gelfand. "Prior to now, though, we have never seen the design in question, and Fleishman-Hillard assures us that they have never seen it either."
Swint took all of this with a sense of resignation. "I'm not surprised he'd say that," he said. "No company is going to open itself up to what could happen if they said, 'Yes, we've seen that before.' The thing is, I went about this just as a fan, not as if it was a professional project for a client. Now I wish I'd taken more practical and legal precautions."
Swint hasn't yet hired a lawyer or decided whether to pursue litigation (he realizes his lack of documentation hurts whatever claim he might have). Either way, this isn't the first time a fan has claimed that his unsolicited design submission was appropriated by a team. When the Baltimore Ravens unveiled their original helmet logo in 1996, a Maryland security guard named Frederick E. Bouchat claimed that the logo design was based on a drawing he had faxed to the team the previous year. A federal court later agreed (which is why the Ravens switched to this helmet logo in 1999), although Bouchat received no monetary damages.
But you don't have to talk with Darryl Swint very long to get the sense that his primary injury is emotional, not legal. A lifelong Blues fan, he basically composed a heartfelt valentine to his true love, got no response and then woke up five years later to find his true love clutching the valentine to her chest and crediting it to someone else. The hunch here is that he wants an apology and some acknowledgment more than anything else.
"I grew up with the Blues, so it's not like I'm suddenly going to become a Blackhawks or Red Wings fan," he said. "But it's tough to watch them in that uniform, at least right now. I'm probably not going to buy anything with the new logo on it. And if anyone's submitting an unsolicited design, I would recommend that they at least talk to a lawyer, and maybe get their work copyrighted before they submit it."
Or maybe just ask first to see if the team's even interested. As I was working on this column, I invited Uni Watch blog readers to share their stories regarding unsolicited designs they'd submitted. One of the responses I received was from Dustin Pomprowitz, who reported that he'd come up with some ideas a few years back for -- of course -- the St. Louis Blues. "But I didn't want to send them anything unless I knew they were at least going to look at it," he said. "So I think I found an e-mail address somewhere within their Web site and asked if they'd be interested. I later received an e-mail from their communications VP, Jim Woodcock, who said they didn't do anything with unsolicited submissions because they prefer to deal with professional design firms."
Pomprowitz's story (which bolsters my impression that Swint and Woodcock are both being sincere and that any similarities between the two designs are coincidental) was one of about three dozen responses I received from readers who'd submitted designs to their favorite teams. Among the many similar accounts of form-letter rejections and "Never heard back," a few stories stood out:
• From Taylor Looney: "Around 1988, when I was 10 years old, I designed new home and road jerseys for the Texas Rangers (those are just preliminary sketches -- the final proposal, which I no longer have, was more detailed). A few weeks after I mailed them off, I received a letter from the team owner, who at the time was none other than George W. Bush. He thanked me for my ideas and for being a Rangers fan, and he enclosed a signed black-and-white glossy. I remember being quite thrilled when receiving the response. My parents couldn't believe it either."
• From Dave Bloomquist: "In 1982, I wrote a letter to the Seahawks with some sketches for a uniform overhaul, including a suggestion that they change the facemasks from gray to blue. They wrote back, saying they were considering a uniform change for 1983 and that they'd send me a helmet if they did change their facemask to blue, 'inasmuch as you were the first to suggest it.' Naturally, they did change the facemask to blue in '83, but I misplaced that letter and never collected."
• From Jason Whitt: "As a youngster I enjoyed coming up with new looks for my favorite team, the Cleveland Indians. One summer I worked really hard on a design and tried to make it look as professional as possible with my colored pencils and Magic Markers. I was so proud of my work that I sent it to the Indians' VP of Public Relations, Bob DiBiasio, who sent back a very nice letter. He said he liked my design and was a bit of a closet designer himself, but that Major League Baseball already had people who specifically worked on designing the teams' uniforms. Upon reading that, I decided that the minor leagues might be the way to go, so I modified a previous idea and sent it off to the Kinston Indians. I was particularly proud of the hat, which used a full-bodied version of Chief Wahoo to help form a K. Several weeks later I received a letter from the Kinston GM, stating that Major League Baseball would not allow them to use Chief Wahoo with a body but that he really liked my design drawing and was going to hang it in his office. He also included a Kinston Indians hat. It was a pretty good summer for a 10-year-old!"
• From Kenny Crookston and Tim Harrison: "We were talking about how the Indians had announced that they'd have a memorial patch this season for pitcher/broadcaster Herb Score, and we were wondering what it would look like. One thing led to another and we both ended up with some simple designs that incorporated Score's uniform number as well as a microphone. We e-mailed them to the Indians and both received responses the very next day! The responses were essentially, 'Thank you, but the patch has already been designed,' etc., but they mentioned that we were both on the right track about incorporating the microphone and the number, and also said they hoped we'd be satisfied when the patch is unveiled in late March. It was all pretty cool -- the quick response, the encouragement, and the simple fact that they'd opened and read our e-mails."
• From Steven Wojtowicz: "In 1997 I submitted a third jersey idea to the New Jersey Devils. Well, not so much 'submitted' -- I handed it right to GM Lou Lamoriello during intermission of a game. A few weeks later, I got a letter 'From the desk of Lou Lamoriello.' He basically thanked me for taking the time to put something together but said the Devils were a traditional organization and weren't going to be wearing a third jersey. Twelve years later, they've still never worn one."
There was even a rare success story, courtesy of Doug Brei: "In June of 2004, my wife and I attended an Alaska Baseball League game in Anchorage while on our honeymoon (did I marry the right woman or what?). I couldn't help noticing that the ABL's logo looked outdated, so I later doodled a new logo for the ABL while sitting in a boring bank executive teleconference. I tinkered with the logo on my computer that night and liked the results so much so much that I submitted my proposal to the league president and each of the six ABL teams. They adopted my logo that October, and I'm proud to say that to this day, every pitch thrown in ABL play is with a baseball bearing the logo I designed and submitted -- unsolicited!"
Paul Lukas once sent a letter to the Green Bay Packers, urging them to reconsider their plans to change their uniforms and color scheme (this was in 1993, six years before the advent of Uni Watch), and was surprised to get a phone call and a note from Packers CEO Bob Harlan (who, fortunately, later changed his mind about all the uniform changes described in that letter). His Uni Watch blog, which is updated daily, is here, his answers to Frequently Asked Questions are here, and archives of his columns are available here, here and here. Got feedback for him, or want to be added to his mailing list so you'll always know when a new column has been posted? Contact him here.