Ah, spring training. The only time you can see the players' uniform numbers on their socks! The only time you'll see catchers wearing those funny little paddle-style mitts for fielding drills while their teammates get to go shopping for real gloves! The only time you'll see players who normally wear their caps flat-brimmed suddenly wearing curved brims, because there's no way to flatten the brims on those batting practice caps that everyone wears during spring training!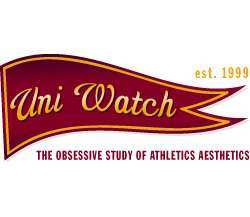 Of course, the BP caps and jerseys are just a merchandising scam that exist for only one reason, but that's what the players wear during spring training, so whaddaya gonna do? With Grapefruit and Cactus League games getting underway as we speak, here's a quick breakdown of some of the things that may catch your eye during the daily highlight clips (note that this column will only deal with spring training attire; Uni Watch's annual survey of regular-season uni changes will run in a month or so):
• The biggest changes are with the orange-and-black teams. Let's start at Giants camp, where the team's big-G script -- a longtime Uni Watch favorite (and a holdover from the club's late-1970s uni) -- has been removed from the BP jersey and replaced by boring block lettering, which appears to be riding a bit low on many players' chests. Boooo! On the plus side, the orange pit stains are now solid black, which is very exciting for all concerned.
• Meanwhile, over in Orioles camp, the black script on the O's tops is now outlined in white (a major improvement), plus there's now a road BP jersey with a "Baltimore" script. The old BP tops only had uni numbers on the back, but the new ones have NOBs (that's "name on back," for those of you who don't speak uni).
• And as long as we're talking about NOBs, the increasing number of televised spring training games has led the Indians to add player names, too.
• The good news is the Dodgers' BP jerseys, which used to have those ugly side panels, are now solid blue on the sides. The bad news is they inexplicably left white pit stains that look, um, not so hot. Next season just go all the way and make the whole thing solid blue, guys.
• For the past two years, the Yankees have had two very similar BP jersey designs: a home design with white side panels and a road design with gray side panels. Apparently that distinction was too subtle, so now they've changed the road version to match their road game jersey insignia.
• The franchise formerly known as the Rangers -- otherwise known as the Republic of Texas Appreciation Society -- has removed its team name from just about everything this year, including the team's BP jerseys.
• Subtle change for the Mariners: The white outlining on their wordmark has been removed.
• Spring training always entails lots of uniform number changes. No point in trying to document all of them here, especially since there will be many more changes between now and Opening Day, but here's a sampling of numerology news from the Red Sox, White Sox, Giants, Cardinals, Nationals, A's, and Red Sox again. Of course, the one change you can always depend on is that Don Zimmer will increase his uni number by one, to reflect the number of years he's worked in the game. In 2008 he wore No. 59, so he's up to 60 for 2009.
• Per longstanding tradition, some teams will no doubt wear green for St. Paddy's Day, which raises several vexing questions. Por ejemplo: Is it lazy to just wear green caps, or is that preferable to the full-on green jersey approach? If only one team is wearing green, is it best for the other team to wear another solid color? Or maybe standard whites or grays? What about green-on-green? (Sorry, couldn't find a photo of that.) Do we really need green bases? Is it ever appropriate to render an Irish shamrock in Dodger blue? And, most pressingly, since the World Baseball Classic will be taking place on March 17, how many fans mistakenly think the Mexican team is wearing green as a St. Paddy's Day promotion?
Finally, no uni-centric discussion of spring training would be complete without a mention of Photo Day, an annual rite that leads to photographers taking lots of photos of other photographers (there's even a time-lapse video treatment of the Tigers' photo session here). Because most Photo Day portraits are straightforward front views, it doesn't matter whether you're wearing someone else's jersey (does that look like Tom Glavine to you?) or a jersey that's blank on the back. Heck, if they shoot you from the waist up, it doesn't even matter if your pants don't match or if you're wearing mandals. The thing is, sometimes you think you're posing for a waist-up photo when it's actually a full-body shot. Oops.
Uni-versal Translator
As noted above, "NOB" is one of those insider-y little terms that uni-watchers like to throw around, which tends to confuse those who don't speak uni. In the interests of promoting cross-cultural understanding between uniform obsessives and, y'know, normal people, here's a working glossary of uni-centric terminology, which should help you crack the code the next time you're watching a game in the company of a Uni Watch reader.
Bettman stripes: Apron-like piping used on many NHL jerseys commencing with the 2007-08 season. So named because they perfectly encapsulate the inept reign of NHL commish Gary Bettman.
Blood jersey: A jersey with a uniform number not currently assigned to anyone on the roster, and with no player name, to be used if a player's regular jersey becomes blood-stained, torn, or otherwise unwearable during the course of a game. Sort of an "In case of emergency, break glass" jersey.
Breezers: Synonym for hockey pants.
Chain-stitching: A high-quality form of textured embroidery stitching that was once common on sports jerseys. Still used by the Cardinals, Astros, Phillies, and Blackhawks, among a few others.
Cool Base jersey: An MLB jersey made from a light mesh (similar to the mesh used for batting practice jerseys) instead of the standard doubleknit fabric. Introduced in 2006 and intended for use on hot days, although many teams are using them in all weather conditions. Cool Base jerseys have a vented underarm panel, which blends in nicely enough on solid-tone jerseys but interrupts the striping on pinstriped jerseys.
Cool-Flo helmet: Batting helmet design with molded crown and side vents. Introduced to MLB in the 2005 All-Star Game and put into normal game use by many teams the following season. Manufactured by Rawlings.
Cooperalls: Long hockey pants worn by the Flyers and Whalers in the early 1980s. Named after their manufacturer, Cooper. Banned by the NHL after two seasons.
Decal: The proper term for a press-on adhesive graphic on a sports helmet. Don't say "sticker"; say "decal."
Fauxback: A throwback uniform design that inaccurately duplicates the vintage design it's supposed to be depicting, prompting much consternation among denizens of the uni-verse. See also Throwback.
Fight strap: A fabric strap sewn into the back inner side of a hockey jersey. The fight strap connects to the back of the player's pants and prevents the jersey from being pulled over the player's head during a fight.
FNOB: Full name on back. See also NOB.
Hypocycloids: The proper term for the stars -- um, hypocycloids -- in the Steelers logo.
"Is it good or is it stupid?": Key litmus test of any uniform revision, as in, "The Jaguars have a new uniform design this season," followed by "Oh yeah? So is it good or is it stupid?"
Jock tag: The manufacturer's tag down toward a jersey's left front hem. See also Philly tag.
Leotard effect: Dark or colored football pants worn with same-colored socks, creating the unsightly illusion of long pants. Easily avoided by wearing white socks with colored pants.
Logo creep: The relentless encroachment of sportswear manufacturers' logos on sports uniforms. See also Ree-box.
Low whites: The increasingly common style of wearing color-topped football socks with just a smidgen of white showing, instead of the half-colored, half-white style mandated by NFL regulations.
Nameplate: A strip of fabric with a player's name either printed or sewn onto it. The strip is then sewn onto the jersey, leaving a telltale outline. Nameplates are universal in football, fairly common in baseball, and sometimes used in hockey. But almost all basketball teams, along with many baseball and hockey teams, prefer to sew the player's name directly onto the jersey, which results in a cleaner look. See also NOB.
Nike pox: The spotted dot-matrix pattern on certain Nike baseball undershirts. Introduced during the 2005 postseason and popular for two seasons thereafter. Deemed so distracting by umpires that pitchers were sometimes forced to change undershirts or even cut off their Nike-poxed sleeves right there on the mound.
NNOB: No name on back. Compare to NOB.
NOB: Name on back. The NOB lettering can be applied via a strip of fabric called a nameplate or can be sewn directly onto the jersey. Compare to NNOB.
Northwestern stripes: A stripe pattern consisting of one wide stripe bordered by two thinner stripes. It can appear on socks, sleeves, pants, and anywhere else stripes can be applied. Pioneered by the Northwestern University football team in 1928 (further details here).
Nose bumper: The white padded strip on a football helmet's forehead area. Sometimes imprinted with the helmet manufacturer's logo, team name, or an inspirational message; sometimes left blank. Further details here.
Pedro porthole: A gap in a baseball jersey caused by leaving the second button from the top unbuttoned. Named after Pedro Martinez, a frequent exemplar of the phenomenon.
Philly tag: An exposed jock tag. So named because of its prevalence among members of the Philadelphia Eagles in 2006. See also Jock tag.
Pro block: A common uniform number typeface. Similar to varsity block, but with fewer serifs.
Pro buttons: Unevenly spaced buttons on a baseball jersey, providing added space for a chest insignia. Used by most MLB teams, even those that don't have anything going across the chest.
Pupello pouch: A strap-on hand-warmer pouch worn by a football player. Named after Tampa Bay equipment manager Frank Pupello, who came up with the idea.
Radial arching: A typographic style in which the letters of a player's name are fanned out. Compare to Vertical arching.
Raglan sleeves: A tailoring style in which a jersey's sleeves connect to the collar, creating a diagonal seam that extends from the collar to the underarm. Tends to create a round-shouldered look. Named after the 1st Baron Raglan, who pioneered the style. Compare to Set-in sleeves.
Ree-box: A contrast-colored panel for the Reebok logo used on many NHL jerseys commencing with the 2007-08 season.
Riddell Revolution: Football helmet model with a tapered-point molded crown, extended jaw coverage, and lacrosse-style facemask.
Sanitaries or sanies: White tube socks worn underneath baseball stirrups. Baseball teams originally wore solid-colored stockings, but fabric dyes weren't colorfast in those days, so a player who was spiked could get blood poisoning if dye from the stocking got in the wound. So around 1910, someone came up with the idea of wearing open-footed stockings (i.e., stirrups) over a white sock, which would provide a sanitary layer of protection -- hence the term sanitaries.
Set-in sleeves: A tailoring style in which a jersey's sleeves connect to the shoulders. It tends to create a square-shouldered look. Compare to Raglan sleeves.
Soutache: Decorative braid trim, frequently used on early-1900s baseball caps.
Spat or spatting: Athletic tape applied to a football player's cleats and ankles -- sometimes for support, sometimes for style. Pioneered on the football field by Colts great Lenny Moore, whose nickname was, of course, Spats.
System of Dress: A Nike college basketball uniform program introduced in the spring of 2007, characterized by trim-fitting, minimalist jerseys and extremely billowy shorts.
TATC: Turn ahead the clock. Refers to the "futuristic" uniforms worn by many MLB teams in the late 1990s. The concept was pioneered by the Mariners in 1998 (further details here) and became an MLB-wide promotion, sponsored by Century 21, the following year. Commonly referred to as the lowest point in pro sports uniform history. Compare to TBTC.
Tackle twill: The fabric most commonly used these days for numbers, letters, and logos on sports uniforms. Replaced felt, which had been the original fabric of choice for uniform graphics.
TBTC: Turn back the clock. Refers to a game played by current players in vintage-styled throwback uniforms. Pioneered by the White Sox, who played what is believed to be pro sports' first-ever TBTC game on July 11, 1990. Compare to TATC; see also Throwback.
Throwback: A uniform patterned on a vintage design. See also TBTC, Fauxback.
TV numbers: Uniform numbers appearing on a football uniform's sleeves, shoulders, or helmet. So named because they were created to help TV broadcasters, who often had trouble identifying players at the line of scrimmage. TV numbers are mandatory in the NFL, but several college programs don't use them.
UCLA stripes or UCLA inserts: A triple-striped knit panel inserted in between the sleeve and shoulder. Most frequently used by football teams and occasionally by baseball teams as well. Pioneered in 1954 by UCLA football coach Red Sanders, who believed the stripes would create the feeling of motion.
Underbill, underbrim, or undervisor: The bottom side of a baseball cap's brim. For decades they were green, then they switched to gray, and these days they're black.
Varsity block: A common uniform number font. Similar to pro block, but with more serifs.
Vertical arching: A super-cool typographic style in which each letter is custom-styled with its own degree of uphill or downhill slant (compare the two "A"s in this nameplate, for example; for a tutorial, look here, here, and here). Compare to Radial arching.
Want to help expand the glossary? Send your suggestions for additional entries here.
Steeltown Hoedown
Now that you've learned all this specialized terminology, come put it to good use at the next Uni Watch party, which will take place this Sunday, March 1, at 1 p.m., at Max's in Pittsburgh. Hope to see lots of you there.
Paul Lukas will never, ever, ever wear mandals, regardless of whether his feet are visible. His Uni Watch blog, which is updated daily, is here, his answers to Frequently Asked Questions are here, and archives of his columns are available here, here and here. Got feedback for him, or want to be added to his mailing list so you'll always know when a new column has been posted? Contact him here.