Last November, Bryan Justman was looking through the NHL's holiday merchandise catalog. "There was this replica jersey I was thinking of buying," he recalls. "They wanted $90 for it, and it didn't even look authentic. And I just thought to myself, 'I can do that.'"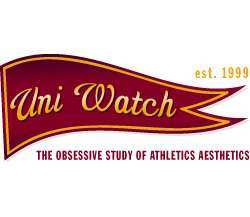 So he did.
Justman, a 30-year-old hockey and baseball fan who lives in Modesto, Calif., is one of a growing number of jersey fans who are choosing the DIY route -- that stands for "do it yourself." They buy blank jerseys from sporting goods outlets or blank T-shirts from Target or Wal-Mart; cut their own stencils and felt to create logo crests and uniform numbers; use ribbon for stripes; and go to craft supply outlets to find colored fabric.
And yes, these rough, tough sports fans -- almost all of them male -- are so ambitious, they even sew. A lot. In Justman's case, he learned to sew back in grade school, when he made his own kites and sewed patches on his backpack, but other DIYers have gotten acquainted with a needle and thread much more recently, in some cases specifically so they can create their own homemade uniforms.
Making a DIY jersey takes time and effort, but the price is right for these recessionary times: usually in the $20 range. Economics aside, however, many DIYers are driven by the discovery that there's something very satisfying about making something yourself instead of buying it from a store or Web site.
These twin imperatives of thrift and pride have made DIY jerseys a fast-growing phenomenon in the uni-verse. There's even a Facebook group devoted to DIYing, with nearly 150 members as of this writing (and probably a lot more once this column is published). "It's great; everyone trades information on sources and materials and techniques," says Justman, who co-founded the group with another DIYer, Nick Tavares.
But aren't there any trademark or copyright issues about duplicating a team's logo or jersey design? No, as long as it's for your own personal use. "Trademark law is about keeping consumers clear about the source and origin of goods and/or services," explains Anthony Verna, a New York attorney who specializes in trademark and copyright cases. "If someone makes a jersey and never sells it, then there is no consumer. So there is no consumer who could be confused about the source of the goods."
Justman, who's now made seven jerseys more or less from scratch, is one of the more accomplished DIYers (you can see his entire step-by-step technique for that jersey here), and he tends to go the extra mile on little details. His Stan Mikita Blackhawks jersey, for example, includes felt sleeve patches and real metal grommets on the lace-up collar. But other DIYers take much simpler approaches or stick to accessories like hoodies and pennants. Some of them also prefer to make up their own designs, instead of just duplicating existing ones. Here's a sampling of what a few of these enterprising folks have created: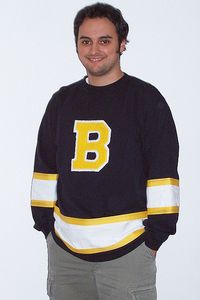 Nick Tavares
Take dedication (add needle and thread) and you have yourself a pretty cool retro jersey.
NICK TAVARES
What he made: A 1948-49 Bruins jersey, patterned after this design. (For lots of additional photos, look here.)
What it cost: About $10.
What's more: Tavares had never sewn anything before starting this project. He got some quick lessons from his wife, Rachel, who recently created a Red Sox-themed tote bag by sewing on lots of patches -- one for each BoSox championship.
JOHN ROSSMAN
What he made: An Orioles sweatshirt, nicely accessorized with a retro bird patch.
What it cost: About $20.
What's more: Another DIYer, Brian Shane, created a more contemporary Orioles hoodie, and Andy Bentley made himself a Reds version.
MATT POWERS
What he made: A Princeton football sweatshirt with a mash-up of elements from different eras. He liked the results so much that he made a similar mash-up with a Virginia Tech theme.
What it cost: About $45 total for both sweatshirts.
What's more: After realizing he'd misspelled Jim Druckenmiller's name on the VT project, Powers went back and fixed it.
RYAN CONNELLY
What he made: Jerseys for his fantasy league team, the Swisshelm Express, complete with felt chest logo, shoulder patch and uni numbers. He also made a gray version (full step-by-step details on that one are available here).
What it cost: About $20 apiece.
What's more: The team name, "Swisshelm Express," which Connelly uses for all his fantasy teams, refers to a bus line that ran through Pittsburgh's Swisshelm Park neighborhood when Connelly was growing up.
AARON STILLEY
What he made: A Kansas City Scouts jersey (additional photos here).
What it cost: About $40, nearly half of which went toward procuring a Scouts logo crest on eBay.
What's more: This was Stilley's first jersey project, and he got several tips from the DIY group on Facebook. "Pretty amazing that the few weirdos out there who are interested in this sort of thing can find each other like that," he says. Next up: a New York Rangers jersey for his 1-year-old son.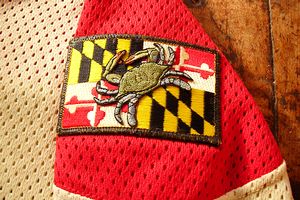 Robert Marshall
It's the little things that make a DIY jersey work.
ROBERT MARSHALL
What he made: A shout-out to his hometown beer (fashioned out of an old Cleveland Barons jersey), featuring a unique shoulder patch.
What it cost: "The Barons jersey had been rotting in my closet for years," says Marshall. "So if you count that as free, the whole thing was around 20 or 25 bucks, tops."
What's more: Marshall, a self-described "OCD DIYer," makes more than just jerseys -- a lot more. He's also created a hand-painted Big Ten bowling set and trading cards for his softball league, among several other projects.
ROB WAYNICK
What he made: T-shirts based on 1968 Tigers road jerseys for himself and his little brother. Simple but effective.
What it cost: About $8 total, for both shirts.
What's more: Waynick had a bit of help. His mother is a professional seamstress who used to sew the letters and numbers for Red Wings jerseys sold by a Detroit retailer ("There were always tons of jerseys in my house when I was growing up, and it was hell not to be able to wear any of them"), so she did the sewing on this project. But he still rendered the lettering in iron-on fabric before she did the final sew-down.
JOSH JARMON
What he made: Felt pennants for his amateur baseball team.
What it cost: About $35 for 28 pennants.
What's more: Jarmon gets bonus points for adding championship lettering on each pennant. (For the full step-by-step process, look here.)
Pretty impressive right? But wait, you say sewing isn't your bag? No biggie -- over on the Uni Watch blog, DIYers have been checking in with all sorts of projects that go way beyond the realm of fabric. For example:
• Mike Williams made his own pillbox-style Pirates batting helmet (details here).
• Mark Kluczynski started out with a plain red football helmet and ended up making a perfect Buffalo Bills model (details here).
• Kluczynski shouldn't be confused with his fellow Bills fan Chris Markham, who started out with two of those cup-holder helmets and ended up with these -- perfect for tailgating (details here).
• Tim Forster painted his living room table with the 1980s Richfield Coliseum court design (additional photos here).
And this is just the tip of the DIY iceberg. That's the beauty of making your own sports gear: There's no limit to the things you can create, as long as you're willing to invest a bit of time and effort.
And Speaking of DIYing ...
If you ever want to see one of those two-tone Rangers batting helmets -- you know, the ones Uni Watch liked so much when they were unveiled in January -- you'll have to make your own, because the team has decided not to wear them after all. So that's one less thing to laugh at this season. A pity.
Upon hearing that the two-tone experiment had been terminated, Uni Watch immediately contacted Baseball Hall of Fame curator Tom Shieber and urged him to procure one of the two-tone prototypes before they end up in the dumpster. But Shieber, inexplicably, said he wasn't interested. Is he kidding? You could build an entire new wing based on one of those helmets -- the "What Were They Thinking Rotunda" or the "Gallery of Regrettable Designs." Tsk-tsk, Tom.
Flag Day
Every time something like the Olympics or the World Baseball Classic comes along, readers ask the same question: Why is the American baseball team wearing the American flag backward on that right-sleeve patch?
Actually, it's not backward. When the American flag is worn on the right side of a garment or vehicle, it's customary to position the blue field toward the front, so the flag looks like it's waving back in the breeze as it moves forward. This applies to sleeve patches, helmet decals, military uniforms, buses, the space shuttle and so on. Think of it this way: If this flag orientation is good enough for Air Force One, it's good enough for Team USA.
Do You Speak Uni?
The Uni Watch Glossary -- an index of uni-specific terminology, which made its debut in an earlier column -- has been expanded and given a permanent home here. The glossary is a "living document," as they say, so feel free to suggest additional entries.
Paul Lukas can sew a button and mend a slight tear, but that's about it -- for now. His Uni Watch blog, which is updated daily, is here. Want to learn about his Uni Watch membership program, be added to his mailing list so you'll always know when a new column has been posted, or just ask him a question? Contact him here.

Also See
ESPN Top Headlines