Like everyone always says, baseball really does mirror the state of America, which probably explains why MLB uniform design and the economy have both been in such dire straits lately. Consider the obvious parallels: First the crisis hit, then it worsened, and when the people looked to Washington for leadership, Washington responded with clownish shenanigans. Sound familiar?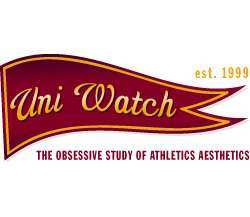 For those of you who didn't just jump out the window in panic, welcome to Uni Watch's 11th annual MLB season-preview column, where we'll take a closer look at each of the above-mentioned fiascos, along with all of the other uniform changes. With the season set to begin Sunday night, here's what you can expect to see on the field:
• Let's start with the champions. The Phillies will celebrate their World Series title by wearing gold-trimmed jerseys on Opening Night this Sunday (similar to what the Cardinals did in 2007 and what the Red Sox did for their 2005 ring ceremony). The gold trim is just for one game, but they'll be wearing that sleeve patch all season. Meanwhile, Philly's retro alternate uni, which features blue caps, will now include matching blue batting helmets, instead of the standard red helmets they used last season. This will mark the team's first use of blue helmets since 1994, when the blue lids were blamed for a losing streak and banished from the clubhouse.
• For years -- decades, even -- Orioles fans have wanted the word "Baltimore" restored to the team's road jersey. And this year, finally, their wish has been granted. Looks nice, right?
The O's have also piled on a slew of minor adjustments that will likely have fans scratching their heads and muttering, "Hmmm, something looks different, but I can't quite put my finger on it." Fortunately for you, Uni Watch has prepared a crib sheet. Ready? Here goes:
The team's bird logo has been tweaked, which means a slight change for the cap. ... The left sleeve of the home jersey will have this patch (based on the Maryland state flag, don'tcha know). ... A very similar patch will be used for the road and black alternate jerseys. You can compare the patch designs here. ... The road and alternate jerseys will also have script lettering on the right sleeve (which really seems like overkill, no?). ... Orange piping has been added to the sleeves and pants. ... The solid-black road cap has been eliminated, so the orange-brimmed model will now be the primary road cap (and the alternate cap will still be worn with the black jersey). ... And in a long-overdue move, the black batting helmets have been replaced by orange-brimmed helmets, so the team's headwear will no longer be mismatched during home games.
You got all that?
• Lots of changes for the Red Sox, too. OK, deep breath: The team's circular logo has been updated. ... The road jersey now has navy lettering and numbering and a new sleeve patch. ... The player names on the road jersey, which used to be sewn onto a nameplate, are now being sewn directly onto the jersey. ... There's a new alternate road jersey, also with direct-sewn name lettering. ... The red alternate home jersey, which used to have navy piping on the sleeves and placket, is now piping-free (looks awful either way). ... And both alternate jerseys will be paired with this new alternate cap.
That sure is a lot of changes for a supposedly traditionalist franchise, no?
• The good news in Texas is that the Rangers' two-tone batting helmet -- the subject of instant ridicule when it was unveiled back in January -- has already been scrapped. The bad news is, well, just about everything else. Another deep breath:
The home jersey, which used to have the team name, now has the state name. ... There's a new red alternate jersey and red cap. ... The alternate home and road vests have been eliminated. ... The belts and shoes, which had been blue, are now black. ... And in a very odd (and very bad) move, the letters and numbers on the back of all the team's jerseys will be rendered in a custom font that looks like it has a bad case of warts. Player names are going to be somewhere between clunky and illegible, and poor Salty may as well demand a trade right now.
• Over in Pittsburgh, the Pirates have traded in their home and road vests for conventional sleeves (but they're keeping the pinstriped alternate vest -- weird). And in a genuine public service, they've eliminated their red alternate vest and replaced it with a alternate black jersey. The black jersey will be worn with an alternate cap that's so similar to the team's standard cap, you have to wonder why they bothered.
• Lots of uni news in DC, beginning with that "patriotic" alternate jersey, which will be worn on holidays and special occasions (like, say, Halloween). Memo to Nats management: This is not change we can believe in. On the brighter side, the Nats have scrapped their road design and replaced it with a red Senators-esque script -- but they're keeping their navy road cap, which doesn't make much sense. They've also made largely benign changes to their red alternate uni and their left-sleeve logo patch.
• The Rays have a new navy alternate jersey. In what may be the most brilliantly pointless claim ever made by a big league PR department, the press release states that the sunburst graphic on this new jersey is 40 percent larger than the one on the home, road, and BP jerseys (or else it has more vitamins, or gets better gas mileage -- something like that). And look, it's true! Irrelevant, but true.
• The Braves' solid-navy cap, introduced last year to go with their navy alternate jersey, is now their official road cap. They'll have matching solid-navy batting helmets to wear on the road as well.
• No more red-billed road cap for the Cubs, who'll now wear their solid-blue cap for all games. Also, you may have noticed that Cubbies who wore the vented Cool-Flo batting helmets last season are now wearing traditional helmets. That's because the team has officially designated the Cool-Flos as helmeta non grata after several dozen of the newfangled lids broke or cracked last season.
• The Twins have dropped their alternate navy road jersey (addition by subtraction, right?) and added a great new alternate throwback outfit. They also have two new sleeve patches, one marking the Metrodome's final season (here's a closer look) and the other memorializing owner Carl Pohlad.
• Two new sleeve patches for the Angels, too: a new circular logo (very nice) and a memorial patch for longtime organization man Preston Gomez.
• Yet another team with two new patches: the Blue Jays, who are adding a maple leaf patch on the right sleeve and a Ted Rogers memorial on the left sleeve.
• Only one patch for the Indians -- a memorial design for pitcher/broadcaster Herb Score.
• And speaking of sleeve patches, the Royals and Padres both debuted in 1969, which means 40th-anniversary patches are in order. (The other two teams that joined the big leagues that season -- the Pilots and the Expos -- have been relocated, renamed, and largely purged from MLB's memory banks, so no patches for them.)
• This year's All-Star Game is in St. Louis, which means, of course, a sleeve patch for the Cardinals.
• Latest evidence that the Mets have no idea what they're doing: In addition to that Domino's-esque sleeve patch (which Uni Watch has already pilloried at great length), they'll also be wearing a separate Citi Field patch on their caps, marking the first time a team has commemorated the same event with two completely unrelated logos. This is the kind of inconsistent branding you expect from a fly-by-night operation making bootleg knockoff merch, not from a big league team. Could someone over in Wilponland please get a clue already? In other Mets news, the black road jersey has been eliminated, so the black script alternate will now do double duty at home and on the road.
• The Yankees, thankfully, know how to design a sleeve patch and cap patch that look like they're part of the same integrated graphics program. Gotta wonder about the cap logo's placement, though -- looks like it could make the cap stiff and uncomfortable. The team has said the logo will be worn all season, but Uni Watch has a hunch it might be quietly abandoned midway through the year.
• Very minor change for the Mariners' navy alternate jersey: The white outline around the compass has been removed.
• Those stars and stripes caps (most of which, admit it, look ridiculous because they don't match the teams' color schemes) will once again be worn on Memorial Day, Independence Day and Sept. 11.
• There will be an additional uni-related story line on Independence Day, as all teams will wear a chest patch to raise awareness of Lou Gehrig's disease.
• The annual Civil Rights Game, with its oddly plain uniforms, has largely escaped notice up 'til now because it's been played during spring training. But this year the game makes the jump to regular-season status, as the Reds will host the White Sox on June 20. It's not yet clear whether the MLB bigwigs will stick with the super-boring design approach or come up with something more suitable for the occasion.
• Odd change for Dodgers catcher Russell Martin: The name on the back of his jersey this season will be "J. Martin" -- a shout-out to his mother, whose maiden name was Jeanson. He's already gone with this added initial in the World Baseball Classic.
• Expect to see more and more players wearing Cool Base jerseys, with their telltale vented armpit panels. These look OK for solid-tone jersey designs, but the underarm vents interrupt the striping on pinstriped jerseys, a problem that needs to be addressed pronto.
• Quick, can you name a single umpire by his uniform number? Right, neither can anyone else. But the umps take their uni numbers seriously -- so seriously that they've made a slight design change this season, changing the sleeve numbers on their blue polo shirt from white to black. So now you'll have an easier time reading those numbers that mean absolutely nothing to you.
Before we finish up, it's worth noting that there's great hosiery hope on the horizon: A's prospect Corey Wimberly, whose spectacular stirrup stylings are enhanced by Oakland's gold sanitaries (additional info here and here). Wimberly didn't make Oakland's final roster cut, so for now the best socks in the bigs still belong to Pittsburgh's Nyjer Morgan, but it's good to know we have an heir apparent apprenticing in the minors. When Wimberly eventually gets the call, he could be a one-man stimulus package.
OK, that's a wrap. Now let's play ball.
Paul Lukas has a feeling it will be much easier to sneak down into the good seats this season. His Uni Watch blog, which is updated daily, is here. Want to learn about his Uni Watch membership program, be added to his mailing list so you'll always know when a new column has been posted, or just ask him a question? Contact him here.