Selling tickets in a down economy is hard enough. But what if you're trying to sell tickets for a bad team?
We were curious about that, so I recently sat down with Pittsburgh Pirates team president Frank Coonelly and chief marketing officer Lou DePaoli to talk about the challenges they're facing during the economic crisis.
It was an interesting discussion. It's natural to maintain a certain level of skepticism about some of what Coonelly and Paoli said (if their season-ticket renewals were down 20 percent, would they really admit it?), but they offered several moments of surprising candor. They also made it clear that the situation out there is a lot more nuanced and multi-faceted than "The economy stinks and we're all in big trouble." Here's how our chat went.
Page 2: Let's start by talking about the economy a little bit, especially the local economy. How is Pittsburgh doing? Is it being hit hard compared to other cities, or not so hard?
Frank Coonelly: This recession hasn't missed anybody. But in relative terms to other major markets, I think Pittsburgh is weathering it as well as any city in the country. There are different metrics you can look at, but in terms of employment, continued investment in businesses, housing, and so on, we haven't seen the huge drop in those markets that many other cities have.
CRUNCH TIME 2009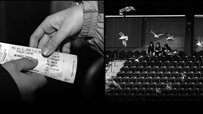 While some of the cyclical industries have had some layoffs, education and health care [which are major elements of the Pittsburgh economy] are actually growing. And as they like to say here, we never really had the large boom, and therefore we're not experiencing a bust.
Page 2: When you talk to your counterparts on other teams, or hear things through the grapevine, what do you hear in terms of ticket sales and how fans are reacting to the economic downturn?
Coonelly: We had owners meetings in November and January. Typically at these meetings, you hear people talking about their successes: "This is going terrific," or "We introduced this new program and it's really taking off." But for the first time since I've been in the industry, you could see that the economy was having an effect on everyone.
Lou DePaoli: It depends on the market, and the softness isn't always where you'd expect. Some teams that have done pretty well are telling us that their season-ticket renewals weren't as high as they expected. We don't have actual data on that. But usually people overvalue or overstate the good news.
Coonelly: Right, that's what I saw at the meetings. Usually people kind of harp on the good news and leave out the bad news. This time it was different -- "This is having an effect, we're down X percent on our renewals," or "We were told by X sponsor that they can't work with us this year." Everyone knows what's going on in the car industry, and they were obviously a big sponsor in years past, so that's affecting everyone.
Page 2: Now in terms of the Pirates, what are the challenges to selling tickets in this economy -- especially season tickets -- for a team that hasn't performed well in recent years?
Coonelly: Unfortunately, selling tickets when we haven't performed well on the field is not new to us. So that hasn't really been different. We've had that challenge for years, for far too long. The economy certainly is different, but we're used to selling tickets in a difficult environment. Again, it's not an experience that we're proud of or that we want to continue. But because of that, we've made the decision for the past seven years not to raise ticket prices. So we're at the very low end of the scale in terms of pricing. So unlike some of our counterparts, we're not trying to sell very expensive seats in this economy.
Page 2: And that's the case this year as well? Same ticket prices?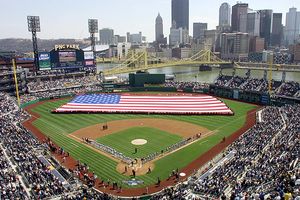 AP Photo/Gary Tramontina
One thing's for sure, Pirates fans have a beautiful ballpark to watch a game in.
Coonelly: Right. We've also offered five value packages for full-season-ticket buyers: You can buy a full-season ticket for as low as $399.
Page 2: And what has the response been this season in terms of season-ticket sales?
DePaoli: It's right on par with this time last year. Our renewals are fairly strong.
Page 2: And how did last year compare with the year before?
DePaoli: For renewals, it was down just a hair.
Coonelly: We had the All-Star Game here in 2006, so we got a big bump that year, because people wanted to be able to buy tickets for that. So renewal rates fell a bit in '07 and '08 from that high.
Page 2: When you hear from fans at fan-fest events, or in phone calls, or lunch with suite customers and such, what have they been telling you, in terms of season tickets?
Coonelly: Honestly, I don't hear much about people having second thoughts about renewing the seats or not coming to games. I'm sure if you talked to our season-ticket sellers, you'd hear that they're getting some calls: "Hey, I can't go in for a full package this year, can you find me a partner?" And we've had some people bump down from a full season to a half, or from 40 games to 20, that sort of thing. But the main thing I hear is, "I love the Pirates more than you can understand, and I want this team to succeed so badly."
Page 2: They say desperate times call for desperate measures. What are you doing differently this year in terms of marketing and promotions, specifically because of the economy?
DePaoli: The first thing we did, back in late October, was to come out with these value-priced plans. You can sit in Row 2 behind the left-field wall -- Row 1 is sold out now -- for the whole year for $599. Lots of teams are doing this type of thing now, but we were the first, or among the first.
We're also doing $1 hot dogs on Fridays. Some teams do that during the week, but we thought we'd get a better attendance bump from it on Fridays.
CHEAP BASEBALL TICKETS!
• The Marlins are giving away tickets to unemployed South Florida residents.
• The Brewers and Braves have some seats available
for $1 each to every game.
• The Athletics sell more than 9,000 seats for $2 each for all Wednesday games.
• Page 2 compiles the 20 best MLB ticket specials this season
Page 2: More bang for the buck.
DePaoli: Exactly. And along the same lines, our second game of the season, Game 2, is a "Buc Night."
Coonelly: Typically, your second game of the season isn't the greatest night for a team. It's still cold, and there's none of the Opening Day pageantry, so there's usually a big drop in attendance.
DePaoli: So we're doing "Buc Night." You can get a hot dog, or popcorn, or a soft drink, or even select tickets for $1 each.
Coonelly: That's a promotion the Pirates used to run years ago, back in the late '70s, the Three Rivers days. So Pittsburghers remember it, and of course the discount means much more in today's dollars.
DePaoli: We've also extended our "all you can eat" programs, which we started last year. For a set price of $35, you get your game ticket and all the food you want. We do it in the right-field bleachers. It was extremely popular last season.
Coonelly: One thing we've found, and it's interesting, is that Pittsburghers are a late-arriving crowd. It's not like L.A., but people like to tailgate in the parking lot, and then they finally make it in around the second inning. But those "all you can eat" seats are always full well before the game, so that's good, because it drives people into the park.
We originally targeted it to the family market: for $140, you could have Mom, Dad and two kids see the game and eat as much as they wanted. But now we're expanding it, because it's very popular with the college crowd. They have eating contests out there and everything.
Page 2: Sounds like you'd better set up a trough. Have you heard about other teams doing anything innovative?
Coonelly: One team -- I think maybe the Red Sox -- is offering discounted concessions in a time slot before the game starts. And that interests me because, again, I'd rather have them inside the ballpark than out in the parking lot.
Page 2: You folks have something going for you that most other teams don't: a beautiful ballpark that everyone agrees is among the best in the league. Does that help you weather this storm, or does the storm sort of cancel that out? Does the team's recent performance cancel it out?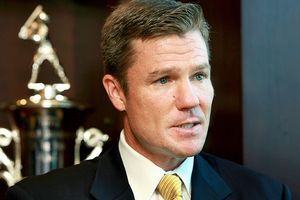 AP Photo/Don Wright
Pirates president Frank Coonelly, like many others, has had to get a little more creative in these trying economic times.
Coonelly: The ballpark is always an advantage, in good or bad economic times. It's a fun place to come to.
Page 2: Here's something else you have -- and maybe this one works against you -- you've got the Super Bowl champions in your backyard. Does the Steelers' success -- not just last season, but year after year -- does that make your job harder? Or to put it another way, do the Steelers set the bar that much higher in this town, in terms of expectations?
Coonelly: Look, the bar is set high in this town, period. And that's for all the teams, pro and college.
Page 2: Right, but there's a whole generation that's grown up essentially thinking of the Steelers as fairly successful and competitive, and the Pirates as fairly unsuccessful. Can that make your fans even more jaded, and is that something you have to take into account?
Coonelly: I think it's deeper than that. Look, the Steelers are a given here, whether they've just won the Super Bowl or not. Their fans are showing up for every game, they're going to have their sponsors who've been with them for years. The fact that they just won the Super Bowl doesn't mean they're suddenly swooping in and taking a bunch of our fans. Their fans are heavily invested in following the Steelers, win, lose, or draw.
Page 2: But I'm not suggesting that you and the Steelers are competing for the same customer in a zero-sum situation. I don't mean that if they gain a fan, you have to lose one. I see it more as an attitudinal thing, where a fan gets used to a certain level of performance -- good in their case, bad in yours -- and how that can affect sales.
DePaoli: I don't hear that: "How come you're not as good as the Steelers?" We don't see that.
Page 2: What about giveaway promotions, like Bobblehead Day, Cap Day, and so on. Those are usually corporate-sponsored. Have those sponsors been harder to come by in this market, and has that affected your promotional schedule?
Coonelly: Actually, no. We have a full slate of those this season.
Page 2: Yeah, but were those all set up last season, before the economy tanked?
DePaoli: No. When you're looking at a company name or logo on an item like that, the marketers understand there's real value there.
Page 2: What about other types of sponsorship?
DePaoli: What we're seeing now is that if a company's going to spend money, they have to be able to prove an ROI [return on investment]. Where it used to be "We're looking to enhance our branding, so let's do a wall sign," now they need something that shows results.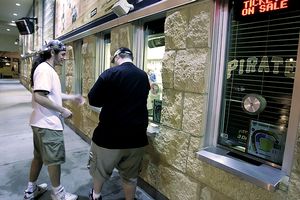 AP Photo/Gene J. Puskar
Pirates fans keep buying tickets, but they're desperate to watch a competitive team.
Page 2: It can't just be a vanity thing.
DePaoli: Correct. And also their budgets are tighter, there's more pressure on them. So they need something that will produce traffic to their retail store, or their Web site. Something measurable. Or else it won't be approved. So we've had to be a bit more creative. But that's mostly meant a shifting of dollars, not a reduction of dollars.
Page 2: What do you think will happen to MLB attendance this year? Give me a prediction.
Coonelly: Hmmm. This is the first professional sport that's had its entire selling season taking place after the recession hit. It's hard to think attendance won't be down a bit. How much, I can't say.
Page 2: What about for the Pirates? What was your attendance last year?
Coonelly: We had 1,609,000. And we're budgeting to be down slightly this season, just to be safe. But our goal, for our sales crew, is higher. And I'll be disappointed if that doesn't happen.
Page 2: Lou, as the guy who has to sell those tickets, what's your feeling on this year's attendance?
DePaoli: I'm going to say that MLB attendance will be down, but not as much as people think, maybe 1 to 1.5 percent. I think people won't be traveling as much, they'll stay close to home, and baseball will be attractive. As for the Pirates, I think we'll do at least flat to last year.
Page 2: Smart thing to say with the boss sitting right next to you. Do you think the recession has the potential to remake the way teams do business, in terms of pricing, payrolls, attendance figures, and so on?
Coonelly: I don't see that, unless the recession lasts a lot longer than people are projecting. I do believe it's forcing certain changes, and that's good: Times like these force us to be more creative, to work harder. We can be very innovative as an industry, and I think you'll be seeing a lot of that this summer, from teams in all different markets.
Paul Lukas roots for the Mets, who have taken a somewhat different approach to ticket pricing than the Pirates.