A famous movie title notwithstanding, death never takes a holiday. It's always around us, always stalking us. And in the end, it always wins.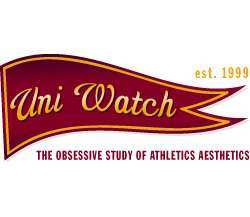 But by any actuarial standard, the obituaries over the past two months have been especially brutal, for the nation in general and for the sports world in particular. All of which has led to a spate of
uni-related memorial gestures
.
Uni Watch has written about uniform memorials before but can't recall a similar period when so many patches and other remembrance symbols were added to so many uniforms over such a short span. Here's the somber rundown:
• On Feb. 20, Utah Jazz owner Larry Miller died of complications from type II diabetes. The team came up with beautiful memorial patch design, which they've been wearing for the balance of this season.
• The Bulls suffered a double-whammy Feb. 26, when former player Norm Van Lier and former broadcaster and coach Johnny "Red" Kerr both died. At first the team wore a black shoulder band, but a few days later they unveiled a dual-memorial patch, which they've been wearing since then.
• After Lions lineman Corey Smith was lost at sea in mid-March, the team announced that it would retire his number for the upcoming season. (NFL teams rarely retire numbers in perpetuity, because it's hard to comply with the league's numbering-by-position guidelines if the full slate of uni numbers isn't available.)
• On April 10, the A's used their home opener to salute the four Oakland Police Department officers who were killed March 21. The team added an "OPD" sleeve patch, which will be worn on Oakland's home whites for the rest of this season, and also wore police department caps during a pregame ceremony. (The Oakland police had a memorial gesture on their own uniforms, covering their badges with a black band.)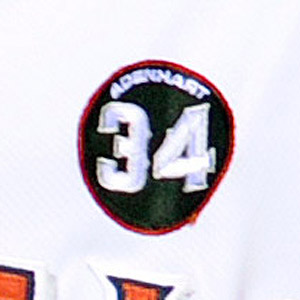 AP Photo/Chris Pizzello
In 2009, Nick Adenhart will be close to the Angels' hearts.
• That same day, the Angels held a memorial tribute to pitcher Nick Adenhart, who'd been killed by a drunk driver a day earlier. The Halos had already been wearing a
memorial sleeve patch for Preston Gomez
, so they chose to memorialize Adenhart
near their hearts
, creating a rare
double-remembrance situation
. They also added the patch design
to their outfield wall
, held a pregame ceremony
with their fallen teammate's jersey
, hung the jersey
in the dugout
, and inscribed Adenhart's number
onto the back of the mound
.
• Three days after that, April 13, it was Opening Day at PNC Park, where the Pirates memorialized the three Pittsburgh police officers who'd been murdered by a gun-toting nut on April 4. Much like the A's had done, the Pirates wore Pittsburgh police caps during pregame ceremonies, but they took it a step further: The visiting Astros also wore the pregame police caps, and the Pirates kept wearing the caps during the game. They also added a "PBP" patch (for Pittsburgh Bureau of Police).
• While that game was taking place, word came down that longtime Phillies broadcaster Harry Kalas had passed away. Phillies players came up with an ingenious impromptu tribute, each of them taking a quick drag on a cigarette before that afternoon's game with the Nationals (further details and explanation here). They've now added a more conventional remembrance: an "HK" jersey patch, which will make its on-field debut Thursday night.
• And as if that weren't enough, a few hours after Kalas' death, news broke that former Tigers pitcher Mark Fidrych had died as well. But the Tigers, who've worn only two uniform memorials in their long history (black crêpe for former Detroit Free Press sports editor Bo Needham in 1901 and a black armband for former manager Charlie Dressen in 1966), have decided not to wear a patch or band for Fidrych.
Memorial patches can be inspiring, but they're also emotionally exhausting. Here's hoping we have no more of them to discuss for a good long while.
Colorblind
When the Red Sox unveiled their new road jerseys last winter, there was something they neglected to mention -- something that didn't become apparent until last weekend, when the team embarked on its first road trip of the season. And that something is this:
The Red Sox are wearing blue sox on the road.
You could argue that the blue socks match the team's navy cap and the new road jersey's navy lettering, but come on -- the team is called the Red Sox! And just look at their left sleeve! How hard can it be to live up to your team name and sleeve patch? Um, wait, let's rephrase that …
The blue hose have already begun to provoke a backlash among Sox fans (there's even the obligatory Facebook group). As several of them have pointed out, this navy-themed uniform looks great -- just not for the Red Sox. So here's a look at what might have been. The version on the left is definitely a more consistent, more logical design, but the one on the right just feels more BoSox-y, no? Here's hoping management wises up and goes back to the crimson shinwear. Or, failing that, here's a modest proposal: As Uni Watch recalls, this hosiery approach included enough red and navy to keep both camps happy.
Meanwhile, over in Arlington, the Texas Rangers Texases had originally planned for their new red alternate cap to be worn with the new red alternate jersey. But by the second game of the season, they were pairing the red caps -- along with red undershirts and red socks -- with their blue-trimmed home uni. So the jersey typography is blue but everything else is red, creating an odd mish-mash that gives Uni Watch a headache. Josh Hamilton was apparently so confused by all this that he suited up for one game wearing one blue armband and one red, and catcher Jarrod Saltalamacchia (who, incidentally, could really benefit from a more streamlined typeface) has had all kinds of color-coordination problems with his catching gear. Can one blue sock and one red sock be far behind? (Note to Texas management: That question was purely rhetorical.)
Speaking of color shenanigans, the NBA recently conducted a "Green Week" promotion, which meant, among other things, that several teams wore green uniforms to promote environmental awareness. One such team was the Bulls -- an obvious choice, since they could simply recycle their green St. Paddy's Day uniforms ("recycle," get it?). But instead they wore a completely different green uniform, thereby raising lots of environmental awareness of their own wasteful uniform practices. Well done!
And here's one final color-related item. As you may have heard, the original AFL franchises will be wearing throwbacks this fall when they play each other, to mark the AFL's 50th anniversary. (Uni Watch will examine these uniforms in detail at a later date.) But here's something you probably hadn't heard: The officiating crews for these games will be wearing orange zebra stripes, just like AFL officials were wearing back in the day. Kudos to the NFL for going the extra mile on this one.
Paul Lukas offers sincere condolences to all who've been touched by these recent deaths. His Uni Watch blog, which is updated daily, is here. Want to learn about his Uni Watch membership program, be added to his mailing list so you'll always know when a new column has been posted, or just ask him a question? Contact him here.