Commentary
What do you get when you mix the Bronx Bombers and fine dining?
Originally Published:
April 22, 2009
By
Paul Lukas
| Page 2
When you think of the New York Yankees, you think of tradition. You think of excellence. You think of ... dry-aged beef?
That's what the Yanks are hoping for with NYY Steak, which is located inside their new stadium.
As a serious carnivore and lifelong Yankee-hater, I'm intrigued by NYY Steak. This team treats anything less than a World Series championship as an abject failure, so anything less than the best steak of my life should be judged as an utter disgrace, right? And how will the Yankees' penchant for Donald Trump-esque opulence play out -- will the menus be diamond-encrusted? Will the men's room urinals be gold-plated? Will the steaks be gold-plated? Will Hideki Irabu be out front parking cars?
With these and other pressing questions weighing on my mind, I recently made arrangements to visit NYY Steak with fellow Page 2er Mike Philbrick, who loves meat (and since he's from Massachusetts, hates the Yankees) as much as I do. Here's a rough chronology of how it went down:
April 8, 6:45 p.m.: I call to make a reservation. The woman answering the phone takes down my information and adds, "Please note that our dress code is business casual -- no jeans, no sneakers." Excuse me, did she say casual? These are the Yankees we're talking about -- shouldn't the dress code be black tie? Or even white tie? A few minutes later it hits me: They had to go with biz casual because that allows for white turtlenecks.
[+] Enlarge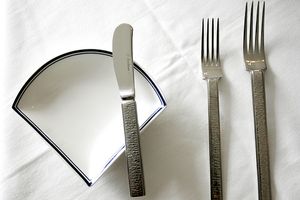 AP Photo/Seth WenigIf you forget that you're in Yankee Stadium, the bread dish gives you a friendly reminder.
April 14, 7:06 p.m.: Mike and I meet outside the new Yankee Stadium. In honor of the new MLB season and the Yankees' long heritage of excellence, we've chosen a meeting spot that symbolizes all that is holy at this cathedral of baseball: the stadium's on-site Hard Rock Cafe. We've also decided to push the envelope a bit with some strategic clothing choices: a Mets cap for me, a Red Sox cap for Mike (plus, for good measure, a Red Sox tie). Thus attired, we nod to each other and prepare to enter the enemy's lair.
7:07 p.m.: We walk into the stadium and proceed toward the elevators that will take us to the steakhouse. A man approaches us and says, "Oh, you must be the 7 o'clock party, right?" It begins to dawn on me that a reservation may not have been entirely necessary.
7:08 p.m.: Oddly, the buttons on the elevator don't list floor numbers like 1, 2, and so on. Instead, the buttons have seemingly random numbers like "125," which is the button pushed by our elevator operator. I ask him what "125" stands for. He says, "You know, I have no idea."
7:09 p.m.: We're deposited at the hostess' station, where our caps prompt a few raised eyebrows. As a staffer leads us to our table, she says, "Gentlemen, this is a fine dining establishment, so we ask that you remove your hats." Well played. We comply.
7:10 p.m.: We survey our surroundings, which are dominated by several wall panels covered with signatures of Yankees greats. There's no view of the field (what, you expected to watch a baseball game at a baseball stadium?), but there are several flat-panel TVs. Aside from that, the room is fairly open and low-key, although there appears to be a strong draft blowing out toward the far-right portion of the room. Not so much of the dark-wood clubby feel I'd expected, and no statues of Gehrig or DiMaggio either, but maybe those got delayed in shipping. All the other customers apparently got delayed too, because there's almost nobody else in the joint.
7:11 p.m.: As we admire the two different kinds of salt on our table, a waiter in a pinstriped shirt appears, introduces himself as Robert, and pours us some water from a logo-emblazoned bottle. "We filter our own water on-site, to reduce our carbon footprint," he says. I ask if this same water is used in the stadium water fountains, and he says no. Translation: Those slobs watching the ballgame are sucking down raw sewage, while Mike and I are drinking the good stuff. We clink glasses to celebrate our superior hydration.
7:13 p.m.: A waitress named Lisa arrives and hands us menus. They look like this, only with a pinstriped background. To our surprise, the steaks do not have names like "The Yogi Berra Ribeye" or "The Mattingly Cut." As we peruse the offerings, I wonder if I should order my steak raw, like the Babe no doubt ate his, while Mike ponders ordering his "Schilling bloody-sock rare." After much internal debate, we decide against it.
7:18 p.m.: I catch Robert walking by and ask him why some of the restaurant's TVs are not showing the Yanks/Rays game that's currently under way. "Because we're supposed to keep them tuned to YES, and tonight's game is on My9," he says. We ask if he was specifically trained to say "My9" (the very annoying name used by New York City's Channel 9) and he replies, "No, I did that all on my own."
7:29 p.m.: After we place our orders, Lisa gives each of us a plate with a pinstriped "1" icon. I ask, "Is the '1' because this plate is for our first course?" Lisa says, "No, that's just a coincidence. Every plate has a Yankee retired number. But I don't actually follow baseball, so don't expect me to know what each number stands for. Who's No. 1 anyway?" We give her a quick crash course on the guy who wore that number, making sure to emphasize the terms "alcohol" and "marshmallow salesman."
[+] Enlarge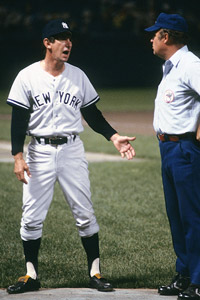 Getty ImagesIf Billy was around today, everyone at NYY Steak would know who No. 1 is.
7:41 p.m.: Our first course arrives: the raw bar sampler ($45). As is usually the case with steakhouse seafood, it's mediocre -- bland oysters, mushy lobster. But whatever. Going to a steakhouse for seafood is like going to a baseball stadium for dinne -- um, never mind.
7:57 p.m.: Robert, swinging by to clear some dishes and apparently feeling pretty good about life, says, "I'll let you in on a little secret: I'm about to be promoted to barback. Pretty good for the youngest guy on the staff, right?" We congratulate him and ask just how young he is. "Nineteen," he replies. We begin to ponder the implications of a barback who isn't of legal drinking age, but Robert is already off on a new topic: "I just bought my first car." He eagerly tells us his plans for the paint job, detailing, and so on. As he departs, Mike says, "Robert's going to be running this whole place inside of three months."
8:04 p.m.: We mention Robert's new car to Lisa, who informs us that Robert doesn't have a driver's license.
8:06 p.m.: Robert returns to defend his honor and to tell us about his first ill-fated attempt to get a license, ending the tale by asking, "I wonder if there's a limit to how many times you can take that test?"
8:11 p.m.: Our steaks arrive -- a New York strip ($52.75) for Mike and a rib eye ($47.75) for me. Lisa, wearing the confident smile of someone who's studied for the test, places my plate in front of me and proudly says, "No. 15 -- Don Mattingly." I make a mental note never to bring Thurman Munson's widow to NYY Steak and turn my attention to my rib eye's Flinstones-sized bone, which could easily double as Hideki Matsui's bat. Impressive, although I'm disappointed that the bone isn't inscribed with "NYY" like the one shown on the Yankees' Web site. Surely they could genetically engineer the lettering right into the steers' rib bones, couldn't they?
8:12 p.m.: We dig in. My steak is a nice medium-rare, just as I'd requested. It is not the best steak of my life -- epic fail! -- but it's still quite good, with the complex, slightly musty mineral tang that characterizes premium aged beef. For side dishes, we've ordered a plate of asparagus ($9) and some lobster mac and cheese ($10.50), which is every bit as decadent as it sounds.
8:23 p.m.: A woman named Alexa -- approximately the 37th staffer we've come in contact with -- stops by our table and introduces herself as one of the managers. She takes approving note of our menu choices and asks, "Are you food experts?" I say, "No, but I like to eat." She says, "Oooh, do you like to travel too?" I say, "Sure." She says, "Oooh, are you single?"
8:28 p.m.: Quick trip to the men's room. To my immense disappointment, the urinals are not gold-plated. Even worse, the toilet paper does not consist of old $20 bills. No attendant to spray me with the scent of Yankees victory, either. On the plus side, there's a TV screen embedded in the bathroom mirror (tuned to YES, of course). Currently screening: a "Yankeeography" on Graig Nettles. I suddenly wonder if that long bone on my steak is filled with Super Balls.
8:37 p.m.: Lisa asks if we want dessert and adds, "You have to order the one that I light on fire." Lisa hasn't steered us wrong yet, so we follow instructions and order the NYY Steak 151 Volcano, a David Wells-sized pyramid of Heath Bar-encrusted vanilla ice cream with a shot of 151 rum, which Lisa sets aflame. Robert, who's also on hand, says this is the best flambé effect they've achieved since the restaurant opened. He's so pleased with this that he whips out his cell phone and takes a photo to capture the moment.
8:39 p.m.: With the flames having died down, we're left alone to enjoy our dessert. It is very, very good.
9:49 p.m.: The check arrives. After tax and tip, it comes to $302 -- clearly a bargain when you consider it's about 0.01 percent of what CC Sabathia makes for throwing one-third of an inning.
9:53 p.m.: Fat and happy, we're almost ready to head home, but first I have a little errand to take care of: I plan to find the restaurant's choking victim poster (required in all New York eateries) and place one of these A-Rod face cutouts in the appropriate spot. Alas, we can't find the poster -- damn Yankees! -- so that project will have to wait until our next visit.
9:53 p.m.: We say goodbye to everyone (this takes awhile), leave, and enter the elevator. But the operator can't get the doors to close, so we take the stairs down from "Floor 125" -- which turns out to have been the second floor.
April 15, 1:17 p.m.: I couldn't quite finish my steak (shameful, I know), so I finish the leftovers for lunch, leaving one doozy of a bone. It appears to be Super Ball-free.
Paul Lukas thinks the only food a ballpark really needs to serve is hot dogs. Yankees fans and vegetarians can take turns berating him here.
ESPN.com
Sports journalism's foremost uniform reporter
ESPN.com columnist since 2004
Also blogs at uni-watch.com