Commentary
Change isn't always good in the NFL
Originally Published:
April 16, 2009
By
Paul Lukas
| Page 2
When Matthew Stafford did the obligatory jersey pose after being named the top pick in the NFL draft, some of you might have said to yourselves "Hmmm, that Lions jersey looks a little different."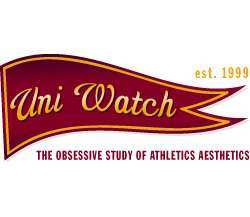 Sure enough, Stafford was showcasing a new jersey design, and he wasn't the only one, because several NFL teams unveiled new uniform sets in the days leading up to the draft. Here's a quick rundown:
• Detroit: The Lions have updated their helmet logo (fine) and helmet striping (ditto). The jersey has a new chest wordmark (ugh), new sleeve stripes (eh), and a loopy-swoopy new typeface for the uni numbers (yikes). Plus the pants piping has changed from this to this (not bad) and the socks now have a DMZ stripe between the white and the blue (sure, why not?). Overall, a mixed bag, but none of it addresses the biggest problem with Detroit's uniform: the players wearing it way too much black. Now-deposed GM Matt Millen supposedly added all the black trim as a nod to his Raiders days, but he's been given his walking papers, so why didn't they ditch the black, too? Official Uni Watch grade: B-minus.
• Jacksonville: The Jags have taken one of the league's best, most underrated designs and turned it into a total joke. Seriously, did they borrow that piping from the Arena League or what? They've also unveiled a gimmick for the ages: The helmet has been sprinkled with magic fairy dust that color-shifts from black to green depending on how the light hits it. Uni Watch is willing to defer judgment on this trick until we see how it looks on the field: could be really cool, could be an embarrassment. Or, most likely, it could be indiscernible from more than 20 feet away. Either way, it won't save this wretched redesign. Grade: D-plus.
• San Francisco: The Niners have gone for a throwback-ish look, restoring their gray facemask and old-school helmet striping, simplifying their jerseys and going back to a classic pants design. The weird thing is the way they've used these truncated sleeve stripes. The top stripe is normal but the bottom two are just vestigial, which looks very odd. Okay, Uni Watch gets it: NFL sleeves are so short nowadays that there's barely any room for stripes. But why respond to that by using bogus stripes? Might it not be better to use, um, no stripes? Grade: B-plus.
Meanwhile, more details are emerging regarding the throwback uniforms that the original AFL franchises (and officials!) will be wearing when they play against each other this fall. These teams had their throwback helmets displayed at the draft.
But the biggest buzz was generated by the Broncos, who showed off their 1960 "How Now, Brown Cow Horse?" throwbacks, complete with -- wait for it -- the vertically striped socks! The original striped hose, of course, were so unpopular with the players and coaching staff that they were eventually torched in a public bonfire. But now everyone loves the stripes (or at least Broncos vice president Jim Saccomano does -- he's the one in that photo), which just goes to show what a half-century's worth of hindsight can do for ya.
The striped socks have now become so retro-chic, in fact, that several readers have already inquired as to whether they'll be available for fans to buy. Uni Watch is saddened to report that the answer is no, at least for now; a pity, since the sight of an entire stadium of Broncos fans wearing the striped socks on their hands as ersatz mittens would be too perfect for words. But as we all know, the NFL folks will sometimes change their minds if provided with the proper inducement, so the key here is to make your voices heard. Contact the Broncos, contact the NFL, contact your congressman and let them know that you want -- nay, you demand -- to see the striped socks made available for purchase. The magic of the free market should take care of the rest.
Meanwhile, over on the diamond …
Boy howdy, the MLB season's only three and a half weeks old and the Nationals have already racked up a decade's worth of uniform gaffes, some minor, some major. Check out what the team endured during a recent 15-game sequence:
April 10: Pitcher Mike Hinckley, making his season debut, takes the mound with an upside-down 8 on his road jersey. (Doesn't look upside-down to you? Compare the gold beveled trim on Hinckley's 8 to the way it's supposed to look.)
April 13: Amid the pomp and circumstance of the Nats' home opener, Wil Ledezma pitches the eighth inning with an upside-down N on his jersey.
April 16: The Nats debut their "patriotic" clown suits. OK, so that's not technically a uniform error, but it's certainly an error in judgment.
April 17: Adam Dunn and Ryan Zimmerman play with typos on their jerseys in the same game (further info here). The unprecedented double misspelling -- destined to be forever known as "Oh No: No O!" -- later prompts another unprecedented occurrence: an apology from MLB outfitter Majestic.
April 27: Nearly two weeks after Mike Hinckley's first mound appearance, his road jersey's 8 is still upside-down.
Fortunately, the Nats' on-field performance is so good that it's easy to overlook these mistak … uh, right. Never mind.
If the Nats are Uni Watch's team of the year so far, then Darren O'Day is Uni Watch's MVP. Although the Uni Watch Research Laboratories are still tabulating the data, it appears that O'Day is the first MLB player ever to appear in a game with another player's name on his back. In case you missed it last week, here's the deal: O'Day, who had been waived by the Mets on April 18, was claimed by the Rangers around noon on April 22 and traveled from his home in Florida to Toronto, where his new team was playing the Blue Jays. When he arrived in the eighth inning, there was no jersey waiting for him, so he had to wear Kason Gabbard's jersey instead.
Good story, right? It has also vaulted O'Day into what is probably an insurmountable lead in this season's "Who's worn the most jerseys?" sweepstakes. With the season less than two dozen games along, he's already suited up in eight different MLB jerseys: Mets white, Mets gray, Mets black, Mets white with No. 42 (for Jackie Robinson Day on April 15), Rangers gray, Rangers blue, Rangers white and Gabbard's jersey. He hasn't yet worn Rangers red, but that should be coming any day now.
The Red Sox haven't quite matched O'Day's jersey carousel, but they're not far behind. The Sox wore six different jerseys in their first 15 games. The green-trimmed uni was for Earth Day, when the Sox recycled (get it?) their St. Paddy's Day uniforms -- a nice gesture, although it left some fans wondering why the team was wearing shamrock patches on April 22.
Speaking of Boston, last time around Uni Watch reported that the Red Sox were wearing blue sox on the road, which had prompted a bit of backlash. Management apparently got the message, because the Sox have been living up to their name during this week's road trip (further details here). Of course, those socks aren't as cool as these socks, but hey, you can't have everything.
And as long as we're talking about socks, have you seen Oakland pitcher Josh Outman yet? Aside from having the best name ever for a pitcher, he's also been sporting some picture-perfect stirrups, nicely highlighted by Oakland's gold sanitaries. How cool is this? So cool that Uni Watch is going on record right now to predict that this will be the summer of Outmania! Now if the A's would just call up fellow stirrup stalwart Corey Wimberly from the minors, Oakland could challenge the Broncos for solar-systemic sports-sock smackdown supremacy (and Uni Watch could win the prize for most gratuitous alliteration).
Paul Lukas plans to trademark the terms "Outmania" and "Outmaniac" as soon as possible. His Uni Watch blog, which is updated daily, is here. Want to learn about his Uni Watch membership program, be added to his mailing list so you'll always know when a new column has been posted, or just ask him a question? Contact him here.

ESPN.com
Sports journalism's foremost uniform reporter
ESPN.com columnist since 2004
Also blogs at uni-watch.com