Commentary
It's time to do away with the camouflage
Originally Published:
May 14, 2009
By
Paul Lukas
| Page 2
The Padres will wear their camouflage uniforms Sunday. It will mark the fourth time this season they've worn the camo attire, and they'll continue to go camo-clad for every Sunday home game in 2009, a big step up from the days when they trotted out the camo uni just once a year as an annual "Salute to the Military" promotion (a camo cameo, if you will).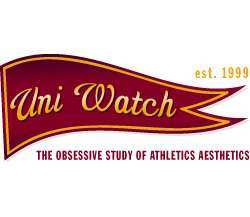 The Padres came up with the camo concept in 2000. At the time it was explained, and largely accepted, as an appropriate gesture for a team playing in a city so closely tied to the military. Since then the camo look has also been adopted by the White Sox and Reds, plus it has spread to the college and minor league ranks. There's even one team -- the American Defenders of New Hampshire, part of the independent Can-Am League -- that will be wearing camo jerseys and pants for every single game when their season starts later this month.
Other sports have been bitten by the camo bug, too, including college football (that photo is from this past season's Army-Navy game) and minor league hockey. In short, camo sports uniforms have gone from being a novelty to a phenomenon.
Fans have differing opinions about the symbolism of camouflage uniforms on the field. But there's one thing we all should be able to agree on: These camo jerseys look ridiculous.
I realize that statement is going to upset some people. But come on -- does this really "honor" our military (or anyone else)? Does this? Yes, it's a nice idea, just like it would be a nice idea to honor firefighters, emergency room doctors and teachers, but you wouldn't dress up your team like this, this or this to do it. Certain designs just don't work on the field, and that's especially true of camouflage, which is specifically designed to blend in, the exact opposite of the distinctiveness a sports uniform is supposed to provide.
Of course, that's just my opinion, and you're welcome to disregard it. But you probably wouldn't be so quick to dismiss the opinions of military personnel, who are the ones supposedly being honored by the camouflage uniforms. What do they think of the intersection of sports and camo?
I recently tried to address that question over on the Uni Watch blog, where I invited active and retired military members to share their thoughts on the camo jerseys. And no, I didn't frame the question in a biased or slanted way. You can see the exact wording I used here.
About 60 people responded -- not a massive sample, but enough to get a sense of how people are thinking. I've compiled their comments here. If you don't have time to read through all that material, here's a quick summary: A handful of respondents said they totally love the camo jerseys. Another handful totally hate them. But the vast, vast majority of the comments read something like this: "It's really nice to be acknowledged, and I appreciate the thought behind it. But the uniforms look bad. Like, really bad. Plus, they never use the authentic camouflage patterns we use in the military."
Aesthetic considerations like these are a good reason to stop using camouflage on the baseball diamond, but they're not the only reason. Here are some more:
• Baseball should unite, not divide: Like it or not, modern military policy is inextricably linked with politics, which is why our two biggest wars of the past half-century -- Vietnam and Iraq -- have been so socially and culturally divisive. That's why camo uniforms in the civilian sphere invite some level of controversy, because some people interpret camo as an endorsement of current military policy. Is that fair? Maybe, maybe not, but why even go there? Imagine a father and son who disagree on everything but baseball. Whatever their other differences, they can always enjoy a nice day at the ballpark … until one team trots out in camo uniforms, which prompts the father and son to start arguing about Iraq. Baseball is supposed to bring us together, so why toss in an element that could get in the way of that?
• It's an international game now: Camo uniforms might have made a certain kind of sense if they'd been used during, say, the Korean War, when just about all the players were American. But nearly 30 percent of today's MLBers hail from other countries. Look, I know the drill: They play here, make lots of money here and so on, so they should stand for our national anthem, respect our customs and wear whatever uniform they're given -- agreed. But isn't it a little weird to ask foreign-born players to wear uniforms honoring the American military? If you, as an American, were playing ball in, say, Venezuela (as many Americans do during the offseason), wouldn't you find it at least a bit distasteful to have to wear a jersey commemorating the Venezuelan army? Maybe some foreign players don't mind this, but again, why even go there? Why create a situation that's incongruous or arguably insensitive?
• The symbolism is often convoluted at best: The Reds and White Sox wore camo last season for the Fourth of July holiday, which of course made perfect sense because the Minutemen wore camouflage uniforms while fighting the British. No, wait, the Founding Fathers wore camouflage while signing the Declaration of Independence. Wait … what?
• Camo uniforms are Band-Aid patriotism: Much like a "Support Our Troops" car magnet, a camo uniform is an empty gesture that makes the gesturer feel good but demands no sacrifice, no contribution, nothing substantive. Camo doesn't even provide a decent history lesson. This not only shortchanges the military personnel supposedly being honored, but it's also a huge missed opportunity for baseball, which has a proud tradition of military-related sacrifice that's worth exploring and celebrating.
All of which brings me to my modest counter-proposal for the camo designs, which came to me after I received a note from reader Mickey Seward. "I was recently looking at old baseball photos and came across a site called Baseball in Wartime," he wrote. "The site has an awesome photo gallery, with a lot of pictures of Hall of Famers wearing military baseball uniforms, including Bob Feller, Joe DiMaggio, and Pee Wee Reese. Those photos were all taken in America, but there are also photos of troops playing in Europe, North Africa, the Pacific, the Middle East, and so on."
The site is impressive, and not just for its photos. It essentially offers one-stop shopping for any kind of information involving the intersection of baseball and World War II. And that's a bigger intersection than most fans probably realize. Sure, you've heard Ted Williams probably would have hit 700 home runs if not for missing nearly five seasons in the Marines, and maybe you're aware of a few other high-profile players who served, but did you know all these other big leaguers also traded their baseball uniforms for military ones? And that doesn't count all the minor leaguers and Negro League players who also served -- a far cry from today's pro athletes, very few of whom have volunteered for any kind of national service. That's their prerogative, of course, but it further underscores the pointlessness of the camouflage uniforms.
And those long-ago servicemen playing on makeshift fields overseas weren't just finding creative ways to kill time while they were away from their families. They were also helping spread baseball to places that had never seen it before, places where the game caught on and gained a foothold after they left. It's not a stretch to say that the World Baseball Classic could never have happened if not for the seeds sown by those troops of decades past (OK, maybe that's damning with faint praise, but you get the idea).
As you click through those old photo galleries, one thing becomes very apparent: The uniforms are unique and, in most cases, really nice, especially compared to this.
The retro retailer Ebbets Fields Flannels offers a few throwback designs originally worn by Army, Navy, Air Force and Coast Guard teams. Aside from that, I've never seen military throwbacks used in any capacity, and maybe it's time to change that.
So here's the official Uni Watch Military Appreciation Program for our national pastime:
• First, scrap the camo jerseys. While we're at it, let's get rid of those awful stars and stripes caps, which look ridiculous and cheapen the flag's symbolism.
• If a team wants to do a military tribute promotion, it should arrange to wear throwback uniforms patterned after a design worn by an old military baseball team. These uniforms will have a story to tell: a story of shared sacrifice by athletes, of baseball's role in America's military history and of the military's role in spreading baseball around the globe. This approach will resonate even with foreign-born players, because the uniforms will be telling a baseball story, not just a military story.
• It will be tempting to sell replica versions of these military throwbacks and to donate the proceeds to charity. Teams should resist the urge to do this, at least for a few years. Fans have grown tremendously jaded and cynical about every promotional scheme being tied to merchandising, even if the revenue is going to a good cause. This would be a good time to say, "Certain things just aren't for sale, and the story we're telling here today is one of them."
If you want to make exceptions for the military service academy teams or the U.S. Military All-Stars (a barnstorming team of enlisted ballplayers -- further info here and here), that's worth discussing, although I still think they'd look better in real sports uniforms. Either way, though, those are special cases. For all the other teams out there, ditch the camo and connect with your history. You'll look a lot better on the field, you'll help your fans learn a thing or two, and you'll induce fewer cringes from the people you're trying to honor.
Paul Lukas sincerely thanks all the servicepeople who shared their thoughts while he was researching this subject. His Uni Watch blog, which is updated daily, is here. Want to learn about his Uni Watch membership program, be added to his mailing list so you'll always know when a new column has been posted or just ask him a question? Contact him here.

ESPN.com
Sports journalism's foremost uniform reporter
ESPN.com columnist since 2004
Also blogs at uni-watch.com