Commentary
Uni Watch: Totally awesome '80s
Originally Published:
July 9, 2009
By
Paul Lukas
| Page 2
When people talk about the wacky uniform designs of a bygone era, they're usually talking about the '70s. And true enough, the Me Decade had more than its share of "creative" designs.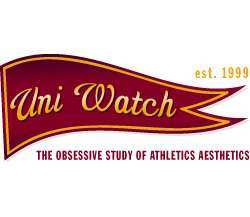 But don't overlook the '80s. Now remembered primarily for Ronald Reagan and E.T. (and not always in that order), the '80s were also when the Bengals unveiled their stripes, when the Pacers unveiled their sports bras (forgot about that one, didn't you?) and when the White Sox unveiled, well, all sorts of things. If '70s uniforms were all about color, experimentation and throwing out the old rules, the '80s were all about finding a balance between creativity and traditionalism. Or at least that was the idea -- it didn't always work out that way.
So with Page 2 celebrating the '80s this week, Uni Watch decided to give this uni-neglected decade some long-overdue attention. In order to get in the proper frame of mind, the Uni Watch home theater system was outfitted with an endless loop of "Rocky III"; the stereo system was programmed for a random shuffle of selections from the soundtracks to "The Breakfast Club," "The Wedding Singer," "Pretty in Pink" and "Fast Times at Ridgemont High"; and each room of Uni Watch HQ was equipped with its own Rubik's Cube.
After weeks of diligent research in this highly controlled environment, Uni Watch is proud to present the eight '80s-est uniforms of the '80s: some good, some bad, but all representative of their era. And since the '80s were also the decade of MTV, Uni Watch has provided an appropriate 1980s music video to accompany each uni design.
Without further ado:
1. Chicago White Sox, 1982-86
Destined to be known as the beach blanket uniform, this bizarro futurist design added the crowning touch of a uni number on the thigh. A perfect summation of how the '80s were trying to break free of the '70s but were still trapped by the previous decade's questionable design sense. Or, hey: Maybe the ChiSox brass just liked beach blankets.
Accompanying video: Blotto, "I Wanna Be a Lifeguard" (or any Beach Boys video).
2. Denver Nuggets, 1982-93
We've all heard of purple mountains' majesty, but what about rainbow mountains that also look like houses? Uh, not so much majesty. Bonus points for wrapping the stripes around to the back and also running them down the sides of the shorts.
Accompanying video: Dio, "Rainbow in the Dark."
3. Philadelphia Flyers, 1982-83 and Hartford Whalers, 1982-83
Yes, Virginia, it's true: For one very strange season, two NHL teams wore long pants. Officially known as Cooperalls, they looked sort of like snow pants. Hartford's were striped; Philly's were sometimes striped, sometimes not. Either way, they looked like crap and were banned by the league after two seasons.
Accompanying video: ZZ Top, "Legs."
4. San Diego Padres, 1980-84
The all-lowercase lettering, the crazy color scheme, the white shoes -- it all added up to the unique design that Steve Garvey once said made him "look like a taco."
Accompanying video: Taco, "Puttin' on the Ritz."
5. New York Knicks, 1979-83
Some minor tweaks notwithstanding, the Knicks' uniforms have looked more or less the same for 40 years now -- except for that four-season period when they tried to go New Wave or Stone Age or something. Just in case the huge uni number on the jersey wasn't big enough, they had another one, nearly as big, on the shorts, along with a Yankees-style "NY" logo. Whether you love this design or hate it (it's easy to go either way), one thing's for sure: Isiah Thomas really could have cemented his legacy if he'd tried to bring this one back.
Accompanying video: Grandmaster Flash and the Furious Five, "New York, New York."
6. Atlanta Hawks, 1982-91
Uni Watch confesses a fondness for this one, with its diagonal team name and uni number and weird color-blocked shorts. Somehow it's impossible to think of this uniform without picturing Dominique Wilkins soaring above the glass.
Accompanying video: Van Halen, "Jump."
7. Vancouver Canucks, 1978-85
Although officially unveiled in the late 1970s, this design really hit its stride in the '80s, as the Canucks reached their first Stanley Cup finals and could no longer be ignored by American hockey fans. Home or road, the overall effect was the same: It looked like the team was wearing orange safety vests.
Accompanying video: Men Without Hats, "Safety Dance."
8. Charlotte Hornets, 1988-96
Ever wonder why so many 1990s teams wore purple, teal or both? The trend started, of course, in the '80s, when menswear designer Alexander Julian was hired to create the Hornets' inaugural uni set and somehow decided that purple and teal belonged together. And don't even get Uni Watch started on the team's warm-up attire -- woof! The perfect gateway from the '80s to the '90s.
Accompanying video: Men at Work, "It's a Mistake."
Also receiving votes: Baltimore/Indianapolis Colts, 1982-86 (it's hard to see in that photo, but the pants and sock stripes were gray); Cincinnati Bengals, 1981-96; Cleveland Cavaliers, 1983-89; Indiana Pacers, 1984-90; Jamaican bobsled team, 1988 Olympics; Milwaukee Brewers, 1978-93 (technically a '70s design, but very '80s-associated); New York Mets, 1982-87; Mary Lou Retton, 1984 Olympics; San Diego Clippers, 1980-82; San Francisco Giants, 1983-93; U.S. hockey team, 1980 Olympics; Anne White, Wimbledon, 1985.
Got a favorite '80s uniform that didn't get mentioned? Send your suggestions here and Uni Watch will feature the top submissions in a future column.
(Big thanks to Uni Watch bench coach Phil Hecken for his uniform research, and to the many Uni Watch blog readers who assisted with MTV research.)
Overhaul overview
Uni Watch's recent column about teams that
need a uniform overhaul
prompted lots of responses, a hefty percentage of which took Uni Watch to task for not calling out the Washington Wizards and Seattle Seahawks as two of the most obvious makeover candidates. Hard to argue with that --
Uni culpa
.
The other team most frequently nominated by readers (aside from those already mentioned in the column) was a surprise: the Washington Redskins. True, they've stuck with their current uni design for a long time, but that's because it works. Never would have guessed so many fans would feel otherwise.
Meanwhile, a handful of readers accepted Uni Watch's invitation to come up with a new design for any of the 10 teams featured in the column, and almost all of them chose to redesign either the Bengals or the Nets. You can see the reader-submitted Bengals concepts (at least two of which are way better than the team's current uni) here, and the Nets proposals are here. In each case, the designer's name is listed as the file name, and you can click on the thumbnails to see larger versions.
Special invitation for New York-area readers
Think you know your Mets uniform history? Then come out to
Two Boots on Grand Street
on July 21 at 7 p.m., where your favorite Page 2 uniform columnist will be conducting a Mets uniform quiz as part of a full evening of Mets-related readings and presentations. The top-scoring quiz entrant will win a valuable prize (no, not a pair of Mets tickets -- I said
valuable
), and there will also be readings by
Mets by the Numbers
webmaster Jon Springer,
Faith and Fear in Flushing
webmaster Greg Prince, and Mets historian/author
Matt Silverman
. Bonus points if you dress up as your favorite injured Met (but no need to get an actual cortisone shot).
Paul Lukas spent most of the '80s in high school and college but has destroyed all the embarrassing photographic evidence. His Uni Watch blog, which is updated daily, is here, and his Uni Watch glossary is here. Want to learn about his Uni Watch membership program, be added to his mailing list so you'll always know when a new column has been posted, or just ask him a question? Contact him here.
ESPN.com
Sports journalism's foremost uniform reporter
ESPN.com columnist since 2004
Also blogs at uni-watch.com