Commentary
Uni Cold Case: 1977 All-Star Game
Originally Published:
July 14, 2009
By
Paul Lukas
| Page 2
Somewhere in between the Home Run Derby, the FanFest and all the other All-Star Game festivities taking place this week in St. Louis, there will be a more mundane task to attend to: The American and National League squads will pose for team portraits like this one taken at Yankee Stadium in 1977.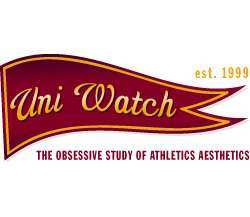 Maybe you've seen that photo before, but here's something you probably haven't seen: snapshots that show the players gathering and setting up for that 1977 photo shoot. Those snapshots, which were posted on a discussion board in August 2008, are the subject of an ongoing history mystery -- a mystery that has now resisted Uni Watch's best research efforts for the better part of a year.
Take another look at the two snapshots side by side. In the first shot, you can see a player in the back wearing a Yankees road uniform standing next to Butch Wynegar of the Twins. In the second shot, this same player in the Yanks uniform is standing in the center of the back row in between Dennis Eckersley (who's wearing a navy Indians jersey) and Wayne Gross (gold A's jersey). It's clearly the same person in both photos.
The 1977 All-Star Game was played at Yankee Stadium, so why would a Yankee -- or any American League player, for that matter -- be wearing a road uniform? What's the deal?
That question has been hotly debated over on the Uni Watch Blog, where readers have advanced several theories:
1. It's a Yankee All-Star who misplaced his home uni. Nope. There were five Yankees on the 1977 AL All-Star roster: Reggie Jackson, Willie Randolph, Thurman Munson, Sparky Lyle and Graig Nettles. Our mystery player is clearly not one of those guys.
2. It's an All-Star player from another team who misplaced his uni. There's historical precedent for this. In 1979, Jackson forgot to bring his Yankees uniform to Seattle and had to wear a Mariners uniform for the AL team portrait. (He got his regular uni in time for the game; this and many other All-Star Game uni oddities are chronicled here.) But that's not the case with the 1977 snapshots. If you compare the AL All-Star roster to the people shown in the snaps, you'll find that our mystery man doesn't look like anyone who isn't already accounted for.
3. It's that imposter guy who was always sneaking into sporting events. This is a reference to Barry Bremen, who snuck into lots of events (including pregame warm-ups for the 1979 All-Star Game) a few decades ago. But Bremen, masquerading here as a Dallas Cowboys cheerleader, didn't look like our mystery man. Also, Bremen was reportedly 6-foot-4, while our mystery man was clearly shorter than Eckersley and Gross, both of whom are listed as 6-2.
4. It's Ron Guidry, or Roy White, or some other non-All-Star Yankees player with a moustache. If you look at the 1977 Yanks, you'll see that nobody on the team looked like our mystery man (and also see that people look really stupid when they all fold their arms en masse). And besides, why would a Yankee be wearing his road uni in Yankee Stadium?
5. It's a batboy or bullpen catcher or someone like that, serving as a placeholder for a real player. Nope. There's nobody standing between Eckersley and Gross in the official team portrait, so our mystery man wasn't a placeholder for anyone.
6. OK, forget the placeholder thing, but it's the National League batboy -- that's why he's wearing a road uniform. This is actually the most plausible explanation offered so far. But why would the National League batboy be posing in the American League photo? And since when do batboys get to stand in the center of the back row? For that matter, since when do batboys have moustaches?
In an attempt to crack the case, Uni Watch got in touch with Eckersley and Gross, showed them the photos and asked if they could remember anything about the guy who was briefly standing in between them. Not surprisingly, neither one could remember any details about a photo shoot that took place 32 years ago. ("I barely remember what happened yesterday morning," quipped Gross.)
And that might have been the end of it -- an unsolved mystery, a cold case -- until another scrap of evidence appeared last month.
The clue came when reader Bryan Malloy contributed this photo of his uncle, former Angels player Tom Donohue, on the field at Yankee Stadium in 1979. When that photo was shown on the Uni Watch Blog, reader Roger Faso had an epiphany. "Look at the guy in the leisure suit, who I assume is some Yankees PR guy," he wrote to Uni Watch. "Check out the glasses, nose, sideburns, ears, cheekbone, moustache, and lower lip. That's the guy from the All-Star photos."
Wow. Persuasive! Not only that, but Mr. Leisure Suit appears to have been about the same height as Donohue, who was an even 6 feet tall. It all adds up.
But who was this leisure-suited gent? What was he doing in a uniform, and why was he sneaking into the All-Star photo shoot? Uni Watch contacted the Yankees to see if anyone could identify Mr. Leisure Suit, but the few remaining employees from the 1970s didn't recognize him. A call was also placed to A's traveling secretary Mickey Morabito, who did PR work for the Yankees in the late 1970s. Again, no dice.
So we may be a step closer to solving this mystery, but we're not there yet. If you can identify this guy, or if you'd like to suggest another explanation and have it shot down in flames, you know what to do.
Meanwhile, there's one other possible answer worth mentioning, but it doesn't quite fit the timeline. Too bad.
1980s Revisited
Last week's look at
iconic uniforms of the '80s
prompted a few jillion readers to complain, "How could you forget
the Astros' tequila sunrise design
and all the
powder-blue road uniforms
? But the 'Stros debuted the rainbow design in 1975, and almost every powder-blue road uni was unveiled in the '70s too (in fact, powder blues did a slow fade in the '80s, as documented
here
). So these designs, along with several others nominated by readers for '80s glory, really belong to the previous decade.
But a few readers did suggest some good '80s designs that Uni Watch had overlooked, including NC State's short-lived 1988-89 unitards and Andre Agassi's "Image Is Everything" look. Big thanks to everyone who contributed.
Reminder for New York-Area Readers
Your friendly neighborhood Uni Watch will be conducting a uniform quiz contest, complete with a valuable prize, as part of an evening of Mets-themed presentations at
Two Boots on Grand Street
on July 21. Festivities will commence at 7 p.m., and there will also be readings by
Mets by the Numbers
webmaster Jon Springer,
Faith and Fear in Flushing
webmaster Greg Prince, and Mets historian/author
Matt Silverman
.
Paul Lukas posed for his Little League all-star team photo when he was 12 and doesn't remember who was standing next to him (but is pretty sure it wasn't the leisure suit guy). His Uni Watch blog, which is updated daily, is here, and his Uni Watch glossary is here. Want to learn about his Uni Watch membership program, be added to his mailing list so you'll always know when a new column has been posted, or just ask him a question? Contact him here.
ESPN.com
Sports journalism's foremost uniform reporter
ESPN.com columnist since 2004
Also blogs at uni-watch.com