Commentary
This training space for rent
Originally Published:
August 13, 2009
By
Paul Lukas
| Page 2
"I mean, listen, we're talking about practice. Not a game, not a game, not a game, we're talking about practice. Not a game. Not the game that I go out there and die for and play every game like it's my last, not the game, we're talking about practice, man. How silly is that? We're talking about practice. … We're talking about practice, man. What are we talking about? Practice? We're talking about practice, man. We're talking about practice. We're talking about practice. We ain't talking about the game. We're talking about practice, man. … We're talking about practice, man. We're not even talking about the game, the actual game, when it matters. We're talking about practice."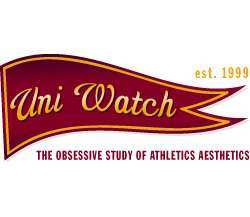 Allen Iverson's famous rant, quoted above (and immortalized in this video clip), is a pretty good approximation of Uni Watch's long-standing approach to practice attire. MLB batting practice jerseys, NBA shooting shirts, NFL practice jerseys -- who cares? Wake me when the game starts.
Ah, but that policy may be due for an update, thanks to a phenomenon you may have noticed in NFL training camps this month: the rise of ad patches on practice jerseys.
Most of the news coverage of this development has described the patches as the result of "a new NFL policy," but there's actually nothing new about it. The Titans have been wearing Baptist Sports Medicine patches on their practice gear, apparently without official NFL sanction, since at least 2005, and nobody besides Uni Watch readers ever noticed or cared.
What is new is that lots of other teams have finally recognized the potential of ad patches and are getting in on the act. Let's take a look, one team at a time:
• Giants: Big Blue is wearing a big red Timex patch. The only problem is that the team's most prominent player has an endorsement deal with a rival watch company, which is precisely the type of branding collision we can expect to see more of in the brave new world of jersey advertising. What's a jillionaire athlete with a sponsorship conflict to do? In this case, he wears the patch during practice but conducts all his pre- and post-workout activities in a patch-free T-shirt. (More info on that here.)
• Patriots: The Pats play at Gillette Stadium, so guess who sponsors their practice jerseys? Right. Fortunately, nobody on the team has an endorsement deal with Schick or Braun.
• Colts: Hmmm, ya think Indy's Indiana Farm Bureau Insurance patch is big enough?
• Bengals: A few years ago, nobody had heard of Spongetech. Now they're sponsoring one of the NFL's most legendarily dysfunctional franchises. That's an accomplishment of sorts.
• Bears: As you may have noticed, Cincy's Spongetech patches are long and narrow. But league guidelines state that the patches can measure up to 3½ by 4½ inches. So if your sponsor has a thin, horizontal logo, why not just float it inside a big white rectangle?
• Jets: Weirdest patch of the bunch. You can see they're wearing something, and if you look closely you can see that it includes the team name, but good luck trying to figure out who the sponsor is. Turns out it's a New Jersey-based health care company. Uni Watch doesn't know how much they paid for this sponsorship, but it doesn't look like they're getting their money's worth.
• Titans: As noted earlier, the Titans are sponsored by Baptist Sports Medicine. Toss in the Bears and the Jets and you've got three of the seven ad-clad teams going with health care-related sponsors; an interesting trend, given the current national debate over the health-care system. If Congress ever gets around to passing legislation on this issue, will the Feds be sponsoring NFL practice jerseys next season?
• Ravens: No, that's not an ad patch on the Ravens' practice jersey. It's the Purple Hammer award, given to players who participate in the team's offseason conditioning program. Don't you wish you could be rewarded for doing something you were supposed to do anyway?
• Broncos: Denver had hoped to find a practice jersey sponsor, but it hasn't worked out, so instead they're wearing a 50th-anniversary patch (which they'll also be wearing on their game jerseys). Think of it as a "Your Ad Here" billboard.
• Texans: Similar situation in Houston, where the Texans were in the market for a sponsor but so far haven't found one, so they're using a team logo patch as a placeholder.
And as long as we're talking about practice, there's also a new development in college football, where several adidas-outfitted schools are wearing new practice jerseys featuring the company's ubiquitous three-stripe motif. Schools that have been spotted wearing this template so far include Kansas, Wisconsin, Notre Dame, Indiana, Michigan and Tennessee.
Meanwhile, Under Armour has come out with its own practice jersey template, which is now being worn by South Carolina and Texas Tech.
And hey, we haven't even discussed practice pants yet. You might not care about them, but the NCAA actually imposes sanctions against teams that wear the wrong ones. And what is the penalty for wearing the wrong pants at practice? You don't get to practice. Unless the NCAA changes its mind and lets you practice after all.
All that fuss about practice. Not a game, not a game, not a game, but we're talking about practice, man. How silly is that?
And Speaking of Silly …
Enough of this practice stuff -- you want to see real game uniforms, right? So Uni Watch has a real treat for you: the
inaugural uni designs
for the new
United Football League
(additional photos available via
this page
). You'd think a league whose name begins with "Uni" would be able to do better than just using
the same template and color palette
for all four teams, but then you'd think a real league would have more than four teams to begin with. Take a good, long look at these while you can, because they probably won't be around long.
Paul Lukas will provide full breakdowns of this season's new college and pro football game uniforms in early September. His Uni Watch blog is here, and his Uni Watch glossary is here. Want to learn about his Uni Watch membership program, be added to his mailing list so you'll always know when a new column has been posted, or just ask him a question? Contact him here.
ESPN.com
Sports journalism's foremost uniform reporter
ESPN.com columnist since 2004
Also blogs at uni-watch.com