Commentary
Looking back on MLB's future
Originally Published:
August 20, 2009
By
Paul Lukas
| Page 2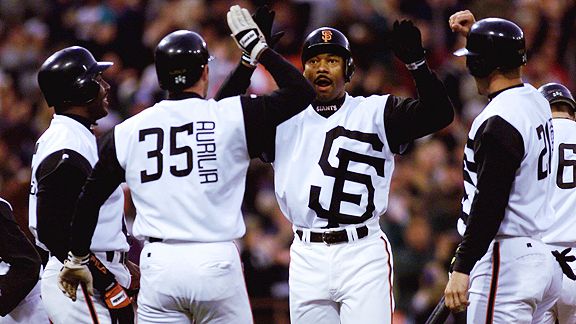 AP Photo/Susan RaganWith vertical letters and giant logos, Major League Baseball boldly went where no league had gone before.
It's hard to remember this now, but 10 years ago everyone was all worked up about the impending turn of the millennium. And "everyone" definitely included the folks at Major League Baseball, which had seen the future and decided that it looked seriously weird.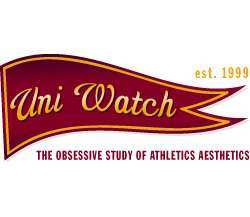 This was MLB's now-infamous "Turn Ahead the Clock" promotion (or TATC for short), which was produced in conjunction with the real estate company Century 21. In case you're too young to remember, or have simply purged the entire affair from your mental hard drive, here's the deal: During the second half of the 1999 season, 14 games involving 22 teams were designated for a "futuristic" treatment. The year would be 2021. Scoreboard graphics were updated, P.A. announcements were filtered to sound all sci-fi-ish, and some teams even put little inflatable aliens in the stands or Wookiees in the dugout. But all of that was overshadowed by the gonzo uniforms, most of which featured massive logos (apparently everyone in the future will have really bad eyesight) and vertical typography.
[+] Enlarge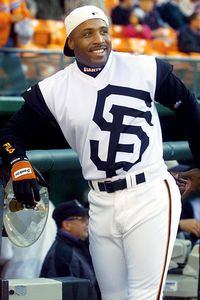 AP Photo/Susan RaganIf the federal government has its way, this isn't the uni Barry Bonds will be wearing in the future.
Reaction was swift, and mostly negative. As the promotion unfolded and the uniforms looked more and more bizarre, everyone from local newspapers to "SportsCenter" was asking the same question: Whose bright idea was this?
Ten years later, we finally have an answer: "It was my idea," says Steve McKelvey, who teaches sports marketing at UMass. And if you think he's here to apologize, forget it. In fact, McKelvey's primary regret about the TATC program is that the uniform designs were too tame.
"If we'd been able to do it the way we wanted to, the uniforms would have been more futuristic," he says. "But MLB wanted to control the uniform design, control the brand, so we lost control of that. That was their decision. They didn't want to step outside the box too much. So we'd have to try to suggest things that wouldn't provoke some level of push-back about making the uniforms too crazy."
To understand how designs like this and this could be considered inside the box, we need to backtrack a bit. In 1998, McKelvey was working for a sports marketing agency and one of his clients was Century 21, which was looking to invest in a sports sponsorship. With the world on the cusp of the 21st century, the calendar provided a perfect tie-in between Century 21's name and a futuristic promotion. So McKelvey, taking his cue from a one-game TATC event that the Mariners had staged in 1998 (full details on that game are available here), came up with the TATC program, and the rest is history. Or the future. Or something.
[+] Enlarge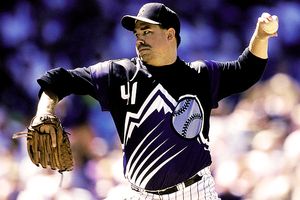 Brian Bahr/Getty ImagesThe Rockies get props for not being as horrible as possible.
At the time, the uniforms garnered near-universal scorn (including a memorable "SportsCenter" rant from Rich Eisen and some choice words from a new newspaper column called Uni Watch). And yes, much of that criticism was deserved. Ten years later, though, the whole affair seems more like a harmless lark. Or to put it another way, wouldn't the world be a duller, less interesting place if these uniforms had never existed?
And some of the uniforms were actually good. OK, pretty good. OK, interesting. With the benefit of a decade's worth of hindsight, here are Uni Watch's favorites:
1. Rockies. Despite all the purple, there's no getting around it: The Rockies' design was by far the most intriguing of the bunch. Instead of taking the default route of enlarging their cap logo or their jersey script, they enlarged a portion of their team mark, and the results were pretty cool (even if the design looked a little out of place on an old-schooler like Jim Leyland).
2. Diamondbacks. Gotta love the wraparound snake concept, although the rear view was compromised a bit by the name and number typography.
BUT WAIT! THERE'S MORE!
Can't get enough Turn Ahead the Clock info? Go back to the future with these links:
• Here's a quick list of TATC fun facts.
• TATC video footage is rare. But if you're willing to squint at a ridiculously tiny video player, there are three TATC highlight clips available here, here, and here.
• How did the players feel about the futuristic uniforms? Read some of their reactions.
• And the full transcript of Uni Watch's interview with TATC pioneer Steve McKelvey is here.
3. Mets. Not content to be the New York Mets circa 2021, the Metsies upped the ante by dubbing themselves the Mercury Mets, "making their only Earth appearance" (just as well, since they got thumped by the futuristic Pirates, 5-1). "Frankly, they did it the way it was supposed to be done by all the teams," says McKelvey. Maybe so, but Uni Watch still gets occasional e-mails from fans asking why the jersey design featured "that female symbol with the devil horns." The answer, of course, is that that's the symbol for the planet Mercury, but the Mets didn't hand out astronomy primers to the crowd that night.
4. Cardinals. In the future, birds will be robotic (and perch on aluminum bats, apparently). Amusing concept, except maybe for the local chapter of the Sierra Club. The only downer: The robotic details were hard to make out on the jerseys, especially from a distance.
5. Brewers. Funniest design of the bunch, because the Brew Crew put a throwback logo on their futuristic uni. Made zero sense, but anything that gets Beer Barrel Man on a jersey -- and a cap! -- gets the thumbs-up from Uni Watch.
But the uni designs were just one part of the TATC project -- a project that was turning out to be trickier than McKelvey and Century 21 had expected. For starters, some teams didn't want to participate. "The older franchises and, frankly, the ones that didn't have any problems selling seats, those were the toughest ones to convince," says McKelvey. "We had markets that Century 21 wanted to be in, and the teams didn't want to do it. They thought it was gimmicky, and they were like, 'I'm not gonna change our uniforms.'" (One such team, unsurprisingly, was the Yankees. When asked why the Yanks weren't wearing the futuristic uniforms, George Steinbrenner reportedly said, "We already are.")
[+] Enlarge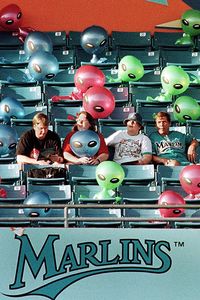 Rhona Wise/Getty Imagesthe truth is out there ... in the future only aliens will go to Marlins games.
Then again, maybe it was better that some teams opted out of the promotion, because McKelvey already had his hands full. "It was a real challenge from an execution standpoint," he recalls. "Putting the schedule together was a nightmare, and then negotiating all the components. I mean, we were signing off on some of these things probably in June! Russell [MLB's uniform manufacturer at the time] was making the uniforms on almost a per-week basis at one point. 'What game do we have this week? OK, we'll make those uniforms. What's next week?' Like that. It's no way to run a ship, but it is what it is."
So when the uni designs began to garner negative reviews, McKelvey was too busy managing the program's day-to-day operations to respond. "The weak link was really the PR," he says. "We had a game practically every three days, so it was moving so fast that it was tough to stop the train and say, 'OK, what do we need to do here to refocus the media and turn this around so it's a positive?'"
Putting a positive spin on a matchup like this may have been wishful thinking (it even looks bad from a distance), but McKelvey's basic point is echoed by Steve Savino, who was Century 21's senior marketing vice president at the time. "A team doesn't like it when you disrupt their routine, and that's what you're doing when you change their uniform for the night," he says. "With better planning, maybe it would have been a little smoother."
[+] Enlarge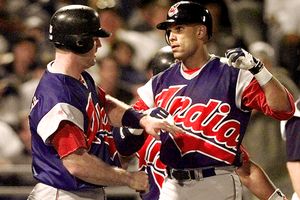 AP Photo/Fred JewellThese Cleveland unis did serve one purpose -- they clearly repelled midges.
As for the uni designs, Savino (who now runs marketing seminars and teaches at Lehigh University) is unrepentant. "I don't feel we were so 'out there' that it was embarrassing for the players or anything like that," he says. "In hindsight, we could have done this through the entire baseball season, from April all the way to October, so it had more continuity."
OK, everyone, back away from the ledge -- he was just speaking hypothetically. In all seriousness, though, Savino thinks the futuristic designs were, well, ahead of their time. "Look at what's happening today: You can buy jerseys and caps in all sorts of colors that a team never wears," he notes. "You can buy a pink Yankees jersey, or a red Yankees cap. So we're moving in that direction anyway."
And besides, the mere fact that we're still talking about the TATC series is some sort of validation right there -- a fact not lost on McKelvey. "It was voted one of the 10 worst promotions of all time," he says with a certain degree of pride. "And if I'm up there with Bill Veeck and Disco Demolition Night, that's OK with me."
(Special thanks to Trevor Williams and Bill Henderson for their research assistance.)
Paul Lukas suspects he is one of the very few people who own the two TATC style guides (and no, they're not for sale, so don't bother asking). His Uni Watch blog is currently on summer break, but you can still check out his Uni Watch glossary. Want to learn about his Uni Watch membership program, be added to his mailing list so you'll always know when a new column has been posted, or just ask him a question? Contact him here.
ESPN.com
Sports journalism's foremost uniform reporter
ESPN.com columnist since 2004
Also blogs at uni-watch.com