Commentary
Better to look good than feel good?
Originally Published:
August 31, 2009
By
Paul Lukas
| Page 2
With a career .094 average, Chicago Cubs pitcher Ryan Dempster isn't exactly known for his hitting. But he became a batting pioneer of sorts Saturday, when he became the first major league baseball player to step up to the plate wearing the new Rawlings S100, a batting helmet that can withstand the impact of a 100 mph pitch -- a major improvement over the 70 mph protection provided by Rawlings' current MLB helmets.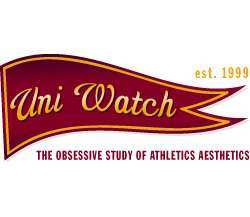 All MLB players will have the option to wear the S100 by Sept. 10. Sounds good, especially given
the surge in hit batsmen
and all the recent concern about concussions, right? Just one problem: As you can see in
this video clip
(if you get a short commercial, just wait it out -- the video clip is worth it), the S100 is larger than Rawlings' other MLB helmets, with a
wider crown
and
more padding
, and has led to lots of griping from players who don't want to wear something they think looks goofy.
It's worth remembering that MLB players have some funny ideas about what does or doesn't look goofy, but never mind that for now. As S100 prototypes have made the rounds in MLB clubhouses, the negative feedback has ranged from the diplomatic (Mark Teixeira: "The one I've used for my entire career is fine") to the emphatic (Jeff Francoeur: "No, I am absolutely not wearing that. … We're going to look like a bunch of clowns out there") to the succinct (Brian Schneider: "It is pretty hideous-looking"). As for Dempster, he described the new helmet like so: "It felt like my own bobblehead day today. I have a big enough head as it is. They could probably see that from the top of the Sears Tower."
And what if you don't have a big head? According to A's equipment manager Steve Vucinich, "When you put it on a guy with a small face, there's something that really looks like he's a 'special' child of some sort."
"We were prepared for that," says Rawlings marketing executive Mike Thompson, presumably referring to the negative reaction in general rather than Vucinich's critique in particular. "Look, when helmets were first introduced, nobody wanted to wear them, but they came around. And when the earflap was invented, that was seen as a monumental move, but now everyone wears it."
And hey, it could've been worse. "We had a 90 mph helmet about 10 years ago, and it was much larger than the S100," says Thompson. "Really, anyone can make a 100 mph helmet -- just make it bigger. The challenge is to get this thing down to where it's a manageable size, and we think we've done that here."
So how big is it? Rawlings says the S100 is only half an inch wider and three-quarters of an inch longer than the company's standard MLB helmets. A quick check of the Uni Watch tape measure suggests that it's actually a bit bigger than that (see chart below), but numbers can't tell the real story here. How much bigger does it look?
Tale of the tape
| Measurement | Standard helmet | S100 helmet |
| --- | --- | --- |
| Side to side | 7 7/8 inches | 8 3/4 inches |
| Front to back | 11 1/4 inches | 12 5/8 inches |
| Circumference | 26 1/4 inches | 30 3/4 inches |
| Weight | 15 ounces | 1 pound, 6 1/2 ounces |
To help answer that question, Rawlings obligingly sent three helmets to Uni Watch Laboratories: one standard (that's the basic model worn by all players through 2005 and still worn by some of them today), one Cool-Flo (that's the newfangled version with the side vents and reptilian crown, which was introduced in 2006 and is now worn by a majority of players), and one S100.
The most obvious difference between the three helmets is on the inside, where the S100 has loads more padding -- the other two lids look like cheapo Helmet Day giveaways by comparison. The payoff for all that padding is that the S100 clearly looks plus-sized, especially when viewed from above.
Personally, Uni Watch doesn't think the larger silhouette is such a big deal. Did Dempster look a little bubble-brained? Yeah, but not radically. Same goes for players in the Aflac All-American Baseball Classic, a high school all-star game played in mid-August: All the players had to wear the S100 -- not so bad, right? And besides, the S100's vents and crown are a lot less annoying than the Cool-Flo's. So when you toss in the added protection factor, what's not to like?
REVISITING THE PROCAP
Nobody understands the conflict between style and safety better than former Buffalo Bills defensive back Mark Kelso. After he suffered several concussions in 1990, Buffalo's training staff insisted that he start wearing the ProCap, a super-geeky helmet attachment that made him look like the Great Gazoo.
Kelso now credits the ProCap with extending his career and letting him play more aggressively without fear of injury, but he wasn't exactly a big ProCap fan at first. "After the first day, I came home from practice and told my wife, 'I have to wear this thing, and it looks ridiculous,'" he recalls. "She said, 'It can't possibly look that bad.' So I took her to the locker room that night and I put it on, and she fell on the ground laughing." He ended up taking plenty of verbal abuse from teammates and opponents, too. "I can remember a game when Boomer Esiason was under center and looking at me and just laughing."
The original version of the ProCap was later streamlined, so it didn't look quite so dork-o-rama. But Kelso, who now coaches at a high school outside of Buffalo, can understand how even the smallest doofus factor could be a deal breaker for an MLB player assessing the new S100 batting helmet.
"I'm sure baseball players are no different than football players," he says. "They stand in front of the mirror to make sure they look cool, they make sure their armband is exactly an inch and three-quarters below their elbow, or whatever. Believe me, they're going to weigh aesthetics over protection almost every time." Of course, we're talking about a sport in which many players have a rather skewed concept of aesthetics, so it's tough to gauge how they'll react to the S100.
Meanwhile, the ProCap (which was also worn by 49ers lineman Steve Wallace, Colts lineman Randy Dixon and a handful of others in the 1990s) has become somewhat legendary among uniform aficionados, who revere it as unique blip on the uni-history radar. It remains to be seen whether the S100 will achieve a similar status.
-- Paul Lukas
But ballplayers tend to be creatures of habit, not early adopters, especially during the stretch run of a pennant race. Speaking of which, why is MLB introducing the helmet so late in the season? Why not just wait until next year?
"The original plan was to unveil it next year during spring training," says MLB spokesman Matt Bourne. "But if we can get it to them sooner and provide more protection, why wait?" Seems sensible enough, especially given that David Wright and Ian Kinsler were both hit in the head by pitches on Aug. 15 (which, in an eerie coincidence, was one day before the 89th anniversary of the only fatal beaning in MLB history).
Wright had already expressed a willingness to wear the S100 even before his recent beaning and has confirmed that he'll be wearing it when he comes off the disabled list this week, so he's probably destined to become the new helmet's poster boy. It's not yet clear who else will be wearing it, although Rawlings says Ichiro Suzuki has expressed an interest. No word yet on whether Kevin Youkilis has tried to throw one at a pitcher, but expect him and lots of other players to weigh in over the next week or two.
A few other S100-related factoids:
• The new helmet will be available in the Arizona Fall League this autumn. Minor leaguers will be required to wear it beginning next year.
• Single- and double-earflap models of the S100 are available, but Rawlings hasn't produced a flapless version yet, so catchers and base coaches don't have the option of wearing it, at least for now.
• There are no plans to eliminate either of the two other MLB helmet models, so all players will be able to choose from the standard, Cool-Flo and S100.
• The S100 has a raised ridge in the back that seems to lend itself to a two-tone color design. So will we see more teams dabbling with color combinations, like the Rangers' failed experiment from last winter? "Our primary focus is on making the helmet available to players in the original design," says Bourne, the MLB spokesman. "If the club wants to ask for a change, they can." Translation: The Mets will do something embarrassing, like they always do, but most of the other teams will play it straight.
Of course, even the most outlandish paint job won't amount to much if the players don't wear it. But Mike Thompson over at Rawlings isn't too worried about that. "We're not trying to push this down anyone's throat," he says. "Our job is to provide the safest available helmet. After that, it's out of our hands."
In other words, we all know it's better to look good than to feel good, but the players will have to decide for themselves whether that includes the feeling of being hit in the head by a big league fastball. As for Thompson, he'll feel good either way: "If you don't want to wear the S100, you're not breaking my heart, because you're still wearing a Rawlings helmet." Spoken like a true marketer.
Blast from the really ugly past
An interesting pair of listings appeared on eBay last week, offering game-worn jerseys from San Jose State's notorious 2001 season, when the Spartans wore arena-esque uniforms designed by a short-lived company called 4-PlayersOnly.com. The uniforms often show up on "Worst Uniforms Ever" lists (were they advertising a local tattoo operation called San Jose Tat?) and have achieved a "So bad they're good" status among uni fans. Uni Watch had never seen any of these jerseys offered for sale, but the eBay seller was offering several home and road jerseys. Where'd he find them?
The seller turns out to be a 26-year-old San Jose resident named Charles Myer, who's been a big Spartans fan since the mid-'90s. "I always wanted one of those jerseys for myself," he says. Myer's taste in apparel may be questionable, but you can't knock his persistence: After searching high and low for about six years and coming up empty, he sent a note to San Jose State's athletic director, asking if they still had any of the 2001 jerseys. The AD forwarded his request down the line, and it turned out that the team had more than a dozen of the jerseys just gathering dust. Pay dirt!
Myer initially just purchased a couple for himself. "But then I thought it could be a good way for me to make a few extra bucks," he says. So he ended up buying about 15 of the jerseys for between $60 and $80 apiece, depending on their condition, and has been offering them for sale on eBay, craigslist and SJSU message boards. (His eBay listings were noted last week on the Chris Creamer message boards, which is how Uni Watch became aware of them.) As of this writing, all he has left are three of the road whites.
The funniest thing about all this is that Myer, who works as an administrative assistant, thinks the jerseys look great. "I always liked them," he says. "I didn't know they had a cult following."
Paul Lukas considered taking an S100 down to his local batting cages and sticking his head in front of a few pitches, just to see how the new helmet held up, but thought better of it. If you liked this column, you'll probably like his Uni Watch blog and Uni Watch glossary, too. Want to learn about his Uni Watch membership program, be added to his mailing list so you'll always know when a new column has been posted, or just ask him a question? Contact him here.
ESPN.com
Sports journalism's foremost uniform reporter
ESPN.com columnist since 2004
Also blogs at uni-watch.com