Commentary
College football uniform preview
Originally Published:
September 3, 2009
By
Paul Lukas
| Page 2
The last time Oregon played Boise State -- or, really, the last time Oregon played anyone -- it was pretty obvious which team looked like clowns.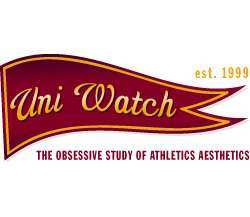 But that won't be the case when the Ducks and Broncos kick off the college football season Thursday night in Idaho. For starters, the Broncos' home uniforms have gone from bad to worse -- like, a lot worse. (There are plenty of additional photos here, if you dare. Oh, and things should look pretty bizarre in the stands, too.)
Meanwhile, a funny thing happened on the way to this year's college football season: The new Oregon uniforms turned out to be pretty good -- or at least not nearly as bad as the previous set. Do they still have too many mix-and-match combinations? Yup. Do they still have a lot of silly gimmicks? Sure. But you can't even read that center helmet stripe from a distance, so it's pretty harmless. And if you don't like the wings on the shoulders, consider this: If that design had been worn by some team in the 1940s, we'd all be hailing it as an old-school classic and begging someone to revive it as a throwback. Look, they're called the Ducks -- why not put wings on their shoulders? Sure beats the diamond-plate pattern they've been wearing for the past few years. Meanwhile, no more yellow helmet, no more yellow pants, and no more vertical "Oregon" word mark on the thigh -- that's a whole lot of addition by subtraction. Need more convincing? Check out this photo gallery.
Imagine that -- the Ducks will actually be the better-dressed team for many of their games this year. None of this season's other uni-related news items can top that bombshell, but there are still dozens of design revisions to catch up on. So here's Uni Watch's annual back-to-school breakdown of FBS uniform changes, broken down by conference (with the usual proviso that a few schools may have flown under the radar -- if so, we'll cover them in next week's column):
ACC
• Clemson has traded in its thin pants striping for a more classic design. Word on the street is that coach Dabo Swinney wanted to go with a more traditional look for the jerseys as well, but they had already been approved for production, so expect that change to come next year. Meanwhile, it's hard to see, but the tiger's paw helmet logo has gotten a bit larger.
• Florida State will go with solid white on Sept. 26, marking the first time the team has ever worn white at home.
• Another color change for Georgia Tech, where last season's athletic gold has been replaced by the more muted Vegas gold. Looks as if they've made changes to the pants striping, too.
• The Virginia Tech Hokies once again will don white for their home opener, scheduled for Sept. 12. This time, the white uniforms will be paired with 1966 throwback helmets, which should look totally cool.
Big 12
• If you had a uniform as perfect as this one, why would you mess with it? Unfortunately, that's what Baylor has done. Depressing details here.
• Iowa State, which had been NNOB (that's "no name on back," for those of you who don't speak uni), is now going with player names.
• No new uniforms at Kansas, but the Jayhawks have a a new field design. Additional photos here.
• Nebraska will mark the occasion of Memorial Stadium's 300th consecutive sellout by wearing 1962 throwbacks on Sept. 26. The pants are pure white, no piping, as you can see here.
• Texas will wear throwbacks for the Longhorns' Thanksgiving Day game against Texas A&M. Further info here.
Big East
• Louisville changes its uni just about every year, but it still comes out looking too choppy every time. Compare last year's to this year's -- a minor improvement, but nothing to get excited about. Lots of additional photos here.
• Nike is in and adidas is out at Pitt, and it's hard to argue with the results. The clunky chest word mark has been replaced by a much smaller collar mark. (Eliminating the word mark altogether would be even better, but at least now it's a manageable size.) Uni Watch also prefers the new white-outlined numbers to last year's white drop-shadow, and the road jersey and pants striping look sharp, too. More photos here, and additional info here.
• Interesting changes over at UConn, where the big chest word mark and busy design have given way to a more streamlined approach. Additional photos here.
Big Ten
• Indiana will wear a 125th-anniversary patch.
• Notice anything new for Iowa? It's subtle, but the old chest word mark has been replaced by the tiger hawk logo at the base of the collar. (Speaking of which: There's a really good article about the guy who created that logo here.)
• Minnesota has a new stadium, and that means a new jersey patch. Too bad about the circle-R service mark symbol next to the "M" logo -- most patches dispense with those kinds of legalistic gewgaws.
• After a 15-year absence, player names are being restored to the jerseys at Purdue.
• Unfortunate move at Wisconsin, where the team's "W" logo has been added above the jersey nameplates, a classic "We did it because we can" move that's completely unnecessary and never looks good. Disappointing.
Conference USA
• Southern Miss always has looked loud, and now it looks as though it'll be even louder. You can see how the pants will look here.
Independents
• Pretty rare to see a football team wearing mismatched sleeve patches, but that's what Navy is doing. That's the Marine Corps logo on the left sleeve and the Naval Academy's anchor logo on the right. Further details here.
Mid-American
• Central Michigan has switched from New Balance to adidas. The new color scheme swaps the old brass tone for a straightforward gold, which makes CMU look very Minnesota-esque.
• Back to basics for Miami University, where the comic book look has been replaced by an old-school design (lots of additional images here, and more info here). Also: The school has a new centennial logo, which will be worn as a rear-helmet decal.
Mountain West
• Minor changes for Air Force, but nothing to get excited about either way. Oh, but the new pants have a lightning bolt, and lightning bolts are always cool, so let's call it an upgrade.
• New Mexico has scrapped the old Miami template and is going with a more traditional look. Lots of additional images here and here.
• Every year, Wyoming tries to find a way to make brown and yellow look good together. And every year, it fails (although, to be fair, this year's version is better than last year's).
• Small changes have been made to Utah's helmet logo. Compare the circles and the feathers.
Pac-10
• Major downgrade for Arizona State, where the white outlining on the jersey typography has been replaced by black outlining. Uni Watch doesn't like all that unnecessary piping, either -- feh.
• Cal is yet another school where player names have been restored to the jerseys.
• The Ducks aren't the only Oregon-based team with wings on their shoulders. Over at Oregon State, Nike has been experimenting with some new thread patterns that look a lot like feathers (further info in this short video clip). Hard to say how this will play out -- it's just in the developmental stage -- but let's keep an eye on it.
• UCLA will wear 1967 throwbacks for the Bruins' homecoming game, slated for Nov. 7 against Washington. Details here.
• Lots of changes for Washington. The rounded numerals have been replaced by classic block numbering, the solid-gold pants now have stripes, the white road jersey now has lots of extraneous trim on the sleeves, upper chest and collar, the purple road pants have been scrapped and there's a new white pants option. Lots of additional photos here and here.
• Not to be outdone, Washington State has lots of changes, too, including new striping on the pants and sleeves, no more script "Cougars" on the home helmet, no more word mark on the home jersey, lots of gray accenting, and other small changes throughout. Plenty of additional photos here and here.
SEC
• See anything unusual here? Duh, come on, it's so obvious! If you compare the rounded "O" in this photo from last year to the more squared-off "O" in that first shot, it appears that Florida has made a slight adjustment to its nameplate font. Jeez, people, it's as plain as Charlie Weis' third chin, wake up!
• For Georgia's home opener on Sept. 12, the Bulldogs will honor Georgia National Guardsmen deployed in Afghanistan by wearing a helmet decal showing the insignia of the 48th Brigade Combat Team.
• Small change at LSU, where they've added initials to the jersey chest.
• Mississippi State has gone from a traditional look to something a bit more newfangled. There are plenty of additional photos here and here, plus there's a video clip of the uni unveiling and some extra info.
• There's been a lot of chatter about Tennessee possibly going with a black alternate jersey. Fortunately, that move isn't happening any time soon.
WAC
• New Mexico State is replacing its white helmet with a really plain-looking red design. According to this article, the new lid will include a rear decal featuring the logo of the 2nd Engineer Battalion out of White Sands, but no visual of that yet.
• New road uniforms for Utah State, which is switching from this to this. The big news is that the team name on the back of the road jersey, a longtime Utah State trademark, is being replaced by player names. Meanwhile, the home uniform, which has nothing on the back besides the uni number, remains unchanged.
Finally, one additional change that could potentially affect any game on the schedule: Color-on-color games are now allowed. The NCAA rule change requires teams to petition their conferences for official permission on a game-by-game basis, but at least one conference, the ACC, has amended its regulations to allow teams to make the arrangements among themselves for conference games. Uni Watch likes this idea -- the long-standing color-on-white rule is a remnant from the days of black-and-white TV, and we all know how good an all-color game can look. Should be interesting to see how this plays out.
That's it for now. Know of any FBS uniform changes that Uni Watch overlooked? You know what to do.
(Major thanks to all readers who've contributed college football news in recent months, and especially to Uni Watch bench coach Phil Hecken for his photo research.)
Paul Lukas will cover all of this season's NFL uni changes next week. If you liked this column, you'll probably like his Uni Watch blog and Uni Watch glossary, too. Want to learn about his Uni Watch membership program, be added to his mailing list so you'll always know when a new column has been posted, or just ask him a question? Contact him here.
ESPN.com
Sports journalism's foremost uniform reporter
ESPN.com columnist since 2004
Also blogs at uni-watch.com
2009 College Football Preview

Will Florida repeat as BCS champion? Which teams will surprise? Who'll walk away with the major awards? ESPN.com's 2009 college football preview has the answers.
The National Scene
Big 12 Preview
ACC Preview
Notre Dame, MAC & Sun Belt Preview
SEC East
SEC West
Pac-10
Big East
C-USA, MWC and WAC Preview
Big Ten Preview