Commentary
Uni Watch: Comprehensive NFL preview
Originally Published:
September 9, 2009
By
Paul Lukas
| Page 2
The NFL preseason is finally over, and now we're playing for keeps. No more jersey typos, no more inconsistent collar colors, no more George Halas initials on the right sleeve instead of on the left where they belong, among several other uni glitches that showed up during the preseason.
Actually, the regular season will probably have its own share of uniform hiccups. But there's going to be so much other uni-related stuff going on that you may not even notice.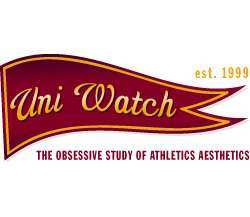 The big news is the AFL Legacy program, which will feature the original AFL franchises wearing 1960s throwback uniforms when playing each other. The Bills and Titans (who used to be the Oilers) already wore the old AFL threads for the Hall of Fame Game in August (and so did the officials!), and there will be 16 more of these retro-on-retro games during the regular season, including next Monday night's game between the Pats and Bills.
Of course, we've all seen throwbacks on the gridiron before. But this AFL program has a few new wrinkles:
• For starters, both teams will be wearing the old-school designs for all of the AFL Legacy games, which looks so much better than when only one team does it.
• This means all of the participating teams will need to have road throwbacks in their wardrobe -- something we don't normally see. The Bills, for example, have been wearing this design for two home games per season for a few years, but now we'll get to see the road version as well.
• The NFL normally limits teams to only two alternate or throwback games per year. But due to the AFL Legacy program, several teams will be suiting up in the old designs three or even four times this year. Basically, it's going to be a very retro-flavored season (especially since several non-AFL teams will also be unveiling new throwbacks, but we'll get to those in a minute).
So that's the framework. Here are the participating teams and how they'll look:
| Team | AFL uni | Notes |
| --- | --- | --- |
| Bills | Home, road. (The road pants were originally going to have wide-spaced stripes, but they've apparently scrapped that idea.) | Is there anybody -- like, on the entire planet -- who prefers this over this? Just go with the throwbacks full-time already, jeez. |
| Broncos | Home, road, helmet. | Yes, they're going with the vertically striped socks. (For more info on that infamous uni element, see the sidebar below.) |
| Chargers | Home, road, helmet. | Now if they'd just go back to the yellow pants. |
| Chiefs (dressing as the Dallas Texans) | Pretty much the same as their current uniform, except for the Texans helmet. | Having the state of Texas depicted on the helmet has created a bit of a kerfuffle in KC. |
| Jets (dressing as the Titans of New York) | Home, road. | The Jets have been wearing Titans throwbacks at home for a few years now, but this is the first time they've had a road version. |
| Patriots | Home, road, helmet. (Sure, they could have reached even further back into their history and worn this helmet design, but it's hard to argue with Pat Patriot.) | Speaking of Pat Patriot, he's also being featured this season in a series of throwback program covers at Gillette Stadium. Very cool. |
| Raiders | Home, road, helmet. | Oh, come on -- that's almost the same uni set they wear today. If they really wanted to do something interesting, why not go back to the Raiders' very first uni design, from 1960? |
| Titans (dressing as the Houston Oilers) | Home, road, helmet. | How is it possible that the NFL still hasn't scheduled the Tennessee Titans to play the Jets wearing their Titans throwbacks? Titans vs. Titans! |
| Officials | AFL officials wore red stripes back in the day, so the officials in the throwback games will wear similar gear, although the color is orange. | The referee will wear an orange cap; the other officials will wear white caps. |
| Coaches | Coaching staffs are being outfitted with gear featuring muted colors and faded-looking logos. | Of course, some coaches look the same in any era. |
As you probably noticed in those photos, the throwback jerseys feature a chest patch. That's the AFL anniversary logo, which will worn by all teams in the AFL Legacy games.
So that covers the AFL program. What about all the other games? Here's Uni Watch's annual survey of what you can expect to see on the field, broken down alphabetically by team:
• No uni changes for the Bears, but it's worth noting that they recently demoted rookie fullback Will Ta'ufo'ou to the practice squad, which unfortunately means we won't be seeing this amazing nameplate on the field, at least for now.
• The Bills have a team anniversary logo, which they're wearing as a patch. And safety Donte Whitner plans on wearing a pink mouthguard this season as a memorial gesture to his grandmother, who recently died of cancer.
BRONCOS GO VERTICAL
When word came out last year that the original AFL teams would be wearing throwbacks this season, uni aficionados were all asking the same question: Will the Broncos have the guts to bring back their vertically striped socks?
Here's the backstory: In 1960 and '61, the Broncos wore repurposed uniforms that had originally been used for a college game called the Copper Bowl. The brown-and-gold design was accented by some clownish-looking striped hose (to get the full garish effect, check out this photo gallery). The socks were despised by the players and were later burned at a public bonfire, cementing their legendary status. One surviving set is now enshrined in Canton.
But would the Broncos dare to wear the socks as part of the AFL anniversary celebration? The answer came a few months ago, when team executive Jim Saccomano unveiled the team's throwback gear, striped hose and all. In fact, he confirmed that they'd have two sets of striped socks -- one for home games and one for the road. Soon after that, Brandon Marshall demonstrated that the socks look just as, uh, unique today as they did in 1960 (although that may turn out to be the only time he gets to wear them). Can another bonfire be far behind?
Probably not, because the socks are now being viewed as more of a fun novelty than an eyesore. In fact, the team's marketing department is actually using the socks as promotional giveaways for suite-holders and advertising clients.
"At first, they were definitely eye-catching and a little surprising," says Erica Turk, the Broncos' coordinator of corporate partnerships. "But now that we've seen them on one of the players, they're so much fun! I've got a pair sitting on my desk right here."
Kudos to the Broncos for embracing their history, even the unsavory parts. The only problem is that they haven't made the socks available for sale on the Internet, where they'd no doubt become a cult phenomenon. They are for sale, however, at the Invesco Field team shop, where assistant buyer Wes Cardenas reports that they've been a fairly brisk seller. "Some people put them on before they even leave the store," he says. "They've heard about them, they've heard stories that their granddad told them, and now they're finally getting to see them. So it's a very positive curiosity that draws people in."
One such person is Craig Dodge, who recently picked up this pair. "Even at $14.99, I had to have them," he says. That last photo probably qualifies as too much information, but Dodge has earned the right to wear the striped socks -- just look at the name of his blog.
Want to mail-order your own pair? Contact the Broncos shop at (720) 258-3300.
-- Paul Lukas
• The Broncos have an anniversary logo as well, which they're wearing as a jersey patch for non-throwback games.
• What can brown do for the Browns? That's the question in Cleveland, where the Brownies have had brown pants in their wardrobe for years but up until now had worn them only once, for a preseason game against the Giants last year. But there's been lots chatter about new head coach Eric Mangini's possibly reviving the brown britches for road games this year. Sure enough, that's what the Browns wore for their first and last preseason games (with striped socks, too -- a major improvement over the brown-on-brown leotard look from that '08 game). It's not yet clear whether they'll wear the brown knickers during the regular season, but we should find out Sept. 20, when they visit Denver for their first road game.
• Hmmm, wouldn't a Creamsicle taste good right about now? The Bucs will be wearing those orange throwbacks, complete with Bucco Bruce on the helmet, for their Nov. 9 matchup against the Packers. Further info here.
• Another team with an anniversary logo: the Chargers. Here's how it looks as a patch.
• The Chiefs have already been wearing that Lamar Hunt memorial patch (which looks a lot like the AFL anniversary patch) for several years now. They'll keep wearing the Hunt patch for non-throwback games; plus, they've added a team anniversary patch on the other side.
• No uni changes for the Cowboys, at least on game day, but Wade Phillips has decreed that the team will now color-coordinate its practice attire.
• The Eagles have added a "JJ" helmet decal in memory of defensive coordinator Jim Johnson, who passed away in late July.
• Remember this look? Even if you don't, the Falcons are bringing it back for two games this season -- Sept. 20 against the Panthers and Nov. 29 against the Bucs. Looks good, right? Lots of additional photos here and here.
• The 49ers don't have a throwback uniform per se, but they've used the Montana era as the inspiration for their new retro-ish helmet and pants. In general, it looks sharp. But see how everyone's sleeve stripes appear to be bunched up, as if the sleeve were getting snagged around the shoulder pads? It's not the sleeves -- it's the stripes, which don't wrap all the way around. Looks really weird. Aside from that, though, Uni Watch counts this as an upgrade.
• The Giants are using a new jersey fabric and a new tailoring template, which has resulted in some small changes that Uni Watch doesn't like. Let's start with the NFL Equipment logo, which used to be positioned on a red triangle of fabric at the base of the collar. That red triangle has now been eliminated, and the logo has been lowered down beneath the collar. As you can see, that means the NFL logo and the team's "ny" logo are now stacked too close together and are also too close to the uni numbers. There's a similar problem on the back of the jersey, where there's a horizontal seam right where the players' names used to be. So they've had to lower the names (which are now sewn directly onto the jersey -- no more nameplates) and now they're too close to the uni numbers. Pfeh.
Meanwhile, equipment manager Joe Skiba has announced a change in pants protocol: When the Giants are forced to wear blue jerseys on the road -- like when they play in Dallas, say -- they'll wear these gray pants (which had previously been worn only with the white jersey) instead of these gray pants (which had previously been worn with the blue jersey, whether at home or on the road). You might ask, as Uni Watch has, why they need two different sets of gray pants to begin with, but that's another issue for another day.
• Sad news in Jacksonville, where the Jags have ruined one of the league's best designs by adding pointless stripes to the jerseys and pants -- a major downgrade that looks even worse on the field that it did at the unveiling a few months back. As for the color-shifting helmet, which looks either black or green depending on how the light hits it, that's fine (and so is the small change they've made to their helmet uni numbers), but the rest of the changes are a classic case of fixing something that wasn't broken.
• The Jets have a 50th-anniversary logo, but they're not wearing it. They're sticking with their usual team logo patch for non-throwback games.
• What do you do for an encore after going 0-16? If you're the Lions, you unveil a new uniform, naturally. Uni Watch is fine with the new helmet and pants piping, doesn't care for the new jersey (is that uni number typeface a joke or what?), and can't get excited one way or the other about the new socks. But at the end of the day, they still look like the Lions, for better or, uh, you know. Meanwhile, Detroit is also wearing two memorial decals: "RS" for security director Ricky Sandoval and 93 for player Corey Smith. Details here.
• The Packers have added small uni numbers on the back of the helmet. Uni Watch believes this is the first time a team has put two-digit numbers in the center of a helmet stripe. Too bad -- the old style of putting the numerals outside the stripe looked better.
• The Patriots are yet another team that'll be wearing an anniversary logo as a chest patch.
• The Rams will mark the 10th anniversary of their Super Bowl XXXIV championship by wearing throwbacks Oct. 11 against the Vikings and Dec. 20 against the Texans. Too bad they didn't schedule the throwbacks for Nov. 22, which is when Kurt Warner and the Cardinals will be in town -- a major missed opportunity.
• The Raiders have a "95" helmet decal for Marquis Cooper, who died in March; plus, they're wearing this logo as a patch.
• Truth May Be Stranger Than Fiction Dept.: Back in the spring, Uni Watch pulled an April Fool's gag by reporting that the Seahawks were going to unveil a lime green alternate jersey. It was a total hoax, and Uni Watch copped to it the following day. More recently, however, there's been persistent chatter suggesting that the green jerseys might actually be for real. One reputable league source tells Uni Watch the green jersey "has definitely been in the works -- I've seen it" but isn't sure whether it will actually be worn on the field. Another league source "can't confirm one way or the other." The team, meanwhile, has failed to respond to repeated inquiries. Draw your own conclusions.
• Steve McNair finished his career in Baltimore but spent the bulk of it in Tennessee, so the Titans are memorializing him with a "9" decal (which they're also wearing on their Oilers throwback helmet). Meanwhile, the Titans have a 50th-anniversary logo, but they aren't wearing it as a patch. Instead, they're wearing the AFL anniversary mark, even for their non-throwback games.
• No uni changes for the Vikings, but several fans have noted that Brett Favre began the preseason wearing his usual Riddell helmet but then switched to a Schutt model, which has a slightly wider crown, no center ridge and a blank nose bumper. No, Uni Watch doesn't really care about any of that either, but Brettmania apparently knows no bounds.
One additional note that could affect many games next month: October is Breast Cancer Awareness Month, and the officials will mark the occasion by wearing pink ribbons on their caps. Expect to see other pink accessories -- some on the players, some on the coaches -- as the month progresses.
Finally, the start of the NFL season always seems to prompt many of the same uni-related questions, so Uni Watch has put together a little refresher course to help get your head back into NFL mode -- enjoy.
College football follow-up
Last week's college football uni roundup of FBS schools missed a few items, so let's play catch-up:
• Akron, whose jerseys previously had player names on the back, is now going name-free.
• If Arizona's helmets look a bit more sparkly, that's because the Wildcats have added metallic flake to their helmet paint, creating a glitter effect.
• Florida appears to be using a new jersey tailoring template, featuring a side panel with a different shade of blue. Last year, the side panel matched the rest of the jersey.
• Last week's column mentioned that Georgia would be wearing a helmet decal honoring the 48th Infantry Brigade Combat team for this Saturday's home opener. But we didn't have a photo of the decal -- until now.
• Nothing confirmed yet, but there's lots of chatter about Kentucky possibly wearing a black alternate for homecoming (which happens to fall on Halloween). Stay tuned.
• Louisiana Tech will break out the red alternate jerseys on Sept. 30.
• Marshall is going with green helmets.
• The Michigan State helmet now has a little state of Michigan decal on the back, intended as a gesture of state solidarity during the economic downturn.
• Middle Tennessee State will go with a blackout uniform for Saturday's home opener against Memphis.
• SMU wore its red jerseys for the first time ever last Saturday. The "FG" patch is for special teams coach Frank Gansz, who died earlier this year.
• All SEC teams are now wearing a redesigned conference patch.
Thanks to everyone who contributed info. Know of more changes that weren't covered here or in last week's column? Send your contributions (FBS teams only, please) here.
Paul Lukas will have to come up with a more outlandish April Fool's joke next year. If you liked this column, you'll probably like his Uni Watch blog and Uni Watch glossary too. Want to learn about his Uni Watch membership program, be added to his mailing list so you'll always know when a new column has been posted, or just ask him a question? Contact him here.
ESPN.com
Sports journalism's foremost uniform reporter
ESPN.com columnist since 2004
Also blogs at uni-watch.com
2009 NFL PREVIEW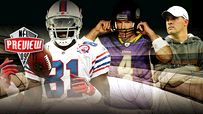 POWER RANKINGS
COMMENTARY/BLOGS
TEAM PREVIEWS
BACKUP QB PLANS
RANKING TODAY'S QBs
Wednesday, Sept. 2: We turned to a former Super Bowl-winning QB to provide a unique take on today's bunch. Trent Dilfer
HOW THEY DO IT
Thursday, Sept. 3: Breaking down AFC offensive, defensive philosophies. Scouts
Friday, Sept 4: Breaking down NFC offensive, defensive philosophies. Scouts
PREDICTIONS
10 BIG QUESTIONS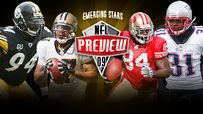 EMERGING STARS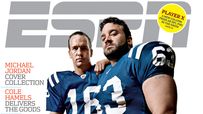 ESPN THE MAGAZINE (INSIDER)
PAGE 2