Commentary
Uni Watch: Comprehensive NHL preview
Originally Published:
September 30, 2009
By
Paul Lukas
| Page 2
It happens every year: You're all pumped up for October baseball, you've finally broken in your favorite sofa cushion for Sunday football viewing, and then you suddenly see a bunch of guys scooting around on skates and you're all, "What the hell is that?"
That, dear reader, is hockey, and it has sneaked up on us yet again. Fortunately, Uni Watch is here at the ready, poised to break down all of this season's uniform changes and other aesthetic adjustments. So with the NHL season set to begin Thursday night, grab yourself a hat to throw onto the ice (or an octopus, if you're from Motown), and let's get started: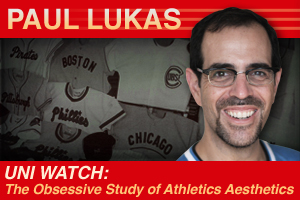 • No official confirmation on this, but reliable sources indicate that the Avalanche will unveil an alternate jersey in November, and that it probably will look something like this. Uni Watch loves the sleeve stripes, hates the diagonal insignia (the Rangers should have an exclusive on that), and hopes reeeaaaally hard that they don't actually put the team name on the back of the collar.
• The good news in Chicago is that the Blackhawks have scrapped their black alternate uni. The better news is they're replacing it with last season's Winter Classic jersey. Plus they've changed their center-ice red line from solid to checkerboard, which Uni Watch counts as an upgrade.
• The Bruins will host this season's Winter Classic, which will be played on New Year's Day at Fenway Park. They'll wear a hybrid throwback jersey for the occasion, with double-striped socks. (Team exec Cam Neely explains the various elements and details in this video clip.) A bit of a hodgepodge, but still pretty sweet.
• The Canadiens' centennial celebration, which began last season, is still ongoing. So they'll have two more throwback uniforms this fall, plus they'll still wear a 100th-anniversary shoulder patch for nonthrowback games. But this season's patch is based on a much softer logo design than last season's, which makes the patch look more like a smudge.
• It'll be Christmas on St. Patrick's Day for the Devils, who will bring back their old red-and-green uniforms as a throwback design on March 17.
• Promising development at The Pond, where the Ducks have come up with an interesting red line design and, more importantly, changed their center-ice icon from the "Ducks" word mark to the "D" logo. Now if they'd just make that same change on their jerseys. (Do you know of other NHL teams that have changed their center-ice designs? Send info here.)
ESPN.COM SEASON PREVIEW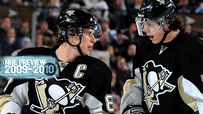 Check out ESPN.com's 2009-10 season preview package, including videos and breakdowns on each of the 30 teams
by Scott Burnside and Pierre LeBrun.
ESPN.com 2009-10 season preview
• Uni Watch: All about NHL goalies
• Gallo: NHL season overview
• The Flames are celebrating their 30th anniversary in Calgary with a throwback alternate jersey (additional info here, and there's a video of the unveiling here). They also have a rather clunky anniversary logo, which looks even clunkier when it's worn as a patch. On the plus side, those weird diagonal sock stripes, which looked particularly bad from the back, have been replaced by standard wraparound stripes.
• Jersey-designation switcheroo in Philly, where the Flyers have flip-flopped their home and alternate jerseys. Meanwhile, the Flyers will be the visiting team at the Winter Classic, where they'll wear Bobby Clarke-era throwbacks. Looks great, until you see those black nameplates on the back. Ugh -- major buzz kill, no?
• The Maple Leafs will once again host the annual Hall of Fame Game, which will take place on Nov. 7. The visiting team this year will be the Red Wings, and both teams will wear Hall of Fame patches for the occasion.
• Nothing official yet, but a little birdie tells Uni Watch that the Oilers may redesignate their alternate throwbacks as their primary home uni in the near future. Stay tuned.
• Speaking of staying tuned, word on the street is that the Panthers will have a new alternate jersey, but the team so far has done a good job of keeping the design under wraps. Curses!
• Hey, who knew Taylor Swift was a hockey fan? That's the Predators' new alternate jersey, which made its impromptu debut during Swift's Sept. 12 concert and was then officially unveiled five days later. It's a surprisingly traditional-looking design, aside from the subtle checkerboard background near the hemline and on the shoulder patch. Is that supposed to be a NASCAR shout-out or what?
• No, the Red Wings haven't changed their player name font. They use that style every preseason, but they'll go back to their usual vertically arched lettering now that the regular season is starting.
• The Thrashers have a really awkward-looking 10th-anniversary logo, which they'll wear as a helmet decal. (And let's all be glad it's not a jersey patch.)
• The Wild continue to rank among the league's best-dressed teams. The latest evidence: their new alternate uniform, which is a beauty, eh? Yeah, the jersey script is more baseballish than hockeyish, but it still feels like an instant near-classic. Lots of additional photos here.
• October is Breast Cancer Awareness Month, so it's time to break out those Hockey Fights Cancer decals, which all players once again will wear on their helmets throughout October.
• The league is once again sending four teams overseas to open the season in Europe. The Red Wings and Blues will play a pair of games this weekend in Stockholm, and the Blackhawks and Panthers will do likewise in Helsinki. Look for those teams to wear these logos as jersey patches.
• Hey, is that a new officiating jersey? Yes. This new design debuted in last season's All-Star Game and is now being used full time. Uni Watch doesn't love it (the new uni numbers are particularly underwhelming), but overall it's no big deal either way.
That's it for all the uniform news. But goalies are a separate category unto themselves, and many of them have new masks. Keeping up with all of them is well-nigh impossible, even for Uni Watch, but here's a sampling of new paint jobs from around the league:
Craig Anderson, Avalanche: Your basic abominable snowman cartoon treatment. Predictable but fun.
Martin Biron, Islanders: Nice nod to Isles goaltending history here, as Biron is featuring a shout-out to Billy Smith. Further details here.
Yann Danis, Devils: Delivery of Danis' new Devils mask was delayed, so he had to begin the preseason wearing his old Islanders mask with the team logo taped over. His new mask finally showed up last week -- turned out it had been sitting in a shipping office in Montreal for nearly two weeks.
Ray Emery, Flyers: Emery, a big boxing fan, likes to feature famous fighters on his headgear. So now that he's with the Flyers, he's showcasing Philly boxing legends Joe Frazier, Bernard Hopkins and Rocky. And in a bit of overbranding, note that the horns on the forehead area of his mask match the horns on his new leg pads.
Johan Hedberg, Thrashers: His nickname is Moose, he absorbs pucks like a sponge and hockey players wear squared-off pants. Add it all together and you get the season's goofiest mask design. Can a Cartoon Network cameo be far behind?
Cristobal Huet, Blackhawks: Hey, is that an overhead shot of a basketball net? Nope -- it's a dream catcher. Super-cool, but can a dream catcher catch pucks?
Brent Johnson, Penguins: Johnson, a huge Led Zeppelin fan, has used LedZep imagery on his masks before, so it's no surprise that he's going with a "Stairway to Heaven" motif.
Nikolai Khabibulin, Oilers: Now that he's with Edmonton, Khabibulin is using his mask as a tribute to Grant Fuhr.
Pascal Leclaire, Senators: Sort of a Senator-on-steroids theme. Details here.
Brett Leonhardt, Capitals: Leonhardt isn't actually on the Caps' roster -- he's the former Division III college goalie and Web site producer who got to suit up for half a period last season after a series of injuries and travel snags left the team short-handed. He had to wear his old college mask for pregame warm-ups, but he'll be ready with a shiny new Capitals mask if he's pressed back into service this season.
Henrik Lundqvist, Rangers: Very similar to what he wore last season, only now he has the Bauer logo.
Joey MacDonald, Maple Leafs, and Scott Munroe, Islanders: Here's a weird one: MacDonald and Munroe are both wearing paint jobs that pay tribute to Bunny Larocque.
Chris Mason, Blues: Mason's new mask features the statue of Saint Louis (King Louis IX of France). The little "Avery" notation at the center of his backplate refers to his daughter's name.
Steve Mason, Blue Jackets: Looks like a gorgeous Civil War motif -- nice.
Carey Price, Canadiens: Gotta love the tribute to Habs goaltending history on Price's new lid. The jerseys shown on the sides represent the defensemen who played in front of Ken Dryden and Gump Worsley.
Pekka Rinne, Predators: Looks like a downgrade from last season's design.
Vesa Toskala, Maple Leafs: Toskala appears to be wearing the same screaming skull motif from last season, only with a new sponsorship logo and a white cage.
Semyon Varlamov, Capitals: What do you do if you're a Russian goalie playing in America's capital city? You keep the embassy's number handy at all times go with a mix of Russian and American imagery, natch (even if it looks a little weird when viewed head-on). Embarrassingly bad video here.
But there's more to goalie equipment than just masks. What about all the new pads, blockers and catching mitts? Uni Watch will have bonus coverage of that gear Thursday.
Uni truth is stranger than uni fiction
As you may be aware, a certain football team recently generated a lot of buzz -- and maybe some nausea -- by wearing lime-green uniforms.
Oops -- sorry, wrong slide. Uni Watch was referring, of course, to Sunday's Seahawks debacle. OK, so they weren't quite that bright, but they weren't pretty. Or in the words of reader Aaron Bell, who sent a note to Uni Watch HQ shortly after the game started, "Why are the Bears playing against a bunch of crossing guards?" (Incidentally, if you thought the Seahawks looked bad, potentially worse things are in store for the NFL this weekend. For details, scroll down to the lower-left corner of this page.)
As some of you may know, there's an interesting backstory here: Back in the spring, the Uni Watch Blog reported that the Seahawks would be unveiling a neon-snot jersey. It was an April Fools' joke -- a complete Photoshop fake -- and Uni Watch admitted as much the next day, but the story went viral anyway. It eventually died down, but then several media outlets revived the story a few months later, and it became impossible to tell who was simply repeating the old rumors and who was reporting new information. The Seahawks, meanwhile, stayed mum about the whole thing.
By the time the season opened, Uni Watch had heard from credible league sources that the green jersey would be a reality. Was the team inspired by the April Fools' hoax, or did the hoax just happen to match up with plans that the team already had in place?
Either way, Uni Watch's take is as follows: If you're determined to wear something really stupid, you deserve to wear something really stupid. No law against it (although maybe there should be).
Meanwhile, Uni Watch promises to fabricate a more useful hoax in April, such as the onset of world peace or no-cal ice cream.
Update that Rolodex
Uni Watch has a new e-mail address. So if you're contributing any uni-related observations or photos, the place to send them is now uniwatching@gmail. com. Thanks.
Paul Lukas lives in Brooklyn, so he was excited to see this new hockey stick brand showing up in preseason NHL games (but was then disappointed to learn that the company is actually located in Staten Island). If you liked this column, you'll probably like his Uni Watch blog and Uni Watch glossary too. Want to learn about his Uni Watch membership program, be added to his mailing list so you'll always know when a new column has been posted, or just ask him a question? Contact him here.
ESPN.com
Sports journalism's foremost uniform reporter
ESPN.com columnist since 2004
Also blogs at uni-watch.com