Commentary
NFL election and rejection
Originally Published:
October 15, 2009
By
Paul Lukas
| Page 2
Since the dawn of time, humankind has wrestled with the great existential questions. What is the meaning of life? Why are we here? And, most vexingly, which NFL teams have the best and worst uniforms?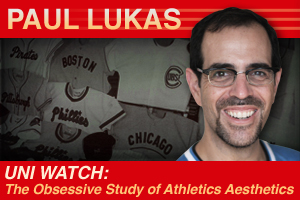 We're going to attempt to answer that last one now -- or, rather, you're going to answer it, because on Thursday we're running ESPN's first-ever Uni Watch NFL Poll, in which you'll be able to vote on a variety of NFL uni issues, including the league's best and worst uniform sets, the best and worst of this season's AFL throwbacks, and a lot more.
A smaller version of this poll -- think of it as the primary before the general election -- recently ran over on the Uni Watch Blog (a daily supplement to the column that runs here on ESPN), and nearly 2,000 readers ranked each NFL team's home uniform on a scale of 0 to 5. Numbers were crunched, pie charts and bar graphs were rendered, pizzas were ordered and consumed. And when the dust settled, the best and worst NFL uniforms, as selected by Uni Watch Blog readers, looked like this, with the Bears on top and the Bills bringing up the rear. (If you're a serious data fiend, the results have been broken down in truly remarkable detail in this PDF and this PowerPoint file.)
Now, it's hard to argue with those results. The Bears do look awesome; the Bills do look awful. But of course ESPN's readership is a lot larger than the Uni Watch Blog's, plus the blog readers tend to be die-hard old-schoolers who prefer traditional, whereas the wider ESPN audience probably encompasses a broader range of tastes. So a full-fledged ESPN poll will most likely give us a different outcome.
Or will it? Let's find out.
• You can start by ranking all the basic NFL uni sets. That poll is here.
• When you're done with that, please do the same thing for all of this year's AFL throwbacks. That page is here.
• And then finish things off by answering a dozen crucial uni-related questions. You can find those here.
Remember, unscientific internet polling democracy doesn't work unless you participate, so start voting now, and use the "E-mail" tab at the top of this page to forward the poll to other likely voters. We'll tally the numbers and give a full analysis of the results in the next Uni Watch column. OK? OK!
(Special thanks to Phil Hecken, James Huening and Adam Walter, who coordinated the blog poll.)
Paul Lukas firmly believes that if you can answer the "Who has the best and worst uniforms?" question, the other existential questions take care of themselves. If you liked this column, you'll probably like his Uni Watch blog and Uni Watch glossary, too. Want to learn about his Uni Watch membership program, be added to his mailing list so you'll always know when a new column has been posted, or just ask him a question? Contact him here.
ESPN.com
Sports journalism's foremost uniform reporter
ESPN.com columnist since 2004
Also blogs at uni-watch.com