Commentary
Uni Watch NBA preview
Originally Published:
October 26, 2009
By
Paul Lukas
| Page 2
Notice anything unusual in this NBA preseason photo? What about this one? Or this one?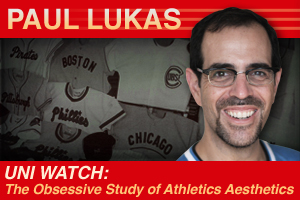 Duh, it's so obvious: The rim design has been updated for this season. Look, it's like night and day!
OK, so the rim update is actually pretty subtle, but that should give you an idea of how comprehensive Uni Watch is being with this year's NBA season-preview column. New uniforms, new compression undergarments, new warm-up gear, new throwbacks, new court designs, the new rim -- it's all covered here.
So let's get to it. With the regular season due to tip off on Tuesday evening, here's what you can expect to see on the court:
• Unfortunate downgrade for the Bobcats, who have a new pinstriped uni set (here's the rear view). When will the NBA learn that pinstripes don't make sense on players who are already 37 feet tall? Even worse, Charlotte's NASCAR alternates now feature checkerboards and pinstripes, which is really pushing it. Meanwhile, the road uni is now blue instead of orange -- probably an improvement when viewed in a vacuum, but does the league really need another team wearing blue on the road?
• The Cavs have an anniversary patch, plus they'll periodically be wearing a late-'80s throwback, which will make its on-court debut on Dec. 2. In addition, they're featuring another "Cav Fanatic" mix-and-match throwback, just like last season. This time around it's the late-'80s design in 1970s colors -- weird but kinda cool -- which is slated to be worn on Jan. 10 and 21.
• If you can get all worked up one way or the other over the Grizzlies' new alternates, then you're way ahead of Uni Watch. And really, enough already with the shimmer fabric. On-court debut: Oct. 28.
• The trend toward abbreviations and nicknames continues, as the Hawks are adding an "ATL" road alternate uni, which will make its game debut on Nov. 26. Unfortunately, they can add all the alternates they want, but nothing can hide the fact that this uni set is utterly characterless.
• The Heat have made three small changes to their shorts, so pay attention. First, the old format of having the NBA logo on the left leg and the team logo on the right leg has been reversed (that's so the shorts match up with the jersey, where the NBA logo appears on the right-chest area). Second, the team logo on the red alternate shorts has been changed from the flaming ball to the flaming "MH." And third, team logos have been added to the waistband on all three shorts designs.
• Remember back around 1981, when the Jazz wore green road uniforms? Right, neither does anyone else, but you'll get a memory jog when when the team breaks out these awesome green throwbacks on Dec. 4.
• The Kings are wearing a 25th-anniversary patch. Here's a really nice close-up of it.
• Fabric change for the Knicks, who are changing from an open-hole mesh to a flat-back mesh, although you won't be able to tell unless you have a courtside seat. Who makes that kind of decision anyway? "In this case it was the equipment manager," says NBA apparel director Christopher Arena. "He felt the color wasn't holding up well enough in the laundry with the open-hole mesh."
• As per recent custom, the defending champions -- in this case, the Lakers -- will wear a special patch for their home opener, when their championship banner will be raised. They'll also have commemorative warm-up outfits and other gear for that game, which will be on Oct. 27.
• Mid-'90s pinstriped throwback set for the Magic. Yes, we've all seen that throwback before, but there's no denying that it looks better than their current road uni. On-court debut: Dec. 2.
• The Mavericks have a new blue alternate uni. It's basically the same as the team's P. Diddy alternate, but with a different color scheme, plus the uni numbers are now in the team's standard number font. Here's the rear view, and there's a video of the unveiling here. On-court debut: Oct. 30.
• The Nets have scrapped their blue "New Jersey" road uni and have promoted their garish red "Nets" uni from alternate to road status -- a bad move aesthetically and, as it turns out, politically.
• Last year the Nuggets wore green jerseys as an environmental-awareness thing. That initiative has been retired for this season, although a broader uni-based environmental program may be put in place for 2010-11.
• The Pacers are adding a memorial patch for longtime co-owner Mel Simon, although they haven't worn it during the preseason.
• Two uniform memorials for the Pistons: They're wearing a jersey patch for Hall of Fame coach Chuck Daly, and they've added "Mr. D" to their rear collar for Hall of Fame owner Bill Davidson. The Daly patch is just for this season, but the Davidson memorial is a permanent addition to the uniform -- the first permanent memorial in NBA uni history.
• Clever move by the Raptors, who are honoring Toronto's hoops heritage with 1946-47 Toronto Huskies throwbacks (for more on the Huskies, look here and here). Yes, the design is pretty plain, but hey, a Toronto throwback could've been much worse. Now let's hope they make use of the Huskies' old logo, too. On-court debut: Dec. 8.
• New alternate uni for the Rockets -- not bad, right? Additional photos here and here, and there's a really good article about how the design was developed here. On-court debut is slated for Nov. 6.
• Good news in Philly, where the Sixers have switched to a really nice retro-ish uni set. They've also resurrected their old ball-shaped logo, which will appear on the new shorts. Meanwhile, the team's alternate road uni has been mothballed. Further details here and here.
• Uni Watch knows this is hard to believe, but there was once a time when the numbers and letters on the Timberwolves' jerseys were actually legible. And they're proving it by adding this throwback design, which will make its on-court debut on Dec. 5.
• Has an announcer's signature phrase ever been the basis of a uni design before? That's the situation in Portland, where the Trail Blazers have introduced a "Rip City" alternate design that looks pretty sweet. (Don't know what "Rip City" means? Look here, and then check out the jersey's special tagging.) The plan is for the team to wear it only a couple of times -- once on Nov. 6 and again much later in the season -- but Uni Watch has a feeling we may see more of this one due to popular demand. Also: The Blazers will have a 1975 throwback in this season's rotation. On-court debut for that one is scheduled for Dec. 5.
• The Warriors have a great uni history that presents all sorts of intriguing throwback possibilities, but here's one you probably didn't see coming. Simple but cool, and dig the little arrow on the shorts logo patch! On-court debut: Dec. 3. (Looking ahead, a small item buried within this interview with team president Robert Rowell and GM Larry Riley indicates that the team will get a design makeover next season. Uni Watch has seen the preliminary mock-ups and can say with a fair degree of certainty that you will not be disappointed.)
• You won't have the Wizards' two-tone alternate uni to kick around anymore -- they've scrapped it.
• Several teams will once again be wearing green for St. Patrick's Day: the Bulls, Raptors and Celtics (who always wear green, natch, but the gold accenting is special for the holiday).
• The Knicks aren't on the St. Paddy's list this year, because they don't have a game scheduled for March 17. But they're playing at home against the Heat on Christmas Day, so they'll wear their green set and Miami will wear their red alternates, creating a Yuletide tableaux on the court. And for the second consecutive year, all teams playing on Christmas will wear snowflake patches.
• Next March, the league once again will be running its Noche Latina promotion, which will feature seven teams wearing "El" and "Los" jerseys.
• Heritage Week will be Feb. 21-28, 2010. Expect to see lots of number retirements and anniversary celebrations during this period, and five teams -- the Celtics, Knicks, Lakers, Pistons and Rockets -- will be wearing special warm-up gear celebrating their championships. Mock-ups of all five designs are shown here.
• The replacement refs who worked the preseason wore the same officiating uniforms from last year. But now that the lockout has been settled, the refs will get new black-trimmed jerseys (they may look a bit goofy from the back, at least judging by this video game shot) and black slacks (the old ones were navy but were so dark that they basically looked black anyway, so the change is mostly moot).
• Personally, Uni Watch can't work up much enthusiasm over shooting shirts, but the league is very excited about these. Each team will unveil them around Christmastime, after which they'll be worn at least for weekend home games, and maybe more often than that. They'll all be white with team-color trim. OK, so we all know what this is about, so let's just roll our eyes all at once and move on.
• Many players will be wearing a new line of adidas compression tanks, shorts and calf sleeves. Adidas has an exclusive on the tanks and shorts -- players can wear other brands of calf or arm sleeves, but only the adidas gear can carry a manufacturer's logo or show the underlying "ribbing" technology.
• Plus, adidas is getting into padded compression layers for the first time. Players have been wearing this type of gear under their uniforms for years, but this is adidas' first foray into this product category.
• What's that tape strip on Kevin Garnett's leg and J.R. Giddens' knee? It's called kinesio tape, and the Celtics are apparently in love with it. So expect to see more of it in Boston, and don't be surprised to see it spreading throughout the league.
• You may have noticed some players wearing undersleeves during the Sun-Warriors preseason game on Oct. 10. That's because the game was played outdoors, so the players had special permission from the league to wear sleeves. Could this eventually lead to sleeves being allowed for regular-season games? Something to keep an eye on.
• Are you one of those people who like to keep track of court designs? You can see all 30 of this season's floor layouts here.
• And just to bring things full circle, here's something else about that new rim: The new version has breakaway functionality on the sides, instead of just on the front. Watch for it on dunks coming from the sides of the basket.
That should be enough to keep you busy for now. And there are some additional uni details still coming this season, including one absolute bombshell, but Uni Watch isn't at liberty to discuss any of that yet. Stay tuned.
Mark Your Calendars
The next Uni Watch party -- a chance to buy your favorite uniform columnist a few drinks mingle with fellow uniform enthusiasts and show off your favorite jersey -- will take place on Sunday, Nov. 15, 2 p.m., at Sheep Station in Brooklyn. Lots of you New York-area readers will be there, right? Right.
Paul Lukas will break down all of this season's college basketball uniform changes early next month. If you liked this column, you'll probably like his Uni Watch Blog and Uni Watch Glossary too. Want to learn about his Uni Watch membership program, be added to his mailing list so you'll always know when a new column has been posted, or just ask him a question? Contact him here.
ESPN.com
Sports journalism's foremost uniform reporter
ESPN.com columnist since 2004
Also blogs at uni-watch.com