Commentary
World Series rings, the real scoop
Originally Published:
October 30, 2009
By
Paul Lukas
| Page 2
As you've probably heard a few bazillion times by now, the Yankees have won 26 World Series titles. But here's a little-known tidbit: The Yanks have won only 25 sets of World Series rings.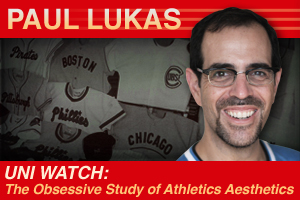 Why? Because the Yanks didn't start issuing championship rings until 1927. When they won the Series in 1923, their players received commemorative pocket watches.
That nugget of info comes from Adam Okurowski's new Web site, World Series Rings, which appears to be the first site ever devoted to this topic. It's a doozy, too: Okurowski covers all the team-issued World Series winners' rings since 1922, the vast majority of the league championship rings from that same period, lots of World Series ticket stubs and program covers, and some pre-1922 championship medallions and watches.
This is a good time to talk about championship rings. Not only are the Yanks and Phils competing for World Series hardware, but the Lakers received their NBA championship rings this week, and the Penguins got their Stanley Cup rings about a month before that. So after taking Okurowski's guided tour through baseball's version of the ring bling thing, here are some things that made an impression on me:
• I believe the '76 Cincinnati Reds are the only team to show the Commissioner's Trophy on the face of their ring. (Other teams have shown the trophy on the side.) Sort of odd to have one award depicted on another award, no?
• Amid all the huge, monolithic ring designs, I love the slim, asymmetrical look used by the 1929 Athletics.
PAGE 2 ON THE WORLD SERIES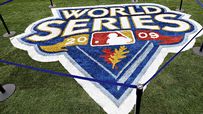 • Schoenfield: Yanks' titles ranked: 1-27
• Gallo: World Series photo captions
• Schoenfield: 27 World Series facts
• Lane: World Series celebrity report
• Schoenfield: Leave A-Rod alone!!!
• Caple: Kate Hudson's WS thoughts
• Lukas: The story behind the bling
• Werley: Yankees-Phillies family conflict
• Lane: Bride of the Yankees
Jim Caple's World Series video reports:
• Sabathia most pinstriped ever?


• Long-suffering Yankees fans


• Frightening welcome to Philly


• Who will be Mr. November?


• Hangin' with the Chinese media


• World Series trivia challenge

• There's something really nice about the catcher's mitt on the side of the 1922 Giants ring.
• Check out the Dodgers script superimposed on the globe on the side of Dem Bums' 1955 ring. Never seen that treatment of the Dodgers logo before. Looks like each player's signature was added on the other side.
• Love the depiction of Shea Stadium, with its trademark confetti panels on the side of the 1969 ring.
• And speaking of ballparks, check out how the Pirates worked Forbes Field into the face of the 1960 ring design.
• Just as computer-designed team logos look very different than team logos from the pre-digital age, some of the newer ring designs have a sterile, digital feel to them. Look at all the unnecessary elements here, for example -- way too busy.
• There's something oddly disturbing about Toronto's 1993 design. Looks like the blue jay took a huge bullet to the head or something.
• Some of the non-ring awards are amazing. I strongly recommend scrolling through all of them.
• Check out this tremendous program cover design from 1932.
• They used a very odd ticket stub design in 1966. If you look at the figures standing on the "field," it looks like 18 people: nine fielders, six umps, two base coaches and a batter? Are they all out there for the national anthem?
• And so on. Click around -- there's a lot to like on this site. And there'll be even more to like soon, because Okurowski says he plans to add entries for trophies like the Cy Young Award, Golden Gloves and more.
Paul Lukas tried on a few of these rings at a recent memorabilia show, but they were just a teeny bit too big for his hand. If you liked this column, you'll probably like his Uni Watch Blog and Uni Watch Glossary too. Want to learn about his Uni Watch membership program, be added to his mailing list so you'll always know when a new column has been posted, or just ask him a question? Contact him here.
ESPN.com
Sports journalism's foremost uniform reporter
ESPN.com columnist since 2004
Also blogs at uni-watch.com