Commentary
Uni Watch NCAA hoops preview
Originally Published:
November 9, 2009
By
Paul Lukas
| Page 2
When it comes to new uniform designs, sometimes the biggest story is about the uni that didn't get revised.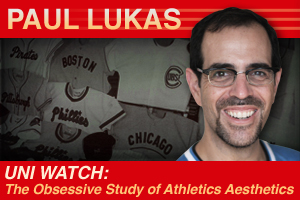 That's the case this year in college hoops, where NC State unveiled this new design in late August. It took about 0.00003 seconds for the uniform to be greeted with a near-universal chorus of complaint, and within a few days the NC State brass basically said, "Uh, never mind."
The phantom Wolfpack uni thus joins the ranks of such one-and-done classics as the 49ers' revised helmet (introduced at a press conference in 1991 and then withdrawn the next day after fans went ballistic) and the Phillies' solid-maroon alternates (slated to be worn on Saturdays in 1979 but abandoned after one game). And now that Facebook and Twitter have made instant fan feedback easier than ever, expect to see more designs prompting "On second thought ... " backtracking.
So NC State will be sticking with last year's design. But dozens of other schools will be showcasing new looks on the court this season. With the season set to tip off on Monday night and kick into high gear this weekend, here's an alphabetical breakdown of the schools Uni Watch has been tracking:
• No more throwbacks for Alabama, where last year's retro look has been replaced by a more mainstream look.
• Interesting move at Alabama-Birmingham, where the "UAB" chest insignia has been replaced by a "Blazers" wordmark, but the players are now wearing "UAB" on the back.
• Appalachian State has cut down on the gold trim. Here's the rear view.
• The Arkansas State logo that appears on the school's football helmets is now being used on the basketball jerseys.
• Auburn is changing its chest insignia from straight to vertically arched, among other changes. You can see the new road blues and orange alternates here.
• Cal has added some big, curved side panels, as you can see in these before-and-afters of the home whites, road blues, and gold alts. Uni Watch doesn't much care for this design style, especially after seeing this video game shot -- too swoopy.
• Cincinnati has changed its red shoulder trim to claw marks. Note the much more subdued side panels, too. Here's the rear view.
• Nice to see Clemson discarding those collarbone horns, but man, that new purple-and-orange collar design is brutal.
• The good news is that Colorado State no longer looks like a 1970s high school team. The bad news is that they now look like a 1980s high school team. Uni Watch isn't sure this counts as progress.
• Big upgrade at Creighton, which is going with a much cleaner look. Here's the rear view, a close-up, and a bunch of action shots.
• DePaul is now being outfitted by Nike, which has given the Blue Demons a serious modernization.
• Nike's System of Dress template continues to gain new converts, including East Tennessee State, whose look now features the SoD's characteristically tight-fitting jersey.
• Florida State is changing from an abbreviation to a spelled-out insignia. Looks nice, no?
• Georgia Tech is honoring its 1985 ACC championship team and its 1990 Final Four team by switching to a retro-themed design. That's the road uniform, but Uni Watch has been told that the home whites will be similar. In addition, the Yellow Jackets will honor the 50th anniversary of their 1959-60 squad -- the first Georgia Tech team to make the NCAA tourney -- by wearing throwbacks of this 1960 design for one game early in the season, and possibly one more time later on.
• Grand Canyon is looking to play with the big boys this year (new coach, seven D-I transfers, etc.), and part of that is that they've signed a deal with Nike. But they're still a small program, so they're wearing the Nike template that everyone else was wearing three or four years ago.
• Lots of changes for Idaho State, beginning with a new chunky-lettered insignia that looks great on the home whites and so-so on the road blacks. In other news, player names will be worn on the road but not at home (the team had previously gone without names for all games), the orange alternate uni has been discontinued, and all numbering and lettering is now sewn on instead of heat-pressed.
• Whoa, check out Illinois State's new retro look -- nice! Here's the road version.
• Iowa has new home whites, to match the style of the gold and black uniforms that were introduced last season.
• Iowa State has replaced its vertically arched gold lettering with a straight, white-outlined wordmark. Rear view here, and lots of additional photos here.
• Kent State is now wearing the System of Dress, which means the traditional tank-top jersey has been replaced by a tight-fitting sleeveless tee. Let's hope the new shorts aren't really as baggy as they appear to be in that photo.
• Lots of rumors that Kentucky might get a "special" uniform and a new LeBron sneaker design, but no confirmation yet. Stay tuned.
• Louisville seems to come out with a new design every season. This year's update isn't too drastic -- kinda makes you wonder why they bothered. As you can see, they've also made adjustments to the back of the jersey and the trim on the shorts.
• Marquette has been wearing the Converse brand in recent years. But now that alum Dwyane Wade has switched from Converse to Jordan, the Golden Eagles will do likewise.
• Slight upgrade for Miami (Ohio), who've made their lettering and numbering a bit more legible. That chest patch on the new jersey is for the school's bicentennial.
• Missouri State has traded in its curvy insignia for block lettering. Here's the road version.
• Nebraska has lots of little changes. Looks more traditional along the neckline, but the side panels are a bit more contemporary.
• Nevada Reno is another new System of Dress school, and the clean, simple look suits them nicely.
• North Carolina is celebrating the 100th anniversary of its basketball program this season and will mark the occasion by wearing a throwback based on the Tar Heels' 1957 design -- complete with the red trim! "It'll be worn at least once, but we're not sure when, or how often," says UNC media relations rep Matt Bowers. While we're waiting for them to sort that out, we can admire the centennial logo they've placed on the court at the Dean Smith Center.
• Northwestern is going for a slightly more modern approach. It wouldn't be so bad if not for that little chest logo, which is pushing the insignia and uni number down too low. Pfeh.
• Looks like Ohio is going with a somewhat more traditional look this year.
• Pacific's game against Cal on Dec. 9 will be played at the Stockton Arena -- the first Division I game ever played there, and the school's first home game in downtown Stockton in nearly 30 years. The team will commemorate all of this by wearing "Stockton" jerseys, instead of their usual "Pacific"-emblazoned gear.
• Pitt has changed from adidas to Nike, which means new uniforms. As you can see, the changes are pretty minor. Here's the side view.
• Providence has adopted Nike's System of Dress template, which makes for a much cleaner look than they had last year.
• Purdue wore two different sets of uniforms last year -- one for the first part of the season and another one later on. They'll wear the second set full-time this season. There's also been some Internet chatter about a gold alternate uni, apparently fueled by this replica jersey, but the school's athletic department says there are no current plans for that design to be worn on the court.
• Downgrade for Radford, which has gone from clean to clunky.
• Saint Louis is another System of Dress convert, which means they're tight on top and baggy on the bottom. Here's the rear view.
• New home whites for San Diego State. The new design matches the black road version from last year (which will be retained), plus there's a new red alternate.
• Serious makeover for South Carolina, which is going for a more contemporary look. Can't argue with putting such a cool word as "Gamecocks" on the jersey, but why scrap the garnet alternate uni and replace it with gray? Garnet is one of your school colors, while gray is just, you know, blah. See for yourself in this video clip.
• Southern Illinois is now being outfitted by Under Armour, and hard to argue with the results. Nicely done.
• Can a school's football program influence its basketball team's uniform set? Possibly, at least at Tennessee, where the football team's recent black alternate jerseys have led hoops coach Bruce Pearl to consider using a black uni on the court. Nothing definite yet, but something to keep an eye on.
• Texas A&M has made slight modifications to the collar and side piping. Last year's shoulder/armhole area was way too busy, so let's call this an upgrade.
• Tulane is going for a way more contemporary look, and it looks sharp -- a nice upgrade.
• UNLV's new uni set isn't bad, but that gray alternate on the right seems unnecessary, no? You can compare the before and afters for the home uni, road uni, side view and rear view. That number font looks a little iffy, eh?
• USF has switched from adidas to Under Armour, and Uni Watch really likes the new look. Here's the road uni, the gold alternate, the rear jersey design and the piping on the shorts.
• Utah has had the school name on the back of the jersey for the past two seasons, but this year they're bringing back the player names.
• UTEP is yet another team adopting the System of Dress. They've replaced their pickax logo with a "Miners" insignia on the home whites but have retained the logo on the road blues. The logo also appears on an orange alternate uni (sorry, no photo of that one).
• Small changes for Vanderbilt, mostly for the shorts and side trim. Lots of additional photos here.
• VCU is going to a heavier chest insignia and no collar trim. Here's the road uni and the rear view.
• Villanova made the Final Four last season, so the Wildcats are now a "Nike Elite" school. In uni terms, this means they've removed the "V" logo from their shoulder and replaced it with a medallion-"V" logo at the base of their collar (and although you can't see it in that photo, the Nike logo on the shorts is now outlined in gold). Here's the road version.
• Wake Forest and Xavier will play each other in the inaugural Skip Prosser Classic on Jan. 3 (additional details here) and will wear this logo as a jersey patch for the occasion.
• Washington has a new black alternate uni, and hoo boy is it a stinker.
• Lots of tweaks for Washington State, which is now being outfitted by Nike. You can compare the changes on the front (that new collar is weird, right?), back and sides.
• Another team adding a black alternate: West Virginia. Not really Uni Watch's thing, but the kids will probably like it. Interesting that they're just going with outlined numbers, instead of a solid color.
• Uni Watch doesn't much care for Wisconsin's new contrasting shoulder panels. Additional info, plus a glimpse of the road jersey, here.
• Several teams have new court designs, including Arizona (here's a video report), East Tennessee State, Marshall, Minnesota (check these cool construction photos and this video footage), Mississippi State, Notre Dame and Virginia Tech.
Do you know of other schools with new uniforms, patches or court designs? Send photos and links here, and we'll go over the additional changes in a week or so.
Oh, OK
Want to follow Uni Watch on Twitter? You can now do that here.
Party Reminder
Remember, New York-area readers, the next Uni Watch party will take place on Sunday, Nov. 15, 2:30 p.m., at Sheep Station in Brooklyn. Hope to see lots of you there.
Paul Lukas thinks some of this year's new uniforms are a lot worse than that NC State design. If you liked this column, you'll probably like his Uni Watch Blog and Uni Watch Glossary too. Want to learn about his Uni Watch membership program, be added to his mailing list so you'll always know when a new column has been posted, or just ask him a question? Contact him here.
ESPN.com
Sports journalism's foremost uniform reporter
ESPN.com columnist since 2004
Also blogs at uni-watch.com