Commentary
Grilling up the competition
Originally Published:
November 12, 2009
By
Paul Lukas
| Page 2
For the most part, there are two kinds of tailgaters: the ones who pick up a pack of hot dogs at the supermarket on their way to the game and the ones who put a little more thought and effort into their tailgating fare.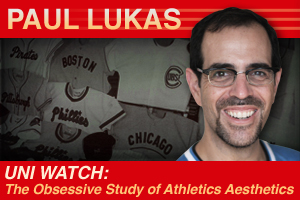 Bruce Richards definitely fits into the second group.
Richards, a 45-year-old urban planning consultant who lives just outside New Orleans, is an LSU season-ticket holder with an unusual tailgating routine: He matches his menu to the opposing team's mascot. So if LSU is playing the Florida Gators, Richards cooks alligator sausage. If they're playing the South Carolina Gamecocks, he cooks chicken. The idea is simple: Consume the opponent. Or as Richards' rallying cry goes, "Eat 'em up, Tigers!"
"I started doing it in the mid-'90s, when a co-worker and I were going to an LSU-Rice game," Richards says. "I came up with the idea that we were gonna eat 'em up. Rice's team is the Owls, and I figured 'Well, owls are the fowl,' so we made chicken. And it's sort of evolved from there."
But why stop with just one team-themed dish? Richards takes things a step further by working with his daughters to create desserts rendered in the opposing team's colors, and sometimes he adds side dishes into the mix. So for a recent game against Louisiana-Lafayette -- the Ragin' Cajuns -- Richards cooked Cajun andouille sausage and corn maque choux, and his daughters made a red velvet cake.
Of course, some teams translate to the menu a bit more readily than others. For the Arkansas Razorbacks, Richards cooks ham steaks, and any team named the Bulldogs calls for hot dogs. But what do you with, say, Vanderbilt, whose team is called the Commodores?
"Well, commodores are nautical, so we did tuna steaks and catfish filets," Richards says. "Basically, we do seafood for any nautical-sounding team name. Like Alabama, they're the Crimson Tide -- crimson is red and tide means water, so we grilled up some redfish."
This is the kind of obsessive project I can totally relate to (look, Richards even maps out his tailgating menus on spreadsheets!), so a few weekends ago I went down to Baton Rouge to check out Richards' tailgating scene in person.
The opponent that day was Auburn -- the Tigers. That's a tricky one, because (A) you can't cook a tiger, and (B) even if you could, LSU is also nicknamed the Tigers. Fortunately, Auburn's school mascot -- distinct from its team mascot -- is the war eagle. You can't cook an eagle, either, but you can cook chicken and call it war eagle. Richards even designed his own war eagle basting sauce jar, which you can see him putting to good use in this video clip:
The bird cooked up real nice, but nobody wants to eat chicken war eagle by itself, so Richards took the liberty of preparing a carrot-raisin salad, with the orange carrots and bluish raisins representing Auburn's team colors of navy and orange. Here's the proud chef describing this dish:
The showstopper was this blueberry pie, with a bit of food coloring added to the filling so it would match Auburn's proper hue of blue. The pie really reinforced the genius of Richards' "Eat 'em up!" concept: If your own team's logo had been expertly rendered in pie crust, you'd feel kinda bad taking a knife to it. But when it's the opposition's logo -- well, see for yourself:
For the record, Richards' friends cooked up some non-Auburn-related food, including shrimp, sausage and bacon-wrapped jalapeņo poppers (which turned out my-t-fine). It was all yummy, but there was something more conceptually satisfying about Richards' Auburn-tailored menu. A few hours later, as we sat in Tiger Stadium and watched LSU waltz to an easy 31-10 win, it was obvious that Auburn had been spiritually drained by having been eaten in effigy earlier in the day.
But eating surrogate war eagle is one thing. What about a team like Tennessee -- how do you eat the Volunteers? And what if LSU were hosting Wisconsin (the Badgers) or Minnesota (the Gophers)? Would Richards head out into the woods with a shotgun in search of the proper varmint to toss on the grill?
"Nah, for those we'd just make hamburgers," he said. "That's our catchall category -- when in doubt, grind 'em into burgers and eat 'em up."
The Minnesota and Wisconsin matchups are unlikely to occur, because you rarely see the SEC matched up against the Big Ten. But that raises another question: If conference affiliations were no barrier, which team would Richards most like to see on the LSU schedule?
"Oregon," he says without hesitation. "Definitely Oregon."
If that ever happens, I'm definitely going back to sample Richards' duck recipe.
Calling all stomachs
Speaking of the intersection of sports and food, reader Aaron Rich recently checked in with news of a ballpark feat called "eating for the cycle." He's written a detailed report on this phenomenon for the Uni Watch Blog -- check it out here. Fair warning, though: It's not for the faint of heart (among other organs).
Meanwhile, over on the gridiron
Expect to see lots of new college football uniforms in the next few weekends, because Nike has outfitted 10 teams with new designs for their rivalry games.
A few thoughts -- some good, some bad:
• Best uni element of the whole batch: the red stripes on the TCU helmet, which represents the blood that horned frogs shoot from their eyes when attacked. Clever.
• The Florida State design is mostly a train wreck (a solid-red uni with a black helmet -- ugh), but it contains the germ of a very good idea. The undershirt has FSU feather logos on the sleeves, which could provide a solution to one of modern life's great problems: the disappearance of football jersey sleeves and the corresponding de-emphasis on sleeve stripes and other sleeve graphics. Imagine if NFL teams went for this undershirt concept -- instead of nonsense like this, we could have real sleeves with real stripes, or at least a reasonable facsimile. (Special thanks to reader Rick Pearson for Photoshopping those sleeve concepts.)
• The Texas design has a little "DKR" hip patch, because the uni was conceived as a tribute to Darrell Royal.
• Each uni includes its own set of specially designed gloves, which fit together to form composite images. Cool idea -- until the 73rd time we see a player holding his hands up in front of the camera on Saturday.
• If you take a closer look at the Ohio State, Virginia Tech, FSU and TCU jerseys, you'll see Nike has added some weird Spirograph-ish thread pattern to the shoulder areas. This supposedly adds strength and reinforcement to the jersey, but let's get real: It's a branding signifier. Much like those disastrous orange-sleeved jerseys from 2005, the Spirograph shoulders are a way to tell everyone that these teams are really part of Team Nike. In addition to cheapening the individual schools' visual identities, this perpetuates the bogus notion that Nike is more important than the teams it outfits. Memo to Nike: The swoosh draws its legitimacy from the teams that wear it, not the other way around.
Not buying that Team Nike argument? Consider this: All these uniforms will be worn in games against non-Nike schools. Can't have a team playing against itself, after all. The most intriguing matchup is for Virginia Tech, which will wear its Spirograph uni against Maryland, an Under Armour school. The Terps will wear camouflage-accented jerseys as a nod to Veterans Day, which basically means both teams will be unrecognizable. As one commentator already has said, let the best marketing plan win!
College Hoops Update
In case you missed it a few days ago, the annual Uni Watch college hoops season-preview column
has been posted
. In addition to the 50-plus schools covered in that column, here are some additional teams with late-breaking uni changes:
American
,
Bowling Green
,
Charlotte
,
Georgetown
,
James Madison
,
LaSalle
,
Louisiana Lafayette
,
New Mexico
,
South Alabama
(here's the
rear view
),
Troy
,
Valpo
, and
Xavier
.
In addition: East Tennessee State has added a "43" memorial patch for former player Seth Coy, who died in a car accident during the offseason (plus sophomore Adam Sollazzo has switched from No. 20 to No. 43 in Coy's memory); Tennessee has added an "E" patch for for teammate Emmanuel Negedu, who recently collapsed during workouts due to a heart condition; CAA teams will be wearing this anniversary logo as a jersey patch; and GW has a new court design.
Got a college hoops uni or court change that wasn't covered in either of this week's columns? You know what to do.
Party Reminder
For you New York-area readers, we're convening a Uni Watch party this Sunday, Nov. 15, 2:30 p.m., at
Sheep Station
in Brooklyn. Toss on your favorite jersey and come have a beer with your fellow Uni Watch readers. See you there.
Paul Lukas was particularly fond of Bruce Richards' LSU-themed bottle of Maker's Mark. If you liked this column, you'll probably like his Uni Watch Blog, Uni Watch Twitter feed, and Uni Watch Glossary too. Want to learn about his Uni Watch membership program, be added to his mailing list so you'll always know when a new column has been posted, or just ask him a question? Contact him here.
ESPN.com
Sports journalism's foremost uniform reporter
ESPN.com columnist since 2004
Also blogs at uni-watch.com