Commentary
New Hornets uniforms salute Mardi Gras
Originally Published:
November 18, 2009
By
Paul Lukas
| Page 2
The uniform scene has certain rules. Rules such as, "simple designs are better than busy designs," "avoid gimmicks," "stay away from slang and abbreviations," and "purple sucks." OK, that last one is a certain uniform columnist's personal rule, but you get the idea.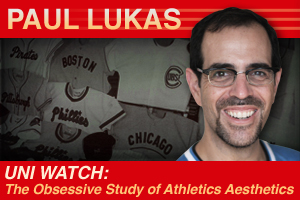 But rules are made to be broken. And the New Orleans Hornets are breaking a slew of them, in style.
Here's the deal: The Hornets just unveiled a new Mardi Gras uniform, which they'll be wearing for four games in February. And as basketball uniforms go, this one is totally the bomb.
Yes, it's super-busy. Yes, it's purple on one side and green on the other. Yes, it has a city abbreviation on the front. Despite all this -- indeed, because of all this -- it's an amazing design. Let's tick off the details:
• The "NOLA" insignia: Abbreviations on uniforms often feel like gimmicks, but the "NOLA" abbreviation totally works. For starters, it spells a word that you can actually say out loud (unlike some other abbreviations currently in NBA circulation), plus it's a term that that's part of the local culture, not a manufactured slang flavor of the month. So let's apply the time-honored Uni Watch acid test: Is it good or is it stupid? Good.
[+] Enlarge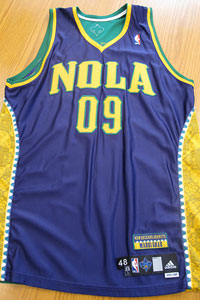 Paul Lukas/ESPN.com The Hornets' new Mardi Gras attire is definitely busy, but Uni Watch isn't afraid to say it totally works.
•
The stripe pattern:
See those little zig-zag/polka dot stripes that
wrap from the front to the back
? Take a closer look -- they're
Mardi Gras beads
! Totally cool.
Good.
• The side panels: The ornamental patterns in the gold side panels are based on New Orleans' rich heritage of wrought iron architecture, similar to the design used for the 2008 All-Star Game, which was played in New Orleans. Truth is, the patterns won't even be visible on TV, but it's a nice little bonus to know they're there. Good.
• The two-tone design: That '08 All-Star Game, incidentally, featured two-tone uniforms that looked, um, not so hot. Will the two-tone Mardi Gras uni look similarly garish? We'll have to see it on the court to be sure, but I have a good feeling about it. Purple and green are a standard Mardi Gras color combo -- if they're appearing all over the rest of New Orleans in early February, why not on the court too? Risky, but good.
And look, they're even using special tagging. OK, so maybe the trumpet logo on the butt qualifies as overkill, but that's a tiny quibble when you're dealing with a design as enjoyable as this one. Some traditionalists may not like it, but Mardi Gras is a giant party, and so is this uniform. Highest marks to the Hornets, the NBA and adidas for coming up with something that captures the spirit of America's most exuberant civic celebration. Mighty cooty fiyo!
College hoops update
OK, one last round of late-breaking college basketball uni updates. In case you missed the first two reports, you can find them here and here. In addition to the schools listed in those columns, we can now add Ball State; Colorado (that's a new silver alternate); Lamar; Milwaukee; New Mexico State; Saint Joseph's; Vermont; and Washington State (we'd already covered the primary uni changes but now it turns out there's a "Cougs" alternate).
In addition, Maryland is wearing a black shoulder strip in memory of longtime boosters Jack Heise and Bob Novak, and Oklahoma is wearing a memorial patch for Wayman Tisdale, who died back in May. That's his signature and uni number on the patch.
Meanwhile, over on the diamond …
The Minnesota Twins unveiled a new uni set the other day. Full coverage is available
over on the Uni Watch Blog
.
Technology is your my friend
Hey look, you can now follow Uni Watch on Twitter and Facebook. And if you really want to go the belt-and-suspenders route (or if you're just not Twitter-ish or Facebook-ish), you can also sign up for the Uni Watch mailing list. Before you know it you'll be ready to attend Uni Watch parties, like the one that took place last Sunday in Brooklyn. You'll be there next time, right? Right.
Paul Lukas thinks Twitter is fine but hopes never to use the word "tweet" (especially as a verb). If you liked this column, you'll probably like his Uni Watch Blog and Uni Watch Glossary, too. Want to learn about his Uni Watch membership program, be added to his mailing list so you'll always know when a new column has been posted or just ask him a question? Contact him here.
ESPN.com
Sports journalism's foremost uniform reporter
ESPN.com columnist since 2004
Also blogs at uni-watch.com