Commentary
Uni Watch holiday gift guide
Originally Published:
December 3, 2009
By
Paul Lukas
| Page 2
If you want to give someone a jersey or cap for the holidays, you know where to buy those. But what if you want a uniform-related gift that's a bit more unique?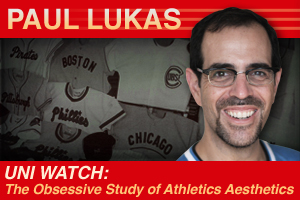 That's where the annual Uni Watch Holiday Gift Guide comes in. Not all of the items listed below are strictly uni-related, but they should all appeal to that special someone on your list who's obsessed with athletics aesthetics. They'll also do the trick if you're looking for a little something to sneak into your own stocking.
One important note: As you'll see, the first three items on the list are custom-designed gifts that will be made to order. If you'd rather let the gift recipient decide on the final design (or if you miss the ordering deadline for holiday delivery), the purveyors will gladly provide a coupon for you to give your lucky loved one. Then the recipient can cash in the coupon for the custom-made gift of his or her choice.
With that in mind, here are Uni Watch's top 10 holiday gift choices for 2009:
1. Custom bobblehead dolls, tabletop hockey sets and baseball stirrups from Robert Marshall: Chicago artist/genius Robert Marshall has become a veritable one-stop shopping source for uni-related gifts. If there's a bobblehead fan on your list, Marshall will make a custom-designed bobblehead ($200) based on your fantasy team, your rec league team, your personal brand, your company name, whatever you like (and yes, they really bobble!). For you tabletop hockey fiends, Marshall makes custom-painted teams ($100 to $250; for additional examples, look here). Plus he's also a licensed vendor for Twin City Knitting, America's last manufacturer of striped baseball stirrups ($15 per pair).
Ordering deadline for Christmas delivery: Dec. 15, but sooner is always better. For further details, contact Marshall pronto.
2. Custom pinup portraits from Rob Ullman: Fellas, wouldn't you like to see your gal in a sexy uniform portrait? Ladies, wouldn't you like to give your man a whole new appreciation for the term "fantasy team"? Now you can, thanks to Virginia cartoonist Rob Ullman, who specializes in tasteful pinup-style illustrations featuring jerseys instead of lingerie. Your fantasy team, your high school team, whatever your favorite team might be; send Ullman photos of the gal and the jersey and he'll do the rest, usually for about $250. Ordering deadline for Christmas delivery: Dec. 9. For further details, contact Ullman.
3. Custom gumball helmets from Bill Jones: Two years ago we ran a column about Bill Jones, a Texas collector who makes his own gumball machine helmets. He has now branched out into making helmets for fantasy leagues. Prices generally range from $6 per helmet (if you already have your own logos and your helmets are in stock colors) to $10 per helmet (if Jones designs the logos or has to come up with a custom helmet color for you). Ordering deadline for Christmas delivery: Dec. 15. To discuss the specifics of your gumball project, get in touch with Jones.
4. "The Greatest Jerseys of All Time" from The Hockey News: Hands down the best hockey-related stocking stuffer of the season, this 170-page special issue has it all: endless photos of gorgeous jerseys, classic jerseys, obscure jerseys, ugly jerseys, rec league jerseys, overseas jerseys, you name it. Plus there's extensive coverage of such crucial issues as whether white should be worn at home or on the road, whether "jersey" or "sweater" is the more appropriate term, the use of the captain's "C," and more. You can get a taste of the photo sessions that went into the project in this video. The issue itself is available here.
5. Muhammad Ali bathrobe from No Mas: Longtime Uni Watch favorite No Mas scores again with this swell terrycloth robe, modeled after the ones worn by the Greatest, right down to the chest pocket embroidery. Start your morning with this and you'll want to wear it all day long (but don't actually do that, for everyone's sake). And when you're ready to get dressed, how about No Mas' new Wiffle Ball tee? Great stuff.
6. Vintage MacGregor sports equipment poster from Three Potato Four: This tremendous 1960s poster features super-cool graphics showing the measurements of various athletic fields. Looks great on the wall, plus it'll come in handy when you want to know exactly how big your horseshoe pit should be. Limited quantities, so act fast on this one.
7. Hand-crafted footballs and baseballs from LemonBall: Sure, you could get a football with Roger Goodell's signature stamped on it, but where's the fun in that? Instead, consider one of these old-school footballs. They're brand-new, but there's something about them that smells of history. If a $95 ball is too pricey, consider one of these old-fashioned lemon peel baseballs, just like the ones used back in the 1800s.
8. Vertically striped socks from the Denver Broncos team store: Love 'em or hate 'em, the Broncos' vertically striped throwback socks have been the most distinctive uni element of the year. NFL socks usually aren't available for sale, but the Broncos' team shop has been selling the striped hose all season long and will have a fresh shipment in on Monday, Dec. 7. So if you want to stuff someone's stocking with some unique stockings, contact the shop at 720-258-3300.
9. Team-themed napkins from JerseyNaps: Holiday time means lots of parties, so why not accessorize your festivities with these groovy uni-based napkins? Dozens of teams are available; check out the full range of offerings here.
10. Naming Wrongs T-shirt series from Uni Watch: Full disclosure: Your favorite uniform columnist had a hand in designing these tees, so there's a bit of home-team bias at work here. But the T-shirt statements speak for themselves, and 10 percent of the proceeds are going to food banks, so you can strike a blow for stadium-naming dignity and help feed the hungry simultaneously. (And hey, as long as we're discussing Uni Watch-designed T-shirts, here's one that should be just the thing for that carnivorous Mets fan on your list.)
And for good measure, several choices from previous years' Uni Watch Gift Guides are just as valid this time around, including classic college gridiron prints from Historic Football Posters, tremendous baseball screen prints from Sports Propaganda, gorgeous college football calendars from Asgard Press and vintage helmet reproductions from Gridiron Memories.
That should be enough to keep Santa busy this year. Happy shopping, happy holidays, and to all a good night.
Uniform news roundup
You can't live by shopping alone, so here are a few tidbits of recent uni-related news:
• Lots of readers have been asking why some of Nevada's football helmets have a center stripe and others don't. It's not a mistake or an inconsistency; the stripe is called the Striker Award, and it's given out in recognition of exceptional play, much like Ohio State's buckeye decals. For additional info, look here.
• In case you missed it during Thanksgiving week, the Florida Panthers have unveiled a new alternate uniform, and there's nothing wrong with it except that it doesn't work at all for this particular team. Full coverage here.
• You know those great sock stripes the Cardinals have worn for decades? Ever wonder what it'd look like if they had that same stripe pattern on their undershirt sleeves? Right, neither did anyone else, but check out this shot of the 1956 Portland Beavers -- yowza! That photo is courtesy of baseball historian Dave Eskenazi, who has come up with over a dozen pics showing the sleeve stripes. Uni Watch knows of only one other team that has worn matching stripe patterns on sleeves and socks: the early-1940s Cubs. If you know of any additional examples, you know what to do.
Paul Lukas is making his list and checking it twice. If you liked this column, you'll probably like his Uni Watch Blog and Uni Watch Glossary too. Feel free to follow him on Twitter and Facebook. Want to learn about his Uni Watch Membership Program, be added to his mailing list so you'll always know when a new column has been posted, or just ask him a question? Contact him here.
ESPN.com
Sports journalism's foremost uniform reporter
ESPN.com columnist since 2004
Also blogs at uni-watch.com