Commentary
Secret (ugly) jersey fabric unveiled
Originally Published:
December 17, 2009
By
Paul Lukas
| Page 2
Have you noticed that Jermichael Finley's name on his jersey looks like it was lettered up at Sears?
Or that David Garrard's name has been curved instead of straight?
Or that the Reebok logo on some of the Giants' sleeves has been peeling off or ghosted or missing altogether?
And whatever happened to Kelvin Haden's shoulder stripes?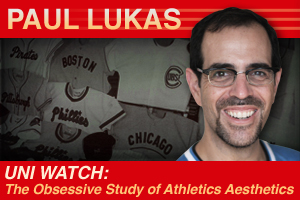 These players have been wearing a new kind of jersey developed by Reebok, featuring a super-stretchy fabric made in Israel and a different tailoring pattern. Call them futuristic, call them stretchies, or call them Bounties -- the fabric looks sort of like paper towel. By any name, they look noticeably different than the standard NFL jerseys.
Jersey innovations are usually heralded with lots of fanfare, but there's been no announcement about this one. Neither Reebok nor any participating team has been willing to discuss the new design. The party line is that the concept is still in its trial phase, so it's too soon to talk about it. More likely, it's because the new jerseys don't match the merchandised products being sold at retail.
In other words, if you buy an "authentic" Eli Manning jersey, you are not getting the same thing he wears on the field.
Then again, that might be for the best because the new jerseys don't look so hot. Here's a selective guide to some of the teams and players that have been wearing the new design, which should help you spot them this weekend: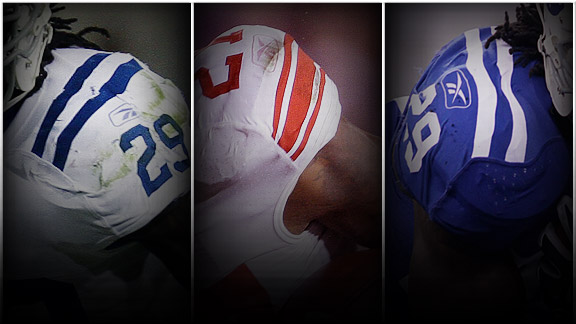 ESPN.com illustrationThe NFL has been secretly experimenting with a new jersey fabric. And it looks terrible.
GIANTS
Who wears it: The entire team.
Issues: Because the seams have been moved, the NOB (that's "name on back," for those of you who don't speak uni) is now too close to the uni numbers. Super-stretchy fabric has resulted in some weird jersey contortions. The Reebok logo, which used to be sewn on, is now screened on. It has been peeling off the stretchy fabric during games, though, resulting in tattered and ghosted logos.
PACKERS
Who wears it: Jermichael Finley and Brandon Chillar, possibly others.
Issues: The NOB lettering looks like a $20 knockoff. The new jerseys have much smaller TV (or shoulder) numbers -- compare Finley's and Chillar's the those of their nearby teammates. Stretchy fabric results in warped sleeve stripes. The NFL Equipment shield is positioned too low, which in turn pushes the uni number way too low. The net effect was summed up nicely in an Uni Watch fan e-mail from reader Chester Banaszak, who wrote, "Why does #54 on the Packers look like he got his jersey on eBay?"
COLTS
Who wears it: Several Colts have worn the new jerseys for about half the season, most notably Joseph Addai and Kelvin Hayden.
Issues: The Colts' shoulder stripes, which were already truncated compared to their jerseys of old, are even shorter in the new configuration, becoming almost vestigial. (You can really see the difference between the two fabrics in that shot, too.) Stripes on the new jersey also tend to warp -- they'd be better off getting rid of them altogether. The NOB is too close to the back uni number. The NFL Equipment shield has been lowered, which pushes the uni numbers down too far. Bad news all around.
JAGUARS
Who wears it: Most of the team, apparently.
Issues: Jersey piping, which was designed to wrap under the arm, is now interrupted by the armhole, because the seams aren't in the same place. Looks ridiculous either way, natch, but it's odd that they'd ruin their own jersey concept just a few months after unveiling it. Also: Ghosted Reebok logos, just like the Giants; Stretchy fabric results in curved NOBs.
Nobody's going on record about these jerseys, so it's not yet clear if more teams (or the entire league) will wear them next season, or if the whole thing will be written off as a failed experiment. One thing is certain, though: If Reebok is going to stick with this tailoring pattern, lots of teams will have to adjust their stripe designs, because you can't shoehorn the old graphics into this jersey. Stay tuned.
Steeltown Follow-Ups
Last week's column about the Steelers' uniform quirks, past and present, prompted lots of good reaction, including some corrections. One at a time:
• Uni Watch reported the Steelers were the only team never to have worn the NFL's captaincy patches, which turned out to be a whopper of a misstatement. It turns out that the Patriots, Ravens, Eagles, and Cowboys have never worn the "C" patches either. Thanks to everyone who helped set the record straight on this one. Uni culpa!
• The little cross embroidered above Troy Polamalu's name reminded reader Jason Libes of a similar situation: Kevin Mawae used to use white tape to create a cross on his facemask. According to this chat transcript, the NFL made him remove it in 2003.
• Reader feedback suggests that many, many Steelers fans still lament the team's switch from rough-and-ready block numbers to wussy, rounded numbers in 1997. Are you listening, Rooney family?
Paul Lukas hopes everyone finds their favorite jersey waiting under the tree Friday. If you liked this column, you'll probably like his Uni Watch Blog, plus you can follow him on Twitter and Facebook. Want to learn about his Uni Watch Membership Program, be added to his mailing list so you'll always know when a new column has been posted, or just ask him a question? Contact him here.