Commentary
Chief of all helmets in Kansas City
Originally Published:
January 14, 2010
By
Paul Lukas
| Page 2
In 1988, the Kansas City Chiefs were going nowhere fast -- sort of like now. Todd Asselin, a die-hard Chiefs fan who'd recently graduated from college, felt the team needed a new attitude. And the best way to achieve that, he decided, was with a new helmet design.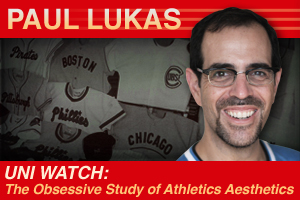 So Asselin did what any uniform-minded fan would do: He bought himself a blank red helmet from a local sporting goods shop, painted a Native American headdress design onto the front and sides, and added the Chiefs' familiar arrowhead logo on the back. This, he was certain, was just what the team needed. With help from a friend who had a family connection to Chiefs management, he arranged to leave the helmet with GM Jack Steadman's secretary at Arrowhead Stadium. Then he went home and waited.
Weeks passed, and then months, with no response from Steadman. When Asselin called to ask about his helmet, he couldn't get a straight answer from anyone. Then, on Dec. 19, 1988, Steadman was replaced as GM by Carl Peterson. Asselin knew the change of administrations meant his helmet would probably get lost in the shuffle. And that, he figured, was the end of that.
THE STORY BEHIND THE STORY
In the decade or so that I've been writing about uniforms, no uni element has been as tantalizing and elusive as the Chiefs headdress helmet. Dozens of readers have e-mailed me about it over the years, but none of them had visual evidence, and their recollections usually didn't give me much to go on: "I can't remember the specifics, but I know it was a Chiefs home game in the mid-'80s. ... No, it was in the late '80s. ... No no no, it was a road game in the early '90s."
If the time frame was hard to pin down, the other details were even sketchier. Based on what various people told me, the helmet was shown during a game when the Chiefs were playing the Oilers. Or the Raiders. Or the Broncos. The play-by-play man for that game was definitely Dick Enberg -- unless it was Bob Trumpy. And the helmet was absolutely, positively shown during halftime, or maybe right before the opening kickoff, unless it was during an injury timeout.
The two things everyone agreed upon were that the helmet featured an Indian headdress and that it was shown on the screen for less than a minute. Unfortunately, nobody connected with the Chiefs seemed to know anything about it. As the tips and questions continued to come in over the years, the helmet became one of my "white whales" -- an object of intense, obsessive pursuit.
The breakthrough came when Uni Watch reader Trevor Williams recently pointed me toward this 1990 Los Angeles Times article, which includes the following passage: "Last year Todd Asselin, a Kansas City Chiefs enthusiast, contributed a new helmet design to the Chiefs, one painted to look like an Indian war bonnet. It was quite colorful and eye-catching as NBC flashed it across the television screen during one of the Chiefs games."
Now I had a name and a year. It didn't take long to track down Asselin, who still lives in Kansas City. He was certain his helmet had been shown during halftime of the Chiefs-Broncos game on Nov. 12, 1989. But when a contact at NFL Films checked the halftime segment of that game for me, she found no sign of the helmet. That threw me off the scent for weeks, as I began cajoling various contacts and sources to check the halftime segments from the Chiefs' other games that season. All those inquiries came up empty.
I eventually circled back to the Chiefs-Broncos game and managed to procure a copy of the entire broadcast so I could look at it myself. As I fast-forwarded through the game action and got to the beginning of the second quarter, I suddenly saw Dick Enberg and Bill Walsh holding a red helmet painted with an Indian headdress. At long last, there it was -- my white whale.
-- Paul Lukas
Fast-forward to nearly a year later, Nov. 12, 1989. Asselin was over at a friend's house, watching the Chiefs play the Broncos. It was another losing game in the middle of another mediocre season, so Asselin wasn't paying particularly close attention when the game returned from a commercial break at the start of the second quarter. But he snapped to attention when he saw -- could it be? -- Dick Enberg and Bill Walsh discussing his helmet.
"I was just floored," says Asselin, now 44 and the president of a beverage innovation company. "At first I didn't put two and two together, but then I jumped up and said, 'Hey, that's my helmet!' And everyone watching the game with me, they all knew the whole story, so we're all yelling and pointing at the TV. I never really heard any of what Enberg and Walsh were saying, because of all the commotion."
Asselin didn't miss much in that regard. Enberg said the design had been "proposed as the new-look Kansas City helmet," Walsh quipped that it looked like "Darth Vader in red," and then the two traded a few awkward comments. The whole sequence was over in about 30 seconds.
But those 30 seconds made Todd Asselin a unique figure in the uniform world. Fans send unsolicited uniform and logo designs to teams all the time, but it's unheard of for one of those submissions to make it onto the air. So the appearance of Asselin's helmet, however brief, led to a flurry of activity in Kansas City. Local sports-radio shows were abuzz about the design, the Chiefs' offices were flooded with phone calls from curious fans, and Asselin was featured in a short segment on a local sports TV program.
"They came to my house and interviewed me, and that went really well," Asselin recalls. "But then they gave the Chiefs' side of the story. And the Chiefs weren't happy about it, because they were getting inundated with all these calls. They had this guy Bob Moore -- he was their new PR director -- and I can still remember his face in that TV interview. He looked really irritated."
Asselin's memory seems pretty solid on that last point. Here's some interview footage from that TV segment -- the first person you'll see is Asselin, followed by Moore (with special thanks to WDAF-TV in Kansas City, which tracked down and provided the archived material.)
Twenty years later, Moore is still the Chiefs' PR director. He and Asselin both look a bit different now, but two things haven't changed: Asselin still thinks his helmet concept was a good one, and Moore is still annoyed about the whole episode.
Of course, we wouldn't be talking about any of this if the helmet hadn't ended up on TV. How did that happen in the first place? Dick Enberg, contacted through an intermediary, said he no longer recalls anything about the helmet, and Bill Walsh died in 2007. But Moore remembers how it happened.
"NBC's production meeting for the game always took place in my office, and I guess the helmet was sitting there on a desk or something," Moore recalls. "One of the TV guys picked it up and took it to put on the air. And the lesson I learned there was that I had to be more diligent about keeping that from happening again, because it just encouraged people to send in even more designs."
After the initial excitement died down and it became clear that the Chiefs weren't going to make any uniform changes, Asselin asked for his helmet back but was told it had been discarded. He hadn't videotaped any of the TV coverage or taken any photos of the helmet before dropping it off with Steadman's secretary, so he hadn't seen his design in two decades -- or even thought much about it -- until Uni Watch contacted him for this article. (For more on that, see the "Story Behind the Story" sidebar elsewhere on this page.)
CODE RED BLUE
When you think of the Chiefs' uniform, you instinctively think of red. But things could have turned out very differently if the team's founder had gotten his way.
"When the AFL was just getting started in 1959, Lamar Hunt wanted the team's main color to be Carolina blue," says Bob Moore, the team's PR director. "So there was a meeting with all the franchise owners -- of course, the Chiefs were still the Dallas Texans at that point -- and Lamar said, 'OK, let's talk about team colors ... ' And before he could even get started, [Oilers owner] Bud Adams interjected and said, 'Right, we're taking Carolina blue.' And Lamar sort of said, 'Oh, uh, OK.' He kind of got sandbagged on that one."
-- Paul Lukas
But time hasn't diminished his enthusiasm for his design. At Uni Watch's request, he was able to paint a replica of the helmet strictly from memory, and he likes it as much today as he did when he created it.
"I still think they need a new attitude and a new helmet, and I still think my design would work," he says. "And it wouldn't have to be a permanent switch -- it could just be an alternate design. Heck, look at teams like the Oregon Ducks, with all the helmets they have."
After 20 years, though, he's not holding his breath. Which is just as well, according to Bob Moore. "Lamar Hunt was always very particular about the uniform, the colors, all of that, plus there were issues of political correctness to consider," he says. "It was never going to change back then, and it's not going to change now."
Maybe not in Kansas City. But two months ago the business magazine Fast Company ran an article about football helmet design, which included a Redskins helmet proposal -- a proposal that looks very much like Asselin's design. Could Dan Snyder be the one who eventually makes Asselin's concept a reality?
OK, so that's unlikely. Still, Asselin has one distinction that no other fan can claim: His uniform design was shown on national television. And now on ESPN.com, too.
(Extra-special thanks to Trevor Williams, Matt Iles, Al Wallace, Dave Nagle and Peggy Coe for their research and technical assistance with this article.)
Paul Lukas has never submitted a uniform design to a team -- yet. If you liked this column, you'll probably like his Uni Watch Blog, plus you can follow him on Twitter and Facebook. Want to learn about his Uni Watch Membership Program, be added to his mailing list so you'll always know when a new column has been posted, or just ask him a question? Contact him here.