Commentary
Hot times in the frozen north
Originally Published:
January 29, 2010
By
Paul Lukas
| Page 2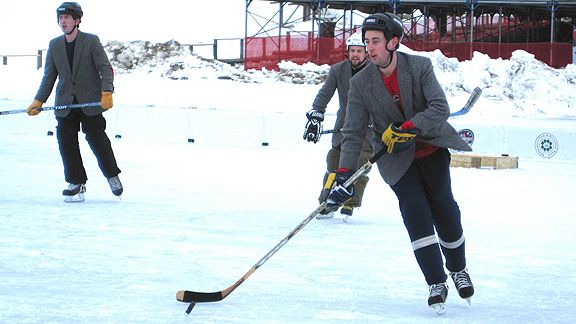 Paul Lukas In the camaraderie of pond hockey, sometimes looking good is all you need.
Minnesota in late January. Probably a tough sell for the state tourism bureau.
But if the weekend I just spent there is any indication, there's no better place for a sports fan to be, and no better time to be there.
It all started a few months ago when I decided to cover the U.S. Pond Hockey Championships, an annual event I've always wanted to check out: 256 teams, over 1,500 players from 37 states, all playing on 25 rinks set up on a frozen lake in Minneapolis. Granted, taking an assignment to work outside during a Minnesota winter might not be the brightest idea in the world (temperatures for last year's tournament were about 20 below zero), but I decided not to worry about that.
As it turned out, the weather did present some challenges, but not the ones I expected. And pond hockey was just the tip of my sports weekend iceberg. Here's how it went down:
Thursday, Jan. 21, 6 p.m.: I board a Minneapolis-bound flight out of LaGuardia and find myself sitting in the middle of two extremely sociable pond hockey teams. As I chat with them, two things become apparent: They really, really love hockey, and they really, really love beer. Not necessarily in that order.
"Pond hockey is, like, the essence of pure hockey," says Ryan Equale, sitting behind me. "We all started playing on ponds, we're all brothers out there, and at the end of the day everyone's together sharing a beer." I laugh and nod approvingly, not realizing I'll be hearing this sentiment repeated about 17 dozen times over the next two days.
Friday, Jan. 22, noon: I arrive at the pond hockey site, Lake Nokomis, where it's a lot warmer than last year: about 32 degrees. A giant shed-like tent has been set up as a combination locker room, administrative office and beer garden. It's a chaotic scene, with hundreds of rowdy guys changing into and out of their hockey gear. Two smells are immediately evident: perspiration and lager.
I've brought my skates, so I lace up and hit the ice, which looks like something out of a Norman Rockwell scene. In addition to the 25 rinks, there are parents pulling their kids around the ice on sleds, dogs skidding this way and that and a hot-chocolate stand. The only thing missing is some local guys ice-fishing off to the side.
Games are in progress all around me, each one consisting of two 15-minute halves. The six-man teams play four-on-four with no goalies, checking, icing or offsides. The plastic boards are about two feet high, and the wooden goals look like junior high shop class projects. Some of the teams are dressed like serious hockey players, with professional-looking uniforms and player names on the back of their jerseys. Others look they just grabbed whatever sweatshirts were on top of their laundry piles.
And then there are the teams that take a more conceptual approach: over here, a squad wearing lumberjack-style plaid shirts; over there, a team of Colorado grad students wearing wool tweed jackets with felt numbers sewn or pinned on the back.
"We've been wearing them for years," one of the tweed-clad players tells me. "We figure if we can't be the best team, at least we can be the best-looking team." As if to prove the point, he and his mates promptly go out and lose 23-4 to a local squad. Here's a bit of action from that game:
Afterward, one of the tweed guys tells me, "That's OK. It's just fun to be out here." This bottomless pool of cheerful sincerity appears to be embedded in the pond hockey gene pool. Everyone I talk to repeats the same phrases over and over: "For the love of the game … It's like being a kid again … Nothing but good guys out here … How hockey was meant to be." If the White House could stay on-message like this, the administration's entire legislative package would have passed in a month.
The wellspring of all this positive attitude is Fred Haberman, the 44-year-old PR executive who created the tournament five years ago. He's one of those charismatically upbeat, can-do guys who make you feel lazy and jaded by comparison. "Instead of using a refrigerated rink in a baseball stadium, the NHL should hold the Winter Classic on a frozen lake like ours," he tells me, making it sound almost plausible.
A few feet away from us, leaning against a registration table, is Haberman's version of the Stanley Cup: the Golden Shovel, which will be awarded to the tournament's top team. Why a shovel? "Because we all grew up shoveling our home rinks -- it's a pond hockey thing," Haberman explains. As he's saying this, a young couple is posing for a photo with the shovel. After they leave, a guy positions his little boy next to the shovel for another photo op. Over the next 10 minutes, the shovel is immortalized in about a dozen more snapshots.
Later on, as I get set to leave for the day, I notice someone has set up a small barbecue smoker near the tent. Pond hockey tailgating isn't something I'd been expecting, but I hadn't reckoned on the likes of Robert Marshall, who has made the trip from Chicago and decided that a snow-covered picnic area on the lakeshore is the perfect place to smoke a brisket. When I ask why he's barbecuing in the snow, he replies, "Because they wouldn't let me do it on the ice."
Friday, 3 p.m.: Fortified by a few slices of Marshall's brisket, I head over to the St. Paul Curling Club, which is holding its annual bonspiel -- a Scottish term for a curling tournament.
I've never seen curling in person before, and it's a hoot. The club has six sheets packed side-by-side like bowling lanes, and each one is abuzz with curlers sliding rocks (which knock into each other with a very satisfying "thwack") and furiously scrubbing away with their brooms like worker bees on ice. As an added surreal touch, the organizers have given this bonspiel has a '70s theme, so the curlers are dressed as disco dancers, tie-dyers and, as you can see here, "Scooby-Doo" characters:
"Ah, the '70s thing is just to have a little fun," says Jim Dexter, the club's manager. Dex initially comes off like your gruff Midwestern uncle, but inside he's a total marshmallow, as relentlessly good-natured and sincere as the pond hockey folks. "You will never, I mean never, meet a nicer group of people than curlers," he tells me. "It's that kind of sport. The rule book even has a line that says, 'Anything not covered herein will be governed by the rules of fair play.' The rules of fair play! Where else are you gonna find a sport like that? C'mon, let me buy you beer."
A little later, during a break between games, Dex invites me to toss a few rocks. It's harder than it looks. I expect the rocks to be around the weight of a bowling ball, but they're actually over 40 pounds apiece, and I can't seem to find the technique to generate those long, graceful slides like the other curlers. Instead I come out of the hack (the curling equivalent of starting blocks) with a pitifully short slide and end up sending the rock barely halfway down the sheet.
Afterward, in the club's lounge, the Scooby-Doo team invites me to join them for a round of Scooby Snacks (a potent coconut rum/pineapple concoction). I'm expecting to be razzed about my inept performance out on the sheet, but it never happens. "Don't worry; it takes time to get the hang of it," says Senja Lopac, who's dressed as a fairly authentic-looking Velma. "But it's cool that you went out and tried it. Want another Scooby Snack?"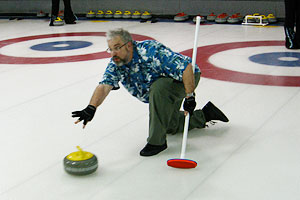 Paul Lukas for ESPN.comA few friendly beers definitely helps if you're going to try sliding a 40-pound stone.
OK, I'm convinced: Curlers are the nicest people in the world, except for pond hockey players. And vice versa.
Saturday, Jan. 23, noon: It's a few degrees above freezing today, and it's been raining lightly but steadily since last night; perfect pond hockey weather, at least to hear Fred Haberman tell it. "Our slogan is 'Hockey as Nature Intended,' and nature seems to have taken that as a challenge," he tells me. "Our first year, it was almost too warm to play. Last year, the temperature was minus-20. So now it's raining; big deal. Game on!"
Out on the ice, the reality is a little trickier. Each rink is covered in about an inch of standing water, so every shot produces a spray like a car going through a puddle. Passing becomes almost impossible, so some games use a ball instead of a puck. One team deals with the rain by wearing trash bags with reflective-tape uniform numbers, but not everyone has thought that far ahead. Some poor guy wearing cotton sweatpants wipes out and ends up drenched to the core.
You can get a hint of the miserable conditions from this video clip (that sound in the background is the wind whipping past my camcorder):
I detect a small undercurrent of grumbling ("This is barely even hockey," one guy mutters), but most of the players remain remarkably chipper. Personally, though, I'm getting cold and wet. When I look down and realize I'm standing in about three inches of slush, I decide to interpret that as a sign that I should seek some shelter.
Inside the tent, Haberman is still running around yelling "Game on!" and most of the players seem inclined to stay the course. As I jot down a few notes, a tournament staffer comes over and asks if I'm getting a good feel for Minnesota. "Definitely," I say. "Good!" she replies. "So by now you probably realize we're all crazy, right?" And with that she goes back out into the rain.
Saturday, 5 p.m.: Little-known fact: Hockey can be played indoors. The proof is right in front of me at the University of Minnesota's Mariucci Arena, where the Golden Gophers are playing their regional rivals St. Cloud State. This is my first NCAA hockey game since I was in college myself, and I'd forgotten that college hockey is a lot like college football. The home school's marching band sits in the stands and plays fight songs (and also, oddly, "Cum on Feel the Noize," which sounds really weird coming out of a tuba). Cheerleaders wave pom-poms and do dance routines on the ice. The crowd yells "You suck!" at the visiting team.
It's a relief to be warm and dry, but I have to leave after two periods because there's yet another event on my itinerary.
Saturday, 8 p.m.: I arrive at the Xcel Energy Center, where the Wild are playing the Blue Jackets. I'm pretty sure I've now set a personal high for most hockey games watched in one day.
A doozy of a fight breaks out in the second period, as the Wild's Derek Boogaard ends up pummeling Columbus' Jared Boll. "Oh, right," I think to myself, "that's what's missing from pond hockey and college hockey." I try to imagine some of the pond hockey players fighting, but the image just doesn't compute. Then I try to envision what curling would be like with fighting and come up with an unfortunate mental image of Disco Stu mixing it up with Shaggy while Dex frantically consults the rule book. Not good.
After the game I get a tour of the Wild's facilities from assistant equipment manager Brent Proulx, who's a fan of my Uni Watch Blog. It's the first time we've met but he treats me like family, happily showing off everything from the team's stick room to the jersey-themed laundry bags he designed. When I ask him about the fire that destroyed the team's gear in December, he shrugs it off as if it was nothing worse than a flat tire. As I head back to my hotel, I realize that my "Nicest people in the world" list is getting more and more crowded.
Sunday, Jan. 24, 10 a.m.: Fred Haberman may be a force of nature, but even he can't overcome the real forces of nature. Yesterday's rain took such a toll on the ice that conditions are no longer playable, so today's pond hockey games have been canceled and the tournament's conclusion has been postponed until Jan. 30. The awarding of the Golden Shovel will have to wait.
Sunday, 11 a.m.: With pond hockey off the agenda, I go visit Dick Jonckowski, a local legend of sorts who has done P.A. announcing for countless Twin Cities teams and still works basketball and baseball games for the Gophers. He is, of course, the nicest guy in the world, welcoming me into his home and showing off his extensive memorabilia collection. He also has lots of stories to share, the best of which involve the things pitchers would say to him when he drove the Twins' bullpen buggy back in the early 1960s. Alas, none of those are printable.
Sunday, 1:30 p.m.: My next stop is Dome Plus, a ramshackle souvenir shop run by Ray Crump, who used to be the Twins' equipment manager and, before that, a Washington Senators bat boy. To my mild relief, he is not the nicest guy in the world (that was getting to be a bit much), but he's definitely a character, endlessly jibber-jabbering and going off on all sorts of tangents. He also appears to have traveled in some exclusive circles, at least judging by all the photos on the wall that show Ray with the Beatles, Ray with Muhammad Ali, Ray with Bill Cosby, Ray with Johnny Cash. Hey, here's one of Ray with Dick Jonckowski, who I was just talking to earlier today!
Ray has clearly led an interesting life, but I'm interested in one very specific chapter from it: He appears to be the man who invented the baseball helmet earflap. It happened back in 1961, when he created this makeshift flap for Twins catcher Earl Battey, who had been beaned by a pitch. After I show Ray a photo to jog his memory, he tells me how he did it:
[+] Enlarge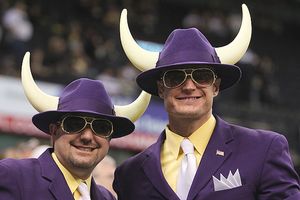 Ronald Martinez/Getty ImagesThe nicest people in the world sometimes find themselves in second place.
"I went into Bloomington and I stopped at a Snyder's Drug Store and picked up some foam. Then I went three doors down to Hardware Hank's and I picked up sheet metal. Then I picked up a can of spray paint. Then I went back to the ballpark and asked Dick Erickson, who was the head groundskeeper, if he could rivet the pieces together for me. That's how it got done. Hey, did I tell you about the time Mickey Mantle promised to give me one of his bats?"
Ray is congenial but a bit exhausting, and I have one more important stop to make, so I say good-bye and get ready for the capper to my weekend sports odyssey.
Sunday, 5:00 p.m.: Bunny's Bar & Grill has 25 TVs, roughly one for every 14 Vikings-crazed fans who have shown up to watch the NFC Championship Game. It's an eccentric bunch: One girl is wearing a purple cheesehead hat studded with popcorn ("No reason, just for fun," she says). A few tables away from her is a guy with a Vikings doll that looks just like him, which is a little disturbing. And people are wearing jerseys representing virtually every era of Vikings history, from Fran Tarkenton and Cris Carter to Randy Moss and Jared Allen. Oh, and that Brett guy.
The Vikings gain a first down on the game's second play from scrimmage and the place erupts like they'd just won the Super Bowl. Eight plays later, Adrian Peterson scoots 19 yards for a touchdown and it's utter pandemonium. People dance. They belly-bump. The cheesehead girl jumps up and down so much that the popcorn falls out of her hat. Someone runs around distributing discount drink tokens. I decide not to mention that I'm rooting for the Saints.
Sunday, 9:25 p.m.: Garrett Hartley kicks the game-winning field goal for the Saints. I'm expecting some sort of a negative reaction, but there's no booing, no cursing, not even a collective groan. Instead, people quietly put on their jackets and shuffle out the door.
As I walk out, a woman gives me a glum smile and says, "What a bummer, eh?"
Minnesotans: the nicest people in the world, even in defeat. And even in late January.
Paul Lukas is a Page 2 columnist. He looks forward to improving his curling technique at the earliest opportunity.