Commentary
NBA All-Star Game unis -- a sneak peek
Originally Published:
February 11, 2010
By
Paul Lukas
| Page 2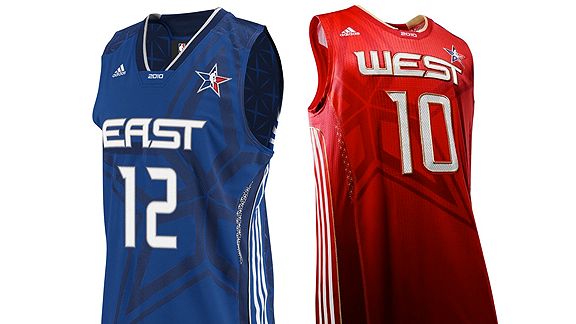 Courtesy of adidasWhat do you think of the NBA's latest All-Star uniforms?
Major League Baseball's All-Stars just wear their regular team uniforms. The NHL isn't having its All-Star Game this season because of the Olympics. And quantum physics has conclusively determined that only 17 people have ever watched the NFL Pro Bowl.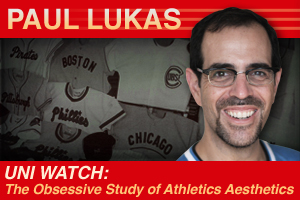 That leaves us with the NBA All-Star Game, which takes place Sunday in Dallas. At first glance, this season's uniforms look straightforward enough, and pretty nice besides, but a closer look reveals some interesting details:
• Take another look at that photo of the East and West jerseys. Notice anything missing? Neither jersey is white! This will be the first time both conferences have worn solid-colored uniforms. With color-against-color games becoming more common in college hoops, is this the NBA's way of testing the waters for color-on-color games in the regular season? Hope so.
• Each conference's jersey design features a big star symbol that sort of bleeds off to the side. The idea is that they'll form one giant composite star when an East player and a West player are standing next to each other. Adidas is also claiming that each star symbol "is divided into five pieces joining as one, representing five players on each team coming together," which can only mean that nobody at adidas has ever seen an All-Star game.
• According to an adidas press release, the pattern on the back of the jerseys "mimics the distinct dimensional pattern characteristic of the Dallas skyline." Uni Watch, not knowing what to make of this, asked an adidas rep if he could explain or demonstrate what it meant. The response: "It's actually in reference to the shiny buildings and extensive use of glass on the Dallas skyline's buildings." Translation: It's an All-Star game, so we slapped a starburst pattern on the back; stop asking so many questions.
• Just like last season, the jerseys will have a special mesh pattern designed to provide targeted ventilation, or stimulate better muscle performance, or make the jersey 30 percent lighter than the previous design (which was 40 percent lighter than the one before that), or whatever. Do any of these claims add up to anything? Probably not, but they give the adidas execs something to talk about during shareholder meetings, so just put up with it.
• Nothing remarkable about the shorts, except that any player who sits down will be sitting on the state of Texas, which sounds like a good way to start a fight. Uni Watch suggests that all players remain standing at all times.
• After years of having separate warm-up attire for the East and West, the NBA has decided to have all the players wear the same warm-up outfit this time around. Not bad, right? Uni Watch likes. The back of each jacket will show how many All-Star selections the player has racked up during his career.
• Here's something else quantum physics has conclusively determined: Spelling out a word down a shirt's sleeve is always -- always -- a bad idea.
Of course, no NBA All-Star Game would be complete without a bunch of new sneaker designs. Here are some of the designs that had been confirmed by press time:
EASTERN CONFERENCE (colorways will be blue)
• Chris Bosh -- Nike Hyperize 2010 All-Star Game
• Kevin Garnett -- adidas TS Supernatural Commander
• Dwight Howard -- adidas TS Supernatural Commander
• LeBron James -- Nike Air Max LeBron VII
WESTERN CONFERENCE (colorways will be red)
• Carmelo Anthony -- Jordan Brand Melo M6
• Chauncey Billups -- adidas TS Supernatural Creator
• Kobe Bryant -- Nike Air Zoom Kobe V
• Tim Duncan -- adidas TS Supernatural Commander
• Kevin Durant -- Nike Air KD2 Supreme
• Pau Gasol -- Nike Hyperize 2010 All-Star Game
• Chris Kaman -- Nike Hyperize 2010 All-Star Game
• Deron Williams -- Nike Air Flip'n
Want more sneaker info? There's good info on Nike's designs here, and adidas' retail offerings are addressed here.
Got Your Back
Nike frequently comes up with new college hoops uniforms to coincide with the NCAA tourney, but the company's not waiting that long this season: Several Nike-outfitted teams have unveiled new designs this week. Participating schools so far have included Kentucky, Miami, Michigan State, Syracuse, UConn and Texas (additional info on the Longhorns' design here), with Gonzaga and St. John's reportedly on the way.
As you probably noticed, those jerseys all feature special designs screened onto the back. A few other teams wore similar designs in last season's NCAA tournament, and Duke has been wearing a rear-jersey pattern all season, so this isn't so much a new concept as an expansion of an existing one.
But a few quality-control details appear to have been overlooked in the rush to promote these new uniforms. That became apparent Wednesday morning, when this photo went out over John Calipari's Twitter feed. At least "Wall" is a short, simple name, so they probably spelled that correctly on the other side of his jersey.
Who Was That Masked Team?
Last week's column noted that the Colts changed their facemasks to gray in 2004 but didn't update the blue facemask on the RCA Dome turf, creating a field/uni mismatch that Uni Watch described as "possibly an NFL first."
Turns out it wasn't even an NFL second or third. That news comes from reader Andrew Mason, who's apparently spent a lot of time studying NFL field graphics (and you thought Uni Watch was specialized). Here are some of the discrepancies he's found between what teams wore on their heads and what was painted on their fields:
• "The Saints switched to black facemasks in 1976, and through much of the '80s and half of the 1990s they had a black facemask on the field as well," said Mason. "But in 1995 they changed the helmets at midfield and in the end zones to gray facemasks (odd, since they hadn't worn gray on their real helmets in nearly 20 years), which they kept through mid-2003."
• The Bears switched to dark-blue facemasks in 1983, but their end-zone design still showed a gray mask for many years after that, as you can see in these shots from a 1989 game against the Bucs.
• The Packers switched to green facemasks in 1980, but the Lambeau Field end zones still showed a helmet with a white mask (a color the Pack never wore) in this 1983 game against the Redskins. "I believe they stuck with the white single-bar mask in the end zone into the 1990s," said Mason.
• Similarly, the Seahawks have never worn a white facemask, but that's what was emblazoned on the Kingdome's 50-yard line in 1979. "Even after the Seahawks changed from gray facemasks to blue in 1983, the white mask on the turf remained, as you can see from a distance in this shot from their '83 playoff win against Denver," said Mason.
Have a Ball
Want to win a game-used NFL football? Uni Watch recently acquired a bunch of them and is giving them away to 10 lucky readers. For details, look here.
Paul Lukas wonders how many basketball fans will be trying to convince their wives and girlfriends that watching the NBA All-Star Game is a romantic way to spend Valentine's Day. If you liked this column, you'll probably like his Uni Watch Blog, plus you can follow him on Twitter and Facebook. Want to learn about his Uni Watch Membership Program, be added to his mailing list so you'll always know when a new column has been posted, or just ask him a question? Contact him here.