Commentary
Spring brings all sorts of new MLB looks
Originally Published:
March 4, 2010
By
Paul Lukas
| Page 2
Over the course of a nine-year career that has spanned 5,417 plate appearances, Adam Dunn has put down exactly two sacrifice bunts. But there he was the other day, practicing his bunting in Nationals camp.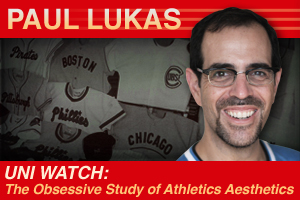 The spectacle of an elite slugger brushing up on his small-ball skills is a reminder that spring training often features sights you'll see nowhere else. And many of those sights are uni- and equipment-related. Some of them are obvious, like familiar players in unfamiliar uniforms. But others are, well, a bit more esoteric. For example:
• A pitcher wearing a single-digit number. That's Kyle Drabek, a non-roster invitee in Blue Jays camp, who also wore No. 4 when he was in the Phillies' system. He doesn't have much shot at cracking Toronto's Opening Day roster, but if he makes the cut he'll be MLB's first single-digit pitcher since Josh Towers in 2007, the lowest-numbered pitcher since David Wells in 2005, and, according to research by Ed Price, the first pitcher to wear No. 4 since Mike Fornieles of the 1952 Washington Senators. (In a related item, spring training is also the time for new uni number assignments, as you can see in these reports from Tigers, Red Sox, Rays and Braves camps.)
• The American League Cy Young runner-up wearing a slightly primitive bat-boy jersey. Yes, that's King Felix Hernandez himself. He and teammate Erik Bedard served as bat boys for the Mariners' intersquad game March 1.
• Players engaging in bizarre training and workout rituals. In addition to Brandon Webb throwing a towel, this spring has already featured Jason Varitek catching a ball the size of a chickpea, Brian Roberts running in a harness, Rick VandenHurk pulling a sled, Hunter Jones doing something or other with a rope looped through a tire, and A-Rod stretching his mouth-corner muscles. Then there's the obligatory medicine ball photo op. And no spring training would be complete without lots and lots of rubber bands. How many? So many that Indians camp looked like a laser light show the other day.
• A game with both teams wearing gray. That's Florida Southern and the Detroit Tigers, from their annual exhibition game earlier this week. The game was played at the Tigers' Lakeland facility, but for some reason the Tigers chose to wear their road grays, resulting in a rare gray-on-gray matchup.
• A team wearing last year's pants. The Twins have removed their pinstriped road uniform from this year's wardrobe, but they're still wearing the gray pins for spring workouts.
• The Cardinals wearing red caps on the road. The Cards usually wear their dark navy caps for road games, but they never bother to pack those caps when heading south for spring training. So if you ever see the red headgear paired with the road grays, you know it's a spring training game. The same thing holds true for the Tigers: They do without their road caps (the ones with the orange "D") during spring training, so you'll see them wearing their home caps for Grapefruit League road games.
• Memorial patches just for Cactus League games. That's the patch the Rangers are wearing this spring in honor of longtime front-office employee Bobby Bragan -- possibly the first memorial patch ever designated exclusively for spring training use.
• The odd ritual of photo day. This is the only time you'll see players wearing jerseys that are blank on the back and photographers taking photos of other photographers.
• Unusual wildlife. We've all seen squirrels, cats, and other animals on the diamond. But only during spring training will you see a toad in Cardinals camp.
• Prince Fielder actually running. OK, so that happens in the regular season too, but it's still pretty funny to see.
The other thing you'll see a lot of, at least this spring, is the new line of batting practice caps, which most teams are using for workouts and exhibition games. Unlike the last BP cap series, which was introduced in 2007 and featured those annoying stretch panels on the sides, the new template moves the stretch panel to the back and presents a front view with lots of contrast-colored piping in various configurations. Some teams have taken things a step further and gone with a two-tone brim. And a few have let the raised piping blend in with the background.
The new caps have already garnered some bad reviews, but Uni Watch thinks they look no sillier than the previous design. (Here's a photo from Mets camp in which you can compare old versus new.) Anyway, debating the relative merits of various BP caps just obscures the larger question: What's the point of BP caps anyway? Like, why do players need a separate cap for spring training and pregame workouts?
Uni Watch posed that very question the other day to Todd Sokolowski, an executive at cap manufacturer New Era, who turned out to be refreshingly candid. "Truthfully, it's mostly an opportunity for fans to buy additional caps," he said. "So the reason we keep changing the design? Yeah, it's for retail." Granted, we all knew that already, but it's still sort of startling to hear someone come out and say it. Uni Watch hereby nominates Sokolowski for Straight-Talking Exec of the Year.
Sokolowski was equally forthcoming when describing the design process for the new caps. In a nutshell: New Era came up with about 10 different basic templates and presented them to the folks at Major League Baseball, who chose three finalists and then ultimately decided on the piping concept. New Era then came up with a variety of color combos for each team (contrasting piping, same-color piping, two-tone brim, etc.) and approached the teams so they could make a final choice.
"The last BP cap design was a bit of a departure from the traditional-looking cap, and I think some teams felt like they weren't involved in the process," Sokolowski said. "So this time we showed them multiple looks and let them choose, which I think lessened the amount of push-back we received."
Each team then chose one design, except for the Tigers, Rays and Yanks, who for some reason felt the need to have separate home and road versions. That noise you hear in the background is the sound of those three teams' equipment managers grumbling and grousing because they have even more gear to deal with.
Equipment logistics aside, a team having two BP caps seems like design overkill, no? "Well, again, you always want to give a fan multiple reasons to buy a different kind of cap," Sokolowski said. And if you want even more caps to buy, you probably won't have to wait long, because Sokolowski said New Era and MLB are looking to introduce the next series of BP caps just two years from now, to coincide with the next expected revision in BP jerseys. All of which will no doubt look great on Adam Dunn as he practices his bunting in the spring of 2012.
Paul Lukas will cover all of MLB's regular-season uniform changes shortly before Opening Day. If you liked this column, you'll probably like his Uni Watch Blog, plus you can follow him on Twitter and Facebook. Want to learn about his Uni Watch Membership Program, be added to his mailing list so you'll always know when a new column has been posted, or just ask him a question? Contact him here.