Commentary
Uni Watch 2010 MLB preview
Originally Published:
April 1, 2010
By
Paul Lukas
| Page 2
Memo to Bruce Bochy: Please let Barry Zito pitch deep into games this season.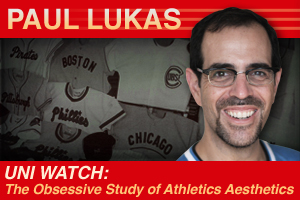 Even if he's getting knocked around, leave him in there. If it's not his day to pitch, maybe let him pinch-hit. And have you thought about using him as a late-inning defensive replacement in the outfield?
Uni Watch wants to see Zito get as much face time as possible this year -- actually, make that shin time -- because he's the one Giants player who always cuffs his pants up high, which means he'll be providing the prime showcase for the team's indescribably awesome new striped socks. Mmmm, tasty. The new hose, which are the brainchild of team owner Bill Neukom, are required attire for all of the team's minor league players, but most of the big leaguers will be wearing their pants low and covering up the stripes, which is like having a gorgeous car and keeping it locked away in the garage. Here's hoping some of Zito's teammates follow his example (or better still, that some other owners follow Neukom's).
No other 2010 uni change can match the seismic jolt provided by the Giants' striped legwear, but there are plenty of other revisions and adjustments on tap for this season. With the season set to get under way Sunday night in Boston, here's Uni Watch's annual team-by-team rundown, in alphabetical order:
• As usual, the host team for the All-Star Game will be wearing a commemorative sleeve patch, and this year that's the Angels.
• The Astros have a pretty cool 45th-anniversary patch. Uni Watch loves the striping in the background, which of course evokes the team's old tequila sunrise jerseys. The team will also mark the anniversary by wearing shooting-star throwbacks on April 10. (Their opponents that day, the Phillies, will wear their own 1965 throwbacks for the occasion.)
• The Brewers have finally responded to fans' requests by coming up with an alternate road jersey with the city name on the front. They've also added a 40th-anniversary sleeve patch (which will be worn for all games, not just on the new jersey) and are planning an assortment of retro-themed weekend promotions, complete with throwback uniforms. More info on those plans, including the throwback designs the Brew Crew's opponents will be wearing, is available here. Also: Look for the Brewers and Mets to wear Negro Leagues throwbacks July 10.
• It's a little weird to celebrate the 55th anniversary of a championship, and even weirder when that championship was won in a city 3,000 miles away, but the Dodgers apparently couldn't resist the marketing potential of the phrase "55 since '55." Here's how that patch looks on their jerseys.
• Not to be outdone, the Giants are celebrating the 56th anniversary of their 1954 title. Kidding, kidding. In addition to adding those awesome socks, the team has also put a new alternate cap and alternate jersey into the mix. They're intended to be worn together, although Uni Watch suspects they may be mixed and matched with the team's other uni elements.
• When the Marlins move into their new ballpark in 2012, they'll cease being the Florida Marlins and be rebranded as the Miami Marlins. They're taking the first step in that direction this season by removing "Florida" from their road jersey and replacing it with the team name (which isn't exactly an earth-shaking change). In addition, the "F" sleeve patch has been removed from all of the team's jerseys, and this alternate uni has been eliminated.
• The Mets' seldom-worn home pinstripes will now have a cream-colored base fabric, instead of white. The marketing department is pitching this as a throwback move that supposedly evokes the team's 1960s origins, but they're keeping the black drop-shadow and the player names on the back, which means there's nothing throwback-ish about it. They just changed the background color (which most people won't be able to notice anyway) -- no more, no less.
• The Orioles appear to have made a slight alteration to their jersey script. It's subtle, but compare the transition from the second "o" to the "l" -- someone's been tinkering (for the better, in Uni Watch's estimation).
• The Padres plan to wear throwback uniforms for Thursday-afternoon home games.
• Four or five years ago, when they were still the Devil Rays, the Rays were pondering the possibility of adding a powder-blue alternate jersey. Now they finally have one. The plan is for it to be worn for Sunday home games. No matching alternate cap -- yet.
• The Reds will once again host the annual Civil Rights Game, this time facing off against the Cardinals on May 15. Both teams will wear 1954 throwbacks, which means the game should look something like this. Uni Watch is very curious to see whether the Cards will go the extra mile and use a zipper-front jersey.
• No uni changes for the Rockies, but keep an eye on Troy Tulowitzki. He's dedicating this season to his late cousin, Lexy Winters, and has been wearing Winters' initials on his cap and eye black during spring training. The MLB office tends to frown on this type of personal display, so it'll be interesting to see if Tulowitzki gets away with it during the regular season.
• After introducing a powder-blue alternate jersey two years ago, the Royals now have a matching powder-blue alternate cap. (And as an aside, the Royals have also made some adjustments to their scoreboard. Details in this video clip.)
• A new stadium means lots of changes for the Twins; some big, some small. The new home jersey looks a lot like the old one, but there are three changes: The chest insignia has been tweaked (the biggest change is on the "s"), there's a new sleeve patch marking the opening of the new stadium, and the player names on the back are now direct-sewn instead of positioned on a nameplate (which means no more pinstripus interruptus). Meanwhile, the road uni has gotten a complete makeover. Uni Watch likes the new script and can live with the two-tone cap. Instead of the stadium-opening patch, the road jersey has a 50th-season patch. There's also a new home throwback alternate uni, which is even cooler than last year's throwback alternate. The new throwback has the 50th-season sleeve patch on the right, a throwback sleeve patch on the left, and NNOB (that's "no name on back," for those of you who don't speak uni).
• The White Sox will retire Frank Thomas' No. 35 on Aug. 29. In a more unusual move, they've also unretired Luis Aparicio's No. 11 -- apparently with Aparicio's blessing -- so newly acquired Omar Vizquel can wear it. Vizquel normally wears No. 13, but it probably seemed safer not to ask the guy currently wearing that number if he'd be willing to give it up.
• Very subtle change for the Yankees: The little MLB logo on their rear jersey neckline has changed from blue-white-red to blue-white-silver.
• Remember the Gazoo-like batting helmet that several players test-drove late last season? The helmet design, which is called the Rawlings S100, will be worn by at least one new player in 2010: Francisco Cervelli, who got beaned early in spring training and switched to the S100 soon thereafter. Several other players have been experimenting with the S100 in recent weeks, including Norris Hopper and Kevin Mench, although it remains to be seen whether any of them will wear it during the regular season. Meanwhile, the Rawlings folks say they plan to unveil a somewhat more streamlined version of the helmet sometime in May.
• Nike has been MLB's official undershirt licensee for several years, but they haven't put the swoosh front and center, until now. Expect this season to be a swoosh-o-rama, thanks to that new collar design. (And speaking of undershirt collars, the Mets' latest Japanese import, Ryota Igarashi, has been wearing his uni number and first name on his collar during spring training. Not clear yet whether he'll wear that during the regular season.)
• If you see some players wearing batting gloves that look like they're trimmed in yellow foam rubber, that's the new glove design from XProTex. Further details here.
• Teams will once again wear those stupid stars and stripes caps on Independence Day and Sept. 11. Since the last two seasons' caps were blue and red, the uni-verse has been rife with speculation that this season's version would be white. And that's the plan, sort of. A source at New Era, the cap manufacturer, tells Uni Watch that the crowns will be white, but the visors will be rendered in a variety of colors … and not necessarily team colors. That sounds, uh, great. Can't wait to see the finished designs.
• Last year all teams wore patches on the Fourth of July to raise awareness of Lou Gehrig's disease. Will there be a repeat performance this year? An MLB spokesman tells Uni Watch that plans are still in flux -- stay tuned.
• In a sense, every game will have new uniforms this year, because the umpires have new gear. Their pullover polo jerseys now have white piping on the sides (with black piping for the blue polos), and some adjustments have also been made to the trim on the sleeve cuffs and collars. Uni Watch doesn't much care for any of this -- what exactly is the point of the incomplete striping on the sleeves?
One final note: Down at the college level, the Mizzou baseball team has been wearing road grays that do a great job of simulating the look of old flannels. It's polyester, but it looks textured; much better than the standard grays worn by most teams. If Under Armour can come up with a faux-flannel look for a college team, why can't Majestic do it for MLB? Get crackin', Majestic!
And just to bring us full circle, the Mizzou team also wears striped socks, very much like the ones Barry Zito will be wearing this season. Looks good, right? Right. Now let's play ball.
Paul Lukas hereby nominates Bill Neukom to be the next MLB commissioner. If you liked this column, you'll probably like his Uni Watch Blog, plus you can follow him on Twitter and Facebook. Want to learn about his Uni Watch Membership Program, be added to his mailing list so you'll always know when a new column has been posted, or just ask him a question? Contact him here.