Commentary
Astros history is out of this world
Originally Published:
April 15, 2010
By
Paul Lukas
| Page 2
When you think of old Houston Astros uniforms, you think of whacked-out designs with lots of orange. But when the Astros celebrated the 45th anniversary of their nickname with a throwback promotion last weekend, the players' uniforms were fairly sedate. The crazy orange attire was being worn by the groundskeepers.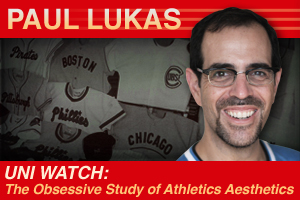 Those astronaut suits are replicas of the "Earthman" uniforms worn by the original grounds crew at the Astrodome. The space-suited crew became such a phenomenon back in the day that they were even featured doing a dance routine on the Astrodome scoreboard.
The Astrodome also used to feature female ushers called Spacettes, who wore "futuristic" attire. Those outfits were revived for last weekend's throwback game as well.
All of which serves as a potent reminder that the early 'Stros and their forerunners, the Colt .45s, were arguably the most uniform-obsessed organization in sports history. Years before the franchise became known for its orange-rainbow jerseys, it was already known for the uniforms worn by its stadium personnel. And it wasn't limited to just the Earthmen and the Spacettes -- almost everyone who worked at the Astrodome had special uniforms, from the press box runners to the cafe servers and executive club cashiers. (What exactly is a "gamma ray effect"?) Even the guy who watched over the press gate got his own get-up.
Those drawings were all prepared by Evelyn Norton Anderson, a Houston-based clothing and costume designer who was hired by team owner Judge Roy Hofheinz to create the staff attire at Colt Stadium and then at the Astrodome. The team still has copies of many of Anderson's drawings, which were used to recreate the uniforms for last weekend's throwback game.
"For the Spacette outfits, our marketing department found a local seamstress who'd done movie costumes," says Astros authentication manager Mike Acosta, who oversaw the throwback promotion. "We e-mailed her the original sketch and some photos, and our marketing people got the material for her. We went over to her house to see the first one she made, and my jaw just about dropped -- it looked almost identical to the old ones."
Acosta says the orange Earthman suits were a bit trickier, and also more expensive ("Some of these off-field outfits ended up costing more than what we were spending on the players' uniforms"), but at least he didn't have to get new versions of the groundskeepers' space helmets -- the original ones were still in storage at the Astrodome, so Acosta decided to use them.
"I had to clean them up, because they were very dusty," he says. "Then I showed them to our grounds crew and said, 'Can you work in these?' They said, 'Yeah, let's go for it!' So they were all for it."
Fortunately, you don't have to work for the Astros in order to have access to Anderson's drawings, because her papers were donated last year to the Houston Public Library. The library is situated an annoyingly inconvenient distance away from Uni Watch's Brooklyn headquarters, but reader Clayton Lust, who lives in Houston, recently volunteered to visit the library, where he spent a few hours combing through Anderson's archive and taking photos of all the uni-relevant documents. (You can see the entire haul here, but be warned -- once you start poking around, it gets addictive.)
"It was pretty cool," Lust says. "When I was looking at things like the fabric swatches on the bartenders' outfits, I was thinking, 'This is something that probably only a few people have ever handled before.'"
Indeed, the Anderson papers are a mother lode of super-cool material. In addition to all the drawings and swatches, there are also planning notes, records of orders, letters to and from vendors, and even Anderson's invoice to Judge Hofheinz. Here's a very small sampling of the more notable bits:
• Each private box had its own formally attired butler.
• The groundskeepers weren't the only ones who wore space suits and helmets.
• Speaking of the groundskeepers, the archives include an amazing bit of ephemera: a handwritten note listing the Earthman uni sizes for the original Astrodome grounds crew.
• We must -- must -- track down one of these parking lot attendant's uniforms, or at least a photo of how the finished product turned out.
• We also need to find an original operations supervisor blazer.
• Possibly the oddest detail of all: The guy who manned the meat-carving station at the Astrodome Club was expected to wear a chef's jacket with one gold-embroidered red velvet sleeve.
It all adds up to a unique peek into the team's early days. And that's just for the Astrodome -- Anderson's papers also include her original drawings for Colt Stadium, where the Colt .45s played for three seasons before morphing into the Astros. Among the highlights:
• Many of the stadium personnel uniforms featured this baseball-themed fabric. A fun idea, except baseball stitches are red, not blue.
• Before there were Spacettes, there were Triggerettes. Here's how they looked in the flesh.
• And before there were Earthmen, there were, uh, whatever the Colt .45s called their cowboy-booted groundskeepers.
• The team's radio and TV broadcasters had a Western-style outfit that they were supposed to wear when making personal appearances.
• The hostess at the Fast Draw Club must have been quite a sight to behold.
The Colt Stadium designs are particularly interesting in light of a date that's looming on the calendar: the 50th anniversary of the Colt .45s' inaugural season, which is coming up in 2012. Wouldn't it be great to mark the occasion with a throwback game featuring the old Colts designs?
"That's a possibility," says Acosta, the authentication/throwback guy. "It's tricky, because there are licensing issues with the Colt firearms company. But yeah, that'd be very cool if we could put some guys in orange Stetson hats, put some handkerchiefs around their necks, the whole bit."
Let's hope they get those licensing issues worked out. In an era when so many vendors wear those generic neon-green shirts, it would be fun to see something like this, even if only for one game.
Paul Lukas hopes to make his own pilgrimage to the Evelyn Norton Anderson archives as soon as possible. If you liked this column, you'll probably like his Uni Watch Blog; plus, you can follow him on Twitter and Facebook. Want to learn about his Uni Watch Membership Program, be added to his mailing list so you'll always know when a new column has been posted, or just ask him a question? Contact him here.