Commentary
Under Armour goes back to the future
Originally Published:
May 14, 2010
By
Paul Lukas
| Page 2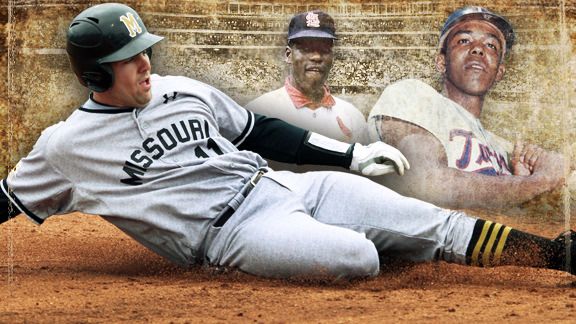 ESPN.com Illustration
When you think of Under Armour, you think of a company that looks forward, not back. You think high-tech, high-performance fabrics. You think of UA founder Kevin Plank's mantra, "Cotton is the enemy."
So when the University of Missouri baseball team recently began wearing an old-school retro road uniform, complete with a textured-looking surface pattern that looked a lot like old flannel grays, Uni Watch was plenty curious. Who had designed and made this thing of beauty, which looks so much better than the drab road grays we usually see nowadays? Maybe Ebbets Field Flannels, or Mitchell & Ness?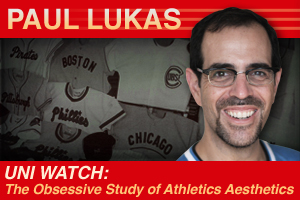 Surprise: It's from Under Armour.
Or maybe it's not so surprising after all, at least according to Ryan Lineberger, senior product manager for UA's on-field group. "We're innovation-driven, sure, but we have some real uniform geeks here, myself included," he says. "So anything we can come up with that helps celebrate the heritage of the game while providing something that's performance-driven, that's a good thing."
In this case, UA has come up with Legend Gray, a new throwback uniform fabric currently being worn for selected road games by Missouri, Texas Tech and Pepperdine. Although it looks like an old natural-fiber flannel fabric, full of texture and grain and a heathered tone, it's actually UA's standard double-knit polyester embedded with a pattern designed to simulate the look of flannel.
This all might seem like a lot of fuss over a gray fabric, but Missouri baseball coach Tim Jamieson says people have noticed. "Very seldom do you have other coaches comment on your uniforms, but each coach we've played has said something about this one," he says. "They want to feel it, they want to see what it's all about. It's amazing, because from a distance it looks like my old Little League uniform, or what major league teams wore in the 1960s."
[+] Enlarge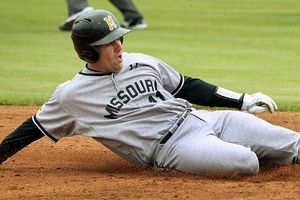 Jeff Jacobsen/Kansas Athletics Missouri's cool throwback road uniforms are drawing attention from uniform lovers and oppponents alike.
Legend Gray came about as an offshoot of the cream-colored off-white fabric that many teams have recently been using for their home throwbacks. "The cream tone is easy enough to create -- it's just a colorway," says Lineberger. "But we wanted to create a road gray fabric to go along with that. We have plenty of the old flannels here at the office. We wanted to achieve that look, so we said, 'How can we get this done?'"
The key turned out to be a process called sublimation, in which ink is embedded into the fabric instead of printed onto it. Until recently it's been used primarily for loud, gaudy designs (think roller hockey or extreme sports), in part because the process didn't work well for more subtle effects. But the quality has improved a lot over the past year or two, allowing the production of something as nuanced as Legend Gray.
So how did they do it? Most companies would be too secretive to explain the details of a project like this, but Lineberger agreed to give Uni Watch an unusually good look at UA's creative process.
"First we had to define what our goal was," he says. "When you look at old flannel, it's basically a cross-stitch. You get lots of little squares, and some of the fibers are thicker than others -- that's the uniqueness of it. That's what we were after."
Replicating that look began with Under Armour's designers taking a high-res photo of flannel fabric, turning it into a digital pattern, and then sending that pattern off to UA's sublimation partner, who used the pattern to create samples. Then came a fine-tuning and refinement process that lasted two years. There were about a dozen versions of the fabric produced during that time, but many of the variations were just tiny tweaks. In an effort to simplify the backstory, Lineberger showed Uni Watch the four major phases in Legend Gray's design evolution:
Step 1: This was the first version of Legend Gray. "You'll see it doesn't really have the grains and the lines in it," says Lineberger. "So we said, 'We like the color, we kind of like where this is going,' but we didn't really see that textured, cross-hatched grid of horizontal and vertical yarns that you see in a true flannel fabric."
[+] Enlarge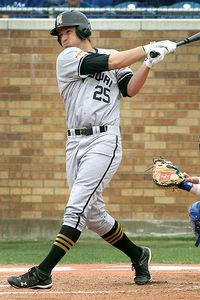 Jeff Jacobsen/Kansas Athletics Mizzou is one of three teams to wear new Under Armour uniforms which simulate the look of flannel.
Step 2: "With this version, I felt like we had a greater sense of that gridded texture," says Lineberger. "But it was too dark, so we had to dial it back and get the right color tone."
Step 3: If the previous version was too dark, this one was too light. "They dialed it back too far," says Lineberger. "It's too pale, and there isn't enough texture. I still like this one, and it could have some play in other applications for us, but it wasn't what we were trying to achieve with this project."
Step 4: Here's the sample that was ultimately approved -- a happy medium of tone and faux texture.
Lineberger expects many more schools to be using Legend Gray for their throwback programs next season. But why limit it to throwbacks? Why not use the textured look for all of UA's road uniforms? Lineberger says there are no plans for that, at least for now -- grrrrr.
Of course, it won't matter all that much even if every college team in the country starts wearing Legend Gray, because almost nobody watches college baseball. So the real question is, will major league teams ever start using this type of fabric?
Uni Watch put that question to the folks at Majestic, who'll be making MLB's uniforms at least through 2014. Unfortunately, they weren't as forthcoming as the UA people. "We don't have any comment with regards to MLB development," said a spokesman. "On a broader scale, Majestic design teams are always investigating new technologies, especially those which will improve on-field appearance, comfort and performance. Sublimation techniques are one of the many areas we continue to explore."
Boooring! That kind of robotic corporate-speak is just as bland and flat as MLB's boring road grays. Majestic could learn a lot from Under Armour -- in terms of UA's communications style and its gray fabric.
Butt(on) out
Another interesting thing about those Under Armour jerseys: As you can see, they have buttons down the front, but it turns out that only the top two buttons are functional -- the others are just there for show. The jerseys are actually pullovers.
This stealth-pullover look is UA's standard baseball jersey design (except for Texas Tech, where they didn't even bother with the bogus buttons because they would've interfered with the lettering that goes down the front). "It's a feature we created about four years ago," says Lineberger. "It helps eliminate bulge at the tuck points, and it's been very well received."
Uni Watch has long wondered why baseball jerseys have stuck with the button-front approach. Lots of MLB teams went to pullovers in the 1970s and '80s, but by 1993 everyone had switched back to button fronts, even though buttons are clumsy and inevitably lead to problems -- some visual, some logistical. Why not go with pullovers, or zippers or Velcro? (Uni Watch explored these and other closure formats a while back.)
And for that matter, if Under Armour is going to make pullover jerseys, why bother with the faux button-front design? "It's just to not scare people too much," says Lineberger. "If there's one thing about baseball people, they don't like change."
You don't say. But if you've already snuck the stealth pullover into the mix, do you think you might just quietly eliminate the nonfunctional buttons one day?
"That's definitely on the table," says Lineberger. "We're always looking at those different options."
Glove story: Baserunning edition
In a perfect confluence of a team nobody pays attention to and an equipment category nobody thinks about, the Kansas City Royals have quietly been breaking new ground in the world of baserunning gloves.
Of course, Royals players don't actually reach base very often. But when they do, several of them have been wearing an unusual contraption on their left hand. For full details, look here.
Paul Lukas has no idea what Ryan Lineberger was talking about when he referred to "uniform geeks." If you liked this column, you'll probably like his Uni Watch Blog, plus you can follow him on Twitter and Facebook. Want to learn about his Uni Watch Membership Program, be added to his mailing list so you'll always know when a new column has been posted, or just ask him a question? Contact him here.