Commentary
Negro Leagues stadium battling neglect
Originally Published:
June 21, 2010
By
Paul Lukas
| Page 2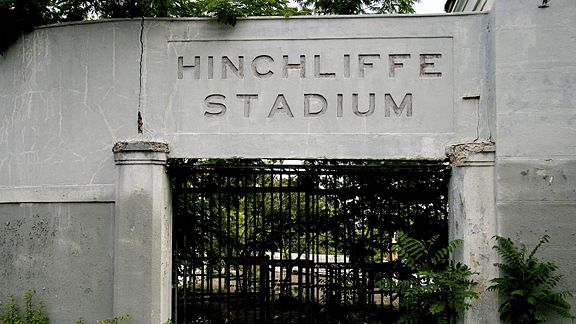 Kirsten Hively Photo Hinchliffe Stadium is a slice of Negro Leagues baseball history, but it's losing a battle with apathy.
PATERSON, N.J. -- Brian LoPinto can feel the ghosts.
"Larry Doby probably stood right here when he tried out for the Newark Eagles," he says, poking at a threadbare patch of artificial turf. "Josh Gibson hit home runs here. Monte Irvin tried out here. History happened here."
It's a hot June afternoon, and we're standing inside Hinchliffe Stadium, a battered and dilapidated 10,000-seater that was built in 1932 and is one of the handful of Negro Leagues ballparks still standing. The New York Black Yankees and New York Cubans both called Hinchliffe home, and the stadium also hosted football, track and field, boxing and lots of high school sports.
[+] Enlarge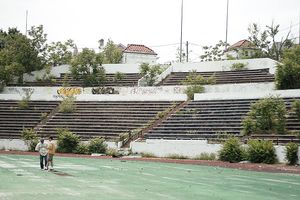 Kirsten HivelyThe vegetation at Hinchliffe is in the grandstands
of the historic venue -- not on the playing surface.
But Hinchliffe has been closed since 1997 and is covered with graffiti and vegetation. LoPinto, a 31-year-old who grew up two blocks away, has spent the past eight years heading a preservationist group devoted to saving and restoring Hinchliffe before it deteriorates past the point of no return.
And lately his efforts have been bearing fruit. Last month, the National Trust for Historic Preservation named Hinchliffe on its annual list of America's 11 most endangered historic places, which has focused additional attention on the stadium and the need to preserve what's left of the Negro Leagues' history.
"First and foremost, it should be a home to high school athletics again, even if it's football," says LoPinto, who's dressed for the occasion in a New York Black Yankees jersey. "And when it isn't hosting sporting events, you lease it out for concerts and other events. If the baseball gods were to shine some light on us, maybe we could have a minor league stadium here."
It doesn't take much imagination to see that Hinchliffe was once a jewel, especially from the outside, where its grand entrance, beautifully tiled ticket booth windows and Art Deco design flourishes still project a sense of faded grandeur. And if you believe in location, location, location, Hinchliffe is hard to beat: It's situated right next to the Great Falls, one of the largest and most beautiful waterfalls in the eastern United States.
Inside, though, it's a very different story. With nobody minding the store, the place has fallen prey to vandalism, fire and forestation, which is encroaching everywhere, even through the turnstiles. It makes for a surreal tableau of decay, as you can see in this short video clip:
Down below, the "field" is basically a vast expanse of blacktop partially covered by some tattered AstroTurf. As LoPinto leads me around on an informal tour, I spot an odd shape and ask him what it is. "It's a ghost," he explains. "Where we're standing, this was East Side High School's end zone. The school was built over a cemetery, so they named their teams the Ghosts."
There's a sad irony to this -- it's almost too easy, like Irony 101 -- but LoPinto appears to be immune to it. "I like to stand right between the dugouts and imagine where home plate used to be," he says. "This little bush here, this was first base. And look, this rusted thing was the foul pole -- you can vaguely see the '271' marker." (As I later discover, the center-field distance marker is relatively unscathed by comparison.)
[+] Enlarge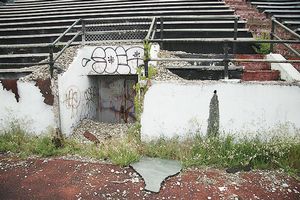 Kirsten HivelyHinchliffe hosted high school events as recently as 1997, but disrepair has taken its toll since then.
But LoPinto isn't some solitary quixote tilting at windmills. Lots of local people played high school baseball or football at Hinchliffe throughout the years (including LoPinto himself, who got his first varsity base hit here -- "a single to left," he says), and many of them have strong feelings about the place. One such person is New York Giants equipment director Joe Skiba, who played football at Hinchliffe in the 1990s. You might think a place like Hinchliffe wouldn't have made a lasting impression on a guy who now works in NFL stadiums, but Hinchliffe clearly left its mark on Skiba.
"For a teenager to be playing in a stadium like that, it felt like we were playing the NFL," Skiba recalls. "We'd never seen anything like it. An AstroTurf field, our own locker room underneath the stands, walking out from underneath the stadium when we were introduced -- we were always pumped to play there. It's just a shame what's happened to it, and I hope people will realize what a stadium like that could do for the community."
The Giants actually played several exhibition games at Hinchliffe back in the 1930s, something Skiba wasn't aware of until I showed him that newspaper clipping. He was completely blown away when he saw it.
Given Skiba's and the Giants' connections to the old stadium, along with the fact that the Giants are headquartered less than 10 miles from Paterson, wouldn't Hinchliffe's restoration be a perfect community project for the Giants to get involved in?
Unfortunately, it turns out that they already got involved, and it didn't turn out well. Back in 2004, the Giants and the NFL provided a $200,000 grant for the installation of a new, synthetic playing field at Hinchliffe.
[+] Enlarge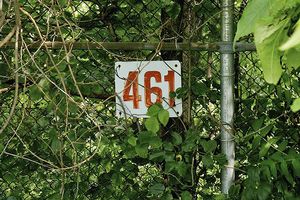 Kirsten HivelyThis sign remains in left-center field at Hinchliffe.
But the Paterson school district, which has owned the stadium since 1963, sat on the funds so long that the grant was ultimately revoked by the NFL and reallocated elsewhere. "We've already been down that road, so it's hard to see us getting involved with that again," says Allison Stangeby, the team's director of community relations.
As you can imagine, LoPinto -- whose preservation group had nothing to do with that 2004 grant -- finds this more than a little bit frustrating. "They just weren't ready for the money yet," he says. "And the money was just for the field, which didn't make sense -- there were structural improvements that needed to be made and still need to be made. I wish there was some way we could revisit that with the Giants."
This tale of dysfunction seems sadly characteristic of Hinchliffe's plight. The reason the stadium was closed in 1997 was that the school district couldn't afford to repair a sinkhole that developed at one end of the field. The school district has since fallen into state receivership, and Paterson itself has become such a symbol of poverty and crime that the neighboring town of West Paterson recently voted to change its name to avoid any taint by association. So although local residents approved a nonbinding referendum this past fall for the city to put $15 million into Hinchliffe renovations, it's not clear where the money would come from, especially during a recession.
It all adds up to a steep set of hurdles. LoPinto knows all this, but he's undaunted. "People like the underdog aspect of the stadium and of Paterson," he says. "That's part of the story, part of the appeal."
Maybe, but underdogs don't always manage to pull out that victory. Here's hoping LoPinto finds a way to do it.
(Special thanks to Kirsten Hively, who took most of the photographs linked from this story. You can see her full set of Hinchliffe Stadium photos here.)
Paul Lukas, a Page 2 columnist, couldn't resist this Hinchliffe Stadium photo op. He's keeping his fingers crossed for the ballpark's future.