Commentary
Uni Watch college football preview
Originally Published:
August 30, 2010
By
Paul Lukas
| Page 2
How big is Uni Watch's latest back-to-school survey of college football uniform changes? Let's put it this way: There are 120 FBS schools, and nearly half of them are mentioned in the column you're about to read. It may constitute the single largest batch of college football uni information ever gathered in one place.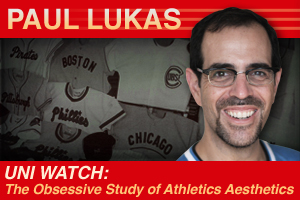 And still more info will come later this week, when Nike unveils its latest Pro Combat alternate uniforms. You may recall the Pro Combat program from last year (the designs with the weird shoulder stitching, remember?). The promotion was apparently so successful that Nike's doing it again this year. The 10 teams this time around, each of which will wear the special threads for at least one game, are Alabama, Boise State, Florida, Miami, Ohio State, Oregon State, Pitt, TCU, Virginia Tech, and West Virginia. No word yet on the specific designs or exactly when they'll be worn, but a big unveiling is slated for this Wednesday, so Uni Watch will provide full coverage later in the week.
The Pro Combat line (kind of a bogus name, since college players are neither pros nor combat soldiers) will no doubt generate lots of Nike-centric buzz, but at the end of the day these are just alternate uniforms that will be worn once, maybe twice, and then forgotten. There are plenty of other uniform tales to tell this season, so let's get to those. And since Photoshop, video games, and the blogosphere have made unfounded rumor-mongering an unfortunate aspect of the modern uni-verse, this year's survey also includes the debunking of a few uni myths that have been floating around in recent months.
As per longstanding Uni Watch custom, everything is broken down by conference, with the usual proviso that a few schools may have flown under the radar (if so, they'll be covered in a later column). Ready? Here goes:
ACC
• Boston College has switched from Reebok to Under Armour. But the only apparent change, aside from the UA logo replacing the vector, is that the base of the collar, which used to have a little pentagon of fabric, is now a traditional V-neck. As you can see, this has forced the little "BC" logo patch to move down a few inches, so it's now a bit closer to the uni number.
• Welcome move by Clemson, which has scrapped the underarm piping and the two-tone collar.
• Remember those special camouflage-trimmed uniforms that several teams wore last year to support the Wounded Warrior Project? That promotion is being revived this year, and one of the games will feature Florida State against Maryland on Nov. 20. No word on the new camo-trimmed designs. (Also, you may have heard that FSU was thinking about using a white helmet, but that turned out to be a false alarm.)
• Georgia Tech is one of the two FBS schools that wear white at home (the other is LSU), and of course the Yellow Jackets also wear white on the road. So every year they trot out two new jerseys, one of which never gets worn. That isn't good for jersey sales, so this season Tech and Russell Athletic have come up with a novel solution: two new white jerseys -- one for home and one for the road. Neat idea, although it would've been a lot neater if the designs weren't so miserable. Seriously, were those shoulder/collarbone stripes done on a dare or what?
• Miami is switching its socks and shoes from black to white (well, mostly white in the case of the shoes). In addition, the Hurricanes are one of this year's Nike Pro Combat teams, and The Miami Herald is reporting that the design will be solid orange. We'll know more after the Sept. 1 unveiling. (Incidentally, did you know the 'Canes used to wear little hurricane warning flags on their jerseys back in the mid-1950s? Memo to Nike: Let's see this design as a throwback!)
• There was a lot of chatter a few months back when photos of several new UNC designs began floating around the Internet. Those turned out to be experimental prototypes. A team spokesman tells Uni Watch, "The only thing new for 2010 is that we have the option of wearing Carolina blue pants. We've had those pants before, but they weren't an option last year. This year they are."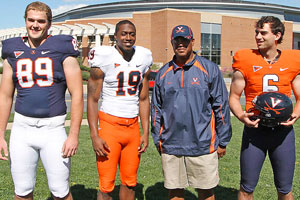 University of Virginia The Cavaliers will have a whole new look this season.
• Lots of changes, big and small, for Virginia. Seems OK, and the Bill Dudley memorial decal is a nice touch (if you don't know who he was, look here), but what's the deal with the pants? Woof! If you want to see more, there are lots of photos here, even more photos here, and video of the uni unveiling here. And a UVA blogger has already provided a very thorough critique of the whole package.
• Remember those Virginia Tech throwbacks from last season? Word through the Uni Watch grapevine is that they'll be the school's primary uniform this year, although the school has so far declined to confirm that. In addition, the Hokies are another one of this year's Nike Pro Combat teams, and there's been a lot of buzz over these leaked images, although Uni Watch hasn't been able to confirm whether that is in fact the Hokies' Pro Combat design (let's hope not). We'll know more after the Sept. 1 unveiling.
Big East
• There was some buzz a few weeks back when the NCAA 11 video game showed Cincinnati wearing red pants. Will those be seen on the field? "I think they existed on a set of mock-ups that circled around, but we did not order them and have no plans to wear them," a team spokesman said. "We do wear a red jersey in one game per year, which we call our Ring of Red game. This year that's against South Florida, on Oct. 22."
• Good move by Louisville, which has improved its helmet by changing the striping and facemask color.
• Pitt is one of this season's Nike Pro Combat teams. According to Nike, the design will include "relevant elements of the school's rich heritage," which has lots of Pitt fans wondering if the school's sorely missed helmet script will be revived. We'll find out at the Sept. 1 unveiling.
• Syracuse seems to roll out a new design just about every season. This year's version features a serious downsizing of the shoulder stripes, along with the addition of a two-tone collar and contrasting sleeve cuffs. Here's how the home version looks with pads and pants.
• USF's white helmet, which in the past has been used as an occasional alternate look, will get more playing time this season. The gold helmet will still be used, but its logo will change from black to green -- a major upgrade.
• West Virginia will be wearing a "29" helmet decal in memory of the 29 coal miners who died in the Upper Big Branch mine disaster earlier this year. In addition, WVU is one of this season's Nike Pro Combat teams. Further details after the Sept. 1 unveiling.
Big Ten
• Indiana had a simple, classic uniform -- not flashy, but perfectly functional -- which of course meant it had to be ruined. Major hilarity in this news release, which includes the following instant classic: "Stripes will be on jersey shoulder instead of on the pant, to differentiate Indiana from other collegiate football teams." This is like saying, "I'll put my brain in the fridge today instead of leaving it in my cranium, to differentiate myself from other humans." And speaking of those pants, let's hope adidas' PowerWeb straps aren't as visible on the field as they are in this schematic. (Meanwhile, as an aside, did you know the Hoosiers wore blue jerseys back in the late '50s? The full story on that is available here.)
• Iowa will honor the school's 1959 Rose bowl team by wearing these nifty throwbacks on Sept. 25 against Ball State. A nice detail: Each Iowa player's nose bumper will feature the last name of a late-1950s player who wore the same uni number.
[+] Enlarge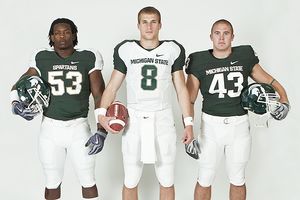 Michigan State Michigan State uniforms don't earn straight-A's from Uni Watch.
• Major changes for Michigan State, so let's go point by point. The contrasting shoulder yokes: lame. The new typeface: disastrous. The bronze trim: gorgeous, but it just doesn't feel like Michigan State, y'know? Also, the helmet stripe has been changed, and not for the better. Meanwhile, can anyone explain why the Spartans (or any team, for that matter) need two different sets of white pants?
• Hey, look -- Northwestern is going back to wearing Northwestern stripes! About time. Lots of further details available by clicking on the thumbnails in this gallery.
• Ohio State will be wearing a special Pro Combat uniform against Michigan on Nov. 27. Further info regarding the design after the Sept. 1 unveiling.
Big 12
• Baylor, which already had a crazy quilt of mix-and-match designs, has now added green pants to the mix.
• Colorado will honor the school's 1990 national championship team by wearing this throwback design for home games this season. The uniform will include a throwback helmet, described by athletic director Mike Bohn like so: "[It's] the more traditional helmet color, more of a bronze than a gold, but it just looks right. It's different than our current helmets, which got a little tinge of green in them last year." In addition, the Buffs will not wear player names on their jerseys this year.
• Another team going without player names: Kansas, which is replacing the nameplates with the Jayhawk logo. Also: The red stripe on the helmet has been removed.
• Meanwhile, over at Kansas State the TV numbers are migrating from the sleeves to the shoulders, to make room for some sleeve stripes.
• Missouri and Texas Tech will support the Wounded Warrior Project by wearing camouflage-trimmed uniforms for their Nov. 6 game.
• Nebraska's TV numbers have sort of straddled the sleeve and the shoulder in recent years, depending on how a given player's jersey stretched over his pads, but now they're officially on the shoulder. Also, the Cornhuskers are one of several adidas-outfitted teams that are moving the adidas logo over from the side to the base of a very odd-looking square collar.
• Texas A&M is another school that's moving the adidas logo and going to the square collar, plus they've put the pants striping on a serious diet. The collar adjustment is much more apparent -- and much less attractive -- on the road jersey, which also appears to have some side piping. In addition, it looks like the Aggies have added the school's T-star logo above the nameplate.
• Here's an odd one: A few months back, photos of a white Texas Tech helmet began circulating. Was it a prototype? A new design for road games? Turns out it's being worn in practices, because of the heat, but a team spokesman says there are no plans for it to show up in a game.
Conference USA
• Last year Marshall switched from white helmets to green. This year the helmets will once again be white, but with a revised "M" logo.
• Tulane is another team that's been practicing in white helmets (instead of the team's usual green). Does this mean the Green Wave will be wearing white helmets? A small item at the end of this article had this to say about the ivory lids: "First, they are a tad bit cooler on the noggin. But it also saves the athletic department from having to send the practice helmets out to be painted green -- only to be scraped and battered up throughout the season. [Coach Bob] Toledo said the white helmets probably won't transfer to games, but the program does have the white helmet game option if it desires."
• UCF has switched from adidas to Nike, and has some outdated collarbone horns to show for it. Additional photos and info here.
[+] Enlarge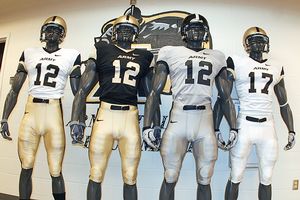 United States Military Academy Congrats to Army -- you've won Uni Watch's best new uni award.
Independents
• Army had a really classic look, but Uni Watch likes Black Knights' new design even better. Modern but clean, updated but not gimmicky -- this gets Uni Watch's vote for best new uni of the year. The "dress gray" design, second from the right, will be worn against Air Force on Nov. 6. And get this: Last season Army went NNOB (that's no name on back, for those of you who don't speak uni), but this year they'll have "West Point" nameplates. Help yourself to some additional photos and info.
• Notre Dame is another adidas school that's moving to the square collar, plus the Irish have swapped the TV numbers fir "ND" logos, similar to how they looked during the Lou Holtz era.
MAC
• Poor Eastern Michigan went 0-12 last year. Will a new uniform help? Eh, probably not, but at least it's a visual improvement, and the players are no doubt pleased that their names will be on this set. And to cap things off, the Eagles have a new facemask color, plus the "E" logo is now a bit larger and blockier, and the green shell a bit darker. (For lots of additional info on the new jerseys, click on the thumbnails in this gallery.)
• Nobody would ever say Northern Illinois had a dynamic-looking design, but it was a lot better than this year's redesign. Additional photos here.
• Toledo has gone from seriously weird to, well, a little less weird. Looks all right until you see the nameplates, at which point you can only say, "Holy Toledo!"
Mountain West
• Pretty serious updating for Colorado State. If you take a closer look, you'll see the ribbed jersey fabric (which Uni Watch really likes) and the little ram horns (which look disturbingly like short and curlies, no?). Here's the back view and some additional photos. The Rams' wardrobe options will also include a white jersey, a gold jersey, white pants and green pants, plus they'll wear an orange jersey on Sept. 25 against Idaho. No photos of those uni components are available yet.
• Weird situation for TCU. The Horned Frogs' Pro Combat uniforms from last season are the basis for their primary design this year (but with less ridiculous pants and their standard purple helmet instead of the black one with the red "blood stripes"). Plus they'll also have a new Pro Combat alternate design for at least one game. More details on that after the Sept. 1 unveiling. Plus-plus TCU and Utah will wear camouflage-trimmed uniforms to support the Wounded Warrior Project when they play each other on Nov. 6.
• Small adjustment at UNLV, where the Rebels have scrapped their helmet's center stripe.
Pac-10
• The conference has a new logo, which will be worn as a patch by all Pac-10 teams. The logo's numerical component will presumably be adjusted next season, when the conference plans to change its name to Pac-12.
• Remember the white helmets that Arizona wore last winter in the Holiday Bowl? They're part of the team's regular wardrobe this season, rotating with the Wildcats' traditional blue helmets, only this time the white version will have a set of fadeaway stripes. That same stripe pattern appears on the team's new pants. And in what might be the best news of the year, the new jerseys are piping-free, which means no more harness-style wraparound wordmark on the back.
• No new uniforms for Arizona State, but it's worth noting that the Sun Devils' linebacking corps will be lining up in uni-numerical order this season.
• The uni numbers on Oregon's green winged jerseys have changed from silver to yellow.
• Al Reser, namesake of Oregon State's stadium, died earlier this year, so the Beavers are honoring him with a memorial patch. The interesting thing is that the patch design is based on the logo for Reser's processed-foods company. Also, the Beavers are one of this season's Nike Pro Combat teams. Further details after the Sept. 1 unveiling.
• Disappointing development on UCLA's road jersey, where the powder blue uni numbers and shoulder stripes are changing to navy (yes, that's a retail replica on the right, but those same colors will be used on the gamers). And all jerseys -- home and road -- will have a little UCLA script on the rear collar area (yes, that's also a retail replica, but the same script will be used on the gamers).
• If you looked closely at that gallery of jerseys with the new Pac-10 patch, you may have noticed a new design for Washington. Disappointing to see such a nice design get cluttered up like that, no?
SEC
• Alabama is one of this season's Nike Pro Combat teams, although the design will reportedly be fairly conservative. Further details after the Sept. 1 unveiling.
[+] Enlarge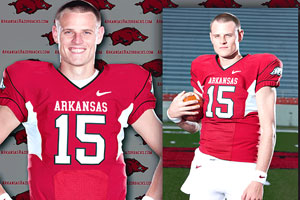 University of Arkansas The Razorbacks didn't help themselves too much with their latest threads.
• Someone at Arkansas apparently figured out that those "tusks" on the jerseys didn't look so hot, although replacing them with some oddly shaped white panels doesn't exactly count as progress. Still, at least they didn't do something totally ridiculous, like printing the team name up the left pant le-- uh, never mind. Only photo so far of the road jersey is this rear view. Want to see the new design in action? Check out this video clip.
• Auburn players wore black cleats last season up until the Outback Bowl, when they switched to white. Must've been a hit, because they're sticking with white this year (but they'll be trimmed in blue, not orange). Also: In the spring scrimmage a few months back, the Tigers increased the size of their helmet logo. At the time, a team spokesman said, "We wanted to see if a larger helmet decal would be more visible and thus enhance our brand. No decisions have been made on whether we will increase the actual size permanently." As it turns out, they've decided to stick with the traditional logo size, which seems like the right call.
• Florida will be wearing a Nike Pro Combat design for at least one game. Further details after the Sept. 1 unveiling.
• Hosiery high jinks at Tennessee, where the Vols have changed their sock color from white to black.
Sun Belt
• The less glamorous schools always seem to get stuck with lower-grade uniforms. Case in point: Louisiana-Monroe, which has gone from one D-level adidas template to another. Player names are once again not being used, but Coach Todd Berry will add them to the jerseys if the team earns a bowl bid. Berry has also introduced a new system of merit decals, which features -- wait for it -- chicken feet. OK, they're actually "Warhawk talons," but c'mon, they sure look like chicken feet.
WAC
• Boise State is one of this season's Nike Pro Combat teams, and the hunch here is that this design will be the most whacked-out of the bunch. We'll find out for sure after the Sept. 1 unveiling.
• The folks at Louisiana Tech are thinking about the big picture and the small details. First, the road pants are switching from white to blue. And the helmet nose bumpers, which have had a red "Tech" for the past several years, will now feature the school's primary logo.
• New Mexico State will once again be honoring a local branch of the U.S. military with a helmet decal. Last season it was the 2nd Engineer Battalion out of the White Sands Missile Range; this year it's the USS New Mexico submarine, which was commissioned earlier this year. Further details here.
• Utah State has new home uniforms. Not exactly a masterpiece, but the old design was so characterless that we may as well call this an upgrade. And as you can see, the team's facemask color has changed from white to navy.
Additional Uni News
• Tim Tebow is in the NFL now, but he's still having an impact on college football, because the NCAA has banned eye black messages for this season. The move is widely believed to be a response to Tebow's penchant for putting Bible verses on his eye black stickers, so lots of folks are already referring to it as the Tim Tebow Rule.
• You know how NFL officials wear those black slacks for cold-weather games? College officiating crews can now wear them as well. Remains to be seen how often they'll break them out.
• Speaking of the officials, a little birdie tells Uni Watch that NCAA zebra stripes will be getting wider next season, increasing from their longstanding one-inch width to two inches -- just like NFL officials used to wear. So there you have it, your first uni-related news flash for next year.
That's it for now. Know of any FBS uniform changes that Uni Watch missed? You know what to do.
Big thanks to the many, many readers and media relations reps who provided photos and information for this column.
Paul Lukas will cover this season's NFL uniform changes next week. If you liked this column, you'll probably like his Uni Watch Blog, plus you can follow him on Twitter and Facebook. Want to learn about his Uni Watch Membership Program, be added to his mailing list so you'll always know when a new column has been posted, or just ask him a question? Contact him here.