Commentary
Uni Watch 2010 NFL preview
Originally Published:
September 8, 2010
By
Paul Lukas
| Page 2
In the 11-plus years of Uni Watch's existence, none of the four major sports leagues has ever started a season without at least one team having updated its primary uniform design -- until now.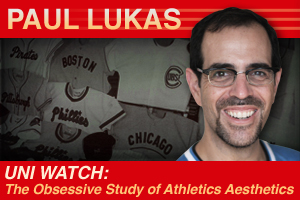 Welcome to the 2010 NFL season, which finds all 32 of the league's teams reprising their basic home and road sets from last season. But that's not to say there's no uni-related news to report -- au contraire, mon frere, there are plenty of uni-centric storylines to discuss this year. In fact, with no teams undergoing wholesale overhauls, that leaves us free to obsess over the smaller details in ever more obsessive detail.
So with the season set to kick off Thursday night, here's this year's rundown, alphabetized by team:
• The Bears have a new set of 1940s throwbacks. Pretty sweet, except that the team's standard uni is arguably the best in the league already, so the throwbacks are actually a bit of a downgrade. They'll be worn on Sept. 27 against the Packers and Nov. 14 against the Vikings. (Memo to the Bears: If you really want to shake things up, try wearing this as a throwback.)
• Two things we can all count on: 1. When the Bills wear their blue throwbacks on Oct. 3 and Nov. 28, every football fan in America will say, "They really ought to wear those full-time." 2. Every football fan in America will be right.
• Welcome news out of Cleveland, where the Browns have decided to scrap the brown britches. Even better, they're now wearing the NFL's most underused mascot character, Brownie the Elf, on their visor tabs.
• Last year the Bucs finally responded to popular demand and broke out a set of Creamsicle throwbacks. They were such a hit that they'll wear them again this year on Dec. 5 against the Falcons.
• You know what the world has been waiting for? Neither does Uni Watch, but a black alternate Cardinals uni probably isn't it.
• The Chargers will wear memorial helmet decals for Don Coryell and Big Hands Johnson during their home opener on Sept. 19. Current plans are for the decals to be removed after that game, so it's just a one-game thing.
• Odd move by the Colts, who chose to debut their 1955 throwbacks in a preseason game -- unusual, but at least it means we have plenty of action shots of the retro design:
No official word yet on whether they'll wear this design during the regular season, but it seems likely. Uni Watch kinda digs the horseshoes on the back of the helmet (just like back in the day) -- after all, that's what you see when a horse is galloping past you, right? Wouldn't want to see them go with that helmet on a full-time basis, but it's a cool alternate look for once or twice a year. (Meanwhile, wouldn't you expect Mr. MVP to remove his wedding band before hitting the practice field?)
• The Cowboys are wearing a 50th-anniversary patch. And in an odd uni-scheduling quirk, their blue jerseys won't be worn at all this season.
• Pretty bold move by the Dolphins, who'll wear their orange alternate jerseys for their Sunday night home opener on Sept. 26. (Given the new alternates recently unveiled by Miami's other prominent football team, this is shaping up as a very orange autumn for the city.)
• Fans weren't too thrilled with the Eagles the last time they came out with a throwback design. But reactions probably will be a lot more positive this year, because Philly is finally bringing back the kelly greens:
Everyone's gonna like those, right? Right. They'll be worn for Sunday's season opener against the Packers. And as you can see, even the Iggles' mascot and cheerleaders will be retro-attired for the occasion.
• The Falcons have a new secondary logo, although it won't appear anywhere on the uniform -- just in the team's off-the-field branding.
• The Giants and Jets will both wear patches to commemorate the opening of the new stadium they're sharing. The Jets' version will look like this; the Giants' design, which will be worn for only the team's first game, is still under wraps for now.
• The Packers are yet another team with a new throwback design. Take a look:
It's loosely based on the team's 1929 uniform and is currently slated to be worn only once, on Dec. 5 against the 49ers. Yeah, the brown helmets are kinda drab (if they were trying to mimic an old-fashioned leatherhead helmet, why not go with a matte finish?), but those bull's-eye uni numbers are the bomb.
• The Pats have put Steve Grogan-era throwbacks into their wardrobe rotation.
• The Rams will honor Isaac Bruce by retiring his No. 80 on Oct. 31. They'll wear their royal-blue throwbacks for that game against the Panthers.
• There's been lots of chatter about the Redskins dabbling with the idea of gold pants. (Someone even drew a cartoon about it.) No official word yet on whether it will actually happen, but it seems unlikely that they'd create this T-shirt unless they planned to follow through with it. In the meantime, someone did some creative Photoshopping to show how it might look. Not bad, right?
• Hmmm, what have we here? Looks as though the Saints have designed themselves a championship logo and have turned it into a jersey patch. Will they wear that patch when the open the season on Thursday night against the Vikings? A team spokesman tells Uni Watch, "That hasn't been determined yet," but the hunch here is that they will.
• It's an annual rite of summer: Readers e-mail Uni Watch to say that the Steelers have removed their front helmet numbers. As Uni Watch patiently explains each time, this is just a preseason thing -- the players have to earn their helmet numbers by making the final roster cut. The white numerals will be there when the Steelers take the field for this Sunday's opener against the Falcons.
• The Titans have worn their white jerseys at home only twice in the past five seasons, but they'll do it for Sunday's home opener to force the Raiders to wear black in the hot Tennessee sun. (For additional info on when NFL teams have worn white at home, look here.)
• This is Brett Favre's the Vikings' 50th season, and they're marking the occasion with a jersey patch.
• Readers are always asking Uni Watch, "Is there a single website that shows each team's scheduled jersey colors for this season?" There ought to be (NFL.com, are you listening?), but there isn't. A few teams post their jersey schedules on their websites, however, so let's thank the Bengals, Texans and Panthers for doing so. (Also: Beware those jersey schedule T-shirts that Reebok is selling -- they're not accurate.)
• The officiating crews are wearing "BL" cap patches this season. That's a memorial for former back judge Bob Lawing, who died earlier this year.
• Last year Uni Watch reported on the new Reebok jersey fabrics and tailoring cuts that were creating all sorts of problems, including the Colts' shoulder stripes becoming severely truncated. Uni Watch was hoping Reebok would address this problem during the summer, but preseason action suggests that it's actually gotten worse. Might be time for the Colts to scrap those stripes altogether (and for Reebok to deal with all the other issues being caused by these new jerseys).
• There have been some small modifications to the league's uni-numbering rules.
• The league has come up with new logos for the conferences, the preseason (didn't notice, did you?), the postseason and the Super Bowl.
• There are also new trophies for the conference championships. Nobody cares.
Finally, here's something that isn't really uni- or logo-related, but it's still pretty cool: To see how brutal your favorite team's travel schedule is this season, click on this interactive map. And if you want to see a real doozy, click on the Niners (Uni Watch's favorite team, as it happens) -- ouch.
Meanwhile, back in the college ranks
In case you missed it last week, Uni Watch had a huge column breaking down this season's FBS uni changes and then a follow-up piece on those Nike alternates. Here are some additional FBS schools that weren't covered in either of those rundowns:
• Bowling Green has an updated uni design.
• East Carolina has changed the piping on its white pants. Not sure yet about any potential changes to the much-more-frequently worn purple pants.
• Florida Atlantic has switched from Nike to Adidas, resulting in two small changes: There's a new uni number font, and the "Owls" wordmark on the upper-left thigh has changed to the FAU logo.
• Houston has started using captaincy patches.
• Kent State has switched from New Balance to Nike and has a slightly revised uniform to show for it.
• Missouri has added a "DS" memorial decal for former QB Daniel Schatz.
• Ohio State is wearing a memorial decal for Jack Tatum.
• Oklahoma will try out a system of virtual ID bracelets embedded in the team's jerseys for Saturday's game against Florida State.
• Yet another school with a memorial decal: Oklahoma State, which is wearing a "55" for Bob Fenimore.
• San Diego State has added a Don Coryell memorial decal.
• San Jose State has added player names to its jerseys and simplified its helmet design.
• Interesting move by Tulsa, which is using the NFL's captaincy patches! Pretty certain that's an NCAA first. Plus the message on the team's nose bumpers has changed from "TTH" ("Tougher Than Hell") to "Heart."
• Intriguing development at UNLV, where one player per season -- this year it's Ronnie Paulo -- will be designated as the "Battle Born" player. This player will wear No. 36 (because Nevada was the 36th state to join the union) and a Nevada flag patch instead of a nameplate. Additional details here.
• USC is now using captaincy designations, plus the Trojans have switched from Oakley visors to Nike.
• Last year Vanderbilt went NNOB (that's "no name on back," for those of you who don't speak uni), but this year it has restored the players' names.
• Two changes for Wyoming: The Cowboys' nose bumper message has changed from "WYO" to "BTW" (for "Bring The Wood"), and they'll be adding a memorial decal for player Ruben Narcisse, who was killed in a car accident on Monday.
Then there are the schools that were covered in last week's rundown but turned out to have additional changes that weren't evident until they took the field for their first games. Those schools shape up like so:
Know of any other FBS uni developments not covered in Uni Watch's past three columns? You know what to do.
Paul Lukas hopes his 49ers get to cash in all their frequent-flier miles. If you liked this column, you'll probably like his Uni Watch Blog, plus you can follow him on Twitter and Facebook. Want to learn about his Uni Watch Membership Program, be added to his mailing list so you'll always know when a new column has been posted or just ask him a question? Contact him here.