Commentary
Uni Watch NBA preview 2010
Originally Published:
October 26, 2010
By
Paul Lukas
| Page 2
You probably haven't given much thought to the collars or necklines on basketball jerseys. And for many decades, neither did anyone else. Everyone wore a standard tank top with a semicircular scoop-neck collar and that was that.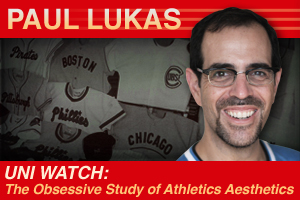 In recent years, however, NBA jersey collars have shown a lot more variety. And someone's clearly been thinking a lot about NBA necklines lately, because no fewer than a dozen NBA teams have new collar designs this season, an unprecedented emphasis on this seemingly innocuous uniform element.
We'll get to those new necklines, along with all of the rest of this season's NBA uniform changes, in a minute. First, though, here's a quick refresher course on the league's new Revolution 30 uniform system, which was announced last month:
• Twenty-seven of the league's 30 teams are using a new high-tech performance fabric called engineered mesh, which is dotted with lots of heat-zoned little pinholes. The exceptions are the Bobcats, Hornets and Magic. Why? Because their jerseys have pinstripes, and it turns out that pinstripes can't be printed onto the new fabric.
• Uniform numbers on all jerseys are now made from a mesh fabric. The lone exception is the front of the Warriors' new jerseys, which have an unusual number setup, so they're sticking with old-style twill numerals. (Also of note: Uni Watch had reported in a previous column that the new mesh numbers would be heat-applied, not sewn on, but that is incorrect. The numbers are indeed being sewn onto the jerseys. In some cases, the construction and application of the numbers has had the effect of creating a new outline color.)
• All shorts now have a silicone rubber lining on the inner waistband to help keep jerseys from coming untucked. And the drawstrings on all shorts now match the uni color instead of defaulting to black or white.
So that's the big picture. With the season about to tip off, here's Uni Watch's annual breakdown of all the smaller changes, presented alphabetically by team:
• The Bobcats are one of the teams with a new collar design. They've gone from a standard V-neck to a notch-V treatment. No other uni changes for them, although it's worth noting that they'll once again be trotting out their checkerboard uniforms on March 23.
• Another team with a new collar treatment: the Bucks.
• The Bulls are marking the 20th anniversary of their first championship with a jersey patch. Also, an excellent side benefit to the league's new fabric is that Chicago's uniforms no longer have that annoying shimmer-sheen.
• When LeBron James left Cleveland, he apparently took the Cavs' gorgeous uniforms with him. The team's new look is tasteful enough but soooo plain -- an apt reflection of the city's post-LeBron funk. And not even the league's first-ever interior-collar slogan can change that. Also: The Cavs will soon be unveiling their latest "CavFanatic" mash-up uniform concept, which will be worn on Jan. 5 and Jan. 21.
• No team in the league would benefit from a makeover more than the Clippers, but instead they've just made some incremental adjustments (here's the road version). Not bad, but not the overhaul this franchise so desperately needs. On the plus side, at least the basketball in their logo is now depicted more accurately.
• The Grizzlies are marking their 10th season in Memphis with a jersey patch. Also: The lettering and numbering used to have inlining, but now that's restricted to the lettering -- the numbers are solid. Why? Because it's really hard to include inlining on the mesh fabric that's now being used for the numerals. So this is a case in which the change in fabric dictated a change in design.
• There's a similar situation in Atlanta, where the Hawks' uni numbers used to be beveled but now they're solid. Again, this is because the of the design limitations of the mesh numerals. And as you can also see in those photos, the Hawks are another one of the teams with a new collar design.
• For years now the Heat have been the only team in the league to wear the NBA logo on their upper-right chest, instead of upper left like everyone else. This season they're finally getting with the program. Also, as you can sort of see in those photos, their uniforms are no longer super-shiny, although the effect is more noticeable on the road and alternate uniforms.
• Very odd situation unfolding in New Orleans, as follows: The Hornets' road uni normally has white and purple pinstripes, but they'll be wearing a modified version of that design for their three October games (two of which are at home) and their November road games. This design features white and yellow pinstripes, plus a yellow-trimmed collar and a patch, all to promote Gulf Coast oil spill restoration. Their home uniform is unaffected, and they'll go back to their usual road design in December. Meanwhile, the Hornets will be unveiling a new alternate uni right after Thanksgiving, plus they'll be wearing their Mardi Gras uniforms on Feb. 27, March 6 and March 7.
• The Jazz have gone back to the old music-note motif, and Uni Watch for one couldn't be happier.
• For some reason Uni Watch has never liked the Knicks' crossover V-neck collar. The new standard V-neck is a subtle but unmistakable upgrade. As you can see in those photos, the Knicks have also made an adjustment to the armhole trim on their home jersey. The trim on the road is still black and orange, although the black component has been reduced ever so slightly.
• As is customary, the defending champions -- this year that's the Lakers -- will wear a championship patch for their Opening Night game, plus they'll also have special warm-ups and shooting shirts that night.
• The Magic have a new arena this season, which of course means a new patch for the home jerseys. They've also updated their logo, but the logo on the back of their shorts has been removed. In addition, Orlando will have a new alternate jersey this season. Although the official unveiling is at least a month away, this photo has been circulating around the web for a while now.
• The Mavericks have changed their road uni from navy to royal, while the royal alternate "Mavs" uniform has been scrapped. No changes to the home uni.
• Another collar switcheroo, this time for the Nets, who've gone from a scoop neck to a V-neck.
• Two small changes for the Nuggets: First, they've made minor adjustments to their collars. And as you can see in those photos, the old shimmer-sheen is gone now that they've switched to the new engineered mesh fabric.
• The Raptors have changed their rear neckline mark from the team's claw logo to a maple leaf.
• The 76ers have changed their collar design.
• A few minor tweaks for the Spurs. The most obvious ones are that the striping on the waistband has been eliminated and the scoop-neck collar has been changed to a V-neck. And for all you minutiae obsessives out there, the thickness of the striped trim along the collar and armholes has been reduced from an inch to three-quarters of an inch. Never let it be said that Uni Watch doesn't bring you every conceivable bit of uni news!
• The Suns have changed their collar from a crossover V-neck to a wishbone.
• Yet another team with a collar adjustment: the Thunder. They used to have a little triangle of color at the base of the neckline, but now they've gone to a regular V-neck.
• Mixed bag for the Timberwolves. The bad news is that they've removed all the green from their uni design. Uni Watch doesn't understand this move at all -- what's the point of depicting a tree line if you can't tell they're trees? The good news, however, is that they've updated their number font to make it more legible. The Wolves will also be unveiling an alternate jersey later this season, but Uni Watch isn't at liberty to show that one to you yet.
• Nothing new for the Trail Blazers, but it's worth mentioning that their Rip City alternate design, introduced last season, is slated to be worn on Nov. 25 and April 12.
• Makeover of the year honors go to the Warriors, whose new uni set is the bomb. Yes, Copperplate Gothic is a highly questionable font choice (soooo 1992), but whatever -- the overall design is strong enough to overcome that.
• The Wizards are yet another team with an updated collar design. And here's a really interesting little detail: The logo patch on the team's shorts has been modified so that all the negative space has been stripped away, making the patch lighter. (Similar adjustments have been made to a few other teams' patches, although Uni Watch doesn't have a full rundown of those yet.)
• Can't keep track of all those new collar designs? Here's a handy breakdown of every team's collar treatment.
• Six teams -- none yet publicly revealed -- will wear throwbacks in February and March. The common historical theme this time around is that all the throwbacks will honor teams that won the Walter A. Brown Trophy (which was the league's championship hardware before the NBA switched to a trophy that looks like a trash can). Further details in a month or two.
• As usual, teams playing on Christmas Day will wear snowflake patches and players will be allowed to wear red or green sneakers. When possible, teams will also dress in holiday-appropriate colors (the Bull-Knicks game, for example, will feature Chicago wearing red and New York wearing green).
• Speaking of holiday colors, the Knicks, Bulls, Celtics and Raptors will once again wear green for St. Patrick's Day.
• The Lakers, Knicks, Spurs, Suns, Bulls and Heat will again participate in the league's Noche Latina program, which means their jersey insignias will be getting Spanish modifications for selected games in March.
• Super-obsessive detail: All player name lettering, regardless of typeface, is now 2½ inches high. "There was a time when they were all 3 inches," says NBA apparel director Christopher Arena. "But years ago, when we did the Pistons and the Raptors, which had the names running straight across instead of arched, we went down to 2½ because we knew it was going to be a tight fit. Then we had some teams that had inserts and side panels invading the shoulder area, so they went to 2½ as well. And eventually we just decided that's the best size for everyone, especially if you get some players with long names."
• For years, jerseys have been issued in numbered sizes (48, 52 or whatever) but now jerseys will have lettered sizes.
• For all you hobbyists who collect game-used jerseys, listen up: The little tab on the tagging that used to indicate the season when the jersey was issued is no longer being included. Christopher Arena explains: "The teams are ordering so many jerseys now that a jersey ordered in one year might end up being inventoried in the next year." So instead, each jersey will now have an authentication tag with a unique serial number (it's the little square next to the size tag). This won't indicate whether the jersey was game-used, but it will allow hobbyists to track when a given jersey was issued.
• All warm-up jackets and shooting shirts will now have this abstract pattern on the back. Also, the three adidas stripes on the sleeves and pants, which in the past had all been one color, will now appear in two-color segments (except for the Sixers, who've opted to keep the stripes all one color).
That should be enough to keep you busy for now, but there's more NBA news coming, including a very interesting experiment for the All-Star Game. Can't talk about that yet, though. Stay tuned.
Paul Lukas does not have a new collar design. If you liked this column, you'll probably like his Uni Watch Blog, plus you can follow him on Twitter and Facebook. Want to learn about his Uni Watch Membership Program, be added to his mailing list so you'll always know when a new column has been posted, or just ask him a question? Contact him here.