Commentary
Uni Watch heats up the hot stove
Originally Published:
November 23, 2010
By
Paul Lukas
| Page 2
Every major pro and college sport is in full swing right now except for baseball. But baseball is where the uniform action is, as several teams have recently unveiled uni changes for next season. Let's take a look: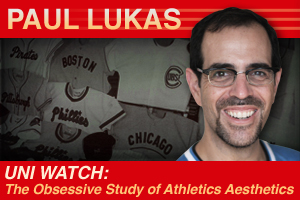 CLEVELAND INDIANS
The short version: The Tribe's new set is oddly schizophrenic. The home alternate (now paired with a new red cap) and the new road grays would make a good matched set, and ditto for the home whites and the navy road alternate.
Pros: Uni Watch never liked the "Cleveland" script on the road grays or the script "I" cap -- good riddance.
Cons: That new red cap could use some white outlining around the "C," just to help define it a bit better. And speaking of outlining, this was a major missed opportunity to eliminate the unnecessary navy outline on the home script and go back to this, which always looked much better.
Overall: A mild upgrade, but the split-personality thing is troubling. (Further details on the new uni set here.)
WASHINGTON NATIONALS
The short version: Boy, they sure do like a certain letter of the alphabet.
Pros: The new home jersey shows impressive "less is more" restraint. And the bevel-blocked uni numbers have been scrapped throughout the entire set -- a major improvement.
Cons: The new road cap looks too Braves-ish, no team needs two different solid-colored alternate jerseys, and the stars-and-stripes jersey is ridiculous enough to give patriotism a bad name. Also, the new team logo lacks the heraldic flair of the old one.
Overall: On balance, probably a mild upgrade. But this home prototype that was making the rounds in recent weeks would've been a much better way to go. (Additional info here.)
CHICAGO WHITE SOX
The short version: The Sox have replaced the diamond-shaped sleeve patch on their road jersey with the team's cap logo. Actually, that's the long version too.
Pros: None.
Cons: Yeah, it's only a sleeve adornment, but what a mistake. If they were determined to add the "S-O-X" insignia to the sleeve, why not do something like this? Fans on blogs and message boards have been so upset about the switcheroo that ChiSox marketing exec Brooks Boyer actually sent bloggers a letter of apology (although he also said the team is sticking with the sleeve alteration).
Overall: Can you imagine anyone raising such a fuss over a sleeve patch?
And the Home of the Braid
The World Series already feels like a distant memory, but you may recall that many of the players in this year's Fall Classic were really going overboard with those titanium necklaces made by the Japanese company Phiten.
Many of those thick, rope-like necklaces worn during the Series were custom-braided by Midori Johnson (pictured there with Pablo Sandoval and Neftali Feliz, respectively), the Japanese woman who manages Phiten's flagship American store in Seattle. The shop is located just outside the Grand Hyatt Hotel, which is where most American League teams stay when passing through to beat play the Mariners. The Phiten store has become a regular stop for many of the visiting players, and along the way Johnson has become a sort of titanium stylist to the stars, many of whom she counts as friends, not just customers.
Johnson's first custom necklace was for Josh Beckett of the Boston Red Sox in 2007. "He asked me to make him something different," she recently told Uni Watch. "He likes to hunt, so I made him a camouflage necklace."
Beckett then encouraged his teammates Daisuke Matsuzaka and Jon Lester to get custom-braided necklaces from Johnson, and from there, she said, "It was just like dominoes." Soon players throughout the American League were wearing custom-made Midori Johnson creations.
For the World Series, Johnson went down to San Francisco and made her services available to the players. "I wasn't allowed in the clubhouse, so I went to their hotel," she said. "I just texted them -- 'Hey, I'm here' -- and boom, they came to see me. Lots of familiar faces, because they know me. Or for some of them, I know their agents, so the agents brought the players down to me, and I made them their necklaces."
At least a dozen players, including the entire Texas Rangers bullpen, wore Johnson's handiwork during the Series. And in what may have been a World Series first, the umpires were titanium-clad as well. "I got a call asking could I meet with the umpires, so I went to their hotel," she said. "I was sitting there waiting, and here comes John Hirschbeck. He said, 'I want all the umpires to wear them,' so I made six necklaces for them."
The braided necklaces, which are called Tornadoes, are made from two or three of Phiten's thinner necklace models. It typically takes Johnson only about five or 10 minutes to make one of them, although a few of the more complex designs have taken a bit longer.
Upon hearing of Uni Watch's allegiance to the Mets, Johnson promptly offered to render a Tornado in blue and orange (but not black -- please take note, Fred and Jeff Wilpon). Here she is making it:
The necklace recently arrived at Uni Watch HQ, where your favorite (OK, only) uniform columnist has been test-driving it. Does it really "enhance circulation" and "stabilize energy flow," as the company claims? Only Phiten's engineers and the Tooth Fairy know for sure. But one thing is certain: This is probably the only time Josh Beckett, John Hirschbeck and a uniform columnist will all wear something made by the same person.
Remain Calm -- For Now
As you may have heard late last week, there was a serious urban myth going viral around NFL circles. The gist was that Nike, which will be taking over the league's uniform license in 2012, was already making plans to give the NFL a slight makeover.
First, just to clarify: Although several media outlets ran with the story (and at least one NFL head coach was actually asked about it), those mock-ups did not come from Nike, they're not on the NFL's drawing board and you will not be seeing them in 2012. Uni Watch has known that all along, and NFL spokesman Brian McCarthy confirmed it last Friday.
So if the uni designs aren't legit, what are they? They're just Photoshop concepts created by some fans with too much time on their hands. Images like these circulate every day on uni-centric message boards and blogs, and usually nobody outside of the insular uni-verse notices, but this set just happened to go viral. (You can see the full set here.)
But even if the mock-ups aren't real, are they representative of what the Nike folks are likely to do once they start steering the NFL's uniform ship? Maybe, but Uni Watch strongly doubts it. For starters, it's worth remembering that Nike handled about a third of the NFL's uniforms back in the 1990s, and the sky did not fall. More to the point, NFL teams aren't like college programs -- they don't change their uniforms every year or two, and they don't need to plaster their jerseys with video game graphics to impress 17-year-old recruits. They're mega-corporations that look at the long haul and the big picture, not short-term trends or flavors of the month. Heck, not a single NFL team revised its home or road uniforms this season.
Also, the NFL's longstanding rules regarding alternate uniforms (a team can have only one alternate or throwback design at a time and can only wear it for two regular-season games per year) don't encourage too much radical tinkering. It'll be interesting to see if the league revises those rules when the Nike contract kicks in.
In any event, whether you love Nike's approach to uniform design or hate it, the thing to remember here is that Nike can't unilaterally impose a design on a team. Like any outfitter, Nike can't do anything that a team doesn't agree to let them do, so the responsibility for safeguarding a team's aesthetic dignity ultimately lies with the team itself.
College Hoops Update
Last column's rundown of new college basketball uniforms was, as Uni Watch suspected, incomplete. In addition to the ones listed in that column, new looks are on display for Ball State, Bucknell, Cleveland State, Drake, Grand Canyon, Hofstra, Holy Cross, IPFW, Kent State, Louisiana Tech, Penn, Purdue (a new gold alternate), Richmond, St. Joe's (a new gray alternate), St. Mary's, San Francisco, Seton Hall, South Alabama (only the road uni), South Dakota State (a new black alternate), Southern Illinois (a new black alternate) and Temple.
Last week's column also listed some of the schools with new court designs. To that group we can now add Drake, Navy, North Carolina and Southern Illinois.
Know of still more new looks from the world of college hoops? You know what to do.
Paul Lukas somehow got this far in life without ever wearing a necklace of any kind, titanium or otherwise, until now. If you liked this column, you'll probably like his Uni Watch Blog, plus you can follow him on Twitter and Facebook. Want to learn about his Uni Watch Membership Program, be added to his mailing list so you'll always know when a new column has been posted, or just ask him a question? Contact him here.
ESPN.com
Sports journalism's foremost uniform reporter
ESPN.com columnist since 2004
Also blogs at uni-watch.com