Commentary
Cross dressing in the sports world
Originally Published:
December 21, 2010
By
Paul Lukas
| Page 2
There's been a strange sight on the basketball court at Indiana-Purdue at Fort Wayne this season: the Everlast logo.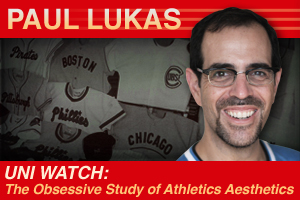 That's John Peckinpaugh, a junior who plays forward for IPFW. He had some problems last year with concussions, so the IPFW staff decided he needed some protection. If you're a boxing fan, you probably recognize that he's wearing the same type of headgear that pro fighters use while sparring, except the cheekbone padding has been cut off and taped over.
There are no official records on this sort of thing, but Uni Watch believes Peckinpaugh is the first basketball player to wear the Everlast logo. But he certainly isn't the only athlete to have taken equipment designed for one sport and repurposed it for another. In fact, he isn't even the only current IPFW athlete to be doing that: The school's women's hoops team includes a forward named Sydney Weinert, who's been wearing protective soccer headgear. (Peckinpaugh tried that kind of rig himself but found it fell off too often, which is how he ended up wearing the boxing gear.)
Peckinpaugh and Weinert are the latest exemplars of a phenomenon Uni Watch calls cross-dressing. No, not like this. When used in this context, cross-dressing refers to a player in one sport who uses equipment designed for another sport. Here's a selective rundown of past and present examples:
• At least three MLB players -- Ellis Valentine, Gary Roenicke and Dave Parker -- have protected broken facial bones with football face masks.
• Parker also experimented with a hockey goalie mask, albeit for only one plate appearance. (For more on Parker's 1977 mask odyssey, look here.)
• Conversely, several NHL players, including the great Bobby Hull, have worn football face masks.
• There are several photos of Vince Lombardi conducting Packers practices with a player in the background wearing what appears to be multiple catcher's chest protectors. Frankly, Uni Watch isn't sure what this was for -- maybe a tackling drill?
• Basketball Hall of Famer Calvin Murphy once played while wearing a hockey helmet.
• Although this photo obviously leaves a lot to be desired, the Hawks player in the background is Joe C. Meriweather, who appears to have been wearing a hockey helmet, possibly with a faceguard.
• Back when MLB infielder David Eckstein was with the Angels, he often used NFL gloves instead of baseball batting gloves.
• In the NHL, Alex Ovechkin has been wearing an NFL undershirt for several seasons now. You can see it whenever he's interviewed between periods.
• Devils goalie Martin Brodeur has been wearing an NBA padded sleeve to protect his bruised elbow. No photo, but you can read about it in the fourth paragraph of this article.
• NHL player Joey Mullen used to wear a football neckroll.
• Boxer Floyd Mayweather Jr. wore two-in-one baseball socks (those are the socks with the colored vertical stripes that's supposed to simulate stirrups) for his 2009 bout against Juan Manuel Marquez.
• After soccer goalie Peter Cech had problems with concussions, he began wearing rugby headgear.
• Robin Rostratter, who plays on Cal's women's volleyball team, has been wearing a padded martial arts helmet after having some concussion issues. (Further details here.)
• Cricket players have sometimes worn motorcycle helmets.
• And of course there are many, many examples of athletes using footwear originally designed for another sport. But that seems like an entire side category unto itself -- one worth exploring at a later date.
(And in case you're wondering, former MLB catcher Charlie O'Brien isn't on this list because he never wore a cage-style hockey goalie mask in a baseball game. Rather, he worked with a hockey mask company, Van Velden Mask, to come up with a new catcher's mask inspired by the cage style. Close, but not quite the same thing as cross-dressing.)
And there may be more cross-dressing to come. Carlos Delfino of the Bucks has been out with post-concussion symptoms since early November. According to a small note in this article, Delfino "will play with protective headgear" when he eventually returns to the court. It isn't yet clear whether he'll be wearing something from another aisle of the sporting goods store, or if the Milwaukee equipment staff is devising something special for him. Either way, it seems like a safe bet that he probably won't be wearing Everlast gear.
All of which conveniently brings us back to John Peckinpaugh, the IPFW player. Uni Watch recently had a chance to speak with him. He's a nice kid -- humble, soft-spoken. Here's how our interview went:
Uni Watch: How did you end up wearing the boxing headgear?
John Peckinpaugh: Last season I had about four concussions in a little over a month. So my coaches looked at headgear choices out there and decided that the boxing headgear was the best way to go.
Were your concussions from head-to-head contact with other players, or hitting your head on the court, or what?
The first one was from getting a knee to the back of the head. The other three were from elbows.
Did you try other things before arriving at the boxing idea?
Yes. We tried soccer headgear-- sort of a padded headband kind of thing. But it fell off a lot.
Did you guys have to get permission from the NCAA or anything like that?
Yeah, I think our coaches went through the NCAA to get their OK for me to wear it during games.
From the photos I've seen, it looks like you cut off the cheekbone protectors. What was that about?
With the cheekbone padding there, I couldn't really see anything unless it was right in front of me, so we cut those parts off and taped over them so they wouldn't scratch my face. But now they just got me a new one.
Right, I've seen a photo of it. Looks like this one didn't have cheek padding to begin with.
Yeah, it's a lot better.
How does it feel -- is it heavy? Is it hot?
Yeah, it's really hot. And it kinda itches a little bit, but it's not too bad.
If you could redesign it, what would you change?
I'd probably put a little bit less padding on it.
Do you take it off when you come out of the game, or during timeouts?
Yes, I do. Pretty much, if I don't have to have it on, I take it right off.
Do you wear it in practice?
Yes, every day.
What do your teammates think of all this?
We have some jokes, but they're pretty good about it. They understand that if I get another concussion, I won't be able to play anymore.
And what about opposing players -- has anyone said anything to you, either positive or negative?
They just ask me why I wear it. Nobody's really talked trash to me about it yet. I'm sure it will happen eventually.
You're a junior, so you still have a lot of college basketball in front of you. Do you expect to be wearing this gear for the rest of your college career?
I hope not. I hope I won't have to wear it next year. We'll see.
Are you a boxing fan?
I'll watch the big bouts.
So does it feel cool to be wearing the Everlast logo on the court? You're probably the first basketball player ever to wear it.
Yeah, that's all right. I get a kick out of that.
Do you think other basketball players who've had concussions should wear something like this?
Maybe, yeah, if they've had multiple concussions like I had.
What about players who haven't had concussions -- do you think basketball has reached the point where players should be wearing something like this to prevent concussions from happening in the first place?
No. I think I just got unlucky. I took a few tough shots and probably should've taken more time off. Also, I'm not the most talented player in the world, so I have to play really hard, with a very physical style of play, in order to compete at this level. So when you play that way, you're gonna get banged around a little.
---
And there you have it, straight from the mouth of the only guy ever to wear basketball and boxing gear simultaneously (well, at least until Manny Pacquiao fights in NBA socks). In recent days they appear to have covered up the Everlast logo on Peckinpaugh's rig, so that particular visual quirk appears to have run its course, at least for now -- too bad.
Meanwhile, do you know of more examples of cross-dressing in the sports world that Uni Watch might have missed? Send you nominations here.
Orangemen, but not from Syracuse
In last week's Uni Watch column, Auburn associate athletic director Tim Jackson explained that the school's conservative approach to its uniforms was rooted in a one-game experiment that didn't turn out so well: "I forget exactly when it was, because it was before I got here, but we came out wearing orange jerseys and got beat by Georgia. I think that was the game that really locked Auburn people in regarding the uniforms."
As it turns out, however, Auburn has worn orange jerseys on more occasions than Jackson apparently realized -- at least four times from 1978 through 1980 (usually for their last home game of the season), and at least twice in the 1950s.
BOWL-O-RAMA
As we head toward bowl season in college football, a few interesting storylines are shaping up:
• Are those new Nikegon uniforms part of a vast Day-Glo conspiracy? Could be -- full details here.
• Virginia Tech will be wearing orange helmets for the Orange Bowl. Hey, could've been worse -- imagine if they were playing in the Pinstripe Bowl instead.
• Last season Arizona wore blue helmets for the regular season and then switched to white for the Holiday Bowl. This year the Wildcats are coming full-circle: After wearing white helmets for their home games this season, they're switching to blue for the Alamo Bowl.
That information comes from reader Patrick Campbell, who's combed through old yearbooks and newspaper clippings to come up with the following Auburn-in-orange breakdown:
• Nov. 17, 1951: Georgia 46, Auburn 14. No photos, but the game and the orange jerseys are referred to in this article (which also mentions that Auburn wore blue pants for that game -- shocking!).
• October 29, 1955: Tulane 27, Auburn 13. "According to an article I read, coach Shug Jordan burned the orange jerseys after the game," says Campbell.
• Nov. 18, 1978: Auburn 22, Georgia 22. Two photos from this game are available here. That's Joe Cribbs on the left, without any sleeve stripes. Why? Because he was wearing a tearaway jersey, which was little than a T-shirt.
• Nov. 10, 1979: Auburn 14, Mississippi State 3. Finally, an orange-shirted victory! Here's a photo, plus the jerseys are mentioned in this article.
• Nov. 8, 1980: Auburn 31, Southern Mississippi 0. The orange design is really on a roll now. Good photos here.
• Nov. 15, 1980: Georgia 31, Auburn 21. Looks like they went back to the orange well once too often. This is apparently the game Jackson was referring to. Highlights -- or, from an Auburn perspective, lowlights -- in this video segment.
So the Tigers' overall orange record, at least based on these games, stands at 2-3-1. Not disastrous, but it seems like a safe bet that they won't be pulling any surprise orange maneuvers for the BCS title game next month.
Paul Lukas, like legions of other street hockey goalies, used to use his baseball glove instead of a true goalie's mitt. If you liked this column, you'll probably like his Uni Watch Blog, plus you can follow him on Twitter and Facebook. Want to learn about his Uni Watch Membership Program, be added to his mailing list so you'll always know when a new column has been posted, or just ask him a question? Contact him here.
ESPN.com
Sports journalism's foremost uniform reporter
ESPN.com columnist since 2004
Also blogs at uni-watch.com