Commentary
Curling proves to be the sweep science
Originally Published:
April 7, 2010
By
Paul Lukas
| Page 2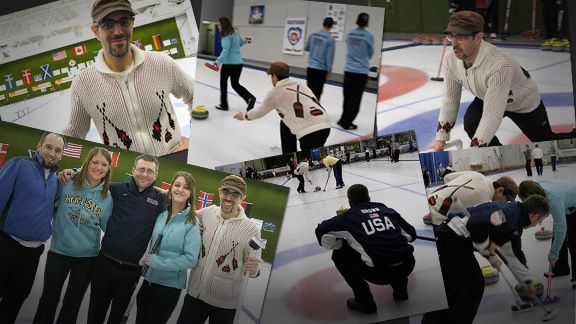 ESPN.com Illustration
For most of America, curling doesn't exist except during the Winter Olympics. Then there's the momentary surge of interest -- "Oh right, the funny game with the brooms, that's sorta cool" -- and then the Olympics end and curling disappears from everyone's radar for another four years.
But curling doesn't stop when the Olympics are over. The World Men's Curling Championships are taking place right now in Italy, in fact. And I've been following the proceedings closely, because I recently received some personal curling lessons from one of the players competing there.
Those lessons were part of a week I recently spent immersed in one of America's few curling hotbeds. In addition to getting tutored by a top player, I competed in a tournament against a worldwide array of Olympians and national champions. I tasted victory, defeat, and a lot of alcohol (curlers are serious drinkers). And I think I picked up the game well enough to avoid embarrassing either myself or my instructor. It was an amazing experience from start to finish. Here's how it went down.
Feb. 6: I'm watching the third quarter of the Super Bowl when an e-mail comes through on my phone. Who the hell would be e-mailing me during the Super Bowl?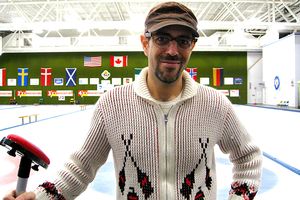 Jack KirrPaul Lukas shows off throwback curling attire at the annual House of Hearts bonspiel in Duluth, Minn.
A curler named Tyler George, that's who -- a runner-up at the 2010 U.S. Olympic curling trials. He's just seen
my recent article about Minnesota sports
and is intrigued by the note at the end about how I'd like to learn to curl. "If you're serious about that," he writes, "I'd be more than happy to help."
Over the next few days, a plan takes shape: I'll go back to Minnesota in mid-March for a few training sessions with Tyler at the Duluth Curling Club. Then I'll compete as a player in the House of Hearts, an annual charity bonspiel (that's curling-speak for "tournament"). The HOH is formatted sort of like a pro-am, with two dozen top players coming in from around the world. Each of them will serve as the skip (i.e., captain) for one of the bonspiel's 24 teams. The other players will mostly be local league curlers, along with at least one beginner -- me.
I'm so psyched about getting personal instruction from an elite athlete and competing against the sport's top players that it takes a few days before I realize I could end up making a complete fool of myself.
Feb. 22: It turns out there's a curling club in South Plainfield, N.J., less than an hour from where I live in Brooklyn. Tyler arranges for me to get a training session there from Dean Gemmell, a transplanted Canadian who's a top player.
The club is a little cinder-block building with three sheets (the curling equivalent of a field or court). Dean is a good teacher, patiently showing me the correct way to slide out of the hack (the curling version of starting blocks) and how to deliver a rock. It's an odd experience. The slide sort of feels like being on a roller coaster -- just barely in control, but with the possibility of flying off the rails at any moment.
To my surprise -- and, I think, Dean's -- I quickly get the hang of it, sending rocks down the ice relatively smoothly and even getting them to curl by imparting the proper amount of rotation. As I drive home, I'm no longer quite so worried about making a fool of myself in Duluth.
Feb. 23: I wake up feeling a little bit sore in my hips and quads. Nothing serious, but little muscles that I didn't even know were there are barking a bit. I reach for some aspirin but then think better of it, deciding to wear my aches and pains as a badge of my virgin curling experience.
March 10: Nowadays, curlers wear performance-fabric gear -- glorified track suits, basically. Back in the day, however, they wore groovy cardigan sweaters with shawl collars, and I've been determined to find an old one to wear for the HOH. After weeks of fruitless searching on eBay, I finally find one that looks like it will fit me. I'm worried it might not arrive in time, so I have the seller send it directly to the hotel where I'll be staying in Duluth.
March 14: Tyler and his team win the U.S. nationals in Kalamazoo, Mich. For Tyler, this means he and his team will get to compete in the world championships in April; for me, it means I will now be getting personal instruction from a newly crowned national champion.
[+] Enlarge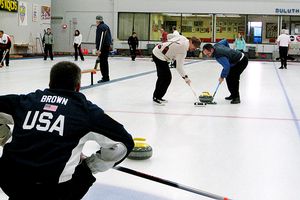 Jack KirrLukas and teammate Matt Cartier sweep into action under the watchful eye of team skip Craig Brown.
Tuesday, March 16, 6 p.m.:
I board a Minnesota-bound flight from LaGuardia. The guy sitting next to me -- a New Yorker headed to Minneapolis on business -- asks why I'm going to Duluth. "To go curling!" I reply. He gives me a funny look and turns back to his magazine.
Tuesday, 11 p.m.: Tyler meets me at the Duluth airport, drives me into town, and insists on escorting me to the front desk of my hotel. A package is waiting for me -- the sweater. I try it on right there at the desk. Tyler likes it, and the desk clerk really likes it. Even if I suck at curling, at least I'll look good doing it.
Wednesday, March 17, 1:30 p.m.: Time for my first training session with the new champ. I'm worried that my New Jersey session might have been a fluke, but I pick up pretty much where I left off, delivering rocks down the sheet fairly smoothly. The sensation of being on a roller coaster is now gone. I feel steady, comfortable, in control.
Tyler seems pleased. "I expected you to be way worse," he says. I'm not sure how to take this.
After refining my technique a bit, Tyler says it's time to work on the less glamorous part of curling: sweeping. I'd done almost no sweeping out in New Jersey, so Tyler shows me where to position my hands on the broom, how to center my weight, and how to recognize how much sweeping a given shot will need (an extremely nuanced skill that I, as a beginner, have no hope of grasping). Then he starts sending rocks down the ice and has me sweep ahead of them.
It's no picnic. After sweeping in front of two rocks, I'm winded; after six, I'm drenched with sweat and my whole upper body feels shaky. You can make all the housework jokes you want, but it's a serious workout. Plus it's taking place on ice and you have to be careful not to touch any of the rocks already in play, which makes the whole thing much trickier.
Afterward, up in the club's bar, Tyler introduces me to a bunch of the club's members, several of whom had been watching our training session. "Not bad," one of them says. I snap up this morsel of small praise, figuring it might be the only compliment I hear all week.
Wednesday, 5:30 p.m.: Tyler takes me to meet some friends at a local supper club. It's his first time in the place since winning the nationals a few days earlier, and he's greeted like a conquering hero. Guys give him high-fives, girls give him hugs, everyone offers to buy him drinks. I wonder to myself how many places in America would treat a curling champion like such a rock star. Then again, how many places have a curling champion in their midst to begin with?
Wednesday, 8 p.m.: A bunch of the celebrity skips have arrived and are convening at a downtown cocktail lounge, so we go over to meet them. It's a who's who of curling royalty, and they're an interesting bunch. Almost nobody can afford to make curling their full-time gig, not even at the elite level these players are on, so they all have day jobs. Tyler helps run his family's liquor store and dabbles in real estate. The others are all over the map: systems analyst, photographer, translator, engineer, hotel manager, customs agent. It makes for a more varied dialogue than you normally get with top athletes. Less gym talk, more life talk. I count this as a plus.
Meanwhile, the whirlwind of travel and curling has led me to forget that today is St. Patrick's Day. But it turns out to be easy to remember.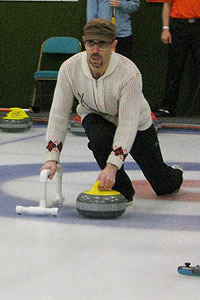 Jack Kirr Our reporter shows his form while preparing to release the stone.
Thursday, March 18, 8:30 a.m.:
I wake up and find myself with the same soreness in my legs and hips that I'd dealt with after my New Jersey session. I was ready for that, but I hadn't counted on my back and shoulders feeling like a war zone. Also unexpected: My hands are sore. Sweeping has kicked my butt.
Thursday, 1 p.m.: Figuring some protein grease might prove restorative, I scoot across the bridge to Superior, Wis., and have lunch at the Anchor Bar, a classic Wisconsin tavern that serves some serious burgers. Sure enough, by the end of this meal, my curling-related aches and pains are the least of my physical concerns.
Thursday, 3 p.m.: Another practice session with Tyler. At one point, he has me try a take-out shot (shooting a rock at another rock to knock it out of play), and I nail it right on the nose -- an immensely satisfying moment. We decide this is a good place to stop. The next time I curl, it will be in the bonspiel.
Thursday, 6:30 p.m.: Names are drawn from a hat to form the HOH teams. My celebrity skip turns out to be Craig Brown, a two-time national champion whose family runs a curling-supply business in Wisconsin. My other teammates are Matt Cartier (who works in insurance) and Becca Jensen and Jen Holtan (a pair of weight-loss counselors from the Twin Cities who are splitting a spot on our team). Matt and Becca warn everyone not to expect too much from them because they've "only been curling for a few years," which is put in useful perspective when they hear how much experience I have.
Thursday, 7:30 p.m.: With the teams now chosen, everyone's asking each other, "Who's your skip? Who's your skip?" When I tell people I'm with Craig, the responses fall into three categories, none of them printable, but here's a rough approximation:
• "Great curler. But jeez, what a jerk."
• "Tremendous guy. Too bad he can't curl to save his life."
• "I hear one of his body organs is a bit on the smallish side."
Naturally, Craig is sitting right there when all of this is said.
Thursday, 9:30 p.m.: After dinner at the club, we all hop in limousines for a short trip to a local pub. Word of my ESPN affiliation has begun to spread among the curlers, several of whom approach me and ask something along the lines of, "You're not going to write that I got stupid drunk, are you?" By the time I leave the pub around 1 a.m., we've agreed on a rough protocol regarding my reporting of drunken shenanigans: What happens in Duluth stays in Duluth. Mostly.
Friday, March 19, 9:55 a.m.: Tyler, who's sharing a hotel suite with me, bursts into my bedroom wearing nothing but bright gold boxer shorts and a hangover and begins jumping on my bed. "Wake up, Paul!" he shouts. "It's a curling day!" I mumble something incoherent and try to retreat back under the covers.
Friday, 2:45 p.m.: My team prepares for its first game of the bonspiel. I break out the sweater, which garners lots of approving oohs and ahhs from teammates and foes alike. A few players ask if they can wear it. "From my cold, dead hands," I tell them.
Friday, 3:05 p.m.: We start the game in the traditional way, by shaking hands with our opponents and saying, "Good curling." I'm throwing lead (i.e., first) for our team, so Craig gives me some instructions and encouragement and goes down to the other end of the sheet to mark the spot I should aim for. I feel good, I feel ready. I grab a rock and pick up Craig's mark. Then I slide out onto the ice, deliver the rock, and watch as the first shot of my curling career … goes long and out of play.
Most of my next few shots are long as well, but I eventually make some adjustments and find the range. Here's one of my shots:


Meanwhile, I sweep for Becca (who turns out to be quite good), Matt (who's really good), and Craig (who's, like, ridiculous, and a swell guy besides). We fall behind, catch up, then take the lead. The game eventually goes down to the final shot, and we manage to eke out a one-point victory. "Congratulations," Craig tells me, "you're probably the only one here with an undefeated lifetime record."
Friday, 4:45 p.m.: Citing a desire to go out on top, I announce my retirement from curling.
Friday, 5:30 p.m.: I come out of retirement for our second game. No more long shots for me this time. I'm locked in, putting my rocks pretty much where Craig calls for them, although I'm still a somewhat awkward sweeper. Here I am with Jen, sweeping for one of Matt's shots (and mistakenly continuing to sweep after Craig has yelled, "Whoa!" at the end):


About midway through this game, our team starts to feel like a team -- more cohesive, more like a functioning unit. We coast to a comfortable victory, extending my perfect career mark. Lots of high-fives in the bar afterward, and a bunch of people tell me they can't believe I'm just a beginner.
Tyler comes over like a proud coach and says, "Well, well, look who's undefeated!" He and his team have won their games too, so we celebrate our 2-0 records.
Friday, 9:15 p.m.: We find out that our opponents in tomorrow's quarterfinals will be the team skipped by John Shuster, a two-time U.S. Olympian. His squad also includes Tyler's sister, Courtney George, who was on the 2006 U.S. Olympic women's team. In short, we're kinda screwed.
I'm discussing our situation with Craig when the other two members of Shuster's team bring over a round of drinks for us and then scurry away. Craig and I both look annoyed. My friend Jack, who's come up from St. Paul to see me curl, doesn't understand the little power play that's just occurred, so I lean over to explain.
"After a game is over, it's traditional for the winners to buy a round for the losers," I tell him. "Shuster's team figured they wouldn't bother to wait that long."
Saturday, March 20, 9 a.m.: I wake up and find my entire body feeling like a creaky hinge. I take two aspirin and limp back to bed.
Saturday, 12:45 p.m.: Our quarterfinal match against Shuster's team begins. I shoot well, and even sweeping seems to be coming more easily now. My teammates shoot even better. As we build a two-point lead halfway through the game, I allow myself to fantasize about buying pitchers of beer for those guys who bought us the drinks last night.
But curling turns out to be a game of swift momentum changes, especially when you're playing against a team with two former Olympians. We lose by a lopsided score. Craig consoles me on the end of my undefeated streak.
Saturday, 3 p.m.: Up in the bar, I get roped into a game of dodge beer, a weird hybrid of beer pong, target practice and tag. Twenty minutes and two games later, I have a new sport in which I'm undefeated. I quickly announce my dodge beer retirement and promise myself to make this one stick.
Saturday, 4:45 p.m.: Our loss in the quarterfinals has put us in the "D-Ranger" bracket, which is sort of a booby prize round. Instead of shooting down the ice, we shoot diagonally to the adjacent sheet, and then across the short way. It's fun but also pointless, and I find myself wishing we could play one more real game. On the bright side, D-Ranger rules specify no sweeping, which everyone else seems to appreciate as much as I do.
Saturday, 6 p.m.: With our slate of games now finished, we gather for a team portrait and then head up to the bar, where Craig buys us a round of celebratory shots. We raise our glasses and once again give the sport's traditional salute: "To good curling!" Somehow it still doesn't sound corny.
Saturday, 7:45 p.m.: Shuster's team wins the title, which means our loss was to the eventual champion. I can live with that.
Saturday, 9:30 p.m.: After a brief awards ceremony, the post-bonspiel party begins. It's a pretty raucous affair, but I can't share any of the details -- remember, what happens in Duluth stays in Duluth. Mostly.
(Special thanks to Jack Kirr, who shot the video and most of the photos for this article.)
Paul Lukas is a Page 2 columnist. He's rooting hard for the USA team, including Tyler George, in the world championships.