Commentary
Super Bowl XLV primer on aesthetics
Originally Published:
February 3, 2011
By
Paul Lukas
| Page 2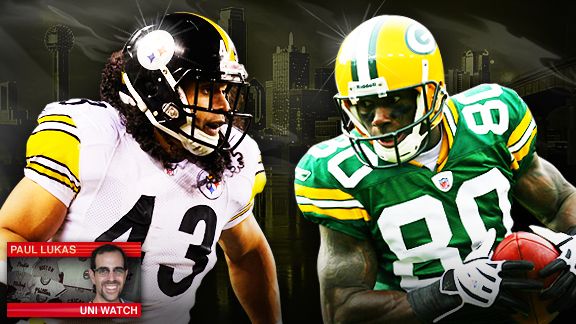 ESPN.com Illustration
From a visual standpoint, Super Bowl XLV should be an embarrassment of riches. Two great team logos, two great uniforms -- what's not to like?
But while the Packers-Steelers matchup might seem straightforward enough, there are plenty of uni-related subplots unfolding as the two teams prepare to face off on Sunday. Here's Uni Watch's list of 10 things to watch for on Super Sunday: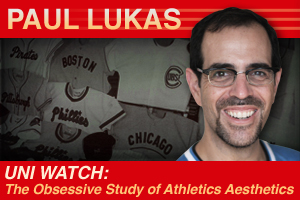 1. Good guys wear white: What do the past six Super Bowl champions have in common? They've all worn white jerseys, by far the longest run of color dominance in Super Bowl history. Since the Packers wore white throughout their playoff run, there was some speculation that they might opt to stick with white for the big game, even though they're the designated home team (the Steelers did that in SB XL). But they've chosen to skip the superstitions and go with their usual home greens.
2. There's gold in them thar pants: This is only the second time in Super Bowl history that both teams will be wearing gold pants (or yellow, if you prefer). Can you think of the other one? Uni Watch will reveal the answer later in this column.
3. Follicle follies: Between Troy Polamalu on the Steelers and the Fabio wannabes on the Packers, this is likely to be the hairiest Super Bowl in history -- and that's not even counting Brett Keisel's beard. (For more on this game's hirsute happenings, look here.)
4. Head cases: This year's Super Bowl teams have two of the strongest, most iconic helmet logos in the league. You probably know that the Steelers' logo is based on the old Steelmark, which was created by the American Iron and Steel Institute to promote steel products. But what about the Packers' stylized "G"? Ever wonder why it's also worn by Georgia and Grambling? The Packers came up with the design in 1961 and own the trademark on it, but they allow the Bulldogs and Tigers to use it. One reason Grambling adopted the G in the first place is that longtime Packers defensive standout Willie Davis was a Grambling alum.
[+] Enlarge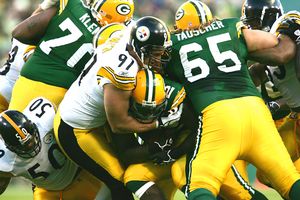 Jonathan Daniel/Getty ImagesThe last time Green Bay and Pittsburgh met with the Packers wearing green and the Steelers in white was in 2005. Pittsburgh won 20-10 at Lambeau Field.
5. Player to watch: Ben Roethlisberger's assorted injuries have led to some interesting equipment maneuvers over the past two months. After breaking his nose in early December, he began wearing a clear plastic visor on his face mask. But in both of Pittsburgh's playoff games, he occasionally swapped out the visor-clad helmet for a visor-free version, presumably because the visor was fogging up. Meanwhile, since spraining his ankle in a victory over Buffalo on Nov. 29, Roethlisberger has been wearing two different shoes -- very unusual for a quarterback.
6. Coach to watch: Packers coach Mike McCarthy has one of the oddest accessorizing quirks in the league: He always -- always -- keeps a Sharpie stuck in his cap. At one point during the 2009 season he even had a little loop sewn onto the cap and hung the pen from the loop, but usually he just sticks the pen into the back strap. The real question, of course, is whether he can do the same thing with one of those Cheesehead hats.
7. One design fits all: In the past, each Super Bowl has had its own logo. But this year the NFL is switching to a generic logo based on the Lombardi Trophy. This logo format will be used for all subsequent Super Bowls (or at least until the league changes its mind).
After thinking long and hard about this, Uni Watch pleads indifference. On the one hand, it was kinda nice when each Super Bowl got its own logo design; on the other hand, most of those designs sucked. Either way, while the Super Bowl may be the biggest event on the planet, the Lombardi Trophy still ain't no Stanley Cup, no matter how many Lombardi-esque logos the NFL comes up with.
HOW LOW CAN THEY GO?
One of life's great truisms is that there are always better things to do than watch the Pro Bowl. But this year's installment of the game featured an unusual uni-related twist: Many of the players were wearing long pants. Visually speaking, they looked like baseball pants, circa 1990 or so.
The long pants were issued to all the players, but some of them cut the pant legs or rolled them up. "We pretty much expected that," said Ember Morr, the NFL's director of product development. She said the long pants were a one-time experiment, not necessarily a harbinger of things to come. But it's easy to see why longer pants could become the next wave of NFL haberdashery. For one thing, nobody follows the sock regulations anymore, so why not just cover the socks and avoid that problem altogether? Also, there's been talk about making thigh pads and knee pads mandatory (as of now they're mandatory in college football but optional in the NFL), which means the current style of players wearing their pants like biker shorts will no longer make the grade.
If going to longer pants seems unthinkable, consider this: For the better part of a century, NFL officiating crews wore knickers, just like the players. Now they wear full-length slacks for cold-weather games -- and, increasingly, for not-so-cold games too. Now it turns out that the black slacks will be used for all NCAA games, starting this fall. Like zebra, like player? Stay tuned.
-- Paul Lukas
8. And speaking of that logo ... For the past 13 years, Super Bowl teams have worn the game's logo as a jersey patch. But this year the logos on the jerseys will be heat-sealed appliqués instead of sewn cloth patches. Should be interesting to see how many of them start peeling off during the game.
9. Field of screams: Super Bowl field-design protocol is simple. Imagine an overhead view of the stadium with the midfield logo appearing right-side-up. From that perspective, the designated home team has its logo in the end zone to the left, and its players stand on the "bottom" sideline, while the road team's end zone is to the right and those players stand on the "top" sideline. The two conferences rotate the home and road designations each year, so the NFC end zone is on the left for odd-numbered Super Bowls and the AFC is on the left for even-numbered Super Bowls. Since this is an odd-numbered year, the Packers' end zone should be on the left.
But it isn't. And as you can see, the Steelers will be on the bottom sideline, even though they're the visiting team. It's not clear if this was an intentional change or a glitch. Either way, it's unprecedented.
10. Gimme a ... eh, never mind: Expecting to see some sexy cheerleaders on the sidelines? Forget it. This will be the first Super Bowl with no cheerleaders. If nothing else, this provides something Uni Watch had previously considered unthinkable: a good reason to root for the Cowboys to make the Super Bowl.
Additional notes: If there's a tiebreaker between the two great uniform designs in this game, it might be the Packers' visor tabs, which feature a tiny version of the Pack's awesome "Wisconsin Heisman" logo. ... The Packers and Steelers are among the handful of NFL teams that never wear captains' patches during the regular season. The Packers routinely add them for the postseason, however, so they'll be wearing them on Sunday. But the Steelers never wear them, so their captains will be "C"-less for the big game. ... For some reason, the Packers have been reluctant to reveal what kind of helmet Aaron Rodgers is wearing. Can't imagine why they'd want to keep that secret, but there's nothing exotic or unusual about the helmet, which is a Schutt Air XP Elite. ... This is only the second time in Super Bowl history that the team names in the end zones will both be rendered in stencil-style lettering. The only previous time: Super Bowl IX. ... Here's a good gallery of Pittsburgh's and Green Bay's past Super Bowl rings. ... For lots of additional Steelers uni arcana, look here. ... Two minor league hockey teams have found unusual ways to support their home-state Super Bowl teams: The Wilkes-Barre/Scranton Penguins have put the Steelers' logo at center ice, while the Milwaukee Admirals have colored their corner face-off circles green and gold. ... Super Bowl saddles? Sure, why not! ... One hundred-twenty footballs will be available for use in the game, all of them produced at a small Ohio factory in a roughly 18-hour period following the conclusion of the AFC Championship Game. In case you missed it earlier this week, Uni Watch's full account of this process -- with video -- is available here.
Answer to quiz: The only other time two yellow-knickered teams battled for the Lombardi Trophy was in Super Bowl XIV.
(Special thanks to Lou DeGeorge, Phil Hecken, Casey Grapsas, Dane Drutis, and Jeff Flynn Jr. for research assistance.)
Cross-Dressing, Continued
Readers continue to submit excellent examples of cross-dressing (i.e., players in one sport wearing equipment from another sport). Uni Watch first explored this topic last month, and then we had a follow-up installment a few weeks ago. Now we can add these examples to the mix:
• Vikings safety Joey Browner used to wear hockey elbow pads.
• Back in the 1990s, Darryl Talley of the Bills wore one of those Spider-Man-style ski suits under his jersey.
• Syracuse lacrosse goalies John Galloway and Matt Palumb wore football pants.
• Pro Bowler Pete Weber often wears a golf glove with the thumb cut out on his bowling hand (and, yes, sunglasses).
• OK, so it was only batting practice, but it's not every day you get to see Gordie Howe in a baseball uniform.
• And if a hockey player can mess around with a baseball bat, it's only fair that a ballplayer can try out a hockey goalie's stick, right?
• Although many professional bull riders still wear cowboy hats, more and more of them are starting to wear hockey helmets with face cages.
Do you know of still more cross-dressing examples that we haven't covered yet? Send them here.
Big thanks to all contributors, including Chris Drouin, Paul Evans, John Grillo, Phil Morris, Jerry Wolper, Doug Mooney, and Bryan Pogor.
Paul Lukas will be rooting for the Packers on Sunday. If you liked this column, you'll probably like his Uni Watch Blog, plus you can follow him on Twitter and Facebook. Want to learn about his Uni Watch Membership Program, be added to his mailing list so you'll always know when a new column has been posted, or just ask him a question? Contact him here.